Samoa today offers up more variety then ever before of incredible food choices!
For travellers back to the motherland, options range from hot umu at the makeki to flash new organic food choices from a range of cafes to rival the best overseas.
All across both Upolu and Savaii there are faleaigas and cafes spilling over with amazing local produce and flavours, so having a good 'food map' for Samoa cuts out the trial and error coz nobody got time for paying your precious talas for bad food.
Hot fa'alifu ulu, the sharp tangy taste of sea, fragrant fresh oka, the custardy sweetness of a pai fala.....the list of Island food flavours are endless and Samoa is a giant organic food bowl of amazing taste sensations. While you prepare to go back to the motherland, check our Coco listicle of 'Best of' food places :)
First up the makekis - the upgraded produce market in Fugalei is a clean airy oasis of fresh fruit and hot food. Umu options come out from about 11.30am so you can pick up some hot ulu and eat it with your sea or fai'ai fe'e and wash it all down with an ice cold niu and maybe some supo esi for dessert.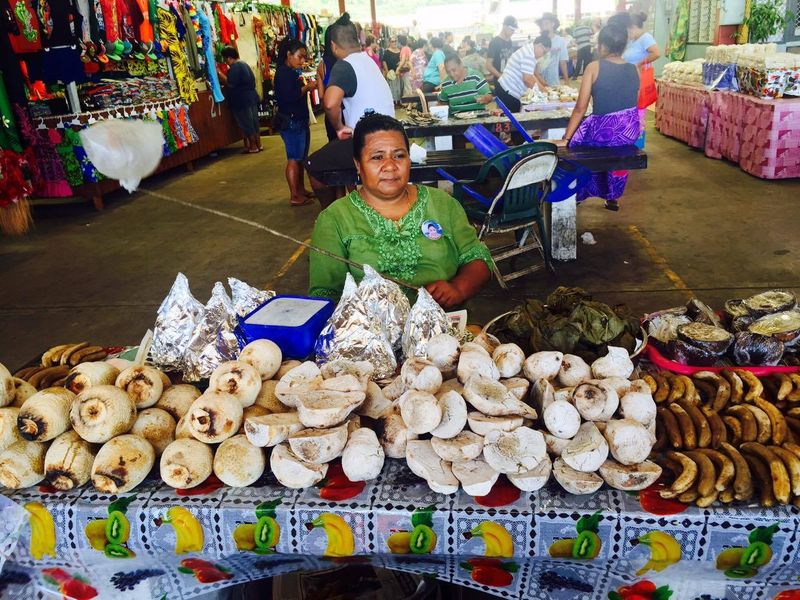 The fish market is a haven of awesomeness - most people know that if you come down at dawn you can buy all manner of fish, lobster, crabs or fe'e. If you're a hotel traveller you can buy this fresh from the sea cheap seafood and ask your hotel chef to make you the king of seafood platters :)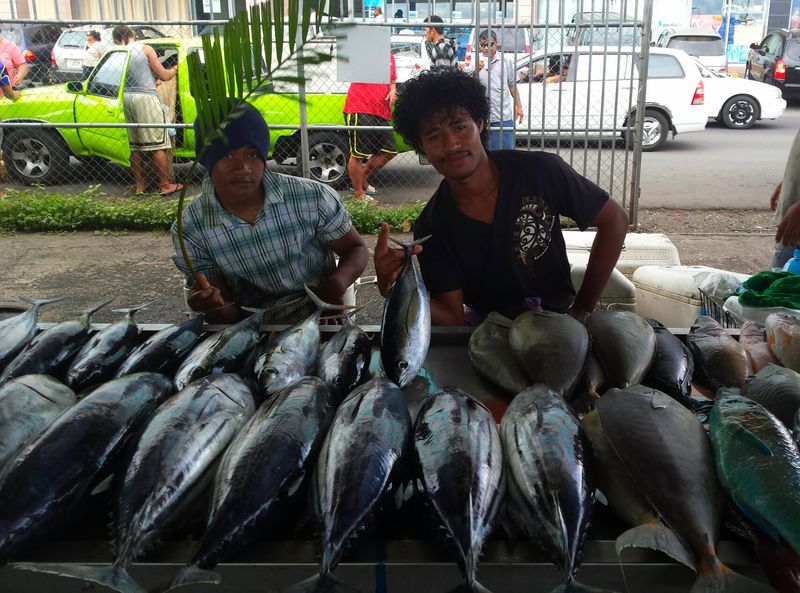 Sunday at the makeki is next level though, and this is when there are hot food options - think vaisalo, fa'ausi of all varieties, koko esi, pai fala, puligi enough to want to get your sweet tooth pulled out for good. Get in quick as the juiciest fish and best choices of to'ona'i food options may be gone by 9am.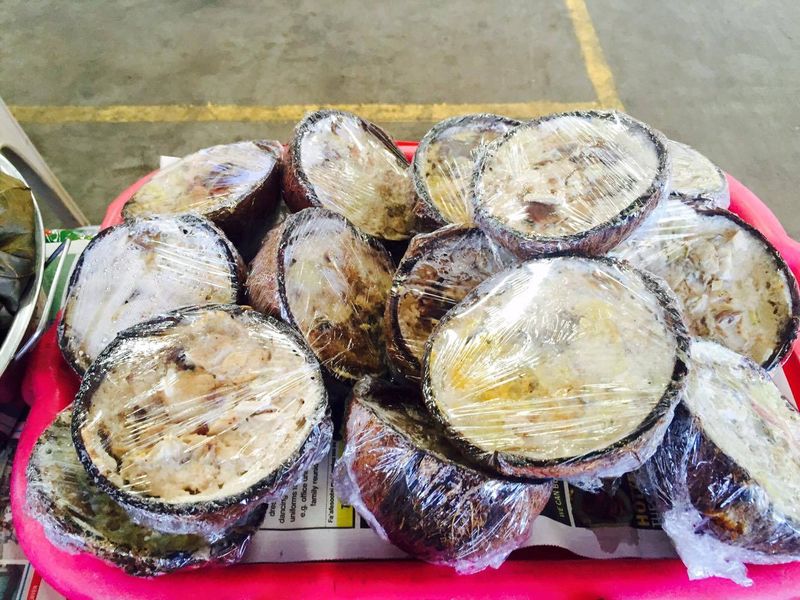 On the other end of the scale if you're looking for a great cafe brekkie option we strongly advise Nourish Cafe behind the big Catholic church in town, 'Mulivai St' if you ever find a street sign. Nourish do great organic fresh food and smoothies - we love the breakfast crepe and the sasalapa smoothie!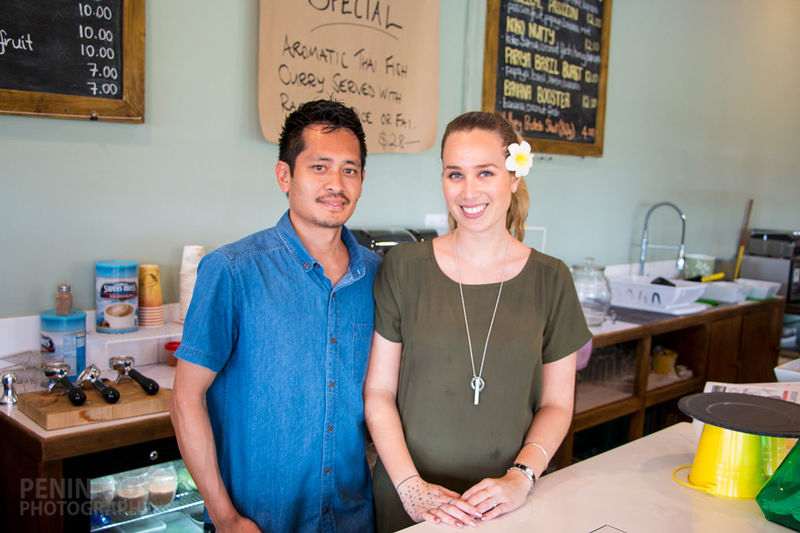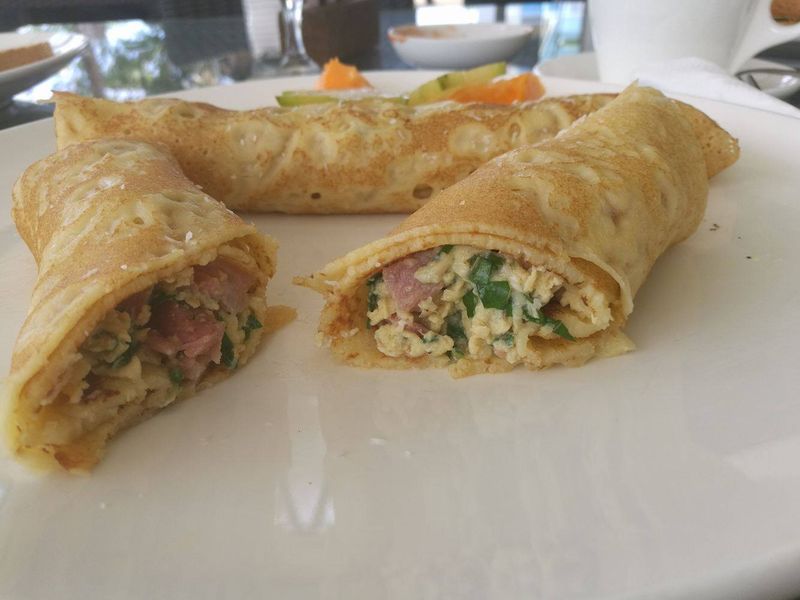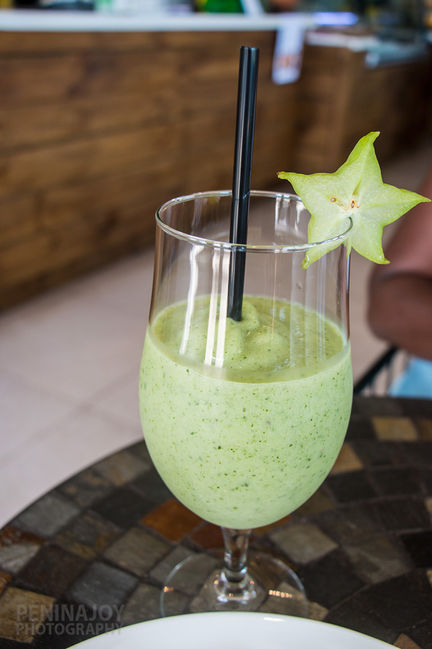 Click here for Kalais' Sasalapa Smoothie recipe
Legends Cafe in Taumeasina do an amazing array of juices and clever things with local ingredients, the tumeric, ginger and lemon juice will make all things right on a hot day.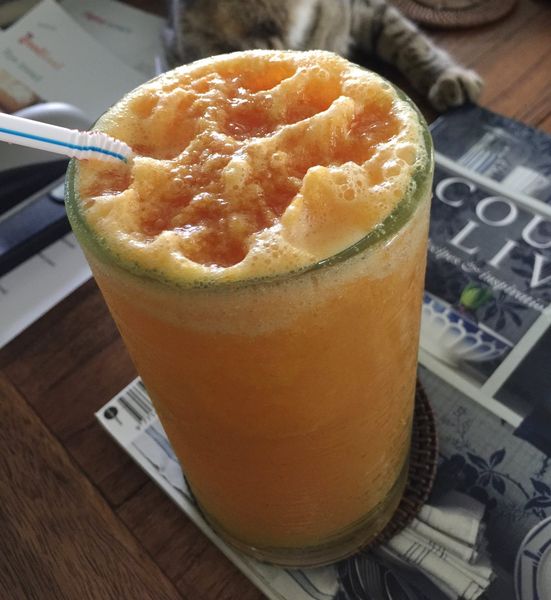 If you have the Samoan anxiety of not getting enough food on your plate, then go to 'Daphnes Cafe' in Matautu Tai where they do a hearty omelette and also a great Friday Samoan lunch.
Also big on the big portions are Connexions Cafe next to Samoa Stationary in town and 'Izzys' for American style food. Lunch options are too many to mention, so here are some of our special things to try at different places
Seafood Gourmet - an option you don't find many places is the tuna belly with garlic butter and salad, you should always have their chilli spiked oka, and strangely their desserts.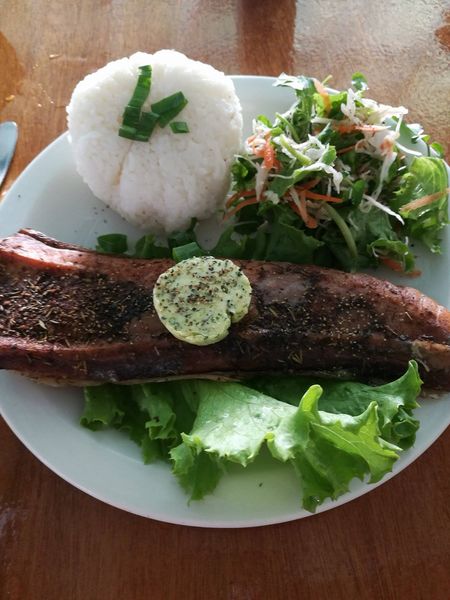 Anyone who has had the fruit pie knows its short crust pastry goodness and now with the Koko Samoa ice cream even? Stobit.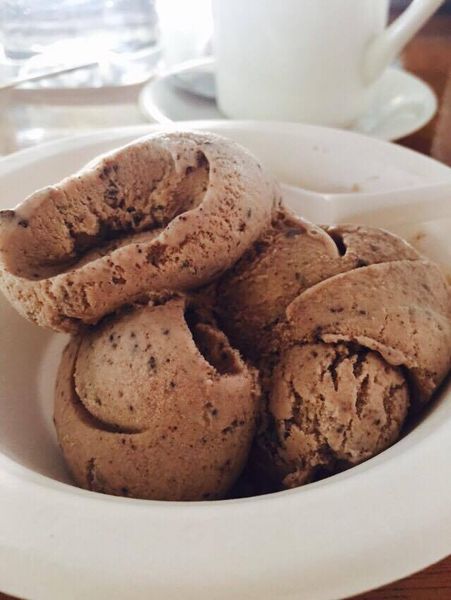 Up the Cross Island Rd across form the Bahai temple is the Forest cafe which does a great curry and roti and fresh niu while you can listen to the birdsong in the bush above the river ravine.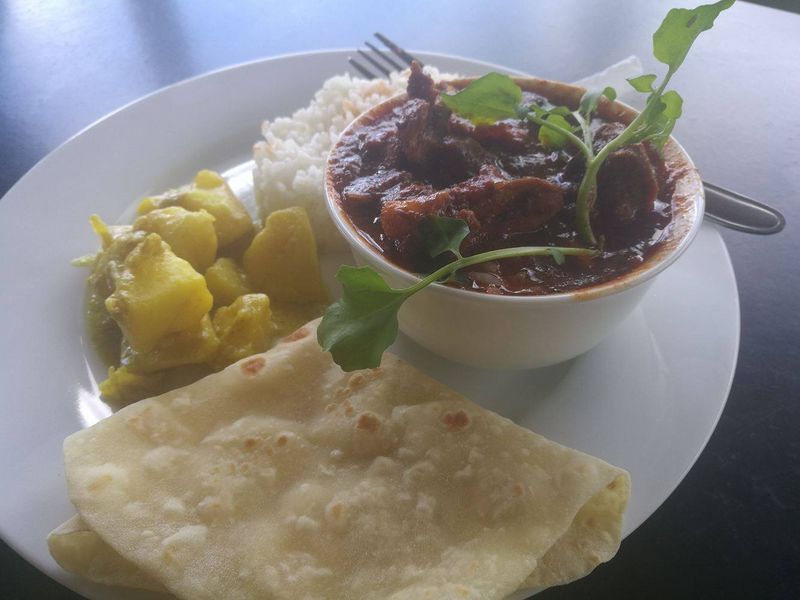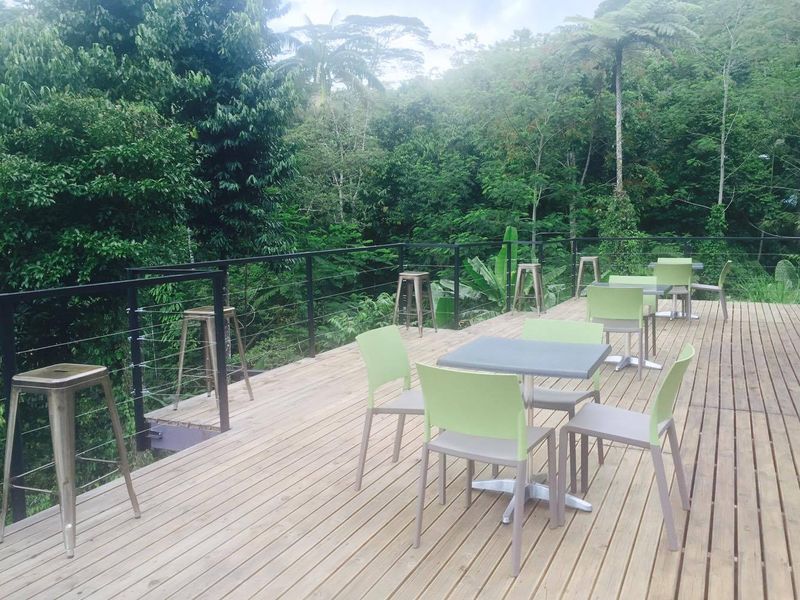 There are good food options at Pacific Jewell Gift Shop & Cafe but what we liked most here was the sumptuous folds of meringue in their rolled pavlova slices with fresh mango and cream.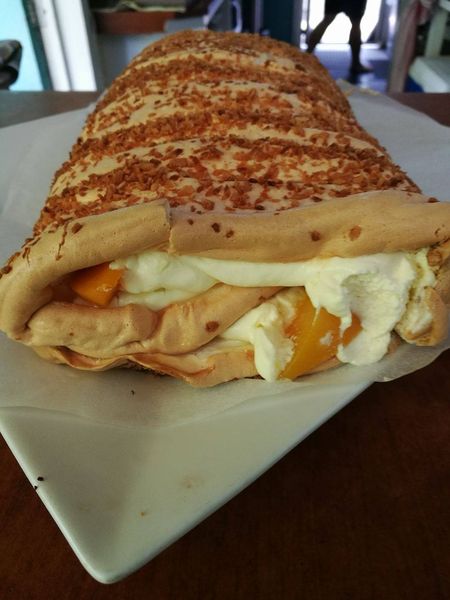 Now best fresh fish options in Samoa is fighting words: we rate the ginger laden Poke at Amanaki as a serious contender but its really hard to beat the oka at 'Trees' the tents roadside on the way to the airport that have a variety of amazing fresh fish options including a cup of fresh masimasi oka for 5 tala with a couple of cooked bananas to dunk in it.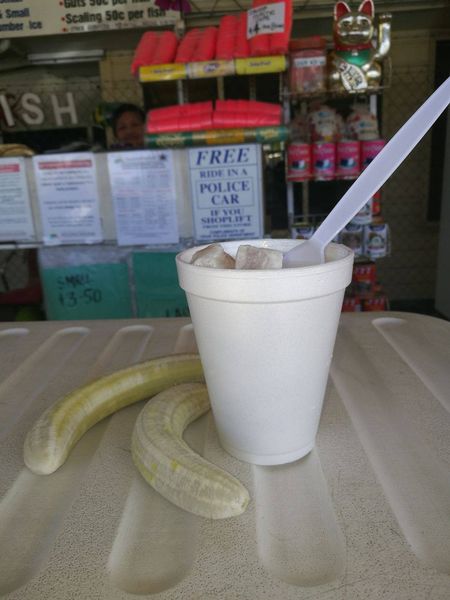 Other special mentions have to go to best buffet on the Island which sees Taumeasina Sunday Seafood buffet just nudge out The Orator Hotels excellent to'ona'i for top place, for its variety of seafood and Samoan food selections for just $65 tala.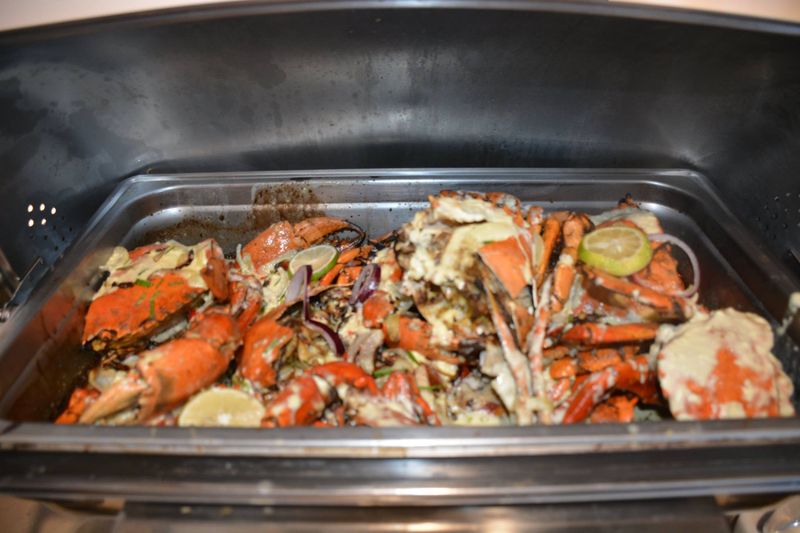 Nightime eating has to include KokoBanana for their huge steak and lobster combo, Tifaimoana for the great mutton curry, the good folks at Scalinis for those pizza ball fingys and seriously good fish and pretty much everything on the menu.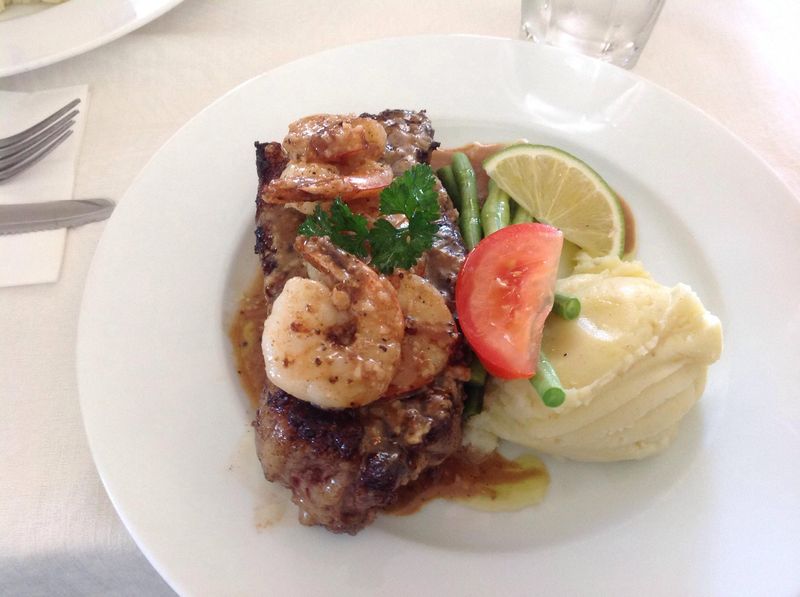 For the best in fine dining you can now book a private group dining experience with
The Whisk Dining Room
in Lotopa, Apia.
Here you can have a 5-6 course bespoke menu of some exquisite dishes put together by young Samoan 'Chef Junior'. Using what's fresh in local produce on the day, he comes up with things like a palusami hash and snapper and noni onions with perfectly cooked beef. Not to be missed if you want a very special dining experience in Upolu.
Just out of town there is also
Cafe 10
located in the garden center Lotopa for some beautiful surrounds while you eat. - with great full breakfast options, good coffee and healthy local produce options!
Also if you head to Savalalo side of town there are two places to stop in - Manai Restaurant with its big portions including these healthy stir falai and local food options.
Then there is the 'All Things Sweet' cafe with great local baking, fresh smoothies and big breakfasts on a Saturday.
The queen of flash local baking Dora Rossi also has great local produce at the Milani Cafe right in town. Here you will find the superb Pineapple Coconut Cake which you can have with a Coconut milk Coffee or excellent expresso and Koko Samoa. Milani do stand out breakfast specials including the super healthy breakfast salad which u may need after carb loading around the Island.

COCO CAFE AWARDS -
Best Coffee: Home Cafe & Le Petite Cafe.
Best Smoothie: Nourish Sasalapa Smoothie
Best Juice: Legends Cafe Tumeric Lemon Ginger Juice, Krush Juice Bar for the Green Juice & Lucky Foodtown for the cheapest fresh options!
Best Pizza: Giordanos for their Palusami Pizza and fresh salads
Best Oka- Trees on the way to airport
Best Ice Cream - Koko Samoa Ice Cream at Kool Shack Seafood Gourmet
Best Pai Fala - Netzlers Shop Moto'otua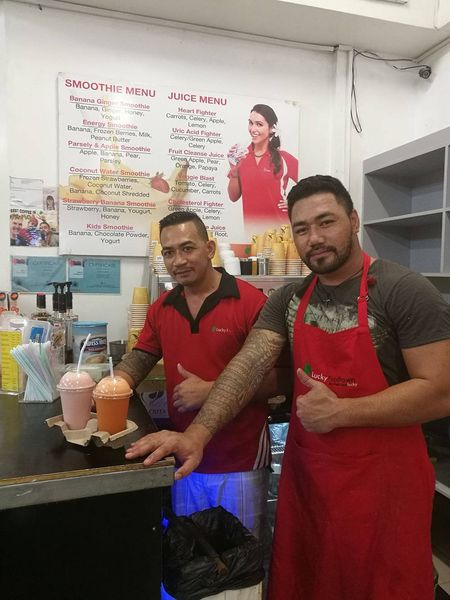 Juice/Smoothies at Lucky Foodtown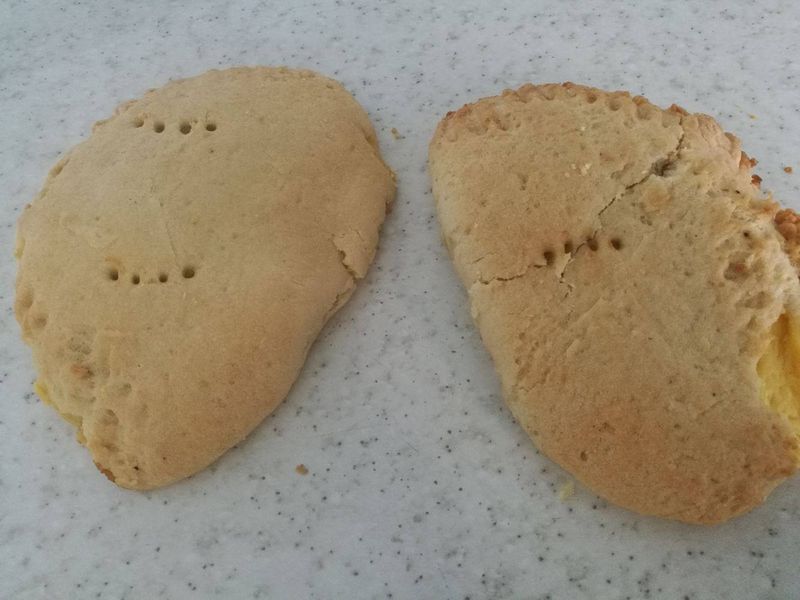 Pai Fala