Guest Writer
Odette's Kitchen: A local resident's review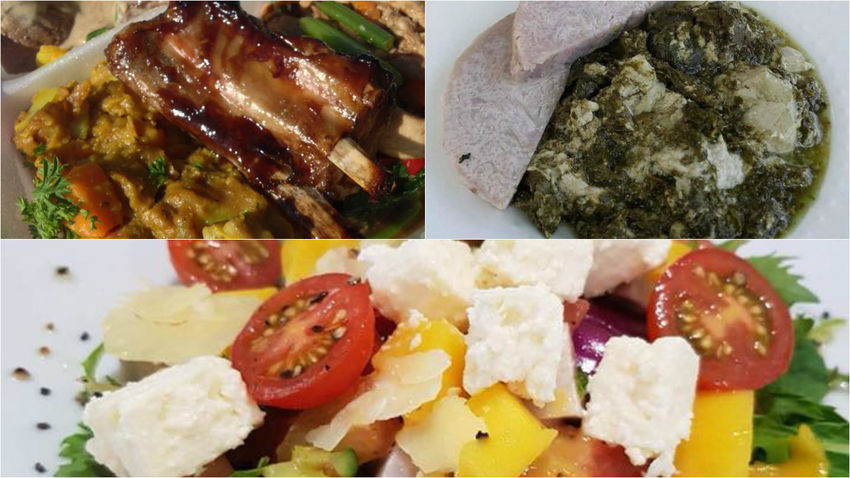 By Leone Samu
'After so many requests to view what's on offer here it is: Odette's Kitchen Pacific Fusion Dinner Menu'…
A little over a month ago it was this opening sentence of a Facebook post that caught my eye while scrolling through my newsfeed late one night. It accompanied a picture of a dinner menu that I had to zoom in to read but when I did, I found myself taking multiple screenshots of because of the attention-grabbing descriptions under items like 'taro gazpacho salad', 'surf and turf island style', and 'palusami ravioli'.
I made a mental note to visit Odette's Kitchen 'someday' until stuff got real and fast when I clicked through to their Facebook page and discovered this promising new spot for Polynesian food was about to open not somewhere in central or south Auckland but in my own hood: Papakura. As in, WAY deep south Auckland. As in, the last motorway off ramp along State Highway 1 before you start seeing farms sheep and dairy cows. And not only that but it would be opening up within walking distance to my house. #blessed
Since that first late-night discovery (wherein we actually got in the car to do a faikakala drive-by past the premises prior to its grand opening), I've probably been by twice a week since then to get my fix of island soul food and make my way through the offerings on that fusion menu.
Odette's Kitchen serves hearty breakfast, lunch, and dinner, coming through with the to'ona'i classics on Sundays like whole coconut pa'a (crab), oka (raw fish), keke mamoe (the mutton version of pork buns), plus a separate case full of taro and luau. The fancier dinner service starts around 6pm during the evenings of the latter half of the week.
The restaurant space itself is nicely presented getting maximum sunshine through the large front windows and is warmly lit in the evenings with plenty of seating for families to enjoy meals together. A lovely little outdoor courtyard dining area has been great to take advantage of during these last weeks of summer. Two large cabinets are stationed at the front counter where the day's selection including sapasui, chicken curry, povi masima are kept hot and ready. Pai fala, house-made pies, brownies and scones are also on offer to walk-ins.
My little family of three headed out to Odette's on a recent Friday night to experience their sit-down dinner service. With our toddler happy to slurp through a plate of their tasty chicken sapasui (they were still packing away their cabinet food when we came in), my husband and I turned our attention to the entrées on offer.
The tempting entrees are pescetarian and vegetarian-friendly options. My husband's ceviche (aka raw fish) of salmon was fresh, flavoursome and multilayered (not overtaken) by the inclusion of greens, diced cucumbers, tomato and red onion. My choice of the palusami ravioli sprinkled with grated parmesan cheese came with a dipping sauce of coconut cream and fresh pesto and I found it rich, creamy and bloody delightful. Who knew palusami and parmesan made such a great pairing?
This gourmet palusami/luau ingredient featured again in our mains, mine being the grilled luau lamb beautifully seared and his being the chicken breast stuffed with luau and camembert cheese and wrapped with bacon. We each found our mains succulent, filling, and worthy of repeat visits. My husband's only comment was that he wanted more luau stuffed into his.
Accompanied by seasonal veges and dressings, another honourable mention deserves to be made of the ulu (breadfruit) and potato croquette that graced our plates. I could eat a bowl full of these by themselves, tbh. These handmade crumbed croquettes are crunchy on the outside while the centre is a comforting creamy texture and taste not only because carbs are life but because camembert cheese is stuffed in there too. The croquettes do an excellent job of soaking up the sua on the plate to capture the flavours and sauces on the dish so we could really appreciate the basil pesto mixing with the marinated olive oil the lamb was seared in and the ginger coconut cream sauce that dressed the bacon-wrapped chicken.
What we appreciate with having a fidgety toddler with us is that you aren't left waiting long for your food to come, and when it does, it's still a satisfying island portion size. Each dish comes out beautifully presented and worthy of the Instagram posts if you can hold off from digging in to take the picture in the first place. The pricing of the entrees and the mains puts them on par with restaurant pricing but what you get from the flavours and the dining experience definitely worth coming out these ways for special occasions. You can even top your meal off with Odette's own decadent take on koko Samoa chocolate cake which is layered with heavy cream and covered with a koko chocolate ganache – this contender deserves a paragraph on its own but I'm running out of word count.
Overall the dining experience and atmosphere at Odette's Kitchen sets itself apart by the presence and hospitality of owner-director Desiree Chan Chui who is a gracious and accommodating hostess. Eating out with a toddler can be stressful but Desiree and her team relieve that, even putting on our daughter's favourite songs when she decides to make the middle of the restaurant an impromptu dance floor. That the restaurant is a family-run affair is hinted at in the name (Odette is both the namesake of Desiree's young daughter and her family matriarchs) and comes through in the friendly hospitality and the delicious food courtesy of the head chef in the kitchen, Desiree's uncle Sepi.
Odette's Kitchen is a wonderful addition to the growing number of eateries run by our Moana Pacific people looking to elevate Polynesian cuisine, mastering the classics and then bringing in twists to innovate on what our notion of island food is and can be. What strikes me is the team's thoughtfulness going into the combination of fresh ingredients and the new ways that Pacific ingredients in particular get a chance to shine in the dishes. I'm here for it (and am literally here every week for it).
Papakura's local Poly demographic is small-ish but growing. Part of me knows it's got something to do with housing affordability in Auckland as people get pushed further out so it is exciting – and necessary – to have a place we don't have to travel far for the food we love and have such strong emotional connections to. Odette's has the potential to become another of what Lana Lopesi describes as a buoy, or Pacific safe space, much needed in this part of our city.
Over past few weeks my family have quickly arrived at the point of being on first name basis with Desiree and her team at Odette's Kitchen. Lines from the theme song to that old TV show Cheers seem to apply pretty well here: ' Sometimes you wanna go where everybody knows your name/And they're always glad you came'. Instead of a bar in Boston, it's a Polynesian neighbourhood restaurant in Papakura that's shaping up to be such a place for my family and me. In the same way we would travel across Auckland to get to our grandmother's house in Mangere where island food was central to the aiga get-togethers, I get that sense of anticipation and feeling of being at home at Odette's. You really do want to be where everybody knows your name (and where they pronounce it properly too).
If you're up for making the trip south, Odette's Kitchen is located in the main Papakura township, 15 minutes on the motorway from the Manukau city centre and within walking distance of the Papakura train station at 15 Broadway. Open six days a week including Sunday for toonai (Saturdays closed), it's best to place your bulk aiga to'ona'i orders over the phone ahead of time to avoid disappointment. Ph: 09 296 7721 or check out Odette's Kitchen Facebook page
Share
---
Comments