Guest Writer
Sisterhood of the Travelling Pawa: Why we Rise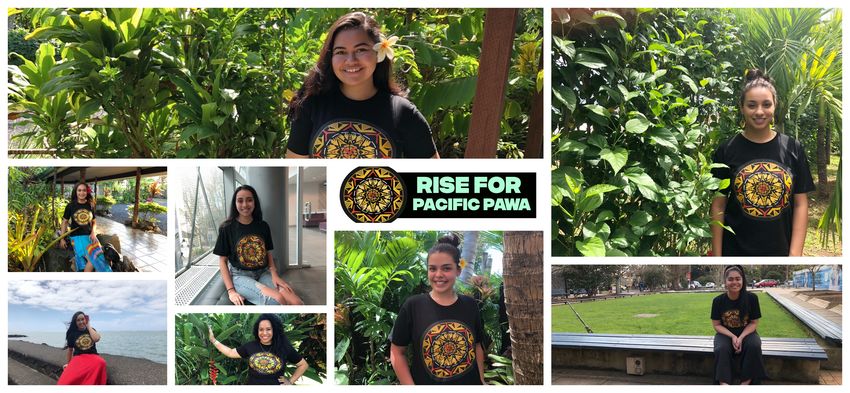 By Brianna Fruean
Last month I received a package in the mail. I opened it and was extremely excited to see that it was a "Rise for Pacific Pawa" tshirt. #RiseForClimate and #PacificPawa is a Climate campaign that I'm so proud to be apart of! It is a campaign pushing for our local communities to rise up and truly be the change.
It is no secret that Climate Change is real and that now more than ever we need to take action. I will admit it's easy to be discouraged when thinking about climate change. In the face of intense heat waves, roaring wildfires, frequent cyclones and rising sea levels it's easy to lose hope… but this is exactly when WE SHOULD RISE! Now is time we should come together and make a change. This is why, this week people everywhere are campaigning to 'Rise for Climate". On the 8th of September in cities, town squares, capital buildings and islands around the world, people rose up to demand that politicians stand with their communities and deliver more than just words. We are at a tipping point. What we've seen in 20 years of governments leading climate negotiations, even with scientists pressing the urgency, hasn't been nearly enough. With climate impacts escalating we don't have the luxury to wait any longer. "Rise for Climate" is all about building a groundswell of support for climate leadership, and create the right momentum to secure a fast and just transition to a sustainable world.
So now that you know a bit of the campaign background let's get back to the t-shirt….. In all the years and of all the campaigns i've been apart of, Ive got to say that this tshirt was my favourite campaign t-shirt yet. One of my favourite things about it was that it was a size under my usual size but it fit perfectly. I thought to myself "weird, it must be a magic t-shirt. Maybe a sister to the jeans from Sisterhood of the Travelling Pants ". This was the lightbulb moment for me! I thought this should be a travelling t-shirt! Why not pass this one tshirt around in a week to 7 different women and while it travels we can share our climate stories and the reason we all will rise for climate. I am a true believer in storytelling as a powerful tool in campaigning. I believe in dialogue, debate and conversation as a fire starter for change. This is why I started the "Sisterhood of the Travelling Pawa". As sisters of the Pacific we grieve what we have lost to climate change but WE RISE to make sure we will lose no more. This is why we rise and why the world should rise with us……
7 days, 7 different women, 7 different stories, 2 different countries, 1 campaign t-shirt.
"We all need to Rise for Climate because small steps really do make a difference! The flap of a butterfly somewhere is causing a hurricane on the other side of the world. Small actions help more than you think. Consume less, waste less, divest your money, reuse, recycle and join this movement. Very often we don't pay attention to our actions but it's time we start! Take action like your life depends on it, because it does." - Allenor Levi
"We treat climate change as if we don't see it, it doesn't exist ! If we keep thinking this way we will no longer exist ! " - Doris Tulifau
"It is our collective responsibility as human beings to heal the earth. Climate change affects our lives & puts at risk the lives of future generations, and it has become a planet-wide issue because of our environmental carelessness. We can no longer continue on this eco-destructive path. As a tagata pasefika, the affects of climate change are as real as the rising sea levels, the warming of our ocean & the deteriorating of our coral reefs. By joining us in the fight for climate justice, you have nothing to lose & the entire world to gain." - Jaiyah Saelua
"We should rise for climate because our children deserve more than to just learn about our islands in books… they deserve to touch, experience, love and thrive in our islands. I grew up in Australia visiting Samoa every year and I've just recently moved back to live here. It's a special feeling to be back home, I wouldn't want to be anywhere else but here. Everyone deserves to feel this feeling of returning to their motherland. If we don't rise to protect our islands and to protect our world, I'm afraid we'll lose that feeling of home and belonging." - Sonia Piva
"We need to Rise for Climate because wer'e the ones who created this problem, we're also the ones who can do something about it. I don't want my kids and future generations swimming in nothing but a plastic ocean." - Lanna Natanielu
"One of my climate heroes Koreti Mavaega Tiumalu, showed me first hand how powerful our Pacific voices can be when we come together as one. Individually we may seem small, but collectively as a region we have such a powerful voice. We have a #PacificPawa that can influence the world to #RiseForClimate. I proudly stand with the Pacific Climate Warriors as they rise above the tides and work toward building a fossil free world." - Cherelle Fruean
"Growing up in Samoa and Nz has taught me to treat mother nature with respect and love. I'm afraid not many people agree/ believe in these values. Which makes me so sad because these people don't understand that our children may not experience nature the way we did. We will rise for climate so that the next generation has a world filled with nature that they can learn to respect and love." - Gyllian Falute Taei
"This is why we rise and I hope you'll come onboard to rise with us! You can find a Rise For Climate event near you at www.riseforclimate.organd you can call on our local institutions to make a pledge by 2020 to transition to 100% renewable energy by signing the petition at http://act.350.org/sign/pacificpawa/. Let us Rise For Pacific Pawa and Climate Action!" - Brianna Fruean
Share
---
Comments