Humans of the Islands
WOMEN OF THE ISLANDS - AVI'I FA'ALUPEGA MAGELE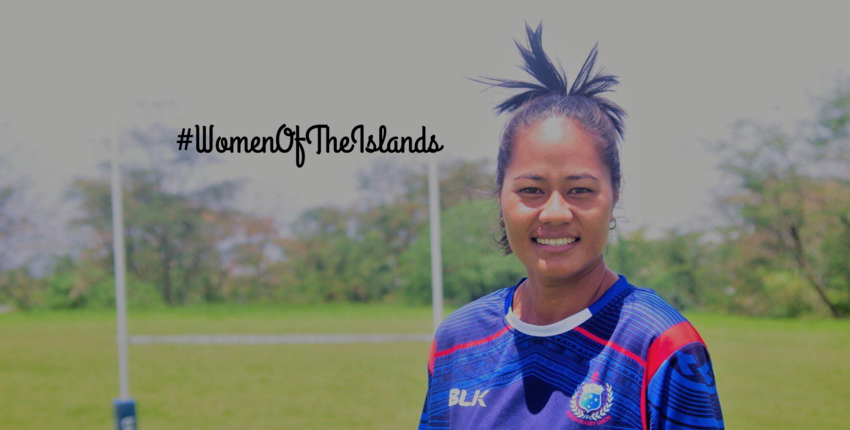 AVI'I FA'ALUPEGA MAGELE
RUGBY REFEREE
SAMOAN
.
What made you want to be a referee?
First of all cause I love rugby. It's like a family culture. Ever since when I was young … it's very funny cause my Dad use to play rugby and I had two older brothers. So when I was in primary school and my two older brothers were in colleges, so that was like Super Rugby before I mean Super 12, before Super Rugby as we call it right now. So back in days, when not every family in the villages had tv. So our family got one, got lucky enough to get one. So we had that culture where we compete, like me and my mother and my other brothers we compete, we watch the games and we had that culture watching Super 12 rugby and compare who's gonna win.
So that's where actually where it built up my passion in rugby, I didn't see that much about women's rugby during that time. But the passion that I saw from my Dad and my brothers and even the whole family. Boys really first made to grow in a different career. So I never thought of being a referee, only thought of becoming a superstar in rugby. But I never liked women's rugby back in those days when I was strong, when I was a kid, I wasn't really strong, it was we never recognize it. So I remember when I finished school, primary school and I came to Upolu cause actually I'm from Savai'i. I was looking forward to play rugby but after 4 years of college, I never play rugby cause there was no such thing as rugby for school girls. That was 2006 and 2004. 2005 that was my first day in Uni and then I heard that there was rugby in high school, and I thought maybe might be bad luck for me, maybe there's something else that heavenly father wanted me to go to. So I finish high school and then I was a teacher for 5 years. So I was teaching in one of the colleges, I went back to Savai'i and taught there.
My Dad told me one day, you know what I was trying to convince your brother and they never wanna be referee cause my Dad is a referee. So I ask him, so what do you want me to do. My Dad wanted me to be a referee, I saw you're a teacher it's gonna be easy for the kids to listen to you when you referee on the field, so I give it a try. It's all for sake of my Dad, he was looking up to me and so I was okay I'll do it for my Dad, just do it for him. So in 2008 that was my first year of teaching and I was involved with the kids playing and that was the first year also that my Dad wanted me to assist in refereeing in one of the senior A games. I was like no way I can't do that, I was kind of shy and noo, people are gonna look at me, that's a girl, that's a woman, it's the first time they see someone running around the sideline. But I think my Dad know best in me, he just put me on and say, you go for it. So on that very first day and I thought okay I'll go for it. Basically it's all family culture, that passion in me to start something new, something else, even though I never thought of it when I was young, but I grew up with it and our parents know what's best for us, maybe that's basically what my Dad wanted me to do.
What a great story! Have you had any challenges being a female referee? Like for the men's rugby, do they challenge you alot?
Well firstly like I said in 2008 that's when I started running on the sideline for men's game and it was lucky enough for me because that was in my village. You can still hear people saying things but not that challenging. I think it really helped me to grow in my career and then after 2 years of practicing on the sidelines and then finally I get to involve in refereeing the men's game. It was a horrible experience for me first but it was a huge lesson for me to step up. I know after that game I knew it was because I didn't trust myself to do it. So I thought to myself I should have done much better because I went on the field and I put myself down like a woman, I'm a woman, people looking at me. So firstly it's all about mental, it's all about yourself. That's what I love about this career, it keeps challenging you and it keeps you grow cause all the challenges that you face, it always challenges you everyday, and it always makes you grow as a individual.
So like you asked about the most challenging experience that I've ever been through. So I've refereeing for 3 years and in 2013 I went to further my education and then I came back in 2015. I never thought of going back and refereeing. I thought that I could start a family and that's when I thought about my dad was old and my mum that I need to look after them cause all my siblings are seeing others, they got married, they have their own family, kids. So I was like the only one, even now, having not marry. So I always thought about my parents, looking after them and so I thought I'll just stick to my job and not to referee anymore. But there was always something that pissed me off, it all comes back when you think of the challenges that you faced when you first start. It gives you like, bro you're gonna do it, you've gotta finish strong, you start it, you gotta finish strong.
In 2016 that was my first ever international appointment. I got selected by the Oceania Match Officials to go and referee the 7's in Oceania, in Fiji for Australian 7's. It was a huge experience for me because I never thought that I could be, that I would ever be there. I never imagined myself running on that field with New Zealand and Australian teams, which is pretty big women teams. So when I came back and I thought man why can't I do it, this is door for me and I just want to open this door to all other young girls. I know the feeling that these young girls here in Samoa, it's the same one I felt ever since when I first started in this career, not trusting myself, putting myself down, then thinking of the mentality of other people and then I thought that's what people think of me. But you got to challenge yourself and just get there, go on the field and do what you love to do.
Also the biggest challenge of me being a referee, is actually I got verbally abused, you know as a woman. Of course I'm a woman, people look at me as a woman on the field because reffing a man's team here in Samoa. The first time ever I was running sidelines for mens premiership here in Samoa, that was in 2017. So it was the first time a woman came running the sideline, you know assisting refereeing and it was a massive call that I made that cost the game. That's why I know it was a biggest upset for the team and the coach. It went viral on social media during that time because I didn't know there was a reporter that was there on that day when I got abused. So actually there was a guy that was on the ground and the ball was out, so the referee ran and he turned his back to the breakdown. One of the guy that was lying down, he just stood up and punched one of the other guy and I was there so I flagged him for what I saw. And then I heard the growl from the back, just around the sideline, they were booing me. I knew before I actually flag him, I knew that something was gonna happen because of the upset. It was a shared final for the senior A team so I knew that was the biggest upset but I was doing my job.
How did you cope with that? How did you stand up to that?
Well there was someone throwing the ball at me from the back. And the most worse experience that I saw on that day was a woman, she came up to me and I didn't know I was facing that way and I thought there was nothing happen but lucky I turned around and the woman was there and then the woman walked to the other side.
.
She was trying to hit you?
I thought, that's what I thought. That was my interpretation of what I saw when I turned and I didn't know there was a reporter there, she was watching every move. It was the last minute of the game, maybe 1 or 2 minutes of the game, that happened and then they caused the retaliation of the penalty. The other team kick it and they earn a point. So that was the biggest upset and it was a huge challenge that ever happened in my life. So I came up on the stadium and then the reported just came and grabbed my hand, she was a woman. She was like, I saw everything that happened, can you explain what happened and then it went right on social media.
Awesome, in a good way?
Yeah in a good way. I went to Oceania 7's, first Samoan woman to be reffing in a Oceania 7's. No one knows about it here and when that happened, now everyone knows about it. Everyone knows that there's a woman. And that was my chance for me to deliver the message to all the young girls here in Samoa and the young women who are afraid to take the role. It was a huge, big opportunity, maybe an opportunity that heavenly father have provided for me to speak up. It's a total different community when I ref here and ref out of Samoa. So I think now is a massive opportunity for me to share about the work that this refereeing, these boys are doing for the country here in Samoa. They never throw if the spectators doesn't support them, even the coaches and the players. So I deliver that huge presentation to social media and that's when we see game changes which is really good.
That was the biggest challenge for me. I can still feel it right now. So I've been involved with Oceania 7's 3 times, 2016, 2017 and 2018 last year. First times ever I've been refereeing mini games for men. Mini games that was held in Vanuatu and that's where I can see the changes of players… this girl she refereeing in all these different competitions, she knows better, I think that's what the players thought by the way they changed their attitudes towards me. Sometimes I think it's me after refereeing. The biggest thing I learnt from being a female referee here in Samoa is my behaviour, my behaviour towards myself and people. I've started trusting myself and I can trust in myself ever since when I get to encounter all those challenges. The good thing is when that thing went on to social media is alot of people messaged me, saying good stuff and positive advice for me and it really helps me.
So right now we have some really good young girls, their doing classes about learning about the game and that's a good thing. The same thing that I went through, I can feel what they're feeling right now. Because ever since when they came in, they feel shy. I work for Samoa Rugby Union so some of the times we do competitions for young kids, so I bring these young girls to come in and I say you're gonna referee this game. I can feel how they feel, I can see because the parents, the parents are the worse spectators here in Samoa. They feel for their kids, they always want their kids to be winners so that's why it's a big challenge for these young girls right now. For me, I know that the biggest impact of social media is to deliver the message to these young girls to grow. I don't want those girls to come the same way that I did.
But you carved the pathway, wow, amazing! What's your ultimate goal? Where do you want to be refereeing?
For any referee it's the World Series, the World 7 Series. I'm still working on it. We have some Match Officials panel in Oceania 7's that's coming over to Samoa and asses us and talk through some of the things that they want us to improve on. Sometimes you're happy with the training, sometimes you're slacking, and that's the biggest challenge for me right now is my speaking voice. So that's the biggest challenge.
Share
---
Comments