From the Pacific to Pingyao
Eighty images from 12 Pacific Island and Maori photographers will be showcased at the International Photography festival in Pingyao China which starts next Monday until the 25th of September.
The exhibition which is called 'Ata Te Tangata' and translates as 'Capture the People' is curated by Rosanna Raymond and features works by Maori and Pacific photographers based here in NZ including Siliga David Setoga,Terry Koloamatangi Klavenes, Tanu Gago, Ane Tonga, Grant Apiata, Tuafale Tanoa'i aka Linda T, Raymond Sagapolutele, Russ Flatt, Lisa Reihana, Emily Mafile'o, Pati Solomona Tyrell and Natalie Robertson.
Ata Te Tangata curator Rosanna Raymond says "Photography played a huge part in contributing to the visual mythology that defined the Pacific body, the land and ocean. Ata Te Tangata redefines the gaze. The person behind the lens is genealogically and geographically a part of the community they are portraying. This allows for more nuanced representations, reflecting the world around them. These images tell a multitude of stories, bringing to light the people and landscapes of a contemporary Polynesian experience unique to Aotearoa New Zealand"
The CoconetTV caught up with two of the artists who are travelling to Pingyao this evening to find out more behind the concept of their exhibition pieces and the exhibition itself.
EMILY MAFILE'O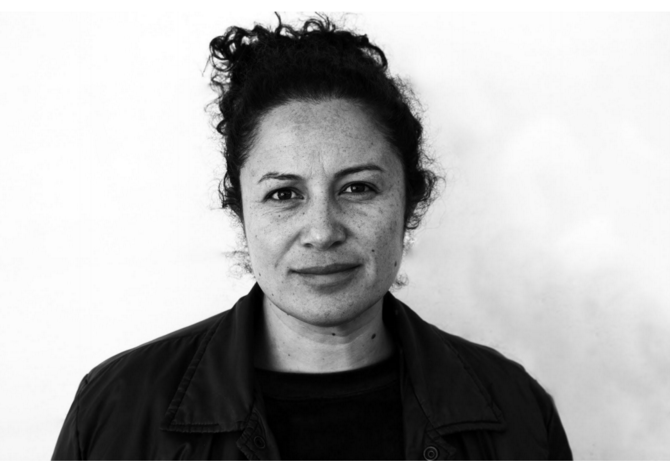 "What I really like about it (Ata Te Tangata Exhibition) is that it's a really interesting look, like if you saw the images that came through they're really diverse and it's not necessarily what you'd expect to see from Maori and Pacific Island photographers. It's more looking at peoples lives and things that they do rather than at festivals performing and that kind of thing.
I'm also really excited that a lot of young photographers have been pulled into the mix because you know, they're living what it is to be PI in Auckland and we're all urban - we live in Auckland - we're urban PI's so it's a really nice look at the different varieties. Pati, Tonu and of course Anes work which is really cool with the Gold Teeth and Siliga with his hair - it's so simple but cleverly done.
I think another really important aspect of this exhibition is that WE are taking ownership of how PI's are portrayed so WE are documenting our people rather than having someone else come in. I think thats really important and Rosanna spoke to that in one of the news clips - the importance of documenting our own culture and taking ownership of it and doing it you know - we now have the resources to do it so do it! Don't leave it for other people to come in and document it and then not be happy with how you're portrayed you know?

"A KILLER OF A TIME" - By Emily Mafile'o
"My focus has always been on people and capturing people in their environments and for the last 12 - 15 years I've been documenting a friend and through that friend I met 'Killer' - that was his aka. Because I started hanging out with him I noticed a shift in the body of work where it was solely focused on him and what he was going through.
I found it quite interesting that he was full Tongan born in Tonga and yet there were so many things that weren't Tongan about him. I think he moved over here when he was about 7 so I think he had all that Tongan background but he was living such a life that wasn't. So that really fascinated me ...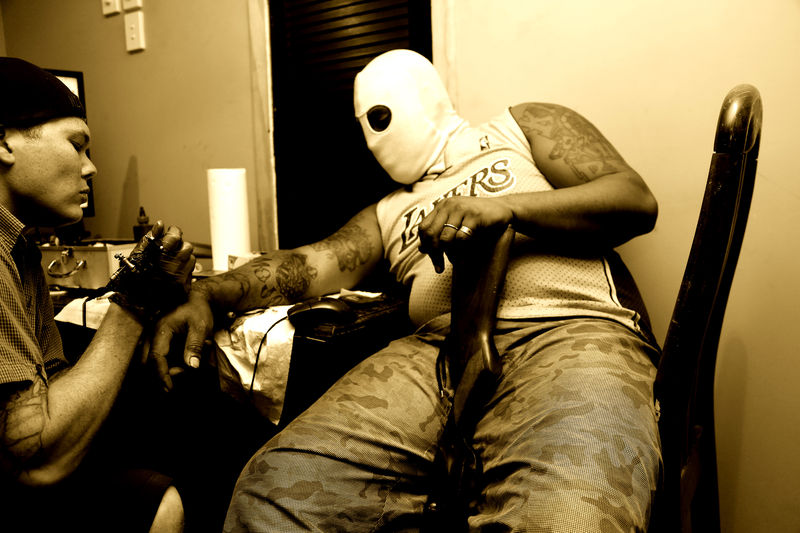 Then at different times, bits and pieces of Tongan culture would come through and I'd be like 'Oh yeah, there it is' It was almost like he was trying to push it to the side like 'it doesn't exist and this is my life now' but it'd be funny how it'd creep back in and he didn't even realise it.
So I was really fascinated by that. I was fascinated by the life he chose by the amount of freedom he seemed to have. Within the Tongan culture there are lots of things that are right or wrong and it's extremely black & white especially if you're religious. It's ingrained and yet here was this guy not paying any attention to that and yet to look at him he was full Tongan, he could speak Tongan fluently and he'd chosen this totally different life.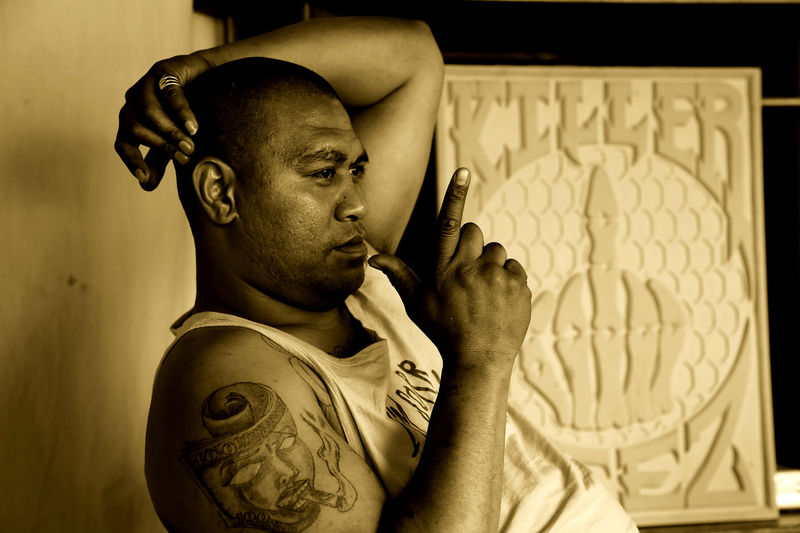 For me it was like 'You're not behaving like you're meant to behave!' and that freedom that he had to do the things he did but of course that freedom also comes with consequences but for some of us we don't even have that freedom to make that choice because it's just a 'no go area'
So I was fascinated with the aspect of, even though the actions he did would have consequences that were pretty harsh like prison or whatever he still had that ability to consider these things whereas I wouldn't even consider behaving like that. You know the majority of the population wouldn't consider behaving like that.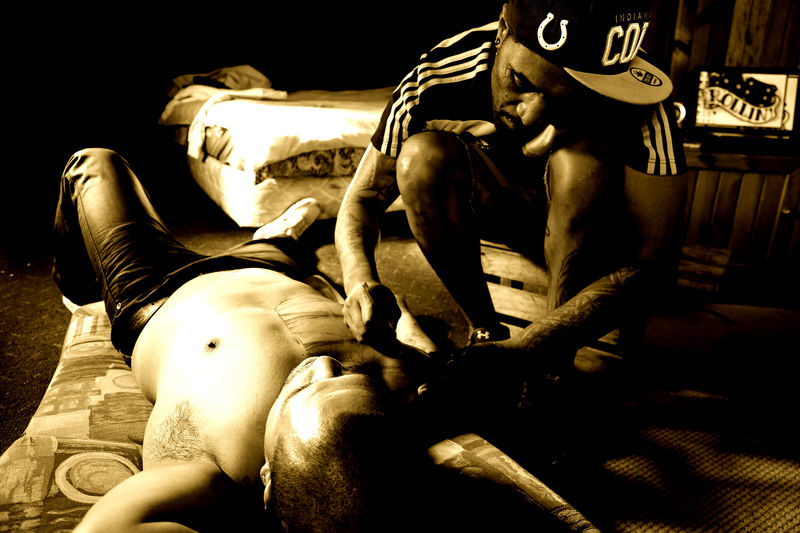 Then I realised that he might have this exterior that was really harsh looking, not pretty at all, really rough and yet there were softer sides to him and at the end of the day he's still human. It's just getting through that barrier and I wanted to document him because this is a part of Tongan culture now, whether we're in New Zealand or America or even Tonga with the deportees returning home that culture is starting to grow in Tonga.
So you can't say it's not part of Tongan culture, it is but it's just hidden and I want to, through my body of work, acknowledge that there are different and many types of being Tongan because often in Tongan culture you only show what is appropriate and what is right and everything else is swept under the mat. Family members are discarded or disowned if they behave a certain way not to the normal if they bring shame to the family and I just wanted to bring light to some of these things.
And you know this guy was full of humour, he had children, he started to have hopes for the future and he's still human so for me that was really important to show. I've had some people say that I'm glamourising gang life but I thought no, I'm actually documenting what actually happened not setting them up and taking them out of their environment"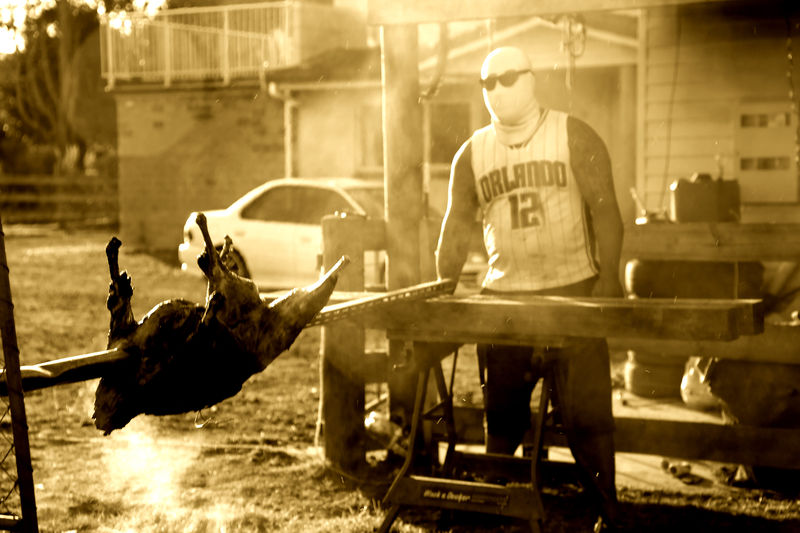 RAYMOND SAGAPOLUTELE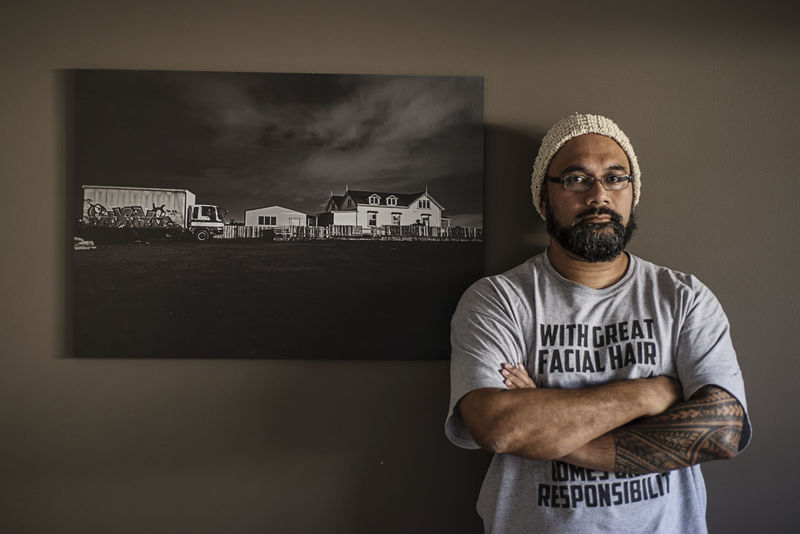 "When Rosanna approached me originally she asked me for a variety of images and I thought OK I could put the 'Out of Context' images in there in case they're something they're interested in as well as a whole lot of the landscapes that I'd been doing. When Rosanna came back to me she said they loved the landscapes - they were strong - but they REALLY loved the 'Out of Context' images and it fit into more of what they were looking for.
I had asked Rosanna what the reactions were and it was the variety of images and the different styles from each photographer were what really impressed the festival organisers.
At first I was a bit funny about putting the images in and I only put them in to give them a variety of shots but then I thought it was a way to introduce our people to another HUGE culture and if we can go over and speak on behalf of the images then that helps as well"
"OUT OF CONTEXT" - by Raymond Sagapolutele
I'm not an anthropoligist but I wanted to document a generation of Pacific Islanders born here as well as urban Maori from my generation. The main reason being that we're the generation of children from those that came over in the 60s & 70s. I was coming across images from the turn of the century from Samoa and I'd never seen them before - I was amazed at how different they were to the images that we grew up on or the images you saw in your standard text or you know the postcard images of the islands with your taupou and the matai with their nifo oti and it all looks quite staged.
But then these other images I found were these amazing photos of people dressed as they were going about their work or like when they had got someone to take a group photo of them, not one of them were like how I'd perceived or had seen. So I was like wow these are amazing why have I never been able to see these and we came across the same experience when we went to the Auckland Museum and were given access to their archive. They have got all these old photos from Samoa and other Pacific Islands but they were telling us that with Samoa with the way the Germans ran things with the way they liked to keep accurate records, the photographers used the state of the art equipment for the time. So the images they got & printed are amazing to see even 100 years on they haven't lost their beauty but I looked at them and was like 'Thats not what I thought they'd look like'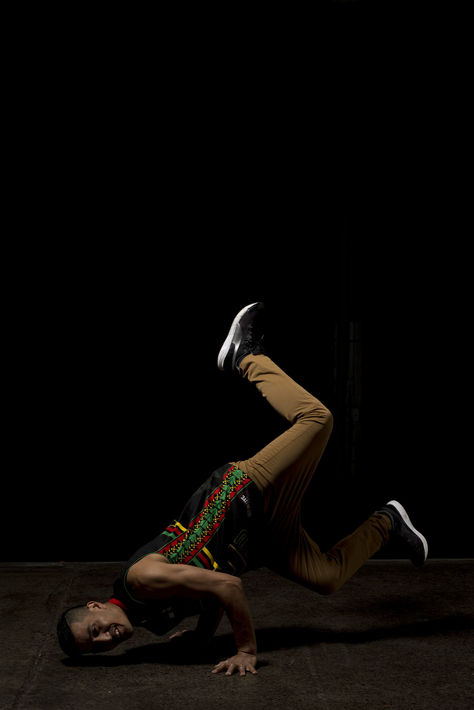 So back to what I'm doing - what happens in 100 years from now if you were to go and do a search on what we were like, you're going to get all these headlines like "South Auckland Criminal", "Dairy Robbers", "Homeless" you know which is part of where we are, our history, but it's not all of us. So you either get that or the extreme opposite of everyone going to church, Happy Islanders, Glen Jowitt type shots where everyones happy to perform covered in oil (laughs).
There was a Tongan artist that I was introduced to and he was amazed to be amongst Polynesians & Maoris. We have this kind of 'Us and Them' mentality "PI's and Maoris' but I'm trying more and more to merge the 2 cos thats how we are. When they come over they don't distinguish any difference they just think we're all Pacific Islanders which is true. When he said that to me I kind of questioned him and was like what do you mean and he replied "Seeing you guys as you are, you're real!" and that stuck in my head so I did a google search on us - Polynesian + New Zealand and you get All Blacks, Kapa Haka groups, you get people at Polyfest, at Pasifika which is cool but it didn't represent Me and it didn't show my family, your family or the people I grew up with.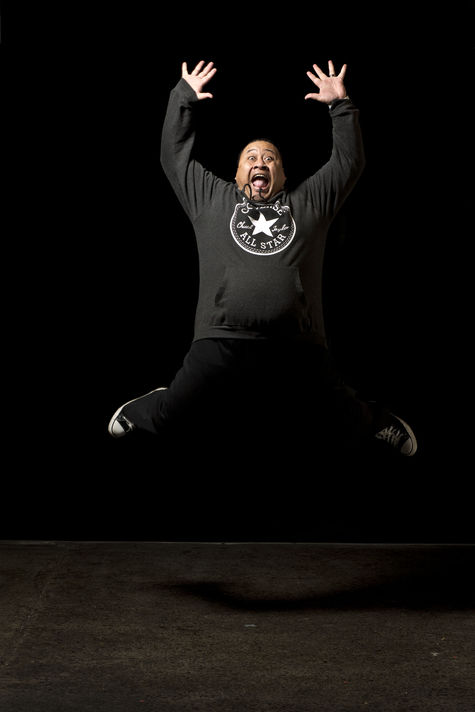 So I sat down and based off the work I did on my Mum and Sister - I liked that style - and thought how do I use that because when I shoot I tend to shoot in a studio setting as opposed to street photography. For this project it was a bit more personal so I wanted to have a bit more control over what I was doing and that reminded me of what I did with my Mum and sister .
Based on that idea of using the single light and the subject and then putting them together as a collage to show them as a whole because the photos individually are amazing but when you combine them it takes it to a whole new level - for me anyway - so I thought I'd use that same approach when it came to doing the project. When I approached eveyone who was in it I said 'OK I'm doing this, I'm going to be as hands off as possible other than the photography but can you bring along things that represent you even if it means 5 years from now your tastes have changed but I still captured that piece of you at that time'

In my mind there's a debate on how you represent your subject. Street photography is the most honest form because there's no pretence you're just catching them as they are on the street. When it comes to a sitting it's slightly different because they put it back on you that you're going to capture them in a way that you interpret it so I had to work out a way to make it so that my influence was minimal.
I'm passionate about this project because I'm this generation as well, I've been through the struggles and a lot of the conversation I've had with subjects when I'm shooting them - we've had the same experiences. The reason I wanted to include Maori is because there's a common theme among us where there's that cultural cutoff. We feel like we're too brown to be a kiwi but too white to be a Samoan or for the islands.
With the photos I found there was a lot of engagement and story telling which let me know it was working and the other really cool thing I found was the images that I completed and I passed on to look at - they were quite touched by them and it was like they'd finally got to see themselves. So it was my interpretation in the way I took them and put them together but I'd send it back to them and ask them if they were cool with how they came out.

The Pingyao Festival of Photography starts on Monday the 19th of September.
It features 10,000 photographs from all over the world. 3 of the exhibitions within the Festival get their own opening and the body of work featured in 'Ata Te Tangata' is one of the 3 receiving their own opening which is a great honour.
The festival itself has been going for 10 years now and is located in the ancient section of the city of Pingyao which is also a UNESCO world cultural heritage site. For the duration of the festival, Pingyaos old town becomes one large, indoor and open-air photo gallery, with photo exhibits from professional and amateur photographers from every continent.