Savai'i Travel Tips - from the secret waterfalls, to the best fale options, the freshest pagi popo to the richest Koko Samoa and the coldest sasalapa smoothie - we got you!!
Savai'i is the raw island experience full of unknown treasures and local food delights, there is no where in the Pacific you might have a waterfall to yourself for the day, where you can have a bombing competitiion with the local kids at a village swimming hole, where you might stop to see the lava fields and end up eating hot ulu with some of the local women who bring you in from the hot sun..
-
First up - getting there:
Have a good squiz at a map of Savai'i before you go because she pretty big and lots of people don't realise the travelling times from one end of the island to the other (about 2 -3hours)
Check that your beach fale takes Credit Cards if that's what you are planning - check on phone as some info on the websites are out of date :)
In Salelologa use the ANZ money machine - there is only one other machine in Tuasivi and its sometimes not working. *Tip The store in Tuasivi has GREAT bakery food - buns, fresh bread, pagi popo's as well as a bit of everything you may need while on holiday. It's the closest thing to a supermarket on Savai'i. NB: It's not open on Sunday!
There are petrol stations in Salelologa / Lalomalava / Saleaula / Manase / Asau and one on the East coast. There have been times when the Manase gas station has run out so if you're heading up to Asau or round the island its probably safer to go back to Saleaula to fill up than try make it to Asau if you're running low on gas.
The local experience in Savai'i is the best so dont be shy to get amongst it and ask for an ipu ava at the local makeki and play a game of Mu - this is like the local 'streetfighter' Samoan chess, hilarious and the local skills and slang with this is next level.
The Makeki is hard to find! No street sign but if you go left when you come out of the wharf, head for the sign that says 'Lusia's Lagoon Chalets' and follow the road just past it you will discover a great little oasis of colour, chaos.
In amongst the Shasta and pepa Bongos you can find fresh niu, umu, panikeke, cheaper lavalava's and handicrafts than on Upolu and smiling seamstresses who can do your Puletasi alterations on the spot.
Best day to check out the Makeki is Saturday.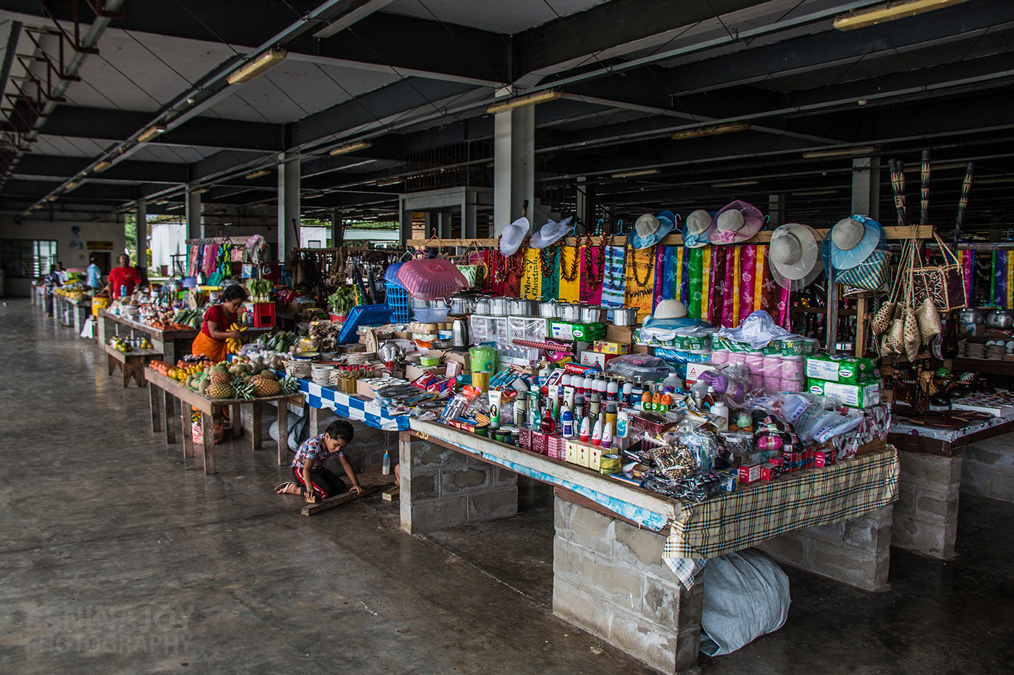 Niu – Cold niu is harder to find in Samoa generally at the moment due to labour and crop shortages- the best options are to keep an eagle eye out for stalls on the side of the road. Expect to pay up to $5 Tala for niu.
Once you get out on the road you can normally find niu at the small family road side stall, just ask and they'll cut it open for you and often a great show either with a large bush machete or by stragegically smacking 2 nius together to crack the shell open on 1 in normally less than 3 hits.
*The 'Fabulous Lalomalava Makeki' in the village of Lalomalava often has a big array of fresh produce including niu.
Where the Food At??

There are no cafes and bars and restaurants open day and night, 7 days like Apia, most tourist food is found at the hotels or if you are keen to try a hand at local food you'll still have to drop into a hotel or beach fale.
Lusias Lagoon – Fresh Sasalapa Smoothies, Lemongrass Tea, Hot Taro Chips, really good fresh tuna Oka, and fa'alifu kalo! You can go for a dive bomb off the deck into the beautiful deep ocean while you wait for your food!
BBQ – Most of the BBQ outlets in Salelologa serve fresh BBQ and excel in giving generous portions of bbq chicken, kale, taro or bananas and salad and if your lucky mamoe or pi pi. Be warned though extra oil and fat is complimentary and often added like extra sauce once they have plated your dish!
Savai'ian Hotel, Lalomalava – Islands Best Local Steaks (They have a dish called Savaiian steak) which is very popular. Most hotels import steak from NZ.
Amoa Resort Savai'i, Faga – Island fusion at its best – the food here is seriously good - fresh tuna options, the endless buffet nights with fresh local produce and excellent dessert menu with even more fusion.
You can ask to have breakfast at the newly upgraded pier and watch the sunrise as you eat fresh fruit, niu and the hot goodness from the kitchen.
Amoa is flash and has fully pimped out Deluxe Villas with heaps of space and a beautiful garden setting, the pool with the swim up bar is beautiful and there's a huge treehouse and trampoline for kids.
Taefu M. Matafeo Store - down the road from Amoa, stumble across this little faleoloa that has a little garden with cakes and espresso coffee.
Adrias Cafe Lalomalava - has the best coffee in Savai'i! They use the Coffee Roasters coffee excellent blends from Upolu and have an array of sandwhiches, pies, cakes and lil custard pies - but also really good supo povi.
Bayview – Anything Pork or Beef as they have their own plantation and pa povi!
These unique fales are on the lava fields and have a wild beach on the other side of them that makes it different to the other fales on Island.
Le Lagoto – Cocktails & Lobster on the beach plus Sunday afternoon BBQ on the deck plus Fia Fia night on Thursdays (seasonal). These guys have fantastic service and are a great mid point to stop off at on Savai'i, have an oka and a swim while you wait in the stunning lagoon - the deep bit is in front of the pool.
Le Lagoto have a wonderful hot breakfast menu that features lots of local produce and the coveted 'Siamu popo' caramel coconut jam. They also have a great cocktail bar run by the very efficient Candy who can whip up a mean Margerita with fresh local limes.
The Manase strip - Tailua, Vacations, Reginas – Homestyle Island Food (Soul food) Reginas has a free to'ona'i for guests on Sundays. Tailua has little fale decks and raised beds as does Vacations if you feel the need to be off the floor.
The legendary Tanu Beach fales have the most fales for big groups and big portion breakfast and dinners.
What is a devastating sign of climate change is that the coast and beachfront has eroded so much in front of this legendary strip that there is now a seawall and stairs down to the beach.
Tanu Beach fales also have accomodation across the road where there is a Tsunami safety area up the hill.
Vaisala Hotel – This old skool 'hotel' is pretty much a concrete block but has one of the best white sand beaches, exquisite lagoon and best snorkelling on the Island.
Also there's not a lot for lunch, but they do a next level island food buffet some nights with the fully laid on seafood –fai'ai fe'e, lobster the works!
Va-I-Moana – Ok this is possibly the best kept secret in the Pacific. A perfect little garden cove with wild turtles, pontoons and a pier to fish and dive off and a great accom set up. Highlights here are the suaesi and koko alaisa at breakfast, the lunch lobster salad and dinners by candlelight. Great local activities and a tour around the Koko Plantation next door.
This is the heartland of Koko Samoa and has the best 'Creola' variety grown in Samoa. Also there are tasty juicy oranges and mandarin orchards down here - when in season they are all over the fruit stalls on the side of the road.
*Tip - there is a fantastic big fresh water pool at the crossroads junction when you drive into Asau, perfect to jump into after the long drive and gossip with the locals. Don't be shy to have a swim, but prolly dont rock up in a bikini and don't jump in when the 'Sa' is on around 6pm :)
On the East Coast - Satuiatua Beach Fales have a $30 To'onai on Sunday with Lobster – Must pre book 24 hours ahead.
Local Attractions: Remember that in Savai'i everything is on customary land so you need to pay the small Tala fee to experience most of these things. These entrance fees in most instances help to fund much of the village needs and some areas are heavily reliant on this as a source of income.
Tip: We recommend changing your Samoan Tala down to small denominations because most villages will not have change for large denominations.
-
Saleaula - the church at the lava fields and Virgins Grave.
This is beautiful and an interesting stop off if only for a great photo opportunity in the ruins of the church which is full of lava and beautiful foliage. There is a good toilet! And a great group of women in the fale who can give you awesome information about the volcano and the impact on the region. They even fed us! And told us to put their photo on FB because one of them needed a husband lol.
Matavai, Safune - Mata O le Alelo – the Sina and Tuna Pool
Possibly the most beautiful fresh water spring in the world. The locals there will tell you the legend of Sina and the Tuna if you have been living in a cave and don't know it.
There is always a fee AND no swimming on Sunday. The big pool is supposedly for the men but the day we went the pool attendants told all the girls to jump in and try it. Has toilet!
Just before the Mata O le Alelo pool there are another series of springs you can jump into – you can see them as you come down the hill into the Safune area. These are great to splash around in with the local expert bomber kids.
The Lava tube – Pe'ape'a caves in A'opo
Spooky and a bit weird, but interesting to have a look at if walking through lava tubes is your thing. Could be a great adventure hike like no other, we piked out as our torch died but the local guide had good torches on him to use. Has toilet!
* Falealupo Tai
Canopy Walk – you can walk in the treetops across these 'Indiana Jones' style bridges. The view from the top platform is awesome as you can see across the Falealupo region. The amazing thing about this walkway is that it's completely Eco and there are no nails or damage to the trees that the bridges are tied to.
NA: It is currently closed for renovations in Jan/ Feb 2023 but will hopefully open later in the year.
Falealupo also have two beachfale operations so you can stay and explore the myths and legends of the area, and sleep in an open fale on a beautiful white sand beach.
The beach fales furthest away from the main road - closer to the very end of Falealupo is a smaller bunch of fales in a beautiful lagoon with good Samoan produce for breakfast and dinner.
Tufutafoe - Cape Mulinu'u
The birthplace of Nafanua is a special place in Savai'i, steeped in legend and history. Nafanua the war goddess came from this region where they say the entrance to Pulotu the underworld lies.
There is a gathering of rocks that face the place where the sun falls into the ocean called the Fafa O Sauali'i, the ancestral place of the gathering of spirits before they jump off to the next world.
There is a beautiful large rock pool in front of this which is said to have been the bathing place of those passed before they walk the rock passage to the next world.
A beautiful sweet scented Pua-like flower grows there on the lava rocks over the rock passeway to Pulotu, a flower which only grows here and flowers every day of the year. . Inhabitants of Falealupo believe the plant is cared for by spirits on their way to Pulotu which is why it never dies.
Over the road there is also a smaller star mound, then Pulemelei a Malae Fono with rocks that have ancient indents in them believed to be foaga - grinding stones for polishing stone axes or adzes.
Up the hill there is also a smaller star mound then Pulemelei that's kinda cool with a circle of rocks and one that has a seat indent presumably from the many Samoans seatings throughout history.
There are so many stories associated with this area, both mythical and more recent, one amazing book to read about Falealupo is 'Nafanua: Saving the Samoan Rainforest' by ethnobotanist Paul Cox whose initiatives had a huge impact in the area in the 1990's.
https://www.amazon.com/Nafanua-Saving-Samoan-Rain-Forest/dp/0716731169
Awesome and the subject of many music videos. The most powerful in the Southern hemisphere and when she blowin' she BLOWIN' so watch your distance. You will get wet here no matter what the tides and prolly don't pay the $40 tala to see the guy throw a coconut in for you – you can fully do this your own self for free if you're keen.
Home to Afu A'au Waterfall in the village of Vailoa, Palauli on the South Coast of Savai'i, you can swim in one of Samoa's most beautiful waterfalls and often have it all to yourself. Newly upgraded there are now steps to get into the cool blue water and a toilet and changing room block.
– The largest ancient rock structure in Polynesia. Due to an ongoing land dispute, access is limited and you need to get one of the local guides to take you on a long hike to get there.
There are several different theories on what this huge mound of rocks was used for – pigeon snaring and astrological markings are two of them, but the jury is still out on what our answer to the Pyramids was for.
* Tip - If you're interested in Siapo there is a Siapo making demonstration place a couple of fales before you get to the turn off to the Afu Aau waterfall (coming from the Salelologa side) in Palauli
Aganoa Surf break – Aganoa Lodge – the most little known resort in Samoa aimed at the International surfing community.
The Dwarf Caves in Paia just outside of Manase. We've heard great stories about these lava tubes and swimming in the pools in them. Apparently you need to stick to the right where they come to an end as the left hand side goes on forever and is where the dwarfs of legend may live. Take your own torch, good shoes and water.
These are our top Savai'i travel tips, fave things to see & do and places to eat and stay.
Let us know any helpful tips or your own favourite parts of Savai'i that you love to visit.