A delicious frozen desert made with coconut cream, watermelon and a hint of basil - perfect for those hot summer days coming up from I Love Coconut Cream!
Granita, originally from Sicily is a delicious semi-frozen dessert made with sugar, water and flavouring (usually pureed fruit). Check out this yummy island version you can whip up instead of otai!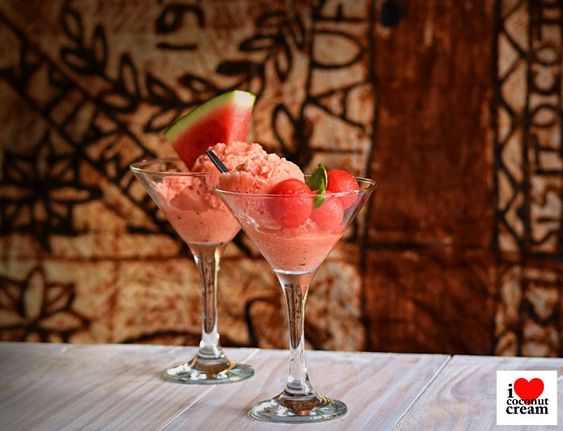 INGREDIENTS
½ medium watermelon (seedless) diced into large chunks (about 8 cups worth)
400mls of good quality coconut milk (fresh is best but Kara brand is also good)
½ cup of caster sugar
½ cup of water
Basil leaves (about 1 tablespoon)
INSTRUCTIONS
Place the sugar and water in a small saucepan on medium high heat and stir until the sugar is dissolved. Bring syrup to the boil, then reduce heat and simmer for 5 minutes. Turn heat off and set aside.
Blend watermelon chunks and basil leaves in an electric blender until smooth.
Add coconut milk and sugar syrup and blend for 3 seconds more.
Place in a plastic container and freeze overnight (or at least 4 hours).
Using a fork, scrape the frozen mixture to form ice crystal s. Serve decorated with watermelon balls and extra basis leaves.