Incredible Hawaiian Women in History
These influential wāhine and their achievements in Hawaii's history paved the way for all Hawaiian women, as well as women around the Pacific!
Source: Hawaii Magazine
1. Queen Emma
Photo: Wikipedia
In 1859, Queen Emma Kalanikaumakaʻamano Kaleleonālani Naʻea Rooke established Queen's Hospital to save the rapidly declining Native Hawaiian population, providing free services to those suffering from foreign-introduced illnesses like smallpox and influenza. In 1867, she founded The St. Andrew's Priory School for Girls. Her talents extended into music as a vocalist, pianist and dancer and regarded for her skills as an equestrian.
2. Kaʻahumanu
Photo: Wikipedia
Kaʻahumanu, arguably the most influential woman in the course of Hawaiian history, was considered to be the most powerful woman in Hawaiian society as Kamehameha's trusted adviser.
She wielded her political power as his favorite wife and the kingdom's first kuhina nui (similar to a prime minister) to campaign for the rights of Native Hawaiian women. Under her counsel she staged a turning point in Hawaiian society: convincing the young King Kamehameha II to publicly eat at the same table with women (a major taboo), which in turn abolished the ancient kapu system that prohibited women from engaging in the same activities once only reserved for men.
3. Isabella Aiona Abbott
Photo: University of Hawaii
An ethnobotanist from Hāna on Maui, Isabella Kauakea Yau Yung Aiona Abbott became the first Native Hawaiian woman to receive a PhD in science. Of mixed Chinese and Hawaiian ancestry, Abbott learned about limu (Hawaiian algae) from her Hawaiian mother, setting the foundation for what would make her the leading expert on Pacific algae according to the academic record.
She's credited for discovering over 200 species, including a family of the Rhodomelaceae (red algae) family, a genus of which is named Abbottella, after her work in the field. In her career she wrote eight books, applying her native knowledge to author one on marine algae of California's Monterey Peninsula, and more than 150 publications.
4. Rell Sunn
Photo: Encyclopedia of Surfing/Jim Russi
Known as the Queen of Mākaha, Rell Kapoliokaʻehukai Sunn was a world surfing champion and pioneer for women in the sport. With her cool and composed riding style, she shaped unity in the surf community by establishing a pro women's competitive surfing circuit for her peers and future generations. In 1975, she became Hawaiiʻs first female lifeguard presiding over her favorite beach on the North Shore.
Sunn, affectionately called Aunty Rell, is also remembered for her long courageous battle with breast cancer. She was diagnosed in 1983 and given only a year to live. She overcame that prognosis by 15 years. She surfed every single day.
5. Patsy T. Mink
Photo: U.S. Congress
The first woman of color and the first Asian American elected to Congress, Patsy Takemoto Mink was a trailblazer in both local and national U.S. politics. With an impassioned nationally-televised speech she gave at the 1960 Democratic National Convention to 10,000 people, Mink is credited for persuading two-thirds of the Democratic party to continue their progressive stance on Civil Rights Issue, notably opposing motions to delete provisions such as a deadline to desegregate schools by 1963 and to make the Civil Rights Commission a permanent agency from the party's official platform.
She also authored Title IX, a law which bans gender discrimination among federally-funded education programs..
In 1972, she also became the first Asian American woman to seek the presidential nomination of the Democratic Party.
6. Brook Lee
Photo: Miss Universe Pageant
Brook Mahealani Lee is the first Hawaiian, indigenous person and Asian American to win the Miss Universe crown. Her final competition answer during the Q&A portion is remembered for being one of the most memorable in beauty pageant history, responding that if she could do anything for a day without being confined to rules: "I would eat everything in the world."
7. Aloha Dalire
Dalire Kaneohe, known as Aloha Dalire, was named the first Miss Aloha Hula, then known as Miss Hula, at the inaugural Merrie Monarch Festival in 1971. The title is considered hula's top solo wahine honor; each year at the festival held in Hilo, the best female hula dancers in the world compete for the prestigious award which crowns one as the most distinguished in the art form and cultural practice.
She went on to become a prominent kumu hula (hula teacher). Her halau, Keolalaulani Halau 'Olapa O Laka, competed at Merrie Monarch under her direct teachings for more than 40 years. Dalire was always a cause of excitement for the festival, many watching in anticipation to see what she'd bring to the kahiko(traditional) and ʻauna (modern) dance categories. She passed away at 64 in 2014, but her legacy lives on through her aloha spirit and lessons.
8. Michelle Wie
Photo: Michelle Wie
From Honolulu, Michelle Wie is the youngest winner of the U.S. Women's Amateur Public LInks and the youngest to qualify for a LPGA Tour event. She turned a professional player at just 16 years old winning many high-profile and national endorsements. In 2014, she won her first major at the U.S. Women's Open.
9. Jean King
Photo: Mari Matsuda/Twitter
Jean Sadako King was the first woman elected to be lieutenant governor of Hawaii from 1978 to 1982. She was considered a true pioneer for her achievements and as an advocate for affordable housing and the environment, particularly preserving Hawaii's natural resources with the State Sunshine Law and the Shoreline Protection Act. She inspired many young women aspiring to work in politics with her public service.
10. Bernice Pauahi Bishop
Photo: Kamehameha Schools Archives
Princess Pauahi is one of Hawaii's most important philanthropists. As an aliʻi(royal)—the last descendant of the Kamehameha line—she held the largest private landownership in the Islands, owning approximately 9% of Hawaii's total acreage across the island chain. During her lifetime she saw the Native Hawaiian population dwindle from 124,000 to 44,000. Concerned for her people she focused her entire estate towards education.
In 1887, as designated by her will, she established the Kamehameha Schools to bring educational opportunities to preserve, improve and perpetuate the well-being of future generations of Native Hawaiians, academically and culturally.
Today her estate is worth about $11 billion.
11. Natasha Kanani Janine Kai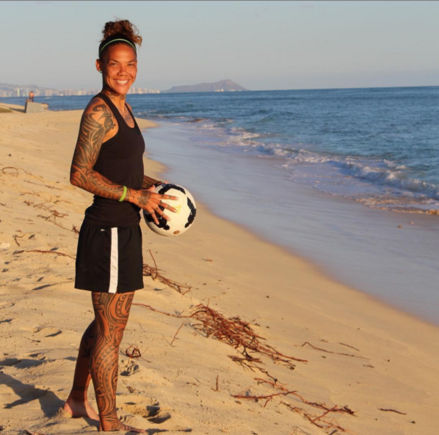 Source: Instagram
From Kahuku, Oahu, this professional soccer forward is also an Olympic gold medalist with a record-setting career. In the Western Athletic Conference (WAC), Kai became the first soccer player to be named both Freshman and Player of the Year in the same season. With 446 career shots, she also holds that career record and is second in goals (72) and points (162).
Kai is also a role model for the LGBT community as an open lesbian in the sport (one of only three openly gay members on the 2008 USA Olympic Team).
12. Mazie Hirono
Photo: U.S. Congress
In 2013, Mazie Hirono became the first woman senator from Hawaii and the first Asian-American woman in the U.S. Senate, and currently the only person of Asian ancestry in the Senate currently. She's the nation's first Buddhist elected also. When she first immigrated with her family to Hawaii from Japan at the age of 7, she couldn't read or speak English, and today serves on many committees championing women's reproductive rights.
13. Alice Ball

Photo: Wikipedia
Born in Seattle in 1892, Alice Augusta Ball became both the first African-American and the first woman to graduate with a Master of Science degree in chemistry from the University of Hawaii in 1915. That year, she also became the first woman to teach chemistry at the school.
In her research project at UH, Ball developed what was the most effective method of treatment for those suffering from Hansen's Disease (leprosy) at the time. Her research was used as the basis for treating many patients at Kalaupapa, the community and colony on Molokai where those afflicted with the disease were quarantined.
At just 24 years old, Ball suddenly passed away. While officially unknown, researchers suggest Ball's tireless efforts investigating the properties of chaulmoogra oil to produce the treatment became a cause of exhaustion and could've attributed to her death.
14. Queen Liliʻuokalani
Photo: Hawaii State Archives
Liliʻuokalani was the last reigning monarch of the Kingdom of Hawaii. Upon taking the throne she wrote a new constitution that would restore veto power to the monarchy and enable economically disenfranchised Native Hawaiians and Asians to have voting rights and a voice in the political process. That constitution never became the law of the land as she was illegally overthrown by American and European businessman, supported by the U.S. military, who were threatened by these new governing views of the Queen.
Imprisoned in her own palace, where she was locked away to its second-floor for nearly a year, Liliʻuokalani wrote her memoirs and composed mele (songs) such as "The Queen's Prayer" and "Aloha ʻOe," regarded famously today as a lament for the loss of Hawaiʻi nation.
As a lone woman in the face this forceful removal from her rightful rule, she's remembered for her resilience, belief in peaceful resistance and her attempts to re-empower the people of Hawaii over corporate interests. Throne-less, she continued to fight for the restoration of the Hawaiian Kingdom and revered by her people until her death in 1917. She was 79.