TALES OF TIME: Rudolf 'Pakigi' Berking
Berking served the german government of samoa and then lived on to see the arrival of the nation's self-government in 1962.
Source: germansinsamoa
It was no surprise that one of the five men who organised the Mulinu'u ceremony was Mr Rudolf Berking. You won't find much mention of him in the history books of Samoa but he was arguably the most prominent German Samoan of the 20th century. He never held high office and his life was marked by dislocation and adversity, but Rudolf Berking was a generous and public spirited man who commanded broad community respect.
He outlived all his German contemporaries, dying in Apia in 1972 at the age of 92. Berking had served in the German government of Samoa and then lived on to see the arrival of the nation's self-government in 1962. Independence for the Samoans must have seemed impossibly distant in the horse-and-buggy days at the turn of the century when Berking stepped off his ship.
Credit: Klaus Berking Collection.
Credit: "Cyclopedia of Samoa," McCarron, Stewart & Co, Sydney, 1907.
Rudolf Berking was born in Hanover, Germany, and arrived in Samoa in 1900 via Hawaii. After a stint in junior roles in the Customs Department he was made Collector of Customs in 1905. In this photo from the Cyclopedia of Samoa, 1907, Berking can be seen standing in white at the entrance to the Customs House, on the Apia shoreline. His assistant C. Pullack appears to be on the left and the "tide-waiter", Captain F.Kruse, on the right.
The Cyclopedia commented on a personal quality of Berking that had made him popular in his Customs role and for which he was known throughout his life: a great courtesy and thoughtfulness of manner.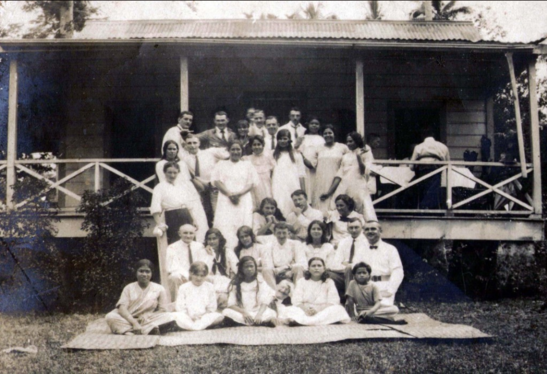 Credit: Agnes Sasse Heeney Collection.
This photograph was taken in about 1913-14 of a group of people partying, reportedly at the holiday home of Mr Berking and his wife at the time, Mrs Caroline Berking (nee Netzler), at Letogo east of Apia. With a few exceptions most of the men in the photo appear to be Germans drawn from Apia's commercial community, especially the large trading and plantation company, DH & PG (Deutsche Handels und Plantagen Gesellschaft der Südsee Inseln zu Hamburg).
A number of people can be identified: man at top in middle holding up a glass of beer, Mr Ludwig K.Schmidt; man second row from top on the left leaning on handrail, Mr Werner Sasse; woman beside him in long white dress, Mrs Caroline Berking; other woman with hand on handrail, Mrs Antonie Schmidt; man sitting on step with hand on chin, Mr Rudolf Berking; next row down, sitting on the bottom step, left-to-right Mary Swann, Margaret (Maggie) Swann, Mr Peter Fabricius and Agnes Swann (later hotelier Aggie Grey). Mr Fabricius married Margaret Swann in October 1913. He was of Danish descent.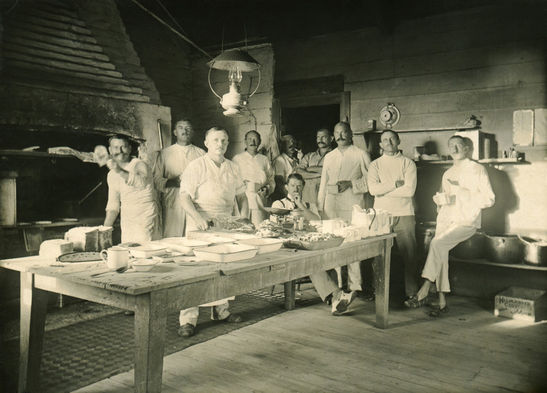 Credit: Alfred Schultz Album; photographer R.Hofmann; restored by T.Brunt 2013.
After the outbreak of the First World War in 1914 and the end of German rule, Rudolf Berking staved off internment for some months teaching New Zealand officials how to run the Customs Department. In the chaos of a new administration "disorder reigned in all government departments," he wrote later. Working without pay, "I was at the disposal of Colonel Logan and his Customs officers at any time of the day or the night."
Despite his close cooperation with the occupying forces Berking was shipped out of Apia in May 1916 to become "Prisoner of War No. 63" in the New Zealand internment system. This photo shows him working in the kitchen at the camp on Motuihe Island, Auckland. People identifiable in the photo (left-to-right) appear to be: Wilhelm Osbahr, Berking, Max Bartel, Alfred Schultz, Brenner, Dr Endletsberger (with pipe), Arthur Gardain, others unknown apart from far right, sitting, Wilhelm Holzeit, formerly an accountant at Krause & Preuss, Apia.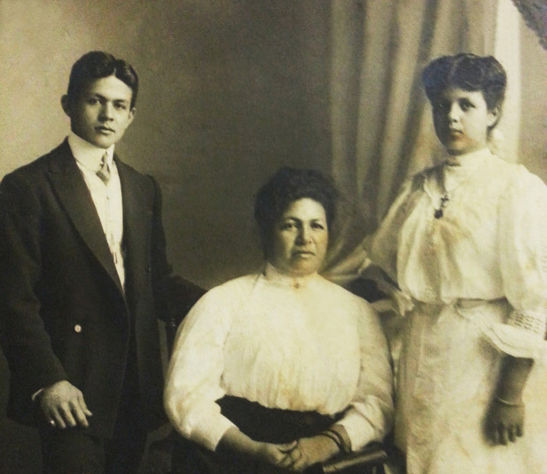 Credit: Tony Brunt Collection.
Caroline Berking, shown in the middle, suffered from persistent ill health during her husband's absence in New Zealand. Maintaining the family's 140-acre plantation at Letogo was a struggle. Eleven Chinese workers were employed on the property but there was no money for an overseer – Caroline had to fulfill that role herself.
She was also alone with no children to lend a hand. A daughter Ernestine had died some years before. Her two surviving children, daughter Elisabeth 'Lissy' (born 1902) and son Rudolf (born 1903) were both at school in Germany.
This photo shows Caroline with a young man who may be her half brother Augustino, whom she adopted, and a niece.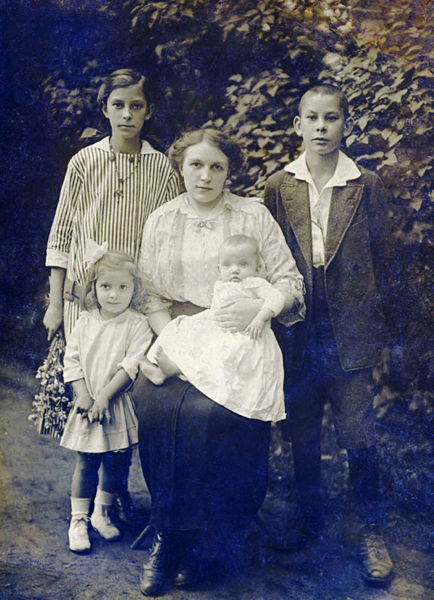 Credit: Klaus Berking Collection.
A photo of the Berking children, Lissy and Rudi, (at back) taken with a relative in Germany during the war, in about 1916. Their upkeep at school was paid for out of their father's government salary which appears to have continued to be paid. Mr Berking's salary also supported his mother in Hannover.
Sending children to Germany for education and work was popular with German fathers in Samoa. Caroline and Rudolf Berking paid a terrible price for their understandable desire for a better education for their offspring in distant Europe. In September 1918, Elisabeth died of pneumonia in Hannover aged 16. Wartime internment for Rudolf meant that the parents had to cope with their grief apart. In 1926, another tragic blow – son Rudolf fell ill and died while attending veterinary school in Berlin.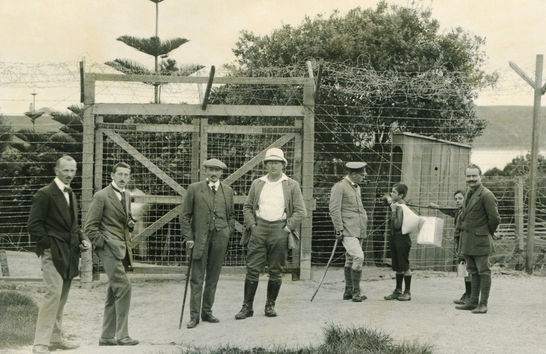 Credit: Alfred Schultz Album; photographer R.Hofmann; restored by T.Brunt 2013.
Rudolf Berking took a leadership role in 1919 when approval for repatriation of the POWs back to the islands was bogged down in post-war red tape. He pleaded time and again with the military authorities to allow the married men especially, to return to their families. His submissions were signed, "R.P. Berking for this camp." Finally, the Treaty of Versailles was signed and the Allies got clarity on what they could do with German POW's and assets. Berking took passage for Samoa in February 1920. Nearly four years of captivity had come to an end.
In this last photo of Berking from Motuihe he is standing in the middle wearing a white pith helmet. The others (left-to-right) are: Mr A. Ohle (DH & PG, Tonga); Mr Wilhelm Holzeit; Mr Alfred Schultz; Berking; Count Felix von Luckner; young boys Kurt Stunzner and Fritz Stunzner Jnr, who lived for a time on the island with their parents in self-contained accommodation; Mr R.Hofmann.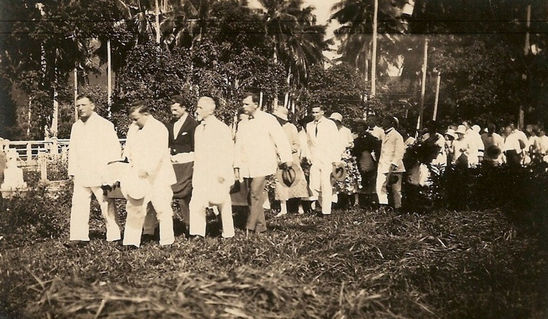 Credit: Reye Family Collection
A willingness to accept responsibility and a strong loyalty to the country of his birth saw Rudolf Berking take a leading role in advancing German interests in Samoa and attending to the welfare of Samoa's remaining German citizens and their families. The number of Germans in Samoa had shrunk by about three-quarters after the post-war repatriations to Germany in 1919, and the forced deportation of nearly 200 Germans (including children) by the NZ administration in Samoa in June 1920.
This photo shows Berking as the leading pallbearer at a major turn-out of Germans and other citizens at Magiagi Cemetery, in Apia, in August 1933 at the burial of Mr Ernst Friedrich Reye, long-time Apia resident and former personal assistant to German Governors Solf and Schultz. Others in the photo (left-to-right) are Mr Robert Wetzell, Mr Augustus Betham (dark jacket), Mr Friedrich 'Fritz' Stunzner, Mr John Netzler and in the white suit Mr Raimund Reye.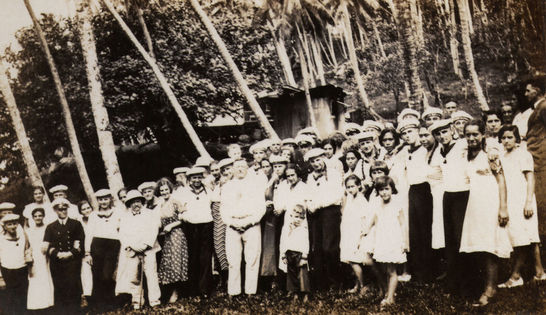 Credit: Meiritz Reid Family Collection.
In February 1934, Mr and Mrs Berking hosted a reception for the crew of the visiting German Navy cruiser Karlsruhe at their property at Letogo. Rudolf had remarried in 1931 to Anna Lefagaoali'i (nee Saffings). She can be seen, third woman from the left.
Others identifiable in this photo are (from left): man in white suit and pith helmet Mr Alfred Matthes, a plantation manager at Magia; Mrs Anna Matthes behind him; Berking in middle with Mrs Siavalua Stoeckicht beside him; Mr Gustav Stoeckicht directly at rear; on far right, man at rear, Mr Kurt Stunzner; young girl, full length, Miss Elfriede Meiritz; Mr Fritz Stunzner Jnr at extreme right in grey suit.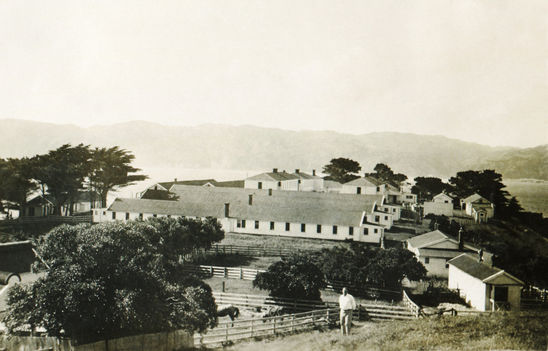 Credit: Riethmaier Family Collection; restored by T. Brunt 2013.
Rudolf Berking was a member of the German "Concordia Club," in Apia, which served as a cultural and social centre for German men on Upolu. They followed closely the rise of Hitler in Germany and had spirited discussions about the German leader and his National Socialist Party. After the declaration of war in September 1939, virtually all of its members were arrested by the NZ Administration.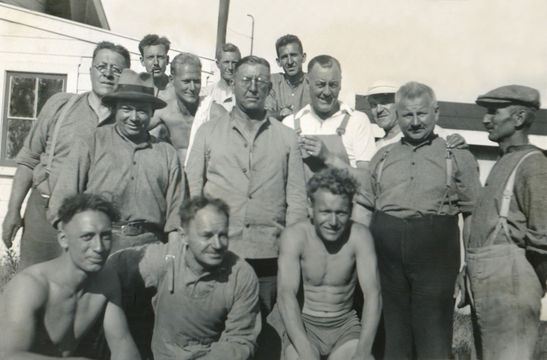 Credit: Riethmaier Family Collection; restored by T. Brunt 2013.
A total of 42 men were interned under guard at the Taumeasina Centre, east of Apia. After three months captivity there, 15 men, including Berking, were sent to New Zealand for internment and the rest were released on parole. This photo shows Mr Berking standing on a hill above the Somes Island internment camp, in Wellington, where he would spend 4¾ years. Apart from the initial 15 men, a total of 20 other German Samoans were brought to Somes Island during the course of the war.
Lifelong friendships were forged in the 'lost years' of internment. Berking became camp leader again and made representations to the NZ authorities on a number of issues, signing his letters, "On behalf of the German internees."
Identities (left-to-right): (at rear) Mr Max Grapengiesser (in glasses); Mr Kurt Schmidt (with pipe), Mr Albert Wetzell (towel over shoulder); Mr Paul Hessman, the German teacher at the Apia German School, based in the Concordia Club building; Mr Fritz Stunzner; two men in white shirts, unknown; (at front, standing) Mr Robert Wetzell; Mr Berking; Mr Arthur Leuschke; Mr Fritz Jahnke; (kneeling) Mr Werner Jahnke; unknown; Mr Gregor Riethmaier.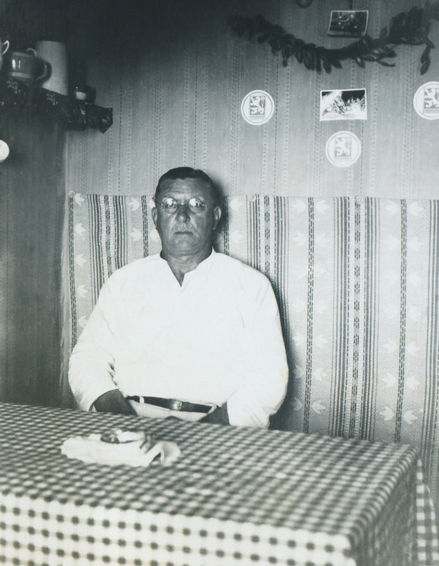 Credit: Riethmaier Family Collection; restored by T. Brunt 2013.
Rudolf Berking returned to Samoa in October 1944. In addition to his occupation as a plantation owner he was for a time a hotelier, and then ran a butchery and ice-making operation at Matafele. He married Helen Therese Bartley in 1951.
Berking descendants from his two latter marriages are found in many countries, including Samoa, New Zealand and Australia. When he died in 1972, Rudolf was referred to by the "Pacific Islands Monthy" as a "legendary figure in Samoan history."