TALES OF TIME: Williams Family
Gina Williams writes about her family history and the many nations that make up her heritage.
"Where are you from?" Growing up in a multicultural school in central Auckland, it was always interesting finding out where each other was "from". Too boring to simply say I was born in New Zealand, instead my response was "England, Ireland, Scotland, Sweden, South Africa and Samoa". My overconfident 9-year-old self loved the oohs and aahs from the other kids, and if I held anyone's attention for long enough, I'd tell them that my Samoan Nana was actually born and raised in Rarotonga.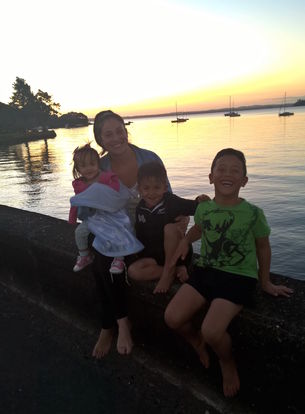 Aulola Williams-Fotu, Gina Williams, Leon and Gianni Williams-Fotu.
As I got older, my response shortened to "I'm part Samoan". It seemed almost too indulgent to claim all of those nations as my own, but the truth is, my heritage is in fact that colourful and diverse and full of tales of high adventure. Now that I'm in my thirties (ticket to not care about what anyone thinks), I'm going to indulge in my cultural identity. So there.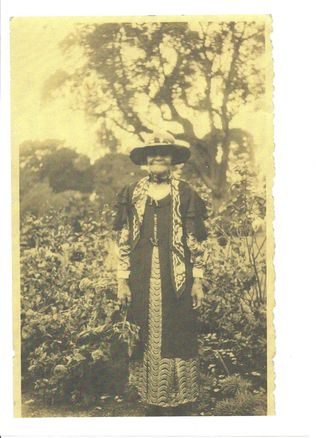 Mele Mataele - (Photo supplied by Peter Jensen)
Mele Mataele, my great, great grandmother was born in Samoa. There is a bit of mystery around Mama Mele, with different opinions from around the village (Lefaga), but what we believe is that at age fourteen she left Samoa for Tonga as part of a dance troupe. In Tonga, she met Englishman Ernest Hamilton Rea Mitchell who was born in Liverpool in 1868. At 19 Ernest travelled to New Zealand from England with his widowed mother Sarah (nee Rea) and five siblings in 1887. A year later he went to Tonga for reasons unknown.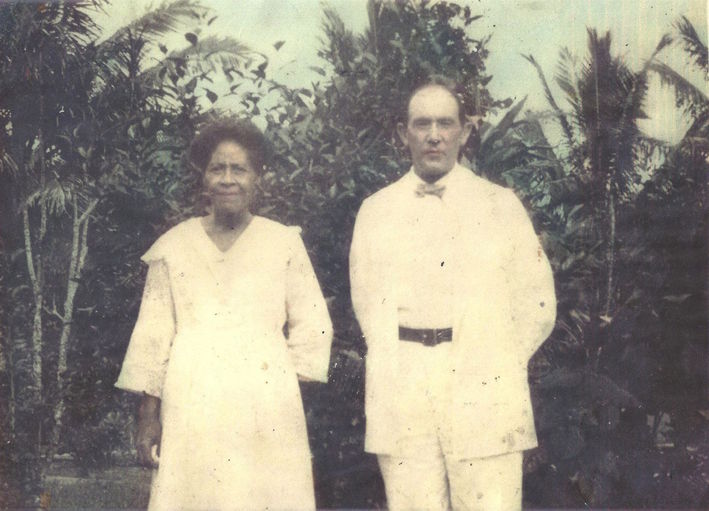 Mele Mataele & Ernest Mitchell - (Photo supplied by Carol de Jager-Taripo)
Mele never returned to her homeland of Samoa and she and Papa Mitchell married on October 31, 1891 in Vava'u, Tonga. I wonder how they communicated - did they pick up Tongan? Or did they just speak the language of love? ;-) They communicated somehow because they had eight children; four girls and four boys. Their third child Agnes was born in Ha'apai, Tonga, on January 29, 1897. She was to become my great grandmother.
The Mitchell family island-hopped to Rarotonga as Papa Mitchell set up a business as a trader.
As Agnes was happily growing up in Rarotonga, in a far away land was Cecil John Bouchier. He was born in Capetown, South Africa in 1900 to an Irishman Thomas Bouchier and Maria Agnes Mulvihal. Cecil fought in WW1 as a gunner. After the war, he worked as an agricultural scientist and early in the 1920s, he accepted a post in Jamaica and set out to sail to the Bahamas. For reasons which are obscure, he never got there and instead settled in Rarotonga where he met his love, Agnes.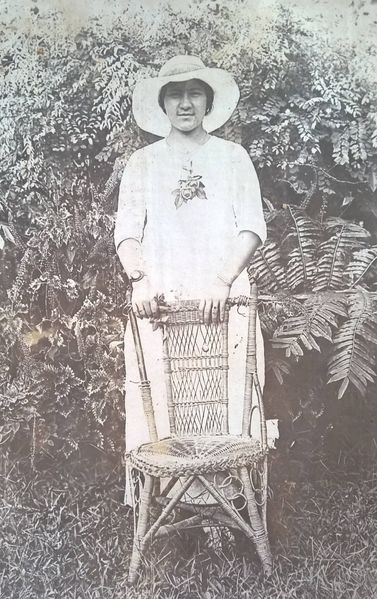 Agnes Bouchier.
Agnes and Cecil had six girls all born in Rarotonga. The eldest, Eileen, would be my nana. The Bouchier family had been living a comfortable life in the Cook Islands with my great grandfather scoring a good salary as second-in-charge at the Agriculture and Fisheries Department when tragedy struck. In 1935, Cecil, aged only 35, was swept from his waterfront office by a tidal wave. His leg was badly damaged and eventually amputated, but while he was waiting for a boat to New Zealand for treatment, gangrene set in and he died.
Now a widow with six daughters to bring up on her own, Agnes and the girls, my nana Eileen the eldest at age 12 and her youngest sister only 2, moved to New Zealand in 1936 and settled in Grey Lynn - within a mile of where I live with my family today.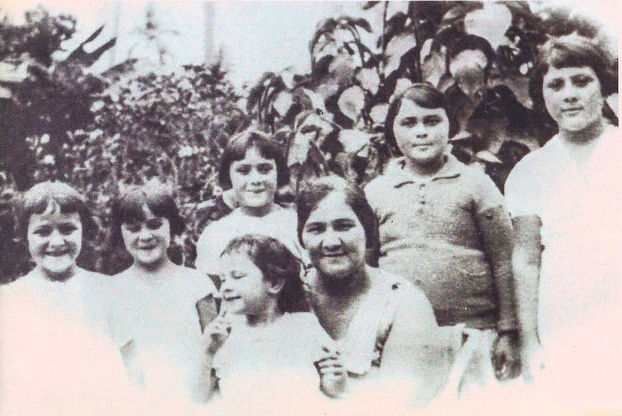 Agnes Bouchier and her daughters, Nana Eileen far right.
In later life, Agnes' mother, Mama Mele too left Rarotonga and came to live in New Zealand after Papa Mitchell died. She died in 1949 in Auckland and her ashes were held at Purewa Cemetery in Meadowbank until recently...but more about that later.
A few years after arriving in New Zealand, my Nana Eileen met my grandfather, Arthur Williams, who was born in Apia, Samoa. He was one of five children to Arthur Williams senior, an Australian who ran away from home as a teenager and made his way to Fiji where he became a chauffeur for the Government and drove the premier around in the country's first Rolls Royce. In 1915, Arthur Williams Senior visited Samoa as a singer in a concert party and liked it so much that he stayed and married Telesia Tuala of Leulumoega and Saleaula (originally and then after devastating volcanic eruptions, the people relocated to Leauva'a). Telesia's father, Tuala Silivelio, had established the Catholic mission in Savai'i.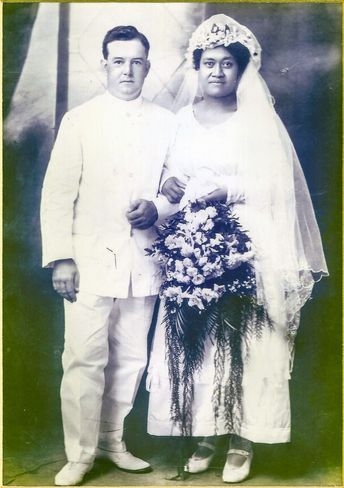 Arthur Williams Snr & Telesia.
When the Second World War broke out, Arthur Williams Senior, or Viliamu Faipaipa as he became known in Samoa, sent my grandfather Arthur Jr, then 17, to enlist in the war effort. As his yacht the Satenella approached the Auckland heads, it was shot at repeatedly when the captain failed to identify himself. After being kept under house arrest until the authorities were satisfied the visit was a peaceful one, my poppa found work as a labourer within 24 hours of arriving in New Zealand. He nearly fainted when he got his first pay packet because he was paid in a day what he earned in a month in Apia.
Nana Eileen and Poppa Arthur got engaged and married soon after they met. Poppa Arthur enlisted and went to Guadalcanal as a plumber. For a couple of years after the war they lived in Apia but came back to Auckland where they had their third son and my dad, Bryan, in 1950. They went on to have a fourth child, a daughter, my Aunty Lorraine who after training as a teacher in New Zealand, moved to Samoa in the early 80s and has lived there ever since.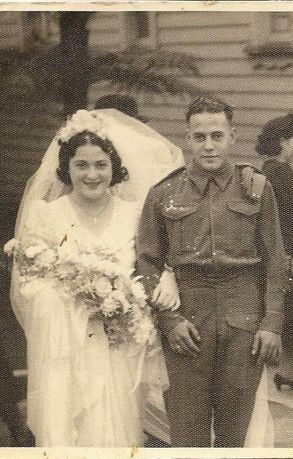 Eileen Bouchier & Arthur Williams Jnr.
My dad Bryan met my mum Lesley Ensor of Swedish, Scottish and English descent as a teenager in Moerewa, in the north of New Zealand. They married in Auckland in 1973 and had four children. I am the youngest, and I have three crazy, beautiful children; two sons and a daughter to a NZ-born Tongan from the villages of Sopu and Folaha.
Recently, some family members decided Mama Mele's ashes should be in Rarotonga. And so it was to be. This year in October she was finally laid to rest with her husband in Avarua on the same weekend that they had been married 125 years earlier. Back together again in a grave for eternity, their grave was adorned with five flags of the different nations relating to their life journey - United Kingdom, New Zealand, Samoa, Tonga and the Cook Islands.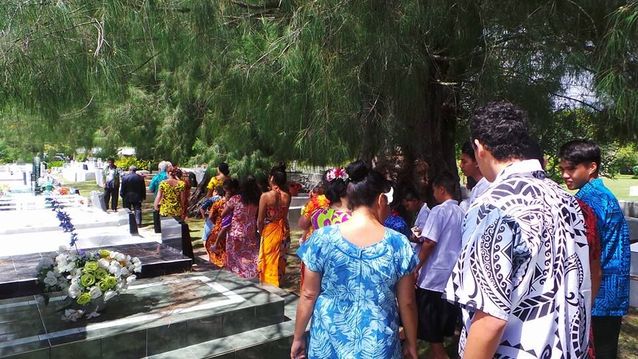 Unveiling in Raro 2016 - (Photo supplied by Chunillal Pema)
When I fill in official documents for my children, under the "ethnicity" section I always tick three boxes: NZ/European, Samoan and Tongan. But our heritage is so much more than that. When I can hold their attention for long enough, I will tell them our rich family history and hope that they don't wait until they are over 30 to indulge in it too.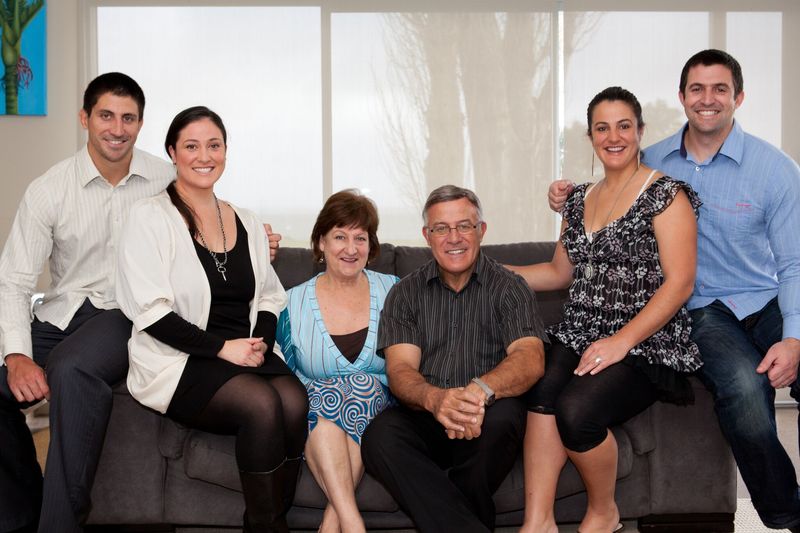 Paul, Gina, Lesley, Bryan, Marie Young & Gavin Williams.