Blog
BEYOND THE EMPTY STREETS OF SAMOA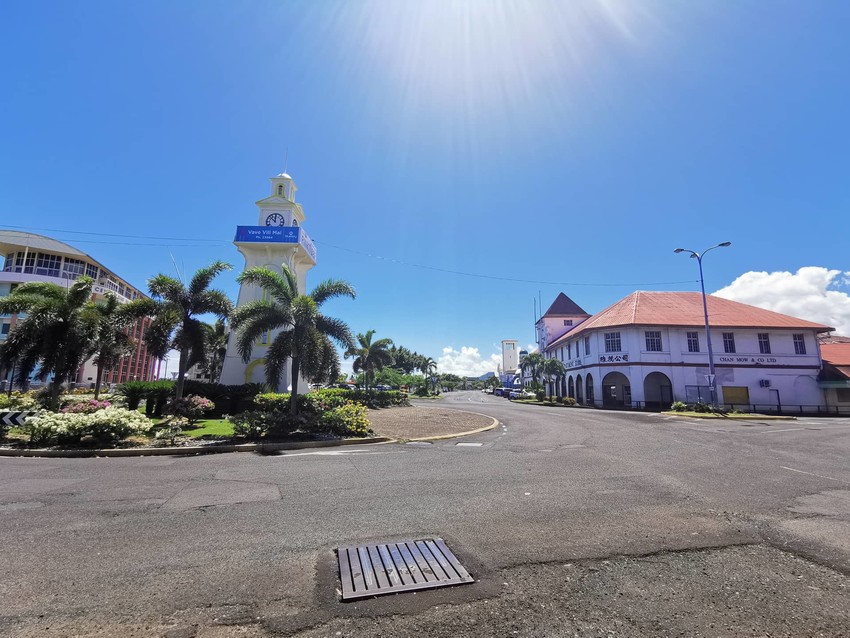 In the shadow of a state emergency, the streets of Apia have become a ghost town. The people of Samoa are on curfew as the government hustles to administer measles vaccinations to its vulnerable citizens, only mobile vaccination units, authorised government vehicles and media can roam the roads of what can only be described as something that resembles a post apocalyptic paradise.
Streets that usually bustle with life are empty and in the centre of a city that normally sings with the sounds of Samoans going about their daily life, only a handful of people can be seen. They're manning the control centre, where all of the information is being fed back from the teams that are out administering the vaccinations.
In a country that bleeds blue, today they are seeing red. Told to mark their homes with anything red they can find, because that's the signal to the authorities that someone in that household requires the measles vaccinations.
One of the vaccination teams drivers was in good spirits despite very little rest; "we've been up all night prepping, but it's working. People are letting us know that they need it and we're finding them".
As I write this 62 people are dead from this awful epidemic. With that number only predicted to rise. But it's important to remember these aren't just numbers. They're people. Most of them children. Families behind those numbers are real and so is their grief. Lanuola Von Heiderbrandt's 14 month old son, Peter, was the first victim to die of the current outbreak of measles in Samoa. "It's just not the same without him here", she told me as she fought through the tears. "He died on white Sunday. He was just gone. He was such a happy baby and always had a smile on his face".
So heartbroken is Lanuola that she has taken a year off work, "I just can't focus, life is not the same. I just need to be here for my other children as I try to come to terms with everything".
Those other children, Peters brothers and sisters, aren't really old enough to understand that he's dead. "When we go to his grave his younger brother keeps saying' 'just bring him back mum, make him come back', but I have to tell him I can't cos he's with Jesus now".
Asked about some of the people throwing about anti-vaccination rhetoric online Lanuola scoffed; "rubbish! Get your vaccinations done. These are our babies dying".
Dealing with death is hard at any time, but it's even harder when it's so unexpected and it's not just children dying. Sylvia Hanipale complained of a sore back on Wednesday of last week. By Monday she was gone. She was just 36 yers old.
As I sat with her mother, Tiresa, and sister, Sina, in a home full of love, the grief was still so raw and real. "I lost my mum and I lost my dad, but I've never felt any sort of pain like this before", her mother said as the tears rolled down her beautiful face. "She kept saying, mum, I'm in so much pain".
For her only sister the loss weighs heavy on her heart, but the affection still evident in her words. "If that was me lying there sick, she would have turned that place upside down trying to get me fixed. She was definitely the strong one", a small smile breaking on her face.
Her mother had spent every moment next to her ailing daughter and as she remembered Sylvias last words through a stream of tears, I found it hard to hold my own tears back. "She said 'mum, go rest! I love you. That was the last thing she said. She died the next morning". Fitting words now that Sylvia herself is Resting In Love.
Such a significant loss of life is so hard to comprehend. Being here and speaking to these strong yet wounded people, my heart breaks and bleeds for a nation and a people that seem to know no end of suffering. My people, my nation.
Back on the streets the red rags still fly, the businesses still remain closed and until Friday at 5pm the mobile vaccination units still go door to door. Only one thing is for sure, long after the state of emergency has been lifted and life resumes to some semblance of normality, Apia will no longer be a ghost town, but Samoa will still be a country haunted by the ghost of this awful epidemic.
Our CoconetTV journalist Tuki Laumea is on the ground in Samoa providing live updates during the Medical State of Emergency in Samoa
.
If you are looking for places to donate to help the people of Samoa during this state of medical emergency - please find organistions you can donate to or volunteer to help with below:
MFAT NZ - DISASTER & HUMANITARIAN AID
MEASLES SAMOA FUND APPEAL - GIVEALITTLE
.
The following organisations are taking donations drop offs for containers heading to Samoa as well as organising events in Australia, New Zealand & London to fundraise for Samoa. Swipe left for more info and drop off points + event locations.
Share