Blog
BRUTAL LIVES - MO'UI FAINGATA'A with Director Vela Manusaute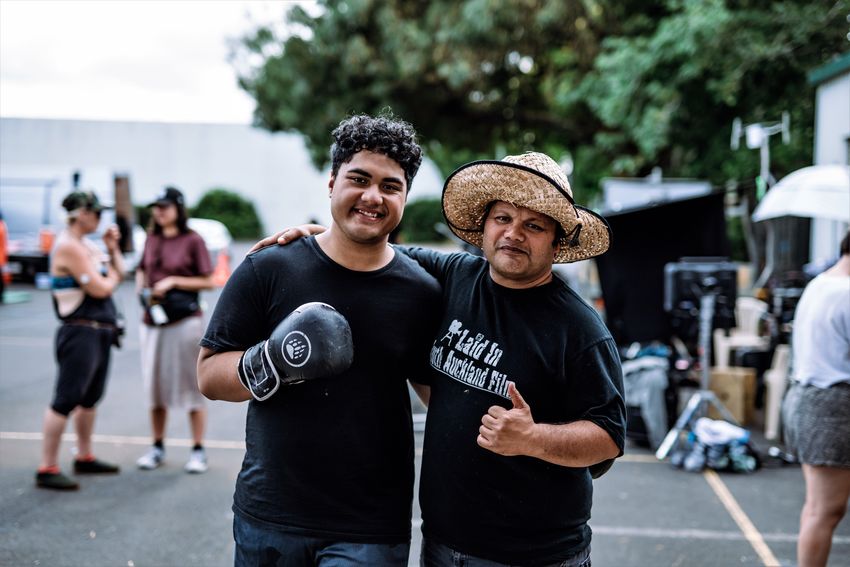 We talk to Director Vela Manusaute about "Brutal Lives - Mo'ui Faingata'a" a new Tongan language drama series coming to the CoconetTV in August.
What is Brutal Lives - Mo'ui Faingata'a about?
Brutal Lives - Mo'ui Faingata'a is a new pacific (Tongan) bilingual drama set in South Auckland about a fallen boxing champion who returns home after twenty years when his father dies. He must face his three children that he left behind, especially his daughter, Lupe. At the same time, an ancient Tongan spirit warrior seeks revenge for the sins of the Valu family actions over five hundred years ago.
How did you come across the story and what made you want to make it?
The story and the idea is drawn from our own experiences and cultures—for me, it's my love of Pacific boxing and Pacific stories. Sandra (Producer) was inspired by stories from her village, Kolonga in Tonga and a desire to see more Tongan stories on screen and in the Tongan language. We both had similar experiences with our fathers growing up and wanted to play around with that energy and influence in the series. The spiritual element in the series is something that we also wanted to explore but to use it through a Pacific storytelling lens, the way we see it, our way. We were fortunate to work on the storylines with fellow writer, Michael Bennet, who was instrumental in helping us with all six episodes.
Why do you think it's an important story to tell?
At this time, we wanted to tell a story that has some meaning to our lives. It's about what inspires me as a creative person at this time. It's something that I care about, having our Pacific stories on screen because we are the narrators of our stories. We have been telling stories for many years. I just think that this is the right time to tell this story.
What was a highlight or a cool moment you experienced on set while filming?
The highlights were working and talking creatively with the actors. I enjoyed that process from the first idea to the first call of "Rolling, set, action". Another highlight was being able to call it for another "take" when things weren't quite right. I just loved the process of watching something come alive, from the pages to the screen. I enjoyed the boxing parts and the energy that the actors brought to their roles, it was just so awesome and watching the actors going to those emotional places. It was so good to work with my experienced actors that been doing this for years. I have so much respect for them and their craft. I loved the creative collaborations with the crew too. I felt more confident as a director in this project. I remember saying to myself "I've been here before". For the entire 13 days of the shoot, I woke up every morning and said to myself "I got this". Location was another highlight for me. Filming in the South Auckland I know was awesome and being able to bring that tone to the screen really paid off with how it looks.
The lunches were also excellent!
Was there any aspects of the shoot you found challenging?
The challenge was getting the shots that I wanted or thinking, did I get enough in the bag. I wanted the series to have the feel of 'real boxing' but without the actors actually hurting themselves. I learnt from my short film, The Messiah, the importance of holding the shots on the actors and not calling cut too soon so I wanted to focus on that in Brutal Lives - Mo'ui Faingata'a. I found the preparation time was important for me as the director but I also had to trust myself and the team that we would do a great job. One thing that I learnt was "to give love to all members of the team" and not only to the DOP. Doing things like my storyboard was really challenging. I can't draw so I ended up drawing stick figures to show the DOP, Grant Mackinnon my ideas. We made a lot of changes to the script during the shoot and I had to trust that process even though I kept thinking, is this the right direction for the story? But in the end, I believed the story and the performances of the actors would come through in the end and I was right.
Why is it important for Pacific people to write and tell their own stories?
We are the authors of our stories, so we must see that to the very end.
.
What do you hope people will take away from this series after they've watched it?
That we can tell, write and direct our stories through our own lens and share those stories with the world. We are proud of Brutal Lives - Mo'ui Faingata'a!
From the Pacific, We Rise!
.
Vela Manusaute is a writer and director born on Niue Island who moved to New Zealand in 1979. His passion for drama began at high school and he joined Pacific Theatre in 1987, which toured the country performing to schools. He graduated from Toi Whakaari New Zealand Drama School in 1996.
His first play was The Taro King (2002), which led to the formation of the Kila Kokonut Krew entertainment company. Kila Kokonut Krew has produced a number of successful works, including, Players' Night, Once Were Samoans and the first Pacific stage musical, The Factory, which toured Australia and Edinburgh in 2014. Vela was also the executive producer for a web series of The Factory.
He was a joint recipient of a New Generation Award for Kila Kokonut Krew, alongside his partner Anapela Polataivao, at the Westpac New Zealand Arts Awards, 2014. My Name is Pilitome is his first Niuean work. In 2017, Vela directed his first short film The Messiah, commissioned by New Zealand Film Commission, inspired by his own experience growing up. The Messiah went on to win Best Screenplay and Best Art Directions at the Pacific Rims Film Festival 2020.
* Cover image and all 'Brutal Lives - Mo'ui Faingata'a' images - Photo Credit: Matavai Taulangau
Share