Blog
FROZEN, UMU BAKED BREADFRUIT FOR EXPORT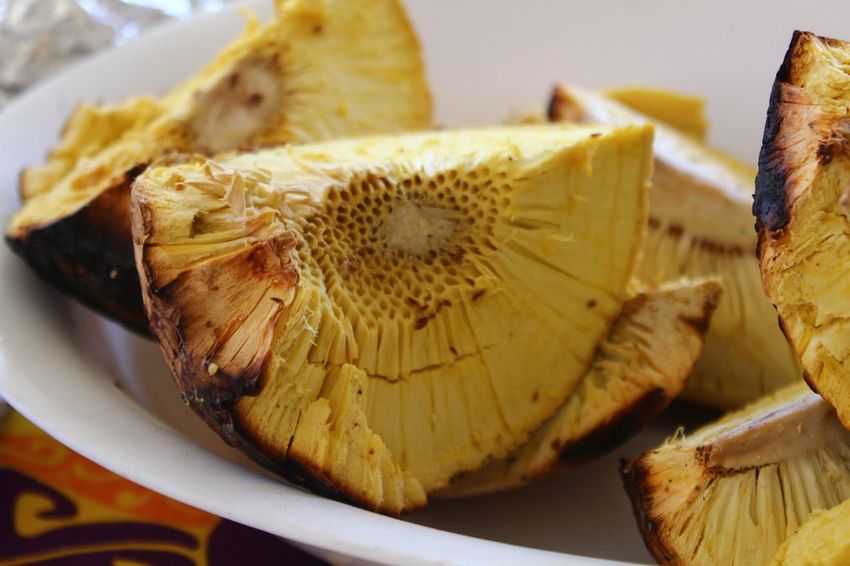 Families and friends outside of Samoa can now receive umu baked 'ulu (breadruit) in the frozen form, to be microwaved and ready to eat!
Tuimaseve Kuinimeri Finau and her Food Science team in Samoa are collaborating again with Su'as Traditional Growers & Farmers to ship frozen, umu baked 'ulu to Australia as an additional new product via sea freight, the more economical route for exporting frozen crops. Products have been prepared since the beginning of the fruiting season, packed and labelled.
Fresh and even baked breadfruit through personal consignment from Samoa has been banned by New Zealand for more than five years. In May this year the Scientific Research Organisation of Samoa collaborated with Event Polynesia Ltd (marketing) and Oasis Resources Ltd (importer) two companies based in Auckland New Zealand, allowing 243 packs of traditionally umu baked, frozen Maopo and Puou to be air freighted over. The produce was distributed to more than 200 Samoans with survey forms, by Teleiai Puni of Event Polynesia and his team and the feedback received was overwhelmingly positive with many consumers wanting a regular supply of the product due to its taste and convenience, as it only needs to be microwaved.
It is anticipated that through these small trials the exporters of frozen crops will see the opportunity in adding frozen, umu baked 'ulu to their line of products. It is also hoped that the frozen pathway will be uptaken as the alternative for sending personal consignments of baked ulu to New Zealand and Australia for families and friends to enjoy.
You can now buy the frozen ulu, taro & ta'amu from Maketi Samoa Foods & Produce in Papatoetoe, South Auckland.
The address is: Shop 12G Puhinui Rd, Papatoetoe & they're open 7 days.
Frozen Samoan Taro 2kg $12
Frozen Breadfruit 2kg $10
Frozen Taamu 2kg $10
Fresh baked Breadfruit only $3 each!
Savai'i Popo Coconut Cream 100% made in Samoa only $2.50 per can.
Breadfruit has been a staple carb on Pacific Islands for over 3,000 years and although it is a fruit it is more like a potato. Despite all the starch the breadfruit definitely doesn't lack in nutrients and has been dubbed the 'food of the future' and a 'Super Food'.
It carries more Vitamin C than jackfruit and banana and is rich in many vital B-complex groups of vitamins and is an excellent source of potassium.
Other benefits includes helping your body store nutrients, prevents and reverses oxidative stress, keeps your heart strong, boosts your body's immunity & may help protect against certain cancers
Check out our recipes for Ulu Hashbrowns here and Ulu Pancakes here.
Share