Blog
JASON MANUMU'A: "BRUTAL LIVES - MO'UI FAINGATA'A"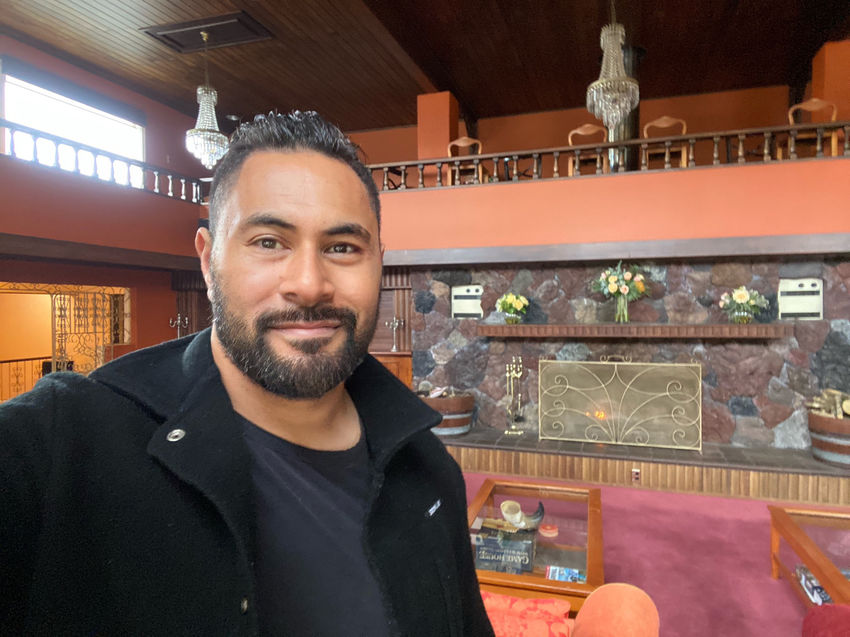 BRUTAL LIVES - MO'UI FAINGATA'A
ACTOR PROFILE
JASON MANUMU'A
.
My parents arrived into New Zealand during the 70's - fresh-faced and eager to find a living. They became part of a thriving Tongan church community in Onehunga in the 80's, where I was born, before moving to Mangere Bridge where our family house stands til today. I count myself so blessed to have learned how to read, write and speak my Tongan language through Sunday school growing up - despite surviving the 'passionate' smacks & whacks, and the 'loving' stares & glares of numerous White Sundays - every Polynesian kids' introduction to the performing arts lol!
The 90's was a great time to be a teenager - great music, movies and no internet, no social media and you walked everywhere lol. However for me, I was shipped off back to Tonga almost every summer as a kid, while my parents worked. It would be these regular trips over the years, from the age of 1 right through to my 21st that would seal the Kingdom of Tonga, as my favourite place in the whole world ... but NZ will always be home.
Today, I do a lot of creative freelance work. This ranges from production assisting on various film productions, writing scripts, tutoring at my old film school to acting gigs.
Most people will see that I live out of cafés with all the food pics I upload. I'm Tongan, so just bribe me with food.
How long have you been in the entertainment industry and do you have a highlight or favourite experience in your career so far?
I first graduated from the South Seas Film & Television school in 2001 and have been hustling in and out of the industry ever since! Damn - that's almost 20 years. Moments that have been defining for me? It will always be those 'very first' moments.
My first real job out of film school was a production assistant on the NZ leg of the 'Amazing Race' TV reality series. I even had to act as a 'security guard' at one of the checkpoints because no real guards were available at the time of filming - that basically became my initiation into becoming an actor.
It was also the first time I learned how to drive manual in a production vehicle!! Thank God the crew were so tired and slept the whole way to Rotorua from Auckland - "Yeah, so many 'pot holes' on the road." Now that was acting!
But what started as FAKING IT, TIL YOU MAKE IT, eventually became second nature as more experiences came. Low-budget NZ Feature films, Short-films, commercials & extra work. I branched out into theatre - combining my passion for youth into creative projects in local communities. One of my personal favourite experiences would have to be the directing and touring to local high schools around issues such as bullying, suicide & domestic violence. We even made it to schools on the Gold Coast, and Western Sydney. The impact and effect of that work was very humbling and heartfelt - harnessing the POWER of story-telling! But seeing my young people grow and aspire to greater things made all the blood, sweat & tears worth it! It will always be about what you can give to others, that will give you the most satisfaction, and not what others can give to you. In this work I feel the most fulfilled - using my God given talents. I am so grateful to have been given so many opportunities to expand and deepen my story-telling abilities.
You're in a new Tongan drama series called 'Brutal Lives - Mo'ui Faingata'a'. What attracted you to the role & to being involved in the series?
I guess for me - I was in the right place at the right time? Lol! Actually, I had been fortunate enough to have been in another project with the Director Vela Manusaute. It was another Tongan gig - a theatre play. I feel like there's a theme going on here ... I seem to be playing characters that I don't identify with? Lolol. But I guess within that - it's what attracted me to the role of Sālesi.
Tongan stories are slowing coming out of the woodworks - and that's great! Our people are entering a unique period where they're doing activities they've not used to. The lockdown has forced our traditional folk online and they're connecting like never before. Once they were yelling at us to get off our devices, but now they're yelling at us to turn them on, and tune them into online programs, entertainment or simply zooming every and any person they know. Well ... here's "Brutal Lives - Mo'ui Faingata'a."
Can you tell us a little bit about the character you play in your own words?
I play Sālesi (Charles), father of the main character - Soane. I'm a patriarch of a Tongan family living in South Auckland. Estranged from his son Soane for many years - only his children that have been left behind are his only connection to his beloved son. There is a glimmer of Soane, coming through his daughter, Lupe. She has her father's spark. But time is running out for Sālesi - he yearns to reconnect with his son. Even from beyond the veil he will still hold on, until things are set right.
I still think I should've been able to whack Soane with a taufale ... I think that's what island spirits would do lol!
Who are your biggest acting inspirations and why?
I love Morgan Freeman, full stop. From the first time as a kid watching him on LEAN ON ME as Crazy Joe - I was hooked, and have watched every movie he's been on. He just seemed so cool, calm & collected. Can do comedy & drama - and a dramatic voice to die for.
Here on our side of the world, I have huge respect and look to fellow Tongan actor John Tui - this guy gives back so much. Also our kiwi golden boy, Taika Waititi - I am passionate about directing just as much as acting, and Taika is living the dream.
.
* Cover image and all 'Brutal Lives - Mo'ui Faingata'a' images - Photo Credit: Matavai Taulangau
Share
---
Comments