Blog
Kava on the Moana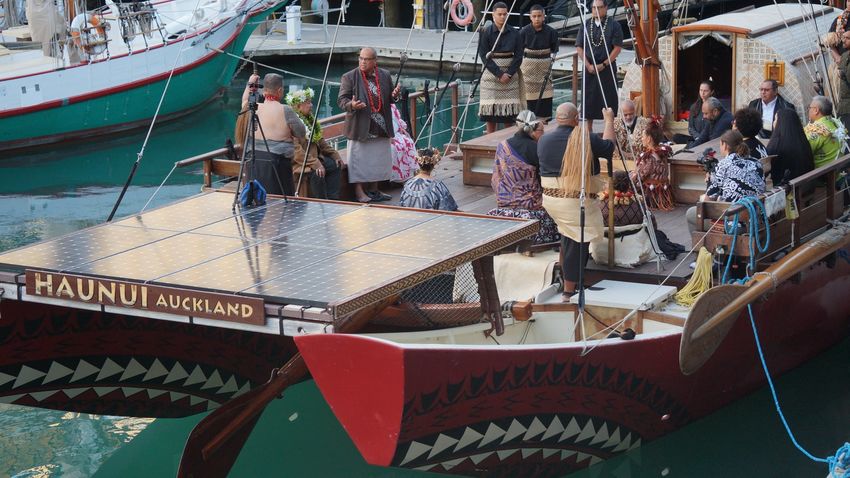 At dawn, a gathering of Pacific people assembled at the Auckland Viaduct to take part in a sacred Kava ceremony aboard the Waka Haunui. This event served to raise awareness on climate justice through connected Pacific ancestral ways – kava, waka, and storytelling.
The event was led by Pacific Vision Aotearoa using Kava o Aotearoa, which wove in various Pacific cultures into the morning. Kava o Aotearoa is a traditional kava ceremony uniquely designed and adapted for Aotearoa. The Maori representative Pita Turei of Ngati Paoa was uplifted as the highest chief of the ceremony, in honor of his stewardship and the waters in which the ceremony took place. Being on the traditional Waka this particular kava circle was extremely special. For many of those who were privileged to receive kava, it was their first time having kava on the Moana. About 20 people participated aboard while another 50 participated on the balcony overlooking Haunui.
The overall event aimed to unite Pacific conversations around climate justice in Aotearoa. During the ceremony, Rev Suamalie from Tuvalu spoke of his island homes' fight for survival and the need for immediate action on the climate crisis. "We as Pacific must work together. Lift the canoe. Get in the canoe. And paddle forward" the Reverend shared with his fellow Pacific leaders as they awaited their cup of kava. In all the speeches that were shared, there was a prominent mention of unity and connection. Pacific unity was highlighted as a powerful tool in the fight for climate justice. Representatives from Tonga, Samoa, Fiji, and Aotearoa also spoke on the importance of spotlighting the frontline climate stories of the smaller islands like Tuvalu. Pulling on the thread and vision that "saving Tuvalu will save the world".
Amongst the kava circle sat three youth representatives who were honored with the privilege to receive kava with their elders. India Logan Riley, Faiesea Ah Chee, and Brianna Fruean were the young people invited to be a part of the ceremony. This intentional choice to include youth was a priority for Pacific Vision Aotearoa as a way to further open up the intergenerational dialogue between the leaders of today and tomorrow. After the ceremony, the community elders flipped the script and decided to sing the young ones a song of encouragement. It is not a normal occurrence to see the Pacific older generation performing for the younger generation, so this was a rare and special sight to see.
One of the founding Directors of Pacific Vision Aotearoa, Therese Mangos, spoke of the event saying "for PVA we know that our communities have the solutions. It taps into the ancestral knowledge that flows in all of us. So to bring the Vaka that connects us all, and the power of kava together we knew was going to be a powerful thing. It's all about relationships – it was important for me to reconnect to the Moana through our own unique lens to strengthen and stand in solidarity to issues facing us as people of the Moana." She went on to say "for me personally it brought together my three loves of the Moana, vaka and the environment. They ground and challenge me in so many different directions. It was important for us to come together for the kaupapa of climate justice and in a way our ancestors would have. And at dawn on the Autumn equinox. Sharing kava on the vaka was the ultimate combination of reflecting the fonua and Moana. We felt the fonua move, we heard the call to save Tuvalu, and now it is time to put our words into action."
Share