Blog
LOTU TAMAITI - Celebrating our Children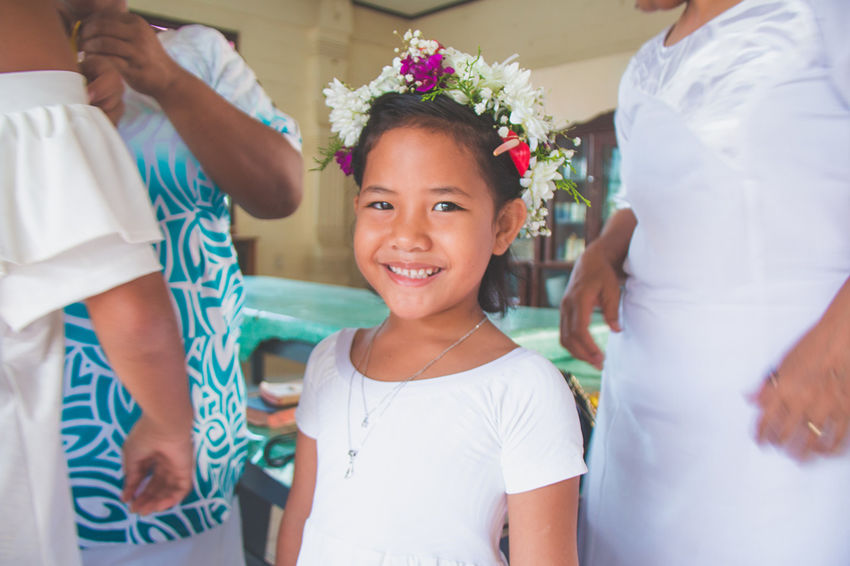 By FotuoSamoa Jody Jackson
If you're a child who grew up in the EFKS, Metotisi in Samoa or in a Samoan community, you may have experienced White Sunday and survived to tell your story. Bless you child adorned in white and about to recite a bible verse under duress.
White Sunday is the Sunday in October where children are celebrated in their church community from age zero to humans who are not married, because in many cases you are still deemed a child then - or at least, that's how it's done in the villages I know.
The concept of 'celebration' is a bit different here - celebrate means that on the day, many children will receive new white clothes, accessories and shoes. They would stand in front of the congregation and speak, sing, pray or in many cases, should you fail to deliver, then you will cry knowing your mother or father is killing you with their death stare. But yes, celebrate and rejoice in church, followed by a lavish feast where - for just one day, you the child will be served and fed first instead of the adults.
It is a reminder of how much parents treasure their children and how far they will go. This is deeply affirmed when you hear people say "ia, o pelega lava o fanau" better translated by Dr Fa'asaulala Tagoilelagi-Leota as "treasuring our children", no matter what.
Making memories
Lotu Tamaiti were some of my fondest memories growing up. I loved the excitement of the day and the promise of newness and a dress that my mom had laboured over to make. There is a moment in the morning where all the children line up outside church and walk in singing "Savavali i luga" to start a very long service. It is also on this day where families will remember their loved ones who have passed in the previous year through song and prayer. I looked forward to the characters that emerge at Lotu Tamaiti among the children. Like the animated speaker, the gifted singers, the hilarious comedians, the ones who remembers their lines and executed them with finesse and the kids who just didn't attend rehearsals but turn up without a care in the world to perform.
White Sundays, so much to be grateful for.
Long before the actual day, rehearsals take place initially once or twice a week. As October approaches they increase in intensity and stress levels, so much that your life simply becomes about White Sunday practices, adults yelling and repetition repetition repetition. It reminds me, whenever I meet palagi who comment on our people's (and Pacific people in general's) confidence and singing ability, I smile knowing that our ability to sing like angels is because we have endured years of public speaking and stage performances under duress in church. Not always because we love it but because of the consequences.
The Dark side of White Sunday
While White Sunday is a day of celebration, it is also the day of desperation for so many families. It is heart-breaking seeing how far parents go to provide for their children and to prepare them for their day. Part of my work at the moment involves a financial literacy project and we know that in the lead up to events like White Sunday, so many of our people struggle. So many are borrowing to make it happen. During a year fraught with disruptions and a halt to travel, many of our community are faced with financial challenges, job losses and the inability to support our families fully. Spare a thought for those in need and feeling the impact of Covid19 on their lives.
Writing of treasuring children reminds me that in 2018, Samoa became the first pacific country to conduct a national public enquiry into family violence and found that is affecting almost all families in Samoa with 9 out of 10 respondents reporting abuse occurring regularly within the home. The content of that report might have been sad but unsurprising. It is the reality for many children for the rest of the year when it's not White Sunday.
"If White Sunday generates within our families a special feeling of peace and love towards our children, why don't we make that everyday standard and thereby practice putting an end to all violence and abuse." Rev Deacon Kasiano Le'aupepe posed this in an interview in 2017 with Samoa Observer's Ilia L. Likou. He went on to say "Everyday should be White Sunday and that special treatment for them today should continue everyday. Our children need all the love they can get, we as parents must provide them with an environment that is free from physical and emotional abuses. Let today, after the feasting and songs, be used to renew our commitment to our children"
Remembering those who have passed in the last year
Lastly, White Sunday is when we normally join together to remember as a congregation, the people we have lost in the previous year. Having farewelled my beloved Mother in December, this is the first White Sunday without her, and I reflect now of her years of commitment and determination in the lead up to White Sunday. With 8 children to dress, she spent weeks of sewing late most nights – just so we could all have a chance at something new for White Sunday. The sound of the sewing machine in the early hours of the morning takes me back to those years and on White Sunday, she would sit near the front with a smile, encouraging us as we did our tauloto. Thanks to COVID, we are not able to be in Savaii to sing a hymn in memory of our beloved Mother but saying a silent prayer from afar for the years of love she has showered on us. E le uma le alofa and thoughts are with all those who have lost loved ones in the previous year who cannot be there in their communities.
But I take you back now to the star of the show, the child who has had a lavish feast and glowing with happiness, adoration and ice cream. May we continue to celebrate our children and keep on this wonderful tradition going with love and kindness. After a year of madness, let us make today count for our little people all over the world.
.
For all the children, have a blessed White Sunday, you are truly treasured, today.
Happy White Sunday everyone!
Ia manuia outou matua, ae ola matou le fanau
Share