Blog
Love and Fiji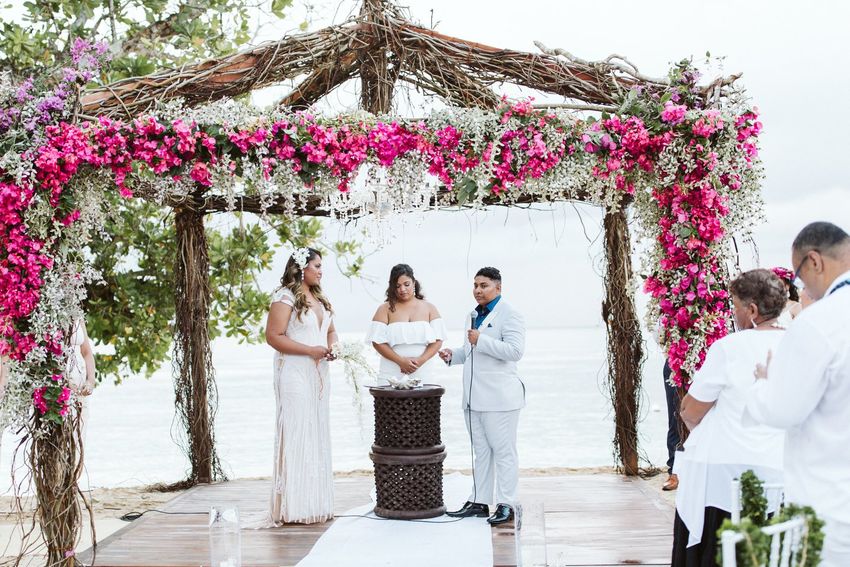 "At the time we first got together, it wasn't the norm to be dating someone of the same sex as you, especially in Fiji. We both come from religious backgrounds. There were restrictions and we were questioned a lot". - Lavonne
From the island of Fiji, where religious and cultural restrictions affects how the LGBTQIA community are treated, comes the story of two women who fell in love, left the island, and returned 12 years later to celebrate their marriage.
Lavonne and Petrina, both from Fiji, met on the island 19 years ago. The attraction was instant, and the pair have been inseparable ever since; but the journey hasn't always been smooth sailing. The attitude towards gay culture in Fiji, and the wider pacific is still a battle many are fighting.
Same sex marriage has been legally banned in Fiji since 2002, and hate crimes are unfortunately not uncommon. Despite this, Trina and Von, managed to push through the backlash and return to Fiji for a wedding celebration of their own.
The couple, who both work for a social media company in San Francisco, have lived in the United States for 12 years now. In 2016 they were officially married in San Fran, and one year later on the same date, they returned to Fiji for a second ceremony, or a 'celebration of love', to share with their family and friends on the island.
"At the time we first got together, it wasn't the norm to be dating someone of the same sex as you, especially in Fiji. We both come from religious backgrounds. There were restrictions and we were questioned a lot" - Von.
For Petrina and Lavonne, their upbringing and family backgrounds were dissimilar, despite both being raised in Fiji.
"For me it was different. Trina was brought up with 6 girls in the family. I had 4 brothers and I'm the youngest. For me to be heard growing up I had to be vocal, right in there with the boys. My mindset was different growing up, and I reached a point in my life, I think I was 20 when I knew who I was. What made it easier was that my brothers never judged me, and my parents came to be very supportive." – Von.
Trina's experience coming out to her family was less encouraging. Before her relationship with Von, she was married to a man, which Trina says made it complicated for her mother to understand.
"She said "I think maybe you're confused with her being your best friend" and I told her no this is how I feel, this is what I'm going to do. She wanted to dedicate a full church service to me because she thought something was wrong, but after a while she came on board and understood." – Trina.
When it came time for the pair to celebrate their love in Fiji, a large portion of Trina's family decided they would not attend, even consulting a priest to ask for advice to help them make that decision. "With my mum, we had a very close relationship all those years of me growing up, and it took me getting married to a woman to put a wedge between us. She feels uncomfortable to have those conversations. I'm not going to force her or push it in her face, but I'm also not going to deny who I am". – Trina.
Planning their Fijian celebration came with threats of wedding crashers and discouragement from both family and strangers. In the past, police would often stop same sex wedding ceremonies in Fiji for legal reasons. Trina and Von had to seek permission from the Ministry of Tourism to hold their celebration on a private island, as well as hire a security team of 7 guards.
"Three days before the celebration, we had threats that the district officer would come and shut it down. I had to contact family to help explain it to them, that it was a celebration not a wedding. We had to reword things, as you can go to jail for things like this." –
Von.
When photos from the celebration were leaked on social media, the couple began trending, and received a lot of negative flack from the Fijian community. Despite this, the couple shared a perfect day on the private island, undisturbed, with overwhelming love and support from the local community.
They flew in their photographer, a make up artist and even chandeliers all the way from the United States. Even the weather was there to support their special day, with torrential rain clearing and a vivid rainbow filling the sky. "The amount of positive energy from our guests and family who attended was beautiful and overwhelming." - Von.
The couple acknowledged the love and support they received from their workplace, a social media company known for being huge supporters of the LGBTQIA community. With Trina working in Admin and Von in Global Security, they credit this company with giving them a platform to have their voices heard.
"In our jobs, it's all about visibility and being authentic. We have total support from our work. They loved the fact that we went there (Fiji) and opened people's eyes and that's something we try to do as a couple; to have an impact on communities. Our bosses were so happy for us." – Von.
When asked about the future of the LGBTQIA community in Fiji, both Trina and Von agree that progress may be slow, but not impossible.
"If I was still in Fiji, would I still have that push to be the person I am today? Would I be confined within the constraints of family and religion? Would I have the bravery to step outside the norm? I don't know. All I know is my journey took me to this place (San Francisco), where I could live and be my authentic self." – Trina.
"There are young kids who have identity issues because their families won't accept them. You get depression and suicide. With our culture, our elders know best and you just accept that, you be quiet. But we can bridge that gap. People have to be brave and step out of their comfort zone. Bring awareness and be visible." – Von.
The couple hopes to start a family soon, and say they'll continue to be voices of hope and inspiration for those back in their Fijian homeland.
Share
---
Comments