Blog
New Pasifika MP's in parliament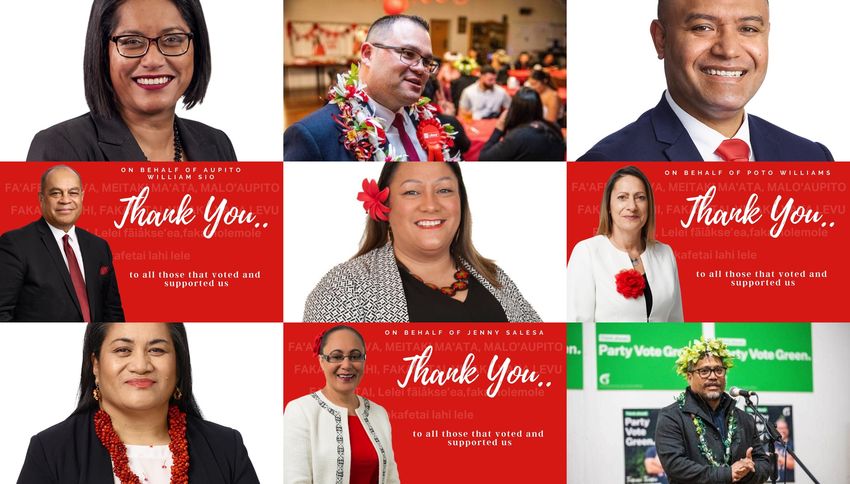 There are now more Moana MPs in parliament in Aotearoa then ever before!
The landslide victory of the Labour Party sees the return of four existing Labour MPs, Carmel Sepuloni, Jenny Salesa, Aupito Sua Wlliam Sio and Poto Williams.
Now there are 5 more Labour MPs to add to that list and our first Pasifika Green MP in parliament.
.
Carmel Sepuloni - Labour MP for Kelston
Jenny Salesa - Labour MP for Panmure/Otahuhu
Aupito Su'a William Sio - Labour MP for Mangere
Poto Williams - Labour MP for Christchurch East

Barbara Edmonds - new Labour MP for MANA

Barbara Edmonds is a mother of eight, a specialist tax lawyer, and community fanatic. Titahi Bay, Porirua has been home to Barbara, her husband Chris (Nga Puhi) and their eight children for the last 12 years
Terisa Ngobi- New Labour MP for Otaki
Born, raised and educated in Levin, Terisa Ngobi is a proud Horowhenua local of Samoan and Scottish descent. Terisa's key focus is for our most needy children, families and elderly to have good access to social services.
Dr Neru Leavasa - Labour MP for TAKANINI & clinical doctor
After surviving metastatic bone cancer, Neru graduated from the University of Auckland Medical School and is now a Fellow of the Royal New Zealand College of General Practitioners. He is a keen humanitarian, having been posted on two assignments in the Pacific with both the Red Cross and a doctors worldwide volunteer organisation. He has also served in rural farming communities as a GP.
Tangi Utikere - New Labour MP for Palmerston North
Labour's Tangi Utikere​ has a massive majority with 99 per cent of the vote counted in Palmerston North
Teanau Tuiono - New List MP for Palmerston North
Teanau Tuiono will be the first Pasifika Green MP, and the first Green MP in the Manawatū.
Hon Kris Faafoi
Hon Kris Faafoi was elected as the Member of Parliament for Mana in November 2010, following more than a decade working as a journalist at both TVNZ and the BBC.
Pasifika list MPs include returning Tongan MP Anahila Kanongata'a-Suisuiki, and potentially new Labour MP lemauga Lydia
Anahila Kanongata'a-Suisuiki - Labour List MP
Anahila believes every New Zealander must have access to excellent housing, health and education which are fundamental in offering the best start to fulfilling a person's dreams and aspirations.
Lemauga Lydia Sosene - Labour List MP
Lemauga Lydia Sosene lives in Favona Māngere Auckland. She is the chairperson for the Māngere-Ōtāhuhu Local Board and has been with Auckland Council since amalgamation in 2010.
.
Labour has the numbers to govern alone, with a provisional count of 49% of the vote, and 64 seats. There will also be 35 National party seats, 10 each for the Greens and the Act party, and (this is very provisional) one for the Māori Party, with Rawiri Waititi claiming the Waiariki electorate from Tamati Coffey.
Labour won the party vote almost everywhere, with only four electorates going against them. Every South Island electorate backed Labour over National in the party vote, even seats like Southland and Waitaki in this huge victory for the current government, and for Pasifika representation.
Share