Blog
OUR PASIFIKA NEW ZEALANDER OF THE YEAR AWARDS FINALISTS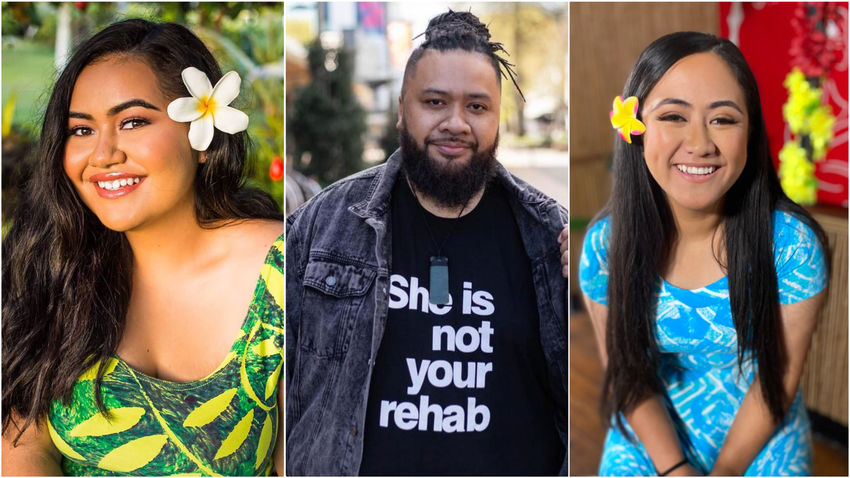 Yesterday the New Zealander of the Year – Ngā Tohu Pou Kōhure o Aotearoa team announced the list of finalists for the prestigious awards. The six categories of the awards cut down their nominees to a final three, from a list of thousands of nominations.
Amongst the list of 18 finalists were 3 Pacific islanders. Aigagalefili Fepulea'i Tupua'i and Mataio Brown are finalists in Kiwibank's New Zealand Local Hero of the Year category. While Brianna Fruean is a finalist in The University of Canterbury's Young New Zealander of the Year category.
We introduce you to your 3 Pacific finalists and how they're feeling about this monumental announcement.
.
BRIANNA FRUEAN - Environmentalist and voice of Pacific Youth on climate change.
Finalist in The University of Canterbury Young New Zealander of the Year - Te Matatahi o te Tau award
Brianna Fruean has been campaigning for climate justice for most of her life. As a young girl in Samoa, where much of the population lives in low-lying coastal areas, hearing the implications climate change would have for her island jumpstarted Brianna's activism and she hasn't looked back since. At 11, she became a founding member of the Samoan chapter of the global climate organisation 350.org. At 14, she attended the United Nations Conference on Sustainable Development as a youth ambassador and at 16 she won the prestigious Commonwealth Youth Award for her environmental activism. Brianna was the first youth ambassador for the Pacific Regional Environmental Programme and in 2017 she gave a keynote address at COP23 (the United Nations Climate Change conference) in Germany. In 2019, after helping organise Auckland's School Strike 4 Climate, she attended COP25 in Spain where she spoke alongside former United States Secretary of State, John Kerry. When she attends environmental summits, Brianna speaks about youth perspectives and concerns about the impacts of climate change. Brianna, now 22, studies Politics and International Relations at the University of Auckland and sits on the Council of Elders for the Pacific Climate Warriors.
"It was shocking to hear that I made the finalist list because it was never something I thought of being a part of one day. I'm just really grateful to be in good company with some amazing community giants, especially Aigagalefili and Mataio whose work I am constantly inspired by", Brianna Fruean says about the announcement.
.
AIGAGALEFILI FEPULEA'I-TAPUA'I - Voice for South Auckland students during Covid-19 hardship
Kiwibank New Zealand Local Hero of the Year - Te Pou Toko o te Tau
At just 17 years old, Aigagalefili (Fili) Fepulea'i-Tapua'i already has many strings to her bow: she is head girl of Aorere College in Papatoetoe, a published poet and renowned orator, and a passionate and determined climate activist. She is a co-founder of 4 Tha Kulture, an indigenous environmental activist group that worked alongside the School Strike for Climate in 2019, and in 2020 has petitioned the government for a green response to Covid-19 that would prioritise a renewable economy and meaningful partnerships with communities, tangata whenua and Pasifika. The effects of Covid-19 have exacerbated existing inequalities in our society, and Fili has been vocal about the realities of this, explaining to the media that hundreds of students sacrifice their schooling in order to seek employment and help support their families and that the situation is only worsening. In 2019 Fili won the Storytellers New Zealand High School Public Speaking competition, and in 2020 was selected as the New Zealand representative at the Global Young Leaders Conference in New York.
"I'm extremely grateful and humbled to be a finalist amongst all these amazing people. I'm not THE voice, but A voice. Any win of mine is one for the hood and village. But I could care less about winning, I'm more excited to meet all the giants doing the good mahi" Aigagalefili said after receiving the news.
.
MATAIO BROWN - Founder of She's Not Your Rehab and My Fathers Barber
Kiwibank New Zealand Local Hero of the Year - Te Pou Toko o te Tau
Mataio (Matt) Brown's chain of Christchurch and Manawatū barbershops, My Fathers Barbers, are places for men to get their hair cut or beard trimmed, but also safe spaces for men to foster vulnerability, healing, and connection. Matt facilitates regular free group therapy sessions for men with guest speakers, therapists, community and support, an antidote to toxic masculinity at his barbershops.
Matt utilises his business and social media platforms in many ways to support local community causes and in March 2019, became a fundraising hub of supplies and funds for the Muslim community following the Christchurch Mosque tragedy.
Matt is a survivor of family violence and childhood sexual abuse and shares his story via a barbering program he created inside Christchurch Men's Prison, Te Puna Wai O Tuhinapo. He continues to volunteer alongside Corrections NZ as a patron.
Matt regularly offers free haircuts to members of the Christchurch City Mission community and partners with domestic-violence charities to encourage the notion of violence-free communities. In 2018 Matt partnered with the Ministry of Social Development for the 'It's not OK campaign' to increase awareness about the role of barbers in creating safe spaces for men, and has held wānanga at marae all over the country with a kaupapa of talking about men's mental health, suicide, and family violence.
Along with his wife Sarah, Matt started a global movement 'She is Not Your Rehab', whose mission is to reframe the narrative around abusive relationships, domestic violence, and unhealthy masculinity ideals in a confronting but empathetic way. Matt says the movement and all their content shared is an invitation for men to acknowledge their own childhood trauma and to take responsibility for their healing instead of transmitting it on those around them.
"It's been truly humbling to be named as a finalist for a category of @nzeroftheyear.

It's humbling to stand alongside 17 other incredible finalists in 6 different categories and think with awe that I can even stand with people who genuinely work so tirelessly to make our country a better place.

I always feel really awkward with these kinds of moments as I'm not one who finds celebrating myself easy (although I have been making progress with birthdays this last few years thanks to my wife and kids).

I'd like to acknowledge the other finalists and thank them each for all their hard mahi, much of which probably often goes unnoticed;"
Share