Blog
PRIDE - PASIFIKA STORIES - MARINER FAGAIVA-MULLER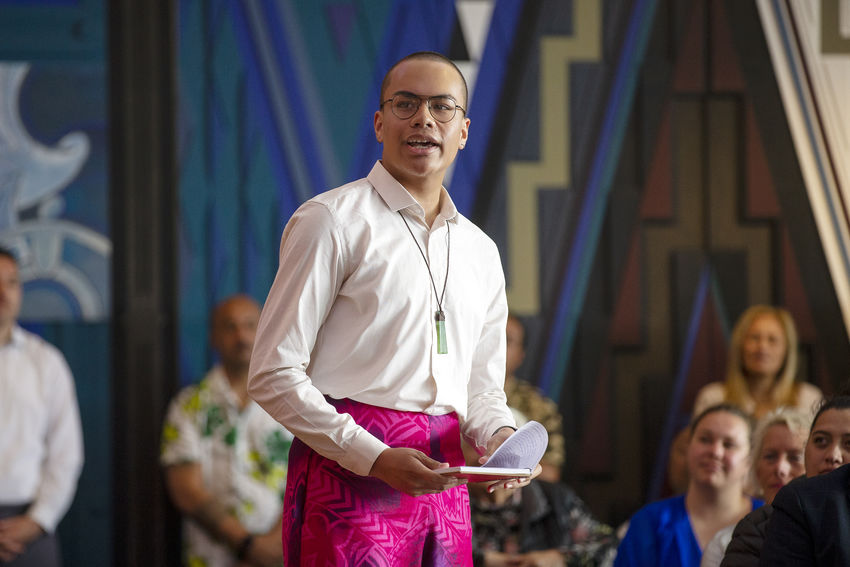 Mariner Fagaiava-Muller
(He/Him)
Journalist/ Grassroots Advocate/ Artist
Samoa & Tonga
.
Mariner Fagaiava-Muller is a young and vocal Pacific Islander who is passionate about people, culture, indigenous storytelling and youth advocacy. He is a current Journalist at TVNZ, using his passion of being a tusitala to narrate powerful truths. Mariner is proud to be South Auckland-born and bred, single mum-raised and Decile 1 schooled.
.
If you could have the world's full attention, how would you introduce yourself?
You'd probably hear me before you see me. Either the classic hyena styles laugh or the pressure cooker silence meets asthma attack laugh - that's me. My name is Mariner but everybody just calls me Maz. Born and raised in Māngere East. Strongly rooted however in the villages of Iva, Lepa and Saleaula in Samoa, and Nukunuku in Tonga.
What is "Pride" to you?
Pasifika peoples are inherently proud. We stand strong on the motherland we descend from, the shoulders of our giants, the stories of us navigating seas. We realise the richness in our cultural identity and for me, likewise I recognise 'Pride' means taking in all that gold. Culture and all.
.
What is your relationship with the phrase "coming out"?
I best identify as queer. Over the last few months, I've been experimenting with gender-neutral pronouns which is all very exciting. My sexuality is neither here or there but there's been no pressure at all for me to slap a label on that void of questioning. As a child I was surrounded by a network female role models - Mum, Nana, all the aunties, cousins, teachers, you name it. Then I entered an all boys high school, a cesspool of toxic masculinity that not so much suppressed all that feminine energy but taught me how to create a healthy balance between both sides of the spectrum. I'm just me. I haven't and probably won't ever 'come out' as such. I'll continue to discover my sexual expression and everyone can either take or leave what they see. This is my show, I don't need no back-up.
What's unique about being a part of the Pasifika LGBTQIA+ community today? Is this a community you feel has been welcoming to you?
The Pasifika LGBTQIA+, or better termed MVPFAFF+ community has paved its own way in Aotearoa. It was quite the fight for those pioneers to cut through what was quite a marginalising space in itself. FAFSWAG comes to mind, in shovelling stakes for myself and the next generation to wave our flag high. I exist safely and proudly within the reach of those giants.
.
Can you remember a pit and a peak of your journey thus far?
The way in which I've been able to enter the world so confidently is in part due to my queerness. This part of my identity is boundless. Over the years, people around me have noticed my growth. I own myself more and consciously speak louder in instances I wouldn't as recently as a couple of years ago. No particular lowlights, which is a privilege not all have.
What advice would you give to young Pacific Islanders who are still finding themselves?
Dr Michelle Johansson who is just one of the fiercest, wisest māmā figures in my life, says "You are more. Be more. Be the you that you are in the skin that you're in and never let anyone tell you you're doing it wrong. You sing your song." - and the church all said - Amene!
.
In what ways would you like to see the Pacific community become active allies to the LGBTQIA community?
I was recently at a music gig in a thick pair of lashes, crop top and short shorts, when this D-list Instagram influencer gave me the up-down look. In my head I thought, I'm a 6'3 brown man from South Auckland. I can drop your Smurf built, Gargamel lookin ass in a millisecond. Isa! Weh, tulou!
In all honesty though, we need to start appreciating the rainbow within our village. Colonisation waltzed on into our islands and gave us a rulebook in how to be 'ideal'. How boring! Sexuality was prehistorically fluid, let's not forget that. I have hope that our community can enact that innate kindness for others, familial kinda love to those who sit on the antipodes. No more being the entertainment, the glue, the butt of insults. There's a long way to go in terms of unlearning the exclusionary behaviours towards our own LGBTQIA+ who have made huge contributions to the way our community holds itself. Do better.
Share