Blog
SISTERS UNITED "DREAM GIRL" CONFERENCE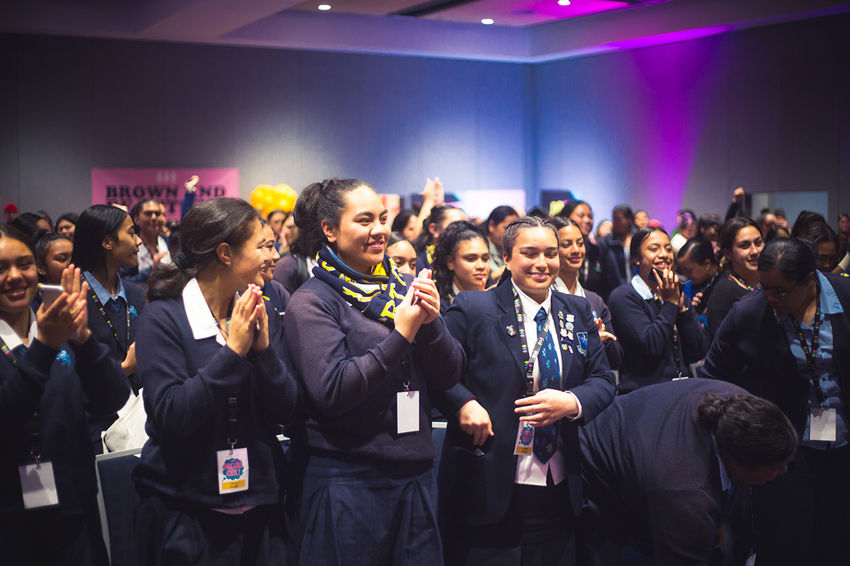 Recently South Auckland exploded with the ideas, innovations and sheer bombasity of over 300 young Pasifika women connecting in one space. The SISTERS UNITED fono attracted over 13 school groups and 100 other young women from around Auckland and as far away as Tauranga to take part in workshops that ranged from 'How to Be A Boss lady' to Social Media, Self Love and Women Care sessions around hygiene.
The kaupapa of the day was to offer a safe space for questions that they may be too shy to ask in other environments, coming out of school workshops that Sisers United have taken. Identifying what matters to young brown women and how to address these was at the forefront.
Kendal Goebel, co-founder of Sisters United with her sisters Narelle & Parris explained they'd had their first conference 2 years ago.
"This is our 2nd conference. The first one we had was a couple of years ago but it was way smaller, at AUT maybe only 120 girls and we just ran everything ourselves, literally just grabbed a couple of friends and ran the workshops." Kendal said
"I was just talking to a lady and she got really emotional and she said "It's the first time I've seen such a big room filled with so many Pasifika and Maori young women" and I actually thought about it and even myself, even though I work with our young girls I've never actually been in a room like that myself.
It's so empowering and I think them seeing the talent and the speeches and the journeys of other brown and beautiful women – you can't help but to get inspired and motivated."
Workshops in the afternoon were designed to inspire the girls creative side and included a Music Workshop with Husband and Wife recording artists/singers Pepa Manu (Swiss) and Tree Vaifale-Manu, dance workshop with 'The Royal Family', Photography workshop with visual artist & co-founder of FAF SWAG Pati Solomona Tyrell, Makeup, Health & Fitness and 'Life is your Runway Workshop' with 'Aunty Sau' Tuitama.
"It's all about body confidence, I think one thing with all girls regardless if you're Pacific or Maori – they really struggle with their physical appearance and they compare themselves so this is really about celebrating everything – their hair, their face and that they're original and they're unique. We get them to put on clothes - some of the clothes are Parris' clothes, some are ours and some of the jewellery & accessories are from the Goebel sisters" Sau explained "I get them to look in the mirror and declare things – declare the truth, that they're amazing or unique"
"What's inside overflows and it becomes you so being kind, being respectful, being caring and all of that. All of that will come out and it will change who you are physically and that is the true beauty. We talked about being kind and especially being kind to yourself because I think we're kind to others but not kind to ourselves and sometimes you make mistakes but just forgive yourself, get up and start again."
Inspiring guest speakers spoke in between the morning and afternoon workshop sessions and the young women were treated to performances from the likes of Emily Muli, Danumis fam and more. One of the guest speakers was newly crowned Miss Samoa Fonoifafo Nancy Mcfarland-Seumanu who spoke on her Miss Samoa pageant journey as well as being able to use her job as a Public Health Nurse in South Auckland to help her community.
"I think these events are important for our women because it empowers them and it allows them the opportunity to look beyond their own circumstances. I know for me when I was in high school, coming to these events and realizing that girls were sharing the same problems that I was experiencing was comforting, that I wasn't the only one going through whatever I was going through at that age. It's also cool to have guest speakers who have overcome challenges because that's what our girls need to learn and it's also good to have brown faces – faces that we're familiar with. That's what really inspired me. So I credit and commend the people running this program for that purpose." she said.
"I spoke a bit about Social media in my talk with the girls. From my experience after winning there were negative comments that were made online and the thing is before we went through the pageant we were all prepped so I was mentally and emotionally prepared to see it all unfold but we shouldn't have to. It's inevitable, we can't control what happens on social media or the thoughts of other people but we can control how we react to it. Fortunately for me I had a strong support system at home and we have friends and family who are willing to catch us when we fall.
That's another reason why these programs are good because it's a reminder to our girls that we have each other." Fonoifafo continued.
"With it being Mental Health Awareness Week this week I would encourage all our girls to ask for help and speak about your issues. I know in our culture it's not a cultural norm for us to talk about or share issues that we experience but it is important that we have those conversations with family and with friends. We won't know what we don't know so I encourage our young women to speak up & that's another great thing about this program is that it's empowering young women to speak up."
Share
---
Comments