Blog
#WeAreMaunaKea - Protests continue as TMT construction starts on the Controversial Telescope project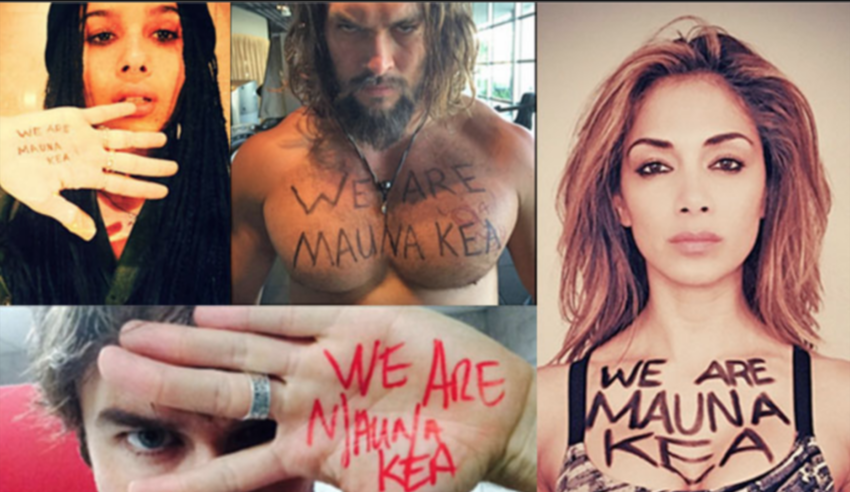 Many Native Hawaiians believe Mauna Kea is the origination point of the Hawaiian islands, according to Mana magazine. There is a confirmed burial site on Mauna Kea, and Native Hawaiians have also been known to bury their umbilical cords on the mountain as a way of connecting themselves back to the sacred land.
WithTMT construction set to begin this morning on the controversial 30 metre telescope project, hundreds of protesters have arrived at Mauna Kea — several are lying on the ground to block potential vehicles from accessing the summit.
With the help of native Hawaiian celebrities like Jason Momoa & Nicole Scherzinger plus the likes of Kelly Slater, Zoe Kravitz and more this may be the most vocal (and viral) protest of them all, but lawsuits, opposing testimonies and 'sleep-ins' against the development of telescopes on top of Mauna Kea have been happening consistently for decades
Stand with the Hawai'ians to help save Hawai'i's most sacred mountain, Mauna Kea on Facebook - Protect Mauna Kea
#WeAreMaunaKea
(For the Love of the Mountain)
"Aloha mai kakou,

If you would just take a moment to pause from your busy day and think about the most
sacred place that you are connected to, the place that brings you peace and accepts your prayers, very likely the place where your grandparents and their parents once prayed, the place you would safeguard with all of your might, with all that you are and all that you have. If you said the holy name of that place out loud, would it be the name of a church or a temple or chapel you hold dear? Say it, utter its name out loud as I do....my church, my temple, my mountain, Mauna a Wakea, Mauna Kea.


Yes, it is I, an educator, a cultural practitioner, a chanter, a dancer, a teacher, a mother, a petitioner. I have come forward to speak of this mountain, this place I hold dear, this place I sing of and sing to because it is sacred. As a Hawaiian raised in Waimea on Hawai'i Island, raised by my elders, I know intimately of the relationship our kupuna had with the land and the natural elements in what they did and what they knew. I still sing those songs and say those prayers as I place my hands upon the earth or hold them to the heavens. Our ancestors never destroyed to advance, never constructed in a manner that would irreparably harm their island home or its inhabitants. They were a people who protected the balance, the alignment, the interdependence, and the energy in all things. They knew on the deepest of levels how connected all was and is still, not just to here, but to everywhere and everything. In us, that memory still lives.


I am asking you, my people, my public, to imagine over 18 stories of concrete in the construction of the proposed Thirty Meter Telescope and the excavation of over five acres of the sacred landscape of Mauna Kea that still moves and shakes and is still alive. Just imagine what it takes to build something of that size, what will be carried up to the top of the mountain, and what will be left there when all is done. This is a time when we must be sure, we must be clear, we must be brave and we must be proud. "Be proud even if you stand alone" were the words from my 11year old as she was guided to prompt me into action. If you believe that something that immense will not create repercussions, I ask you to think again. Let's do something, let's become more aware, more knowledgeable, let's raise our level of consciousness, and be steadfast once again. Let's do what is right for our lands, our people, and our children. Let's do what is right and say, No! Not this time. We have made too many concessions, too many compromises, this time we must stand and speak up. This is our piko. Our mountain is still sacred."

B. Pua Case
Waimea
Share
---
Comments