Blog
Where do Pasifika fit in the Treaty of Waitangi?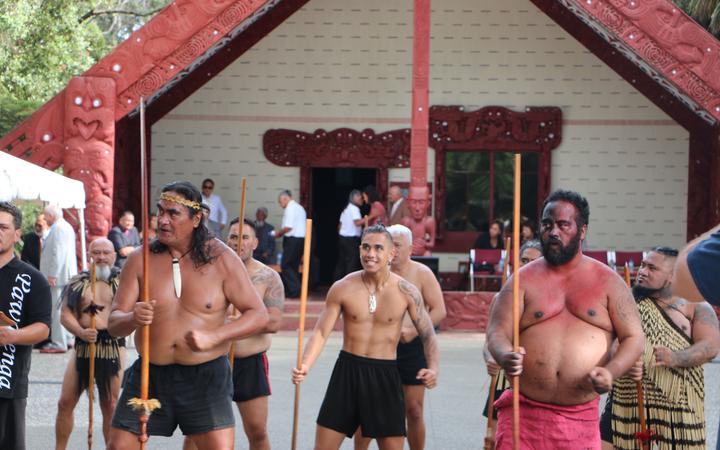 Koro Vaka'uta, RNZ Pacific Journalist
Waitangi Day conjures up different things for different people, but what does it mean for the thousands of Pasifika who live in Aotearoa?
Today Aotearoa-New Zealand marks 180 years since the signing of the Treaty of Waitangi between the British Crown and a number of Māori chiefs.
But where do our Pasifika whānau weave into that fabric? Do they see themselves as Treaty partners?
.
Ali Leota is the president of Tauira Pasifika, the voice of Pacific tertiary students. He was raised in the diverse city of Porirua.
"We make up just under 50 percent of the population and growing up in Porirua, most of my friends were either Pacific or Māori.
"We learnt to grow side by side with one another and we treat each other like family," he said.
"There's always been that mutual respect ... based on the values we grew up [with] and we could relate on everything."
When it came to Pasifika and the treaty, Ali Leota compared it to a pōwhiri.
"Māori and tangata whenua have welcomed us with open arms to live and contribute to the fabric of Aotearoa-New Zealand. We are welcome to their wharenui. We share breath of life and we sit down side by side one another in all things," he said.
He said the collaboration between Māori and Pasifika had been seen in the recent climate strikes and demonstrations at Ihumātao.
New Zealand born-Samoan Aiono Manu Faaea-Semeatu, who is senior manager Pasifika at Manukau Institute of Technology, has written a number of pieces about Pasifika and Te Tiriti o Waitangi.
Her interest in the area may have been sparked by her experiences in primary school, where she was often mistaken for Māori.
"It didn't help that my name was Manu and you know 'Manu from Playschool' was often a name that people threw around the playgrounds at school," she said.
"There was no negative connotation at the time so I didn't grow up thinking it was bad to be labelled as Māori."
Māori and Pasifika children gravitated towards each other, with music or waiata often used as a gateway to Te Ao Māori, Aiono said.
The environment and the natural world was also a focus.
"Māori place a lot of emphasis on place-based learning and that's why their tūrangawaewae is important, knowing where your ancestors hailed from in terms of your whakapapa," Aiono said.
She said the Pasifika children carried that across into their own understanding about what it meant to be from the Pacific and they were able to trace similar journeys.
Learning about Te Ao Māori also made it easier for Aiono to identify as a New Zealander.
"When people think of New Zealand they think of Māori culture so I just think within Aotearoa we need to remember that, that on the international scene we are known for things Māori but yet we still have this underlying tension that exists in terms of how people understand what it means to be in a Māori world."
So where do Pasifika fit in terms of Te Tiriti o Waitangi?
"There's different phases, I think, like firstly there is an historical phase because Pacific weren't here, we didn't sign the treaty, we weren't Pākehā even though we are technically labelled as tauiwi. But I think if we were to look at it in that sense we would be labelled as Pākehā because we are non-Māori," Aiono said.
The Auckland-based educator said she had been able to translate that concept into her dealings with Māori but sometimes it created suspicion.
"I have encountered this, where Māori have said 'Oh, you are pretty hati Māori, tuturu Māori and you are actually not Māori. Why do you feel connected to us in this way and that you're supportive?'"
Aiono said it was her strength within her own culture that allowed her to act with empathy.
"I see the value of that and that underpins the foundation of who I am as a person and that's why I can see that I can help to endorse and celebrate who you are as people and I can help to champion that."
Aiono said she saw Aotearoa as historically a bicultural nation.
"That's the position of which we started, that's where the nation was founded in terms of this agreement, now whether that's been honoured in its fullest capacity, that's still for generations to decide but multiculturalism is a way for us to understand that we can still honour our own distinct ethnic backgrounds.
"But we still have to honour in terms of what Aotearoa New Zealand is as a nation, we need to focus on that Crown partnership and that bi-culturalism that exists, pre-multiculturalism."
Luamanuvao Dame Winnie Laban, was New Zealand's first Pacific Island woman MP and one-time Minister of Pacific Island Affairs, and is now Assistant Vice-Chancellor (Pasifika) at Victoria University.
She felt the Pacific connection with Māori had to be taken into account.
"I do not agree with a definition of bi-culturalism that doesn't acknowledge that peoples of the Pacific have a place and that's where the narrative discourse in Aotearoa New Zealand needs to acknowledge," she said.
"We don't live in the Indian Ocean. We live in the Pacific Ocean."
Luamanuvao said the Pacific relationship with Māori dated far beyond the treaty.
"Our relationship, primarily from the Pacific but peoples of Polynesia, goes right back to Tangaroa. We have a Polynesian connection like Kupe that goes right back to ancient times and to the Gods. So we are Pacific people but we are also family and they call us tuakana, whanaungatanga to Māori."
"So Pacific people can't be lumped into the other camp. The visitors' camp."
Luamanuvao said a narrative to acknowledge Pasifika's historical and sacred connection to Māori was missing, meaning legislation and policy had also failed to recognise the links.
Don Mann is both Māori and Pasifika. Of Ngāti Ruapani and Ngāti Kahungunu, he is also Tongan, with links to Vava'u.
Mr Mann, one of five brothers, was often asked if he was brought up Māori or Tongan.
"The answer is equally both and we were very fortunate in that.
"One weekend we would be with my Tongan grandparents in Sussex Street in Ponsonby-Grey Lynn or with our Tongan whānau in Māngere and the next weekend we would be with our Māori whānau down in the central North Island and that was my childhood growing up."
Mr Mann, who is chief executive of the Pacific Cooperation Foundation, said while there were similarities there were also differences between his Tongan side and his Māori whānau from Waikaremoana.
"There is a story of dispossession from lands, language and culture that runs through our whānau yet on the Tongan side the fact that you have the strong connection to Tonga and the Tongan people are obviously dominant in Tonga and [have] those strong links.
"My Tongan whānau were probably purely focused on matters Tongan as opposed to the plight of Māori. I wouldn't say it was an ignorance or a lack of understanding ... it was more a focus on matters Tongan."

'But Mr Mann said there was a history of Pasifika supporting and working alongside Māori at places like Bastion Point and Ihumātao.
And he was optimistic about the future.
"When you go to any Pasifika event or when you listen to any of our Pasifika leaders or Pasifika MPs, the first thing they do is with ease and openness, acknowledge tangata whenua in this country.
"So I think, our leadership in this area ... in terms of embracing Waitangi Day as a nation for all people in Aotearoa, Pacific people will play a key role," he said.
Mann said Pasifika could pave a way forward due to their inherent understanding and knowledge of things indigenous.
"I feel sorry for people who feel they can't find a place, and it's mainly non-Māori, who feel they can't find a place in Waitangi Day for meaning for themselves.
"My hope for the future is that our Pākehā population can resolve issues around fragility ... resolve issues around fragility around colonialism and get to embrace Waitangi Day but obviously there is a path to go as we are still going through settlements from a Māori perspective."
So despite Pasifika ideas around Te Tiriti o Waitangi being as broad and wide as Te Moana-nui-a-Kiwa, the concept of identity seems to be intrinsically linked to how people treat, respond and interact with Waitangi Day.
Mā te kimi ka kite, Mā te kite ka mōhio, Mā te mōhio ka mārama. Seek and discover. Discover and know. Know and become enlightened.
Share