Coco News
2023 Pacific Music Awards finalists announced - meet the first time finalists.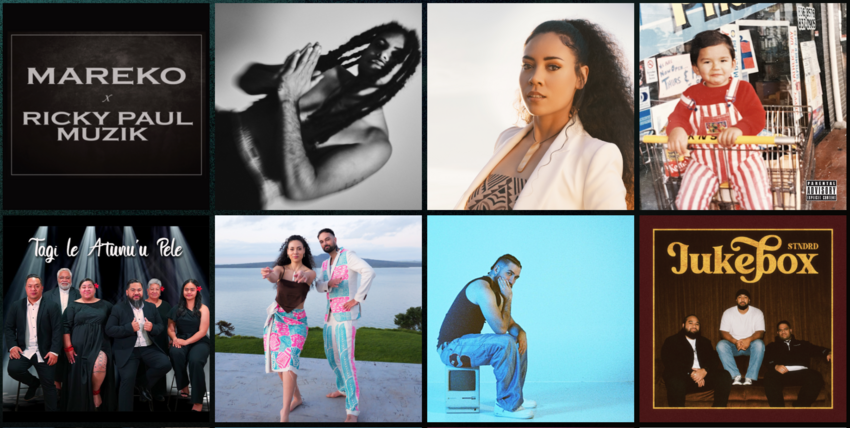 On the 28th of June, the 2023 Pacific Music Awards finalists were announced at Big Fan in Morningside, Auckland.
Among the 24 finalists, 11 are first time finalists alongside 13 previous award winners. This year, MELODOWNZ, Olivia Foa'i and Sam V lead the nomination count with 4 nominations each in various award categories.
Alongside the 13 award categories, there will be eight additional awards presented on the night including the Phillip Fuemana Most Promising Pacific Artist, NZ On Air Radio Airplay Award, NZ On Air Streaming Award, SunPix People's Choice Award – Best Pacific Artist, Creative New Zealand Award, Arch Angel Independent Artist Award, Ministry for Pacific Peoples Special Recognition Award, and Manukau Institute of Technology Te Pukenga Lifetime Achievement Award.
The winner of the Best Pacific Music Album category is presented with an official Tui and will be recognised at the next Aotearoa Music Awards. The APRA Best Pacific Song Award recipient will also be recognised at the APRA Silver Scroll Awards.
The SunPix People's Choice Award is open to the public with all artists nominated for the 2023 Pacific Music Awards eligible.
You can vote for your favourite artist here. Voting will close on Wednesday 26th July at 11.59pm.
Peep the official 2023 Pacific Music Awards playlist on Spotify here.
This years Pacific Music Award winners will be celebrated at an event on Wednesday 9th August at the Due Drop Events Centre in Manukau. Tickets to the awards will go on sale in early July via Eventfinda.
-
In the meantime get to know the 11 first time finalists:
DECEPTIKONZ
Originating from South Auckland, the Decptikonz, made up of Mareko (Mark Sagapolutele), Devolo (David Puniani), Savage (Demetrius Savelio) and Frisko (Daniel Maoate) shook up the New Zealand music scene with their unique style of hip hop.
Their debut album 'Elimination' gained them international recognition and 20 years later the boys came back with another full album release in 2022 - 'In Perpetuity' - which featured an impressive cast of who's who in NZ music including Smokey Got Beatz, David Dallas, Che Fu, Dei Hamo and SWIDT.
Look out for their documentary which is slated for an October 2023 release.
The group are nominated for:
Flava Best Pacific Group
Mata Watches Best Pacific Hip Hop Artist
APRA Best Pacific Song
-
WAYNO
The 27yr old Samoan artist hails from Cannons Creek, Porirua, Wellington and the majority of his songs are in his native tongue.
Get to know him here -
Nominated for:
Sunpix Best Pacific Language
531PI Best Pacific Gospel Artist
-
BLSD ONE
After a decade behind walls and a life raised in gangs, God has truly transformed his life! Blsd One's purpose is to penetrate the frequencies through creative means, building a foundation for the future generation. He is a singer/songwriter with a story that brings hope! On a mission with music to inspire and uplift people by sharing real life experiences and powerful testimonies that reflect God's grace and favour on his life!
Nominated for:
531PI Best Pacific Gospel Artist
-
CANAAN ENE X JUNIOR SOQETA
Aotearoa-born Artist & Producer Canaan Ene is no stranger when it comes to music. Raised in the world's biggest Polynesian city in the world, Canaan quickly taught himself to play guitar and piano at the tender age of 5 and had an easy outlet to practice and perfect his craft in church. After becoming a viral sensation on tiktok in 2020 with his series 'Every Song Is A Reggae Song' - where he takes pop songs and reimagines them in the reggae genre, Canaan has since been in collaboration with many local and international Pacific Artists, such as Wayno, STNDRD, Swiss, and Hawaiian-based artist Chardonnay.
Nominated for:
Sunpix Best Pacific Language for Tabamuni ft Junior Soqeta
And Best Pacific Roots/Reggae Artist for Luv & Company ft Swiss
-
FAIVA
Organic good vibes and blissful harmonies light up the authentic and uplifting sound of FAIVA across an ever-expanding repertoire. Made up of lifelong musicians Dr. Grant Muāgututiʻa, Vaea Aʻetonu and Loa Greyson, each of Samoan descent yet connected through living in Southern California, their journeys have been varied but their passion, shared vision and devotion unites them. Brought together in their unwavering love for the art form, the term FAIVA celebrates this concept – the musical realm is their home, and their playing connects them as brothers.
Nominated for:
Niu FM Best International Pacific Artist
-
HALES
He's only 21 years old and is already making waves with his soulful alternative pop/RnB sound. Growing up in South Auckland, New Zealand, HALES discovered his passion for music at a young age. Influenced by the soulful sounds of Lucky Daye and the introspective songwriting of Dijon, he embarked on a musical journey to create a sound that resonates with listeners and audiences from around the world.
Having recently returned from Los Angeles, HALES is poised to make a significant impact on the music industry in the near, foreseeable future.
Nominated for:
NZ on Air Best Pacific Music Video (Canaan Ene directed and produced the video)
-
JORDYN WITH A WHY
Jordyn is a Samoan, Maori artist who grew up in South Auckland. She has whakapapa to Whangaroa, Mulifanua Lalovi, Falelatai and Vaimoso. Jordyn fostered her passion for music alongside her family, often singing in Church and in Worship bands. Her R&B ethereal sounds are reminiscent of the many experiences that make her. Jordyn's 'why' is driven by her passion for identity, language reclamation, justice, creativity, story-telling and good humour.
Nominated for:
Auckland Council Best Pacific Female Artist
-
MAREKO X RICKY PAUL
After a 14 year hiatus since his last official solo album, Mareko returns with internationally decorated producer, Ricky Paul Muzik with the first release off their trilogy album series , "Untitled: ACT 1" which will bookend Marekos musical releases.
Nominated for:
MPG/SAE Best Producer for 'What are they saying' ft INF
-
SWEET & IRIE
Edward Ru is a New Zealand-based reggae artist known for his infectious grooves, positive vibes, and energetic live performances. Ed's music is characterised by his unique blend of roots reggae, dub, and dancehall, which he infuses with his own New Zealand flavour.
His lyrics are often uplifting and optimistic, promoting messages of love, unity, and positivity. Since his formation of his band, Sweet & Irie have released several successful albums and singles, including "This Is Us," "People," and "Feels Like Magic ."
He is committed to using his music as a force for positive change and inspiring audiences to make a difference in his communities.
Nominated for:
Best Pacific Roots/Reggae Artist
-
The last of the debutant finalists is Rei and Olivia Foa'i and although they've been nominated as finalists before, this is the first time they've been finalists as a duo.
They're up for Sunpix Best Pacific Language for their track 'Kokomea'
-
Check out the full list of nominees below -
2023 Pacific Music Awards finalists:
Auckland Council Best Pacific Female Artist:
Jordan Gavet - 'He Said'
Jordyn with a Why - 'Brown Melodies'
Lou'ana - 'Lost & Found'
Olivia Foa'i - 'Sunlight'
-
NZ Music Commission Best Pacific Male Artist:
Lepani - 'Tell You Something', 'The Morning'
MELODOWNZ - Lone Wolf
Sam V - The one, the lonely EP, 'Come Through', 'Love Again'
Victor J Sefo - '685', '685 Remix'
Flava Best Pacific Group:
Deceptikonz - In Perpetuity
STNDRD – Jukebox, 'Otara (Misunderstood)'
Three Houses Down - 'The Dream'
-
NZ On Air Best Pacific Music Video:
Hales - 'Just My Type' Directed by Canaan Ene
Lou'ana - 'Lost & Found' Directed by Anna Rose Duckworth
MELODOWNZ - 'Pray For More ft Lisi, Mikey Dam' Directed by Connor Pritchard
Olivia Foa'i - 'Sunlight' Directed by Shae Sterling
APRA Best Pacific Song:
Deceptikonz - 'One Time'
- Written by D Savelio/ M Sagapolutele D Maoate/D Puniani/R Oliver/D Adams/V Papalii
Olivia Foa'i - 'Sunlight'
- Written by Olivia Foa'i
Sam V - 'Come Through'
- Written by Sam Verlinden, Eli Naea, Edward Liu
Victor J Sefo - '685'
- Written by Victor J Sefo, Ventry Parker, Elijah Tovio
-
SunPix Best Pacific Language:
Canaan Ene x Junior Soqeta - 'Tabamuni'
Olivia Foa'i - 'Sunlight'
Rei & Olivia Foa'i - 'Kokomea'
Wayno - 'Seu lou Pologa', 'Siva Samoa 2K23'
Matai Watches Best Pacific Hip Hop Artist:
Deceptikonz - In Perpetuity
MELODOWNZ - Lone Wolf
Poetik - Hamofied Tre
-
Best Pacific Soul/RnB Artist:
Lepani - 'Tell You Something', 'The Morining'
Lou'ana - 'Lost & Found'
Sam V – The one, the lonely EP, 'Come Through', 'Love Again'
Best Pacific Roots/Reggae Artist:
Canaan Ene x Swiss - 'Luv & Company'
Sweet & Irie - 'Maximum feat. Shane Walker', 'My Communication to You'
Three Houses Down - 'The Dream'
-
531pi Best Pacific Gospel Artist:
Blsd One - Ready or Not EP
Punialava'a - Tagi Le Atunu'u Pele
Wayno - 'Seu lou Pologa', 'Siva Samoa 2K23'
Niu FM Best International Pacific Artist:
FAIVA - 'Valovalo Mai'
Jaro Local - Flowers of July EP
Josh Tatofi - 'Prisoner of Love', 'Sweet Loven', 'Landslide', 'Still the One', 'Pua Ahih'i, 'Good Morning Beautiful', 'Tomorrow'
-
MPG/SAE Best Producer
Mareko x Ricky Paul - Untitled : ACT 1 Producer: Ricky Paul Musik
Sam V - 'Come Through', 'Sex & Pain', 'Love Again',' I Tried To Tell U' Producer: Edward Liu
Victor J Sefo - '685' '685 Remix' Producer: Victor J Sefo
-
Recorded Music Te Pukaemi Toa o Te Moana Nui a Kiwa | Best Pacific Music Album
MELODOWNZ - Lone Wolf
Poetik - Hamofied Tre
STNDRD - Jukebox
-
Public Interest Journalism funded by NZ on Air
Share