Coco News
360 TAUTUA - SERVING OUR PASIFIKA FAMILIES & SENIORS IN THE COMMUNITY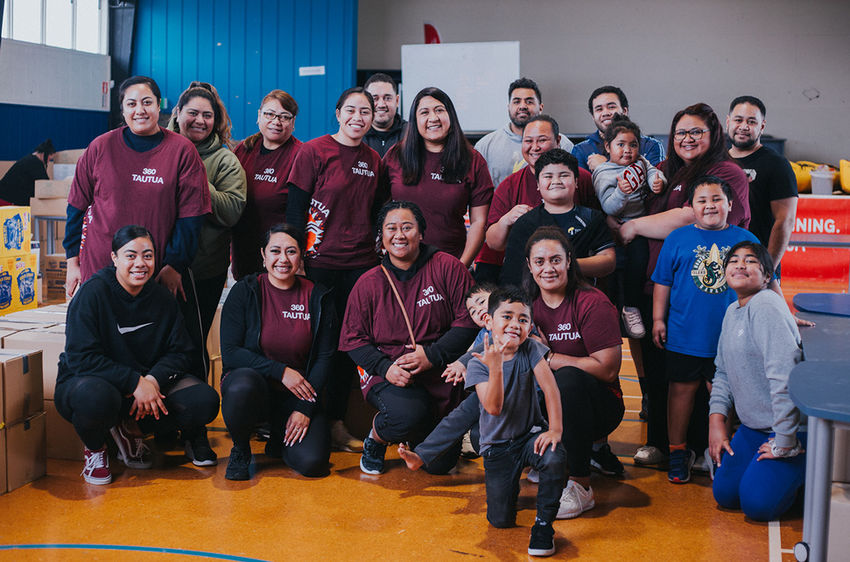 "O le ala i le pule o le tautua - The pathway to leadership is through service" and this is at the heart of charitable trust 360 Tautua's work in the community. Today they finished a 3 day packing and delivering food parcel marathon, delivering 300 food parcels to families and vulnerable Pasifika elderly around Auckland.
360 Tautua was birthed from a desire to be able to provide a wrap around service for Pasifika elderly in the Auckland community. Their motto is "Tautua ma le Alofa; Serve with Love" & their aim is to serve the elders and families of the community. 360 Tautua CEO Romana Fetu grew up in the church with parents who were faife'au at the EFKS Otahuhu - her father the late Saletaulua Autagavaia along with her mother Mere Autagavaia served the congregation for 33 years. She said she experienced the love the congregation had for them and also saw her parents give, expecting nothing in return.
"Now it feels like it's our turn to give back and look after our parents the way they did us. They get older, they get sick and a lot of them get dementia so there was a lot of thought around that and what can we do?" she says.
She said she realised that a lot of her generation were all out working to provide for their own families and there wasn't much in the way of services or resources for the elderly and so had to really look at what her generation could do as the generation who are now the carers.
Help and support came through by way of 360 Tautua's Operations Manager Sene Lima who had recently returned from Samoa and they were able to connect and talanoa on what they wanted 360 Tautua to look like. They officially became a charitable trust towards the end of last year and worked on the foundation of what that was going to look like, the programs they wanted to implement in the community and they also took the time to talk to the community and see what the need was and what support families were looking for, for their parents.
She said in many cases the younger generation were just looking for a safe space to talanoa.
"Some of us have had to put our parents into rest homes and it's also just knowing that, thats ok as well. There are some parents who really need that medical support ... and then all of the judgement that can come with that from our Pacific People you know? So it's about having that safe space to be able to share and then support each other"
The food parcels came about in the first week of lockdown after an inter generational program they'd been funded to run was not able to get off the ground due to Covid. Both Sene and Romana then looked at what they could do for the community at that time and self funded the first 130 food parcels that were delivered into the community the first week of lockdown.
"We had referrals from people coming through on our Facebook page that we created and 80% would have been the elderly, they were living by themselves or had just arrived back in the country and were doing self isolation and couldn't get access to any of the essentials. There are heaps of elderly units out there that we didn't even know about, a whole complex of them living alone so they were referred to us. We had families from overseas and down in Dunedin and Christchurch registering their parents who live up here in Auckland." says Romana.
They were lucky that after having to self fund the first 130, they were then able to apply for funding through places like Ministry of Social Development, Foundation North, the Civil Defence and a whole range of organisations who started offering funding.
Romana said they've also had a lot of love and support from other organisations like BBM - Dave Letele, Delphina Soti from St Vinnies, Ana Aitchison from The Fono, Southseas, Otara Health, Kiwi Harvest & more. "They've donated packages of food to add to the parcels that we've put together and some of the things that we can't actually access, they'll be like 'hey, we've got stuff here, send a truck or van over and we'll load it up. So yeah, we've been really blessed that on a weekly basis these organisations still continue to help"
Both Romana and Sene said there has been a definite increase in registrations and referals over the school holidays which shows there's still a big need out there in the community which is why they decided to run the 3 day packing and delivering marathon the last few days. As well as individuals referring families or elderly parents they've also received referals from organistaions like Kainga Ora, Oranga Tamariki, Penina Trust, Vaiola Trust, Teuila Trust - a lot of organistions out there who are aware of what they do and then referring their clients in need.
Volunteers have come in and out over the last three days to help pack and deliver including students from Ignite College in Manukau.
"Today is also the anniversary of my fathers passing, 11 years, which also ties in with what we're doing and it's just a way to honour and remember him" Romana adds.
Apart from this 3 day marathon Sene has been running the weekly packing and delivering out to families and elderly in need. Packing on Tuesday nights and then deliveries going out every Wednesday. They're hoping that with the funding they have they'll be able to continue this service until at least September and other organisations have also come on board to help support them with this.
Romana hopes to get the other programmes they have planned for the elderly Pasifika community like pamper days, outings and also talanoa days for carers, up and running soon but in the meantime they'll continue to help meet the community's needs in practical ways with the food parcels.
If you would like to sign up to volunteer with packing or delivering click here
If you would like to refer a family or elderly in need to receive a food parcel click here
If you would like to donate money - bank account details are as follows for the Tautua Trust Board: 38-9022-0191320-00 36
Share