Coco News
8 Pacific Earth Guardians You Should Know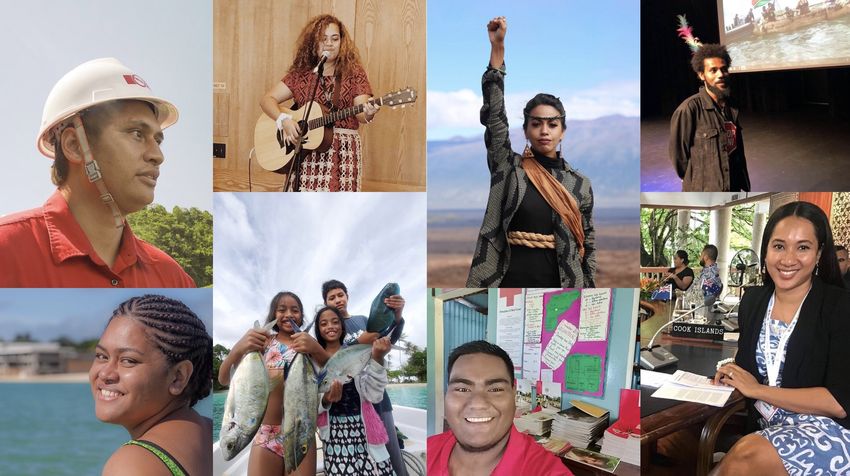 Pacific people have been resilient ocean and land guardians for centuries. Woven throughout all the different cultures of Oceania, there is one common strand and that is the strong relationship Pacific communities have with creation. The following 8 Guardians are all names you should know as they've dedicated their lives to conserving and preserving the planet.
1. Yolanda Joab-Mori, Federated States of Micronesia
Yolanda is a climate activist, environmental leader, and most importantly a mother. In 2011 Yolanda co-created the first climate change focused education program in schools and communities across Micronesia. The program, CADRE worked with over 10,000 students and 3,000 community members across the Micronesian islands to raise awareness on the impacts of climate change. Yolanda also founded Island PRIDE (Promoting Resilience through Involvement, Development & Education) to continue this work to empower her islands in the face of climate change by engaging youth to be proactive stewards of their island environment.
2. Alisi Rabukawaqa Nacewa, Fiji
Alisi Rabukawaqa-Nacewa is one of Fiji's leading ocean experts, who for the past decade has worked in environmental conservation, climate activism, and indigenous peoples' traditional rights and knowledge advocacy. She works as a marine scientist with the International Union for the Conservation of Nature, providing consultation on marine protected areas within Fiji and with communities — as protected oceans are a solution to climate change and the resilience of the Pacific people. Alisi is also one of the few Melanesian women who have sailed the world's seas on a vaka, a traditional double-hulled canoe as part of the Te Mana o Te Moana journey.
3. Nicc Moeono, Samoa
Nicc Moeono is a Renewable Energy Engineer, STEM Advocate and Environmentalist. He is the Project Lead for Global Shapers Apia and mentor to Lanulauava Youth Environmental Group. He currently works as a graduate engineer - renewable energy for the Electrical Power Corporation (EPC) of Samoa. Together with his team he works on the frontlines of Samoa's Climate Mitigation. Helping Samoa to reach its goal of becoming 100% Renewable by 2025. Nicc has dedicated his life to working around Climate Mitigation and Adaptation in the Pacific, and global sustainability.
4. Jayson and Jayrose Capelle, Marshall Islands
Jayson and Jayrose Capelle are a brother and sister duo from Majuro, Marshall Islands. Growing up in the islands has greatly impacted these young environmentalists. They are passionate about reducing plastic waste and improving access to clean drinking water and have created many grassroots projects to raise awareness about these issues. The duo also hosts their own Facebook news segment called "Cupcake News with A Bite", where they talk about current events like Nuclear Victims Remembrance Day and International Women Human Rights Defenders Day. Jayson is 13 while Jayrose is only 9.
5. Hāwane Rios, Hawaii
Hāwane Rios is a Kiaʻi (protector), chanter, dancer, singer/songwriter, musician, resource educator, and cultural practitioner. Her mountain is Mauna Kea, her rivers are Kohākohau and Waikōloa, and the land that raised her is Puʻukapu Waimea. She is one of the organizers and defenders of Mauna Kea. Together with her people they have and continue to fight to protect the Mauna. Rios' work is centered around protecting earth, sacred places, Indigenous peoples, and all living beings. Hāwane uses her music to tells stories of indigenous heritage and resistance. Her current album tells the stories of her family and their legacy as people from the valley of ʻwini, as people of the four rivers of Waimea, and as descendants of Keʻalalauaʻe.
6. Isso Nihmei, Vanuatu
Isso Nihmei is a climate activist, Pacific Climate Warrior and community organizer. He is the country coordinator for 350.org Vanuatu and Futuna Area Project Administrator for the Ministry of Internal Affairs Vanuatu. Isso is currently based on Futuna island, where he carries out climate resilience projects as the project's administrator for his community. This climate warrior has spent many years as a climate activist and was one of the Pacific Climate Warriors that blockaded the world's biggest coal port in 2014. He even hand built his own canoe that he sailed in during the blockade, this canoe is now displayed in a Museum in Sydney, Australia.
7. Mia Kami, Tonga
Mia Kami is a 23-year-old student from the island of Tonga. She is currently studying law and politics at the University of the South Pacific in Fiji. Mia is the co-coordinator for 350 Fiji where along with her team she organizes grassroots climate projects. She is passionate about indigenous knowledge, decolonizing the mind, and climate activism. She incorporates her passions into her music and uses her music as a platform to advocate for issues such as climate change and environmental destruction. With her music, she hopes to bring light to the issues affecting the Pacific in a way only music can.
8. Ititerunga Rae Bainteiti, Kiribati
Of Banaban and Kiribati origins, Rae has pioneered climate change and youth development programs in Kiribati, advocating for youths at the national, regional, and international levels over the past nine years. He is a Council of Elder for Micronesia in the youth-led grassroots network 350.org Pacific Climate Warriors. Rae's grandparents were forced to relocate to Fiji from Kiribati in 1945 because the British mined it so badly, their sacred land became uninhabitable. As a result, Rae was raised and educated in Fiji. He recognizes that climate justice and social justice are linked to the histories and future of his people.
Share