Coco News
9 incredible Pasifika Wāhine make the Y25 this year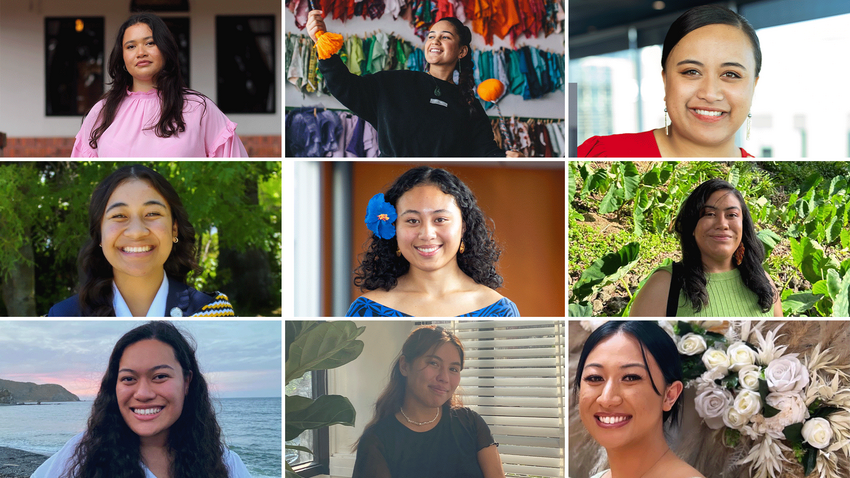 There are nine Pasifika wāhine in the 2023 Y25 (25 young wāhine and irarere under 25 yrs who are fighting for better systems, communities, and worlds).
The Y25 celebrates 25 wāhine & irarere aged 25 years or younger, who are leaders in their fields. Developed by the YWCA (the Y), the nation-wide search and nomination process produces a rich list of community leaders, entrepreneurs, artists, poets, environmentalists, activists and changemakers working well above their years and peers.
In its fourth year, the Y25 programme highlights trailblazers from all over Aotearoa, and brings them together to connect with each other, and have access to support and networking opportunities from YWCA Tāmaki Makaurau.
-
Allyssa Verner Pula (22)
Researcher, Podcast Host & MVPFAFF+ Champion

Tāmaki Makaurau | Auckland

She/Her
When you come across a blog called 'Mayor of Manurewa' you know the person behind it is going to be a community-minded person. That's Allyssa. A proud Samoan woman and hearty Manurewa Southside 267, Allyssa cares deeply about her community and believes that Aotearoa can, one day soon, wholeheartedly value Pasifika communities - especially our Pasifika women and Rainbow+ communities. When she's not blogging or speaking wise, funny words on the podcast, 'Island Roots, Auckland Ways' she co-hosts with longtime friend Mariner Fagaiava, she's working on the University of Auckland's newly established Pacific research platform, Fofonga for Pacific Research Excellence. Allyssa was the first in her family to graduate and has worked on other important research projects, including the Manalagi Project focusing on Pasifika Rainbow+ / MVPFAFF+ communities in Aotearoa, Project Gender's Single Parents Project and HRMI's Pacific Data Module. This multifaceted academic, creative, writer, public speaker, and community weaver is currently studying towards a Masters in Pacific Studies at the University of Auckland and is also a co-collector for Te Papa, gathering stories within Pasifika queer communities. "I believe research is a tool of power, that can be used by our Pasifika communities to build positive change."
-
Eunique Ikiua (23)
Stem Trailblazer & Musician

Tāmaki Makaurau / Auckland

She/Her
This multifaceted Pasifika woman works at Microsoft by day, leads a Niuean Youth leadership network in the weekend and performs as a musician Heiressofthegame by night. Eunique is a NZ-born Niuean looking to make change in every space she enters. In 2022, she presented to more than 3000 Māori and Pacific students through panels, workshops, and education events encouraging youth on why we need more indigenous and pacific people in technology. She's currently in a new role to help lead the biggest digital transformations that will support the biggest health reform in NZ history. Then there's her language. UNESCO announced Vagahau Niue as 'definitely endangered' – with only 11% of the world's Niuean's being able to speak the language – so in 2021 Eunique established a network, Three Star Nation, now 1200 Niuean youth across Auckland, Wellington, Hamilton, Dunedin, Brisbane, Sydney, Gold Coast, Perth, Rarotonga and Niue. Three Star Nation addresses the decline of native speakers, reconnecting, inspiring and empowering Niue Youth descendants across the globe to champion Vagahau Niue and Agafakamotu Niue in everyday life. This proud daughter of South Auckland and the small but mighty #683 nation of Niue also sings and performs, creating incredible music videos.
-
Georgia Tawhiti Latu (16)
CEO of Pōtiki Poi!
Ōtepoti | Dunedin

She/Her
Pōtiki means the youngest in the family and this talented wahine is one of the youngest CEOs in Aotearoa. Based in Te Waipounamu, and a tau 12 tauira (Year 12 student) at Te Kura Kaupapa Māori o Ōtepoti, she's the CEO of Pōtiki Poi, the largest poi manufacturing company in the world. Georgia started Pōtiki poi in early 2019 as a fundraiser to get herself to a wānanga up north. She didn't have the pūtea (funds) so her and her whānau started making poi. In three days, she'd fundraised over $1000 and realised she had the potential to create a business – one that could give back to her whānau and community. It's gone from strength to strength and last year they made poi for the Rugby world Cup. The values Pōtiki Poi upholds are 1. Te tino rangatiratanga, revitalising and uplifting all things Māori. 2. Eco friendliness, using upcycled materials including hundreds of pillows from the halls of residence headed for landfill. 3. Diverse abilities. Georgia's baby brother was born with trisomy 21 (Down Syndrome) and Pōtiki Poi provides work pathways for people with diverse abilities. "Learning from others has been the biggest blessing through my journey being a young CEO." Georgia has whakapapa to Samoa, Māori & Tokelau.
-
Hollyanna Ainea (24)
Educator & Pacific Peoples Champion
Tāmaki Makaurau | Auckland
She/Her
Hollyanna is a manifestation of her ancestor's wildest dreams. Her gafa extends across the villages of Fa'ala & Vailoa Palauli, Tulaele, Siumu and Faleu (Manono Island) and she's the first in her family to graduate from university - with first class honours. She recently submitted her Masters, exploring the influence of race politics on the Vā in German Sāmoa. This first-generation Aotearoa-born Samoan, proudly raised in Otahuhu, is passionate about equitable education and opportunities for Pasifika rangatahi. Her findings on Sāmoan race politics motivated her to unsilence the stories of the Moana through a decolonising lens, with an understanding of the customs and values of Moana peoples. This proud old girl of McAuley High School is an example of the sacrifices her whānau made to ensure she had opportunities to dream, work hard and strive. She understands the constant uphill battle to navigate an education system that does not accommodate Pasifika, which motivates her to work with students. As a trained Pacific historian and currently the Careers Advisor/Administrator at Tangaroa College, Hollyanna's working towards becoming a history teacher. She mentors and amplifies the aspirations of the young people she tutors, encouraging them to believe in themselves and chase their dreams.
-
Leilani Faaiuaso (20)
Enterprise & Governance Changemaker, Youth & Pasifika Advocate

Papaioea  | Palmerston North

She/Her
As a proud Samoan young woman raised in Manurewa, South Auckland, Leilani is passionate about making ideas a reality through social innovation and enterprise. Leilani believes in the importance of having a voice that echoes the integrity and strong moral values she withholds, that exemplifies purpose and is community focused. She holds multiple governance positions including President of the Massey University Student Enterprise Club, Student Board Observer and Advisor on the Student Investment Committee for Massey Ventures Ltd, and Youth Board Trustee and Chair of the Alumni Advisory Group of Young Enterprise Trust. Through these positions, she advocates strongly for youth, students, and Pasifika, challenging the status quo to create space for more voices and opportunities. As the first in family to attend University, Leilani strives for excellence in all aspects. She is currently in her third year of studying a Bachelor of Business (Management)/ Bachelor of Arts (Psychology) at Massey University. Ultimately inspired by her grandparents' legacies and her parents' leadership, Leilani is fearlessly ambitious in creating a better tomorrow. Just as the Samoan proverb says "Tautua nei mo sou manuia a taeao" serve now for a better tomorrow. Like her giants, Leilani is a true trailblazer.
-
Taualofa Totua (23)
Multimedia Journalist and Creative Storyteller

Tāmaki Makaurau | Auckland

They/She
Born in Central Auckland, journalist and creative Taualofa has always been a shapeshifter. This tauiwi non-binary storyteller moves between writing and making as a form of service to their communities. Taualofa centres the voices of underserved communities including but not limited to: Indigenous, disabled, LGBTQI+ and people of colour, building a portfolio through honest reporting, informed story sovereignty and art that privileges joy and healing. Mentored by journalism legend Donna Chisholm, Taualofa graduated from the long form feature writing cadetship 'The Next Page' in June 2022; building on two years of freelancing. They have been published both digitally and in print, including The Spinoff, Metro, Ensemble, and Pantograph Punch. Within the Tamaki arts community, Taualofa serves Pasifika artists alongside marketplace and community space Moana Fresh. Currently, they're the Project Manager for the Vuli Tara Programme, providing learning experiences to help Pasifika makers establish sustainable, thriving careers. Taualofa's passion projects balance an indigenous worldview and utilising modern tools to build a better world: they're a core member of a teine Sāmoa art collective: MALAE/CO and Co-founder of Filemu Zine – focused on nurturing communal dreaming. Taualofa's ancestors come from Afega, Malie and Leulumoega in Samoa; and Neiafu and Holonga, in Vava'u Tonga.
-
Tylah Farani-Watene (25)
Māori & Pasifika Wāhine Champion

Te Whanganui-a-Tara | Wellington

She/Her
Tylah (Ty) is a Māori and Pasifika wahine and acknowledges her whakapapa to Waikato-Tainui, Ngāti Maru, Te Arawa, Taputimu, and Nofoali'i. She remembers growing up and being impacted by a range of institutional issues, from inaccessible health care to people lacking confidence in their leadership because of environments not designed for Māori and Pasifika success. Ty has been on a mission to change this and firmly believes it starts with empowering our Māori and Pasifika rangatahi, creating a sustainability model for generations to come. She knows that Māori and Pasifika wāhine have leadership qualities that are needed at every table. A proud public servant, working in the engagement and communications space, she's an advocate for co-governance. During the pandemic Ty had the additional challenge of dealing with neurosurgery and during recovery, this resilient wahine discovered her calling for volunteer work. Outside of mahi, Ty is a champion for cultural safety to be taught across the youth and public sector. Her drive is to create more leadership opportunities for Māori and Pasifika wāhine and to be a role model for her younger sisters, Blayke (7) and Ridley (5), so they feel confident navigating the world as strong Pacific women.
-
Veisinia Moli (17)
Pasifika Advocate & Changemaker
Waiharakeke | Blenheim

She/Her
Veisinia is village-raised and village-made, advocating for Pasifika cultures to be recognized and celebrated across Marlborough. But growing up Tongan in spaces that often don't look like her community has come with its obstacles. Her parents moved to Waiharakeke Blenheim in the early 2000s in pursuit of the migrant dream and Veisinia and her siblings found themselves in the minority. They had to fight for an opportunity to be heard, seen and celebrated. At school, her older siblings challenged Western systems so they could have a safe space to celebrate and express their culture, and Veisinia stands on their shoulders as the first-ever Pasifika and Tongan Manu Kura (Head Girl) at Marlborough Girls' College. Veisinia's culture has been the one thing that has anchored her and now it's her passion to educate people about her beautiful Tongan culture, spread positivity and uplift the young women who haven't had a chance to celebrate their indigeneity. She is a Tuakana to many young women in her community and is focused on building a legacy that creates lasting change. Proudly raised by the sacrifices of her parents in the vineyards, Veisinia aspires to be a teacher and advocate for her culture to be included and celebrated within the education system.
-
Vivien Whyte (22)
Consent Activist & Musician
Tāmaki Makaurau | Auckland

She/Her
Vivien is a powerful mix of feminist activism, environmental science and music. As a Chinese-Indonesian-Samoan-Pākehā New Zealander she describes her heritage as an integral part of her leadership journey, which is focused on community empowerment. Currently in her final year of a Bachelor of Science/Music, she sings and plays the flute, guitar, and piano. But also uses her voice to advocate for others, reduce sexual harm in Aotearoa and promote consent culture. Vivien recently served as the Auckland Uni Regional Leader and the National Coordinator for 'Thursdays in Black', an ongoing national campaign to prevent and respond to sexual violence in tertiary institutions. She played a vital role in establishing survivor-centric safe spaces on campuses, mobilising universities to prioritise sexual harm prevention and survivor empowerment, and expanding the campaign's reach across the mōtū. Drawing on her experience as the former Editor of Auckland University's Kate Magazine, Vivien now also works as the Assistant Editor of Debate Magazine and as a freelance writer, where she explores her identity, diasporic communities and what it means to support tino rangatiratanga as tangata tiri in Aotearoa.
Share