Coco News
BLACK LIVES MATTER PROTESTS GALVANISE PASIFIKA VOICES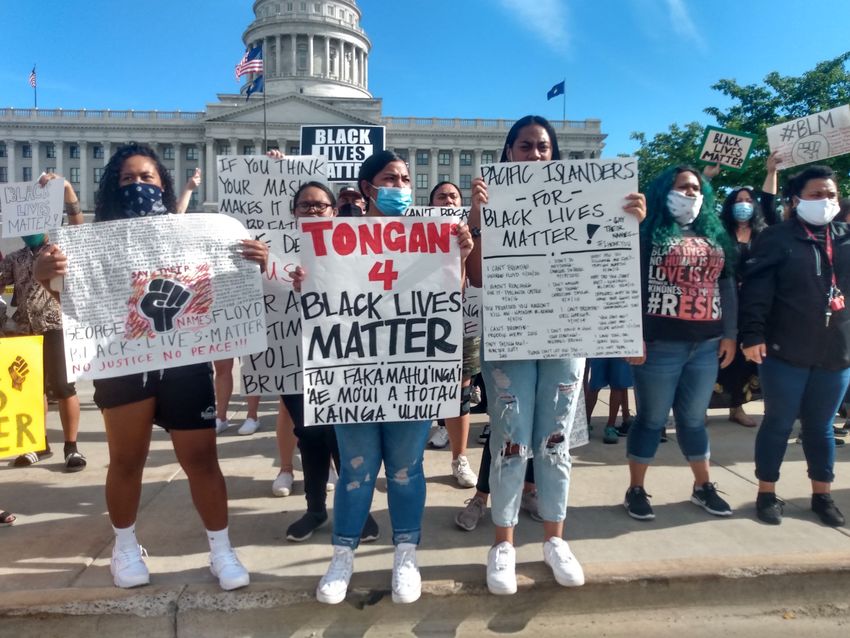 The killing by police of unarmed black man George Floyd in the US has galvanised activism around the world including an outpouring of support from the Pasifika community in New Zealand and around the world.
Advocates say Pacific people can relate to the targeting and harassment by police that the Black Lives Matter movement has highlighted. Past protests by Pacific people, including Samoa's independence movement The Mau and The Polynesian Panthers against the Dawn Raids of the 1970's have also inspired many of today's Pasifika generation.
Pacific Islanders from New Zealand, Australia and the US who attended Black Lives Matter marches last week and more recently over this weekend share why it was important for them as Pasifika to support our black aiga both in the USA and here in our own communities.
.
AUCKLAND, NEW ZEALAND
I love to create art & content that documents events and causes that spotlight where our society currently is, and more importantly, could be.
With the world at the moment so divided over views on BLM etc, my role at the march was to simply capture the essence & spirit of what's on the other end of my lens or mic as best as I can to present it back to the world in an inspiring way to hopefully play my part in facilitating ongoing dialogue across the spectrum of opinions to progress us all forward to a better place.
.
To me, the BLM movement is a fight against racism, police brutality and present injustices towards a race that has long suffered systemic oppression and discrimination and continues to in this day and age.
This is a fight for change and speaking out and not staying silent about it (racism) is bringing the issue to light and to the forefront. To witness people of different ethnic groups and all ages come together to March down queen street in support of BLM, was pretty special.
.
It comes down to knowing when and where you make a stand. The decision to be a part of this was twofold, on the one hand I wanted to lend my support to a movement I respect and
that needs to be seen and lifted up. The other part was to be able to catch the feeling of our people at this time with this movement. I have seen the older images of people marching for the rights of migrant families targeted by the dawn raids of the 70s, the call for standing up to the might of the rugby union as they supported a tour from a team that represented the apartheid regime of South Africa and in them I saw diversity and a will to demand to be heard.
I attended, I had family there - our sister and our cousins and with us we carried our ancestors and it's for them and the next generation we lend our voices for the call for justice and peace. One begets the other. Alofa and respect.
Read more of Raymonds thoughts on the march here
.
My full Samoan name is MAUOSAMOA, my Nan's namesake. Yep, I'm named after the MAU. My palagi name VIRGINIA comes from the state of VA in the US. I was not only named after the VA black rights movement (1970s) but I am also named after a family friend VIRGINIA an American Peace Corp.
My grandfather Toloa was the first Samoan language coordinator for the American Peace Corp when they were stationed back in Samoa. He was also a lecturer and one of the founding members of Samoa's TTC. Activism runs deep in my family (both sides) and is also not new to me.
All 3 of my kids are descendents of a black African who was sent to America because of slavery, so the March was not only important to me but for my daughters to take part in. It's an important time in history and as a mum of children with ancestral links to the #blacklivesmatter movement it's important that they stand for what's right and just. The date of the March (1st of June in Auckland) was not only Samoan Independence day but my late grandmother Mau's birthday as well. So it was a day that is close to my heart. ♥️
I have a media platform, my name is MAU and I stand for BLACK LIVES MATTER. WHY?
Systematic racism and oppression is not new to anyone of colour, so when I see a black man of colour lose his life over a $20 bill but by the very same people who are supposed to serve and protect. That shit don't sit well with me.
WHY BLACK LIVES MATTER? I have a son, I can guarantee when he gets older that he is able to come home without worrying whether he's next on the list of casualties due to police brutality. Our Black brothers and sisters are not guaranteed that on a daily, for them it's like Russian roulette at the hands of some evil MFs behind the badge. Seriously I could go on about the injustices of what they're going through. I have family who are half black in the US so it's personal. I believe in justice and these racist pricks need to be accountable in all areas of society, Locally and offshore. Photo journalism is one of my specialised areas and this wasn't my first March. I'm glad I was able to be part of it and to be able to document and share my Visual perspective and take through the lens.
.
BRISBANE, AUSTRALIA
This was not only essential for my Wife and I, but to connect memories with experience and learning in our children is so important. Both Natalie and I are Samoan. Nats Mother is Dutch and my Father is a Kiwi born Palagi. Ive been fortunate to grow up exposed to my Mother supporting and advocating for social justice and fighting against racism, systemic oppression and war. For as long as I can remember my Mum would speak regularly of some kind of injustice or racist immoral regime. Mum was pretty wordly and had travelled to 52 countries before I was born. She'd also worked the kibbutz in Israel during conflict (Don't get me started on FREE PALESTINE! Prayers and love to the Palestinian & Jewish people who are now supporting the release of oppression and violence)
Mum creating this environment helped me get a head start on how I viewed people in the world and the level of respect and thought that should go into treating someone as well as valuing the importance of their difference. It's never about yourself and when you can walk in other peoples shoes and then navigate some learning along the way it really all lines up with purpose. In some way all the experiences, seeing the sacrifice my Mum had made for others, my Mum telling me to read about Dr Martin Luther King, Malcolm X, Nelson Mandela and seeing her library makes much more sense now. Its quite cool, I was talking with her and her first protest was in Brisbane, just like mine and Rocco's (Ezra's 3 year old son) - we had walked the Invasion Day March and Rocco was 2yrs old at the time.
Learning about the Mau movement, especially if you are Samoan HELPS!!! This history puts a lot of context into why Samoans especially should always fight for those people who are indigenous, have had their land stolen or been manipulated and oppressed. Walking with my family to support Black lives matter and the indigenous people here is a level of service. The mentality is that I see you and I can only up my game to try and understand, I can't compare my experience to what you have experienced but I know it isn't right. I want black and indigenous people to be free of the racial profiling I've experienced both here and NZ. I want them to experience life as it should without the unnecessary suffering that being black in a white system can serve you. I want a world where all people begin to break ego and learn something. I want black people to know that they can breathe safely with a Samoan holding them up or there if they need a hand. Its built into our blood. Our land and Samoan rights, names, villages, graves mean everything to us! Imagine that gone! Add 3-400 years of murder, family separation, permanent settlement (to a nomadic people), rape, abuse, racist justice systems, poor health care and the lack of acknowledgement to heal intergenerational trauma and you have a tiny glimpse of the rubbish these people had to go through.
I grew up on Public Enemy and hip hop so I owe this culture and these people for not only being there for me growing up but also an education. Those that know, know. I don't do mainstream hip hop unless you wanna make me dance. From the way I dress to my political opinions, to literature and sport. I have Black culture to show love and gratitude for, THE WHOLE WORLD DOES! Say thanks!
Lastly to the family and man himself - George Floyd - whose death has sparked possibly the last stance to ignite change that the world needs right now. It's no surprise we are here as humans and we need to be accountable. My Wife and family will support in other ways too but we wouldn't have missed being at the march for so many reasons. This one was for George and appreciation for his sacrifice.
George calling out to his Mum broke me. Seeing a man at the bridge of life, knowing he's about to leave everything here and those he loves and he calls out to his Mum, absolutely broke me.
Black lives matter period. Say it……
Alofa atu, Taylors
Last 2 sets of images used with permission by Dray Parker
.
DUNEDIN, NEW ZEALAND
My first exposure to Black history in the US was in primary school reading a story about a young slave girl who escaped through the Underground Railroad and then watching the TV series 'Roots' and learning about Kunta Kinte, Kizzy and their descendants. As a kid, I knew I was struck then by the injustice, violence and murder that black people had, had to endure over the years. My Mum is a palagi (white) kiwi and my father is Samoan but my Mum had always tried to educate us and expose us to the racial divide not only in America but around the world and especially in Rhodesia (since renamed Zimbabwe) where she lived during the apartheid era - she never tried to sugar coat or gloss over white peoples colonising ways or the atrocities of slavery.
Over the years, I've been influenced and inspired by black artists, musicians, culture, journalists, athletes, photographers & people who have displayed resilience, strength and black excellence in the face of a racist system that is set up for them to fail. Shouts to John Gotty and the TSS Crew who have been my main source of education over the last few years, on the black experience in America today. I've also continued to learn that racism and slavery in America didn't stop at the end of the Civil War - it continues today with the mass incarceration rates of black people. The injustice, violence and murder I watched black people endure in 'Roots' is still happening today and did just happen to George Floyd. As a mother my heart breaks for black women who have to bury their children, husbands, siblings or parents as a result of racism and white peoples fear.
Black Lives Matter!
and that is why I stood in solidarity with our black aiga at the Black Lives Matter solidarity demonstration in Dunedin.
Alofa atu
.
HUNTINGTON BEACH, CALIFORNIA, USA
Celina had been to several Black Lives Matter marches in different areas of Los Angeles including Anaheim and Long Beach throughout the week. She said the experiences had all been positive and the marches had all been peaceful with no dramas. Yesterday however, she attended the march in Huntington Beach, Orange County and had to walk a couple of miles from where they parked to where the protest was taking place. As they were walking to the march they encountered 'Blue Lives Matter', 'All Lives Matter' and MAGA Trump supporters who were opposing the Black Lives Matter march and on the way to the pier, they were assaulted by a group from the opposition which led to one of her friends younger brother being arrested and detained for 8 hours. She wanted to point out that the police only grabbed at her group (9 Samoans including her brothers, her best friend and her best friends brother) and did nothing to help them. They were able to finally get to where the protest was being held and her friends brother was released late last night. Click here for the full video where she explains what happened to them.
More on the Anaheim, OC march here
I think I can speak for all of us when I say that it's important for us as Pacific Island people to support the Black Lives Matter movement because if there's no justice for Black Lives, for the people who have helped us in every way - just as far as Music and culture in general - it's only right! And if their lives don't matter then our lives never will. It was important for us to be there (at the rallys) because we naturally have bigger bodies, we naturally have louder voices, ask anyone, all us Samoans are known for being big and strong as hell. From my perspective after what we encountered today (at the Huntington Beach rally) we can use our islander features to help support the Black Lives Movement by using our voices to add to the chants, the love that comes so naturally from the Pacific Islander community - that same love we show our family should also be shown to our Black Lives Matter activists. We can use our big builds for good, to be on the right side of history.
I'm tired but it's more tiring for a black woman or man in America that constantly has to struggle with the police brutality - who do you call when you can't call the police for help? It's a system that needs to be fixed. It won't be fixed easily but I'll be damned if we don't try. I'll also be holding an event because I want to talk to our Pacific Islander people to address the racism within our own community, within our own families and within our circle. There's a lot of ignorance that is being spewed on the internet and it needs to be corrected. I'm bringing in as many black voices as I possibly can to help spread the knowledge. We're not unable to learn and become better.
If someone feels comfortable enough to say ignorant things around you or in front of you, you should feel comfortable enough to correct them in love or put them on game which is really to educate. We have to speak up and yeah, Black Lives Matter. Period! I'm a talker and I love to talk about things that matter and Black Lives Matter!
.
SALT LAKE CITY, UTAH, USA
Pacific Islanders for Black Lives Matter protest in Salt Lake City
Litia Niumeitolu
Black Lives Matter
My name is Litia Niumeitolu and I was born in Tonga.
My husband and I brought our 5 children to this country on stolen land and stolen labor never thinking our American dream would be a life of American pain.
I came to this land to go to school. I got a full ride scholarship to BYU where I majored in Mathematics and I achieved my PhD in Mathematics and Computer Science. I am a retired Educator, Professor and Teacher of over 45 years. I did not know my life in Utah, I would encounter racism and sexism everyday. White people think I am their maid, servant or their cleaning lady. They are surprised I am not.
I had a white woman tell me at work when something got spilled on the floor, "Why don't you go clean it up, you know where to go get the cleaning supplies."
In the past, I thought maybe I am not good enough, I'm not worth anything, I don't know anything.
Today I am confident and I am telling you all today, Stop telling people to clean up your messes. Yes, I know where the cleaning supplies are, but do you? I know how to clean but do you?
People can't clean up the mess you created for hundreds of years.
I honor, respect and salute Black people for giving me a voice and space to exist today in America.
I can go to restaurants, public restrooms, public swimming pools with my grandchildren, the movies, ride the bus, daily, regular things because of the lives of Black people fighting and dying for me. My Black sisters, my Black brothers, and Black trans families, I love you, 'Ofa lahi atu.
When Black lives matter, all lives will matter.
(Kneel down)
No Justice No Peace
Black Lives Matter
Thank you to Litia's daughter Vaimoana Niumeitolu for the images (including our cover photo) and you can click here to watch Dr Litia's full speech which starts at about the 18.50 minute mark.
.
SYDNEY, AUSTRALIA
I've been inspired seeing the eruption of the Black Lives Matter movement. I am a proud Samoa/Pacific Islander, and I can only call myself a Samoan because of my ancestors who walked for me to have a better life. For Samoans and Pacific people reading this; we have the luxury of walking freely on many of our islands with every right to practise our cultures and traditions on them because our ancestors marched for us, took action for us, fought for us, cared enough for us - the future generation. The Mau Movement in Samoa is a prime example, the men and women who peacefully protested, and those who were killed for my/your independence 🇼🇸 They marched so you don't have too. Let's show up for others to make their lives better too, let's do all we can for future generations.
The voices of our Indigenous people have been amplified because an African American Black brother George Floyd (and countless others) were murdered by an institutional system built on violence, in a country and world built on their oppression. Same story, different soil. Racial Injustice is a global issue.
Power to the people, lets do whatever we can to undo these centuries of systematic oppression. I will stand with the Black struggles overseas and on these lands. Resistance, resilience and love. Action in the streets, action in our work, action in our homes, action in our voices, action in our writing, action in our performances, action in our arts, action in petitions and donations, action everyday.
Other protests in the Pacific -
AMERICAN SAMOA
.
HAWAI'I
.
NORTHERN MARIANAS (Saipan)
.
VANUATU
.
Pasifika at other protests in California
.
Click here for the Justice in June resource which was compiled by Autumn Gupta with Bryanna Wallace's oversight for the purpose of providing a starting place for individuals trying to become better allies.
Click here for Ways you can help the Black Lives Matter movement
Share