Coco News
COP27: Money, Lobbyists and The Pacific Presence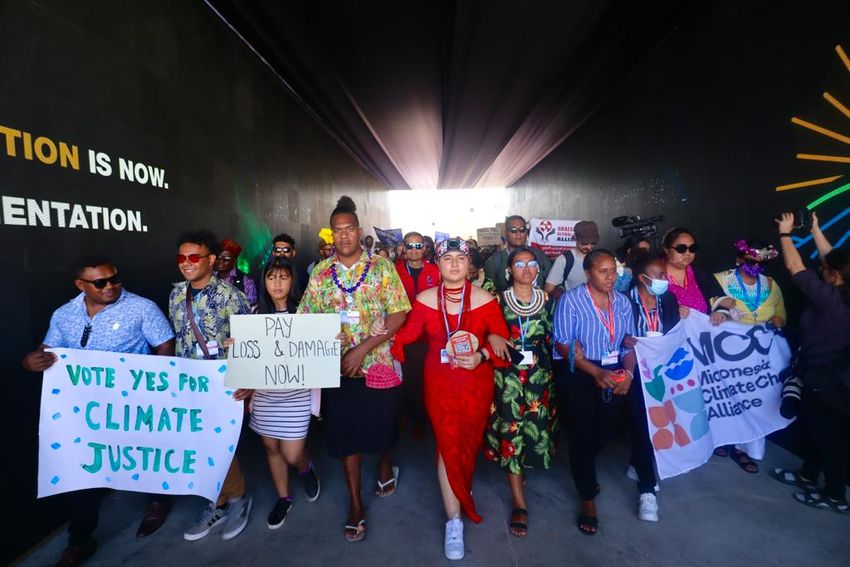 COP27 in Egypt ended with one big win and many other disappointments.
The 2022 United Nations Climate Change Conference more commonly referred to as COP27, was the 27th UN Climate conference, held from 6 November until 20 November 2022 in Sharm El Sheikh, Egypt. It gathered world leaders, national negotiators and civil society to discuss the state of our planet and plans to tackle the climate crisis.
The Pacific showed up strong to this year's COP27 with one of the priorities on the agenda being the establishment of a Loss & Damage fund. This has been something the region has been fighting for three decades for.
One of the major wins this year was COP27 reaching an agreement on an outcome that established a funding mechanism to compensate vulnerable nations for 'loss and damage' from climate-induced disasters. Pacific negotiators went into sleepless negotiations that reached early mornings fighting for this funding mechanism.The Loss and Damage fund means that Pacific Islands can be compensated for the climate devastation they have to constantly live through.
During the closing ceremony of COP27 Marshall Island's climate envoy Kathy Jetnil-Kijiner said, "This is huge progress, but we are also not doing enough to reduce the loss and damage that will affect us in the future. We must phase out fossil fuels and we must do so now".
Many echoed Kathy's sentiments saying that although the decision on Loss & Damage is progress, the conference did not address the root problem which in rising emissions.
Climate activist and 350.org Pacific Managing Director Joseph Sikulu expressed, "A great win on Loss and Damage but still so far to go on Mitigation. If we don't see a phase out of fossil fuels at a pace that meets the scale of the crisis we're in, then we will just be in a continued cycle of rebuilding, exhaustion from talking to realities, exhaustion from fighting for more finance and communities who will face more and more destruction".
Another disappointment to add on to the lack of language around mitigating the climate crisis was the amount of greenwashing the actual COP displayed. The conference was filled with corporate logos and sponsored spaces that seemed to use COP27 as damage control around their environmental image. One of these cooperations being Coca Cola who were a major sponsor of COP27, while also being the world's largest plastic polluter.
To add to the presence of big polluters, COP27 had over 600 delegates from fossil fuel companies which is a 25% jump from last year's COP according to campaign group Global Witness. Making fossil fuel companies one of the biggest delegations at COP far exceeding the number of Pacific negotiators.
The correlation between a big fossil fuel lobbyist presence and weak language around reducing fossil fuel extraction was strong this year in Egypt. In response during the last week of the conference Pacific activists peacefully protested outside negotiation rooms holding signs saying "Keep it (fossil fuels) in the text" and "Phase out fossil fuels" to express the dire need for this mitigation language.
For Pacific islands, the failure to include emissions reduction language in the final text is a failure to meet targets that'll keep small islands above water in the next decade.
Although this COP brought the great victory of the Loss and Damage fund there were far more losses when it comes to fossil fuel loopholes, mitigation failures and the worrying progress towards the 1.5 pathway.
COP27 ended on a bittersweet note but the Pacific climate space is determined to continue the good work. Outside of the UNFCCC process the Pacific works on other avenues of actions.
Vanuatu and Tuvalu endorsed the call for an International Fossil Fuel Non-Proliferation Treaty this year, and both nations continue the work of getting more endorsements for what could be a monumental treaty. On top of this Vanuatu is seeking an Advisory Opinion on Climate Change from the International Court of Justice. The work of the Pacific continues in many ways after COP.
Share