Coco News
CORONAVIRUS WEEK 2 - COVID19 PACIFIC UPDATE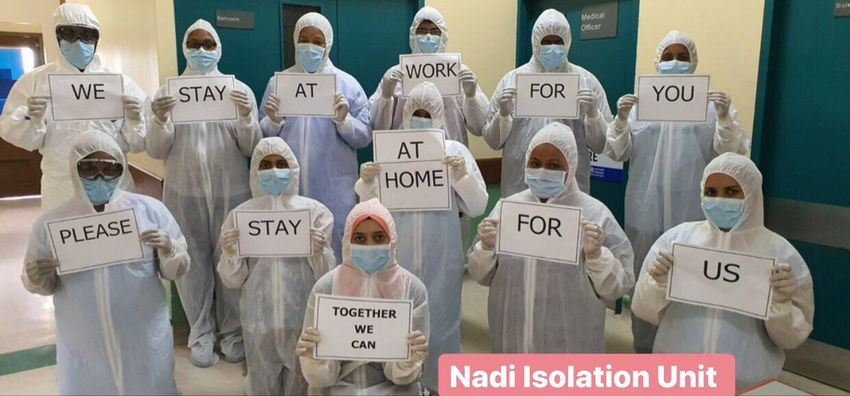 We're now into the 2nd week since the World Health Organisation upgraded the Coronavirus to a Pandemic. We will be updating this page with Pacific Islands updates for our community here in New Zealand and around the Pacific. To catch up on updates from Week 1 click here
.
FRIDAY 27th MARCH
NEW ZEALAND - #BREAKING 85 new cases of Covid-19. 76 new confirmed, 9 probable cases. 8 are in hospital. Six stable, two less stable, one of whom is in intensive care. 37 people have recovered from Covid-19. Dr Ashley Bloomfield says it will take at least 10 days before we will see the number of cases drop. Those who have recovered from Covid-19 are signed off by a health official after being symptom free for a 14-day period. The increase in cases has put pressure on contact tracing.
- The ICU patient is in Nelson Hospital and has been in there for some days, but their health has deteriorated over the past 24 hours. They have underlying health conditions and are now being ventilated. The other person is in a general ward in Wellington Hospital, but is no longer stable.
- Director of Civil Defence Sarah Stuart-Black says there were several incidents of people gathering yesterday. Police were called and advice was given.
- In regards to going out for exercise, the Ministry of Health clarified this saying to stay local and in regards to swimming or going for a swim make sure you don't put yourself in a position where you may need help or to be rescued. The MOH also said they don't want to see 200 people out on the beach on a sunny day. Be sensible and stay in your local bubble.
- More than 2,500 retired health workers have signed up to help with the Covid-19 response.
- After today, travellers seeking to leave New Zealand must be able to leave directly from their port of international departure (e.g., Auckland). If you have a flight leaving from a different city than where you are, you need to make your way to that city immediately.
Otherwise, you could risk having to stay in New Zealand until the lockdown is lifted, no less than four weeks from now. If you require accommodation while waiting for your onward flight, these hotels (https://temporaryaccommodation.mbie.govt.nz/covid-19/) continue to provide services during Level 4 lockdown.
.
AUSTRALIA - Australia now has 2,996 cases and 13 deaths.
- More than 60,000 job losses in the last 9 days but 20,000 new jobs have opened up at Woolworths.
- Australia is still currently on Stage 2 lockdown and the State of Victoria is pushing for Stage 3 lockdown.
- Australia's Prime Minister Scott Morrison has committed to helping pacific island nations tackle #COVIDー19 after an emergency meeting of the G20. He says aid will be reconfigured.
HAWAI'I - Hawaii is reporting 11 new cases of coronavirus statewide, bringing the statewide total to 106, the state Health Department said Thursday.
Here's the county-by-county breakdown. Authorities said at least seven of the confirmed cases required hospitalization.
Oahu: 77 (8 new)
Maui: 14 (1 new)
Big Island: 5
Kauai: 5
Unknown: 3
- Kauai police to begin islandwide checkpoints for lockdown compliance. Full story here
PACIFIC ISLANDS
** Total of 199 cases confirmed in the Pacific - 5 in Fiji, 30 in French Polynesia, 45 in Guam, 106 in Hawai'i, 12 in New Caledonia & 1 in Papua New Guinea **
FIJI - Fiji Covid19 budget: Deferred loan repayments for six months for any Fijian who have lost their jobs or had their hours reduced. Mortgages, personal loans, even hire purchase payment plans from stores like Courts, Carpenters and others all qualify.
- The IMT this morning briefed Asst Minister, PS and Dr I Wagainabete as usual on the great work being done around COVID19. There are still only 5 confirmed cases of COVID19 in Fiji. The 46 tested yesterday were all negative.
FRENCH POLYNESIA - Five additional cases of Covid-19 have been formally identified in Polynesia, bringing the number of confirmed cases to 30 since the start of the epidemic. A single patient is currently hospitalized and 330 people have been screened. So far only residents of Tahiti and Mo'orea have been infected.
GUAM - The U.S. Navy's USS Theodore Roosevelt has been diverted to the U.S. island territory of Guam. It's the first American warship with confirmed COVID-19 cases - at least 23 are confirmed to be infected. 5,000 sailors are to be tested and the Governors office says that all sailors will be quarantined on the ship and on naval base.
- According to a Joint Information Center new release, the Guam Department of Public Health and Social Services tested 38 individuals for COVID-19 on Thursday, with eight testing positive. A total of 308 tests were performed from March 12-26 — a total of 45 cases tested positive by and 263 cases tested negative for COVID-19 with one death. All 44 remaining cases are in isolation. The other person who tested positive died.
NEW CALEDONIA - A Wallisian performance group from New Caledonia stranded in New Zealand will be without accommodation after today, and concerns are growing for the health of its older members. Full story here
PAPUA NEW GUINEA
- Kundiawa town, Papua New Guinea, normally a very busy centre, now a ghost town! Good to see people being compliant with lockdown despite PNG having only one confirmed case. (PC B. Youngs)
- Covid19 awareness art from the Madang Art Maniacs in Papua New Guinea. (The sign says wash your hands with soap.)
SAMOA - AMENDED STATE OF EMERGENCY ORDERS FOR COVID-19 26 March 2020: Under Emergency Order Offence Notice section approved today, the law reads; (1) A police officer may serve an Emergency Order Offence Notice on a person who has committed an offence to which this Emergency applies.
(2) A Notice under this Order shall be in the form approved by the Commissioner of Police.
(3) A person who has been served with a Notice may elect to pay the fine stated in the Notice within 24 hours of the issuance of the Notice.
Full amended State of Emergency orders here
TOKELAU - Concern about the spread of Covid-19 has reached one of the most remote corners of the world, with Tokelau preparing isolation facilities and stockpiling essential food. The New Zealand territory in the central Pacific has set up isolation and treatment facilities on each of its three atolls. Full story here
- In Nukunonu, Tokelau, a group of men from the community went fishing and their catch made lunch for the workers maintaining their hospital in preparation for COVID-19.
TONGA - Tonga's Prime Minister Pohiva Tu'i'onetoa has declared a national lockdown for one week starting this Sunday 29 March at 1am and ending Sunday 5 April. Full story here
- Latest Update from the Minister of Health - Suspected COVID-19 Tests #7 and #8 for Tonga came back negative this morning. There were only 8 suspected cases in Tonga to date.
VANUATU - A nation-wide State of Emergency (SOE) has been declared, with curfews imposed to restrict the operation of businesses, public transportation and fuel stations except essential services to halt the spread of coronavirus. All businesses have been ordered to close by 7.30pm. All transportation and fuel stations in Vanuatu are prohibited to operate after 9pm. Full story here
- Though Vanuatu has no confirmed cases of COVID-19, it had a scare when a cruise ship passenger who disembarked on an island later tested positive. Journalist Dan McGarry says this was despite the ship being ordered not to dock there.
.
THURSDAY 26th MARCH
NEW ZEALAND
- 78 new cases reported as at 9.30am this morning. The majority still have a link to overseas travel. Total NZ cases 283.
Watch the Ministry of Healths live update here:
- Ministry of Pacific Peoples are asking our Pasifika community to please tune in to a special broadcast on TV 1 at 4.30pm today to watch the COVID-19 Pacific messages in 9 Pacific languages: - Cook Islands, Fiji, Kiribati, Niue, Rotuma, Samoa, Tokelau, Tonga & Tuvalu
- The prime minister has suggested we think of ourselves as being in a little bubble with the people we live with. Our job for the next few weeks is to stay in our bubble. If it turns out someone in our bubble is incubating Covid-19, then the virus will be limited to our bubble. It won't be able to spread any further. It also means if no one in our bubble has the virus then as long as we stay in our bubble, we will stay safe and save lives. Read the full brief from the Spinoff here
AUSTRALIA
- Australia nears 2,500 confirmed cases and Victoria records its first Covid19 deaths bringing Australia's total Coronavirus related deaths to 11.
- Jacinda Ardern asked for coronavirus relief for New Zealanders banned from Australia's welfare. The NZ PM says she made a direct appeal for a temporary change to the rules to allow laid-off New Zealanders living in Australia to access benefits
- Mass job losses continue with another 15,000 thrown out of jobs this morning. Flight Centre will stand down or sack 6,000 of it's employees and Premier Investments, which owns the stationery brand Smiggle and clothing chains including Just Jeans, Portmans and Dotti, will close all its stores at 6pm, standing down 9,000 people.
- Journalist Scott Ellis shared this tweet this morning which will be a reality for many Australians and people around the world with the travel restrictions on at the moment.
HAWAI'I
- Hawaii is reporting six new cases of coronavirus statewide, bringing the statewide total to 95.
Here's the county-by-county breakdown:
Oahu: 68
Maui: 13
Big Island: 5
Kauai: 5
Unknown: 4
Authorities said at least five of the confirmed cases required hospitalization. But officials have also said they don't have full details on many cases. For example, the state Health Department hasn't determined whether about one third of the reported cases had a link to travel.
- Under stay-at-home order, the State's top tourist destination, Waikiki resembles a ghost town. As people get accustomed to the stay-at-home order, authorities are reminding residents that it's OK to leave your home for groceries, essential work or even to take a walk or go surfing. Those who call the streets of Waikiki home say they're concerned that Hawaii's homeless population will have to fend for itself. Darryl Sneed, who is homeless in Waikiki, said he hasn't gotten any information about where to go for help. "I don't think they're doing much at all," he said.
Read the full story here
PACIFIC ISLANDS
** Total of 175 cases confirmed in the Pacific - 5 in Fiji, 25 in French Polynesia, 37 in Guam, 95 in Hawai'i, 12 in New Caledonia & 1 in Papua New Guinea **
FIJI - The FIji Government have shared that their 5th confirmed case was in quarantine when her symptoms first developed. She shares a household with 9 others –– 2 of whom were also showing symptoms & have been isolated in Lautoka Hospital. The other 7 remain under strict quarantine in the home, which is under constant police surveillance.
- The police are also actively investigating reports that 36 Fiji Airways flight attendants blatantly violated their self-quarantine, sharing grog and interacting with their friends and caregivers from outside the quarantine area.
FRENCH POLYNESIA - No new cases reported today. Total confirmed cases remains at 25.
Since yesterday evening, the departures of three international flights have enabled more than 800 non-resident people to leave Polynesian territory, including 600 passengers departing for the metropolis. In total, more than 2,600 people were able to leave French Polynesia between Friday March 20 and today. A final international flight (Air France) is scheduled for Friday, March 27.
GUAM - Guam's governor is asking the US for 1,000 Covid-19 testing kits, as the island tries to contain the worst outbreak of the coronavirus in the Pacific. Currently on 37 confirmed cases
NEW CALEDONIA - Two more people in New Caledonia have been confirmed to carry the Covid-19 virus, raising the tally within one week to 12. The government will no longer gives details about the location of those testing positive as there were reports that death threats had been made against those infected.
A man from Wallis and Futuna serving in the French military has died of Covid-19 in France. Eric Tagatamanogi, who was 23, died in a rehabilitation centre in Mulhouse where he had been for a year after a car accident. He is reported to have contracted the virus at the centre.
Full story for both reports here
PAPUA NEW GUINEA - - Tests of 15 people who came in direct contact with the one confirmed case in Papua New Guinea have returned negative tests for Coronavirus. A 16th person who came in contact with him is still being tracked down to be tested. These are the people who travelled with the worker from Bulolo to the mine site. Contact tracing is still continuing for passengers who traveled with the man from the Singapore flight into Port Moresby and from Port Moresby onto Lae.
SAMOA - Prime Minister, Tuilaepa Dr. Sa'ilele Malielegaoi, has defended the Government's decision to enforce the orders under the State of Emergency in relation to the cancellation of church services. Full story here
- The National University of Samoa (N.U.S.) has cancelled its 2020 graduation which was scheduled for next Friday.
- Ministry of Health has advised 25 samples from suspected coronavirus (COVID-19) cases have so far been sent abroad for testing with 16 coming back negative.
SOLOMON ISLANDS - Have declared a State of Public Emergency as the country ramps up its response to the global Covid-19 pandemic. The country has no confirmed cases and currently has three suspected samples pending tests results. The declaration was announced by the Governor-General David Vunagi.
TONGA - All schools in Tonga will shut down this Friday for two weeks as part of precautionary measures against the Covid-19 pandemic. Full story here
- Volunteers from the Tonga Red Cross Society are distributing thousands of leaflets this week with information about how to prevent Covid-19 coronavirus.
- Tonga have also postponed Heilala 2020 due to the Coronavirus threat. Full story here
- Tonga National Lockdown effective 1:00am this Sunday 29th March, 2020 to Sunday 5th of April, 2020
VANUATU - Maritime Regulator says the Voyager of the Seas was instructed not to berth and to leave Vanuatu waters because passengers were showing flu symptoms. Instead, the ship overnighted at the island of Aneityum, and now the island is quarantined. Turns out the contact was a guest who went ashore on March 11 and later tested positive. The Vanuatu Governments instruction was that no one disembark.
- Vanuatu's president has declared a State of Emergency in response to the Covid-19 pandemic. Full story here
Full story here
.
WEDNESDAY 25th MARCH
NEW ZEALAND
- 205 confirmed cases in New Zealand today as the country went in to Level 4 lock down for at least the next 4 weeks starting from midnight.
- And some good news: Twelve people have RECOVERED from Covid-19 in New Zealand
- The Prime Ministers message in her press conference today was clear:
"STAY AT HOME"
"You may not be at work, but that doesn't mean you don't have a job. Your job is to save lives. If you have any questions and you're looking for answers, apply one simple rule - act like you have Covid19"
The Prime Minister went on line later this evening to take questions from the public here -
- Newshub reports that 8 people of the 35 tested when arriving at Auckland Airport yesterday tested positive for Covid-19
- Air New Zealand have published a very skinny short haul international schedule. AKL/SYD - 3 per week. AKL/MEL/BNE - 2 per week. AKL/Fiji/Raro/Niue 1 rtn flight per week. Samoa and Tonga suspended. Tasman flying ex CHC/WLG suspended.
Flights to Long haul markets as follows - AKL/Hong Kong 2 per week and AKL/LAX 3 per week. Their domestic schedule will allow connections and is currently up to date but will be reviewed daily. They anticipate on time performance to be outstanding!
** A reminder to all that at no point during the lock down will supermarkets, gas stations, ride sharing or chemists close - More here **
AUSTRALIA
- Australia recorded it's 9th death late this evening with the death of a 68 year old man with a serious underlying medical condition.
- The total of confirmed cases in Australia is now up to 2,431
- NSW has announced on the spot fines / jail terms for breaking new restrictions.
- In Victoria, a man in his 30s is in intensive care in what the Deputy Chief Medical Officer, Paul Kelly says should be a 'real rwake up call' to young people.
If you want a summary of the day's news in Australia, read this.
HAWAI'I
- The State puts total number of coronavirus cases in Hawaii at 90 and have acknowledged they made a mistake in reporting on a death which they thought was positive for Coronavirus.
- Dr. Christina Kishimoto says Hawaii's public school students will stay at home unti April 30, not April 7, in light of recent county and state shutdown measures.
- Maui health system says one of its employees has tested positive for coronavirus. Full story here
PACIFIC ISLANDS
** Total of 167 cases confirmed in the Pacific - 5 in Fiji, 25 in French Polynesia, 37 in Guam, 90 in Hawai'i, 9 in New Caledonia & 1 in Papua New Guinea **
COOK ISLANDS - The Cook Islands' Covid-19 alert status will be upgraded to 'Code Yellow' at 6pm local time. Cook Islanders were being encouraged to stay at home where possible.
'Code Yellow' restricted mass gathering, including church services. The next step on the scale, Code Red, imposes mandatory self-isolation. Full story here
- A group of Cook Islanders returning from the 2020 Golden Oldies World Netball Festival in Hawaii are stranded in Auckland. Full story here
FIJI - Fiji now has 5 cases of COVID19. The recent case is a contact of the first imported case. Isolation, containment, social distancing, hand hygiene (and contact tracing) is crucial.
The Prime Minister came out with the following statement in his press conference today:
"Self-quarantine isn't a voluntary measure. It is a compulsory, legally-mandated order. So, if you've been directed to self-quarantine and you're reading this message, ask yourself: Where would you rather be? Quarantined at home for 14 days, or in prison?" - Full statement from the Prime Minister here
- Nadi International Airport will be officially shut down to all scheduled passenger travel from tomorrow.
- Passenger travel to Fiji's outer islands will cease on Sunday the 29th March
- Valelevu Fever Clinic is now opened 0830 till 2200 Hours daily. This is a COVID19 strategy
FRENCH POLYNESIA - French Polynesia has banned the sale of alcohol as two more people are diagnosed with the Covid-19 virus, raising the territory's total to 25. Two of the confirmed cases remain in hospital. Full story here
GUAM - Five people tested positive for coronavirus Wednesday, bringing the island's total confirmed cases to 37, according to the Joint Information Center. Of those, one has died: a 68-year-old woman at Guam Memorial Hospital on Sunday, officials said.
NEW CALEDONIA -New Caledonia has recorded a further two Covid-19 cases, bringing its total to nine. Full story here
- More than 20 Wallisians from New Caledonia have been stranded in Auckland since last Saturday after their government closed the border due to COVID -19. Full story here
PAPUA NEW GUINEA -An aircraft carrying 13 passengers in Papua New Guinea was directed to return to Port Moresby by the Covid-19 Joint Task Force for breaching quarantine protocols.
SAMOA - Samoans stranded in Fiji are confirmed to fly to Samoa on supplementary Nadi-Apia and Apia-Nadi flights on Wednesday, March 25. Only citizens and residents of Samoa will be allowed to board.
.
TUESDAY 24th MARCH

NEW ZEALAND
- 155 confirmed & probable cases in New Zealand now. 40 new cases confirmed today with 3 new probable cases. Director-General of Health Ashley Bloomfield told reporters the daily tally would now include probable cases.
- The Finance Minister has announced banks will provide a six-month mortgage holiday scheme for Kiwis hit by coronavirus lockdown. Find out more on this plus other financial assistance you'll be able to receive here
- As we move towards the Level 4 lockdown for the Covid-19 response, only essential services will be allowed to remain operating. Click here to see what will be open and what will be closed.
- All public transport in Auckland will be free when the country goes into Covid-19 lockdown, but it can only be used by people who need it eg our elderly who don't drive
- The Warehouse is to close now (althought it was previously being reported as all 92 stores would stay open) Liquor Stores are also to close.
- The minister of foreign affairs, Winston Peters, advised New Zealanders overseas to consider staying where they are and "sheltering in place".
- Important announcement from Air New Zealand: Domestic New Zealand flights will continue until midnight Friday and there is plenty of capacity. Good news for students & all others who want/need to fly home.
Watch the Ministry of Health update for today below -
AUSTRALIA
- Health authorities in NSW have confirmed Australia's eighth coronavirus death — a female passenger in her 70s who had been on the Ruby Princess cruise ship. NSW Health said the woman, who was among the first group of people infected on the ship, died in hospital this morning.
- There are currently 1,895 cases confirmed in Australia
- Australian regulators have urgently approved rapid Covid-19 testing kits that allow doctors to screen patients for the virus within 15 minutes at clinics and hospitals.
- The national cabinet is to consider lockdowns of Covid-19 hotspots as government predicts at least 1 million people will need unemployment benefits.
- The Queensland government has issued a fact sheet for Aboriginal and Torres Strait Islander peoples on how to conduct funerals and sorry business during the coronavirus crisis.
HAWAI'I
- Public health officials are reporting 21 new cases of coronavirus in Hawaii, in the highest one-day total in the state since the pandemic started. The State also announced Hawaii's first death from COVID-19 this evening. Officials say an adult from Oahu passed away on March 20th and had multiple underlying health conditions.
The new cases bring the statewide total to 77.
Here's the island-by-island breakdown provided by the state:
Total: 77 (21 new)
Oahu: 53 (12 new)
Maui: 11 (2 new)
Kauai: 3 (0 new)
Big Island: 5 (2 new)
Pending: 5 (5 new)
Of the cases reported so far, five people have required hospitalization. The majority of those who tested positive had a history of recent travel. But at least three haven't ― evidence that the virus is spreading in the community.
- Gov. David Ige today announced new statewide restrictions on the movements and activities of Hawaii residents in the lastest ramp-up of the effort to limit the spread of Coronavirus. The new state policy essentially matches the policies of Honolulu and Maui, meaning residents and visitors will be required to stay at home and work from home, with exceptions made for "essential" businesses and services such as health care. Read the Governors full proclamation here
- Increasing number of hotels in Hawaii are closing as coronavirus restrictions tighten.
PACIFIC ISLANDS
** Total of 141 cases confirmed in the Pacific - 4 in Fiji, 23 in French Polynesia, 29 in Guam, 77 in Hawai'i, 7 in New Caledonia & 1 in Papua New Guinea **
FIJI - Prime Minister Voreqe Bainimarama has confirmed the country's fourth case of coronavirus. The 28-year-old Fijian returned from Australia last Saturday and is not related to the first three confirmed cases. Fiji's government is now trying to find 43 passengers who shared flights with the man confirmed as the country's first Covid-19 case.
- 8 fever clinics are now operating around the country as part of the COVID-19 response plan. Six clinics are now running in Nasinu, Labasa, Savusavu, and Nabouwalu. Two others have been running in Lautoka since last week.
FRENCH POLYNESIA - French Polynesia has recorded another five cases of Covid-19 infections overnight, bringing the total to 23.
NEW CALEDONIA - New Caledonia's government has ordered people to stay home for at least 15 days from the end of Monday and the country has been in lockdown since midnight last night.
PAPUA NEW GUINEA - A Qantas flight to Papua New Guinea was turned back today because it had passengers on board. Under Papua New Guineas state of emergency no one is allowed in, not even citizens. The State of Emergency will be in place for 14 days. It was introduced in response to the first confirmed case of coronavirus in the country. People can still fly out, but no one can come in.
- Travel between districts and provinces is being banned in Papua New Guinea under its 14-day state of emergency announced by the government.
- Rabaul's Nonga Hospital has sent out a community emergency message that "they are seeing increasing numbers of cough/fever/fatigue/myalgia/sore throat". There were 70 cases yesterday. They don't know what it is and can't test to exclude COVID19. Several staff are also sick.
SAMOA - Samoa health authorities say six tests carried out on possible COVID-19 patients have come back NEGATIVE. They are waiting on the results from labs in NZ for 7 other patients.
- Under extraordinary measures passed by Cabinet on Tuesday afternoon Samoa's borders will officially be locked down, supermarket opening hours will be restricted, and only cargo travel to Savai'i will be permitted.
- The government of Samoa has also amended the State of Emergency orders for Coronavirus to the following:
All international travel by plane to cease from 12am on the 26th of March.
Travel for passengers between Upolu and Savai'i is also to cease from 12am on the 26th of March.
A condition on Opening hours for ALL supermarkets to be from 6am - 4pm, until further notice.
Read the full State of Emergency orders here
- More than 100 passengers arriving on an Air New Zealand flight today were surprised to learn they will spend the next 14 days in quarantine staying at the St. Therese Samoa Retreat and Accommodation on lockdown following tough new coronavirus measures passed earlier today. Read full story here
VANUATU - National Bank of Vanuatu announcing a pause on principal repayments for up to 6 months. Voluntary measure like this provide reassurance at a time of great uncertainty.
.
MONDAY 23rd MARCH
NEW ZEALAND
- 102 confirmed cases in New Zealand. More than half are directly related to overseas travel.
Prime Minister Jacinda Ardern is addressing the media on the latest Covid-19 developments in New Zealand. Watch now live here:
New Zealand has raised alert level to LEVEL THREE.
Non-essential business in NZ must all close: bars, cafes, restaurants, cinemas, etc. All schools will be closed from tomorrow. New Zealand must prepare to go into self isolation now.
After 48 hours, New Zealand will move into alert LEVEL FOUR, Prime Minister Jacinda Ardern has confirmed.
The NZ Warriors will fly home to NZ tomorrow before government implements alert level four for the country.
Ministry of Health Director-General Dr Ashley Bloomfield said there were still two cases that could not be linked to overseas travel and are being treated as community transmission. More than 7400 tests have been carried out so far.
His update for today here:
- Police will patrol supermarkets and step up their presence at public places if necessary as tighter Covid-19 restrictions come into place, Police Commissioner Mike Bush says.
- Flight Centre has made 250 people redundant and closed 33 shops amid the coronavirus outbreak.
- Hawaiian Airlines announced that it will temporarily suspend service to Australia and New Zealand after the two countries implemented mandatory self-isolation periods for international arrivals.
- Event Cinemas NZ has announced all their cinemas, including the Embassy in Wellington and Rialto in Auckland and Dunedin will close today.
- 4 schools have closed in Auckland today due to parents or staff of students testing positive - Glendowie College, Randwick Park School, Marist College and Marist Primary School. A father also tested positive and had visited Mt Roskill Grammars Tongan fiafia night. The school is awaiting advice from the Ministry of Health. Full story here
BUT If you were in contact with anyone at the Mt Roskill fiafia night please urgently contact Healthline free on 0800 611 116 for health advice and information.
#STOPTHESPREAD
- Keep track of the confirmed cases in NZ by location via the Covid19 NZ Interactive Map
The map gives details of where the person had travelled from, the flight numbers as well as where the person may have been exposed to the virus if they hadn't travelled.
Click here to access the map
- The national tally of confirmed Covid19 cases in Australia is now over 1,711. Fatalaties remain at 7
- The Queensland border is to be closed from midnight this Wednesday.
- Emirates has suspended all flights for 2 weeks.
- The NRL has suspended its 2020 season. Chairman Peter V'landys, speaking at a press conference now, said they had "no other option". The league had tried desperately to keep the competition going, hanging on longer than codes like the AFL.
NRL offices have been closed until 1 May and all staff have been asked to take their annual leave immediately. Players have been told not to turn up to training tomorrow.
- Nine News reporter Peter Overton summed up todays news: -
"Eighty-eight thousand people have lost their jobs. The NRL is suspending the 2020 season. The Olympics won't go ahead this year. Queensland has closed its borders to us, 3,000 Australians are stranded on cruise ships around the world, and we can't go to the pub for a drink. If I told you six weeks ago this would happen, you would think I was making it up. Well, all of these things happened in one day. Today."
- State governments have ordered a huge swathe of businesses and facilities to close down, as Australia tries to slow the increase in coronavirus cases through enforced social distancing.
The national cabinet agreed to the new restrictions after it became clear that Australians weren't following the guidance, with beachgoers crammed on Bondi Beach, and people still heading out to pubs and clubs on the weekend.
Prime minister Scott Morrison said the failure of the public to observe the rules "will put people at risk and make it extremely difficult for governments to be able to take actions that can control the flow and spread of this virus."
This is the list of what will be closed -
Pubs and clubs - In NSW and Victoria from monday registered and licenced clubs, licenced premises in hotels and pubs, casinos and night clubs will all be closed.
Cinemas and entertainment venues - Closed in NSW and Victoria from midday Monday.
Restaurants and cafes - Delivery and takeaway only in NSW and Victoria.
Gyms and indoor sporting venues - Closed from Monday midday in NSW and Victoria.
Weddings and funerals - Not allowed in Victoria from today.
Schools - Victoria brings forward school holidays from the end of Monday until April 13. NSW advises parents to keep children home, but schools remain open if parents need to work.
Supermarkets and shopping centres - Shops remain open, including bottleshops, but people are being told not to congregate there, i.e. in foodcourts.
The New South Wales government will put a full list of what is open and closed on nsw.gov.au
HAWAI'I
- The number of confirmed coronavirus cases in Hawaii has risen to 56 state health officials say. 3 of these cases have been hospitalised.
- All visitors and returning residents to Hawaii will be required to complete a mandatory 14-day quarantine starting on Thursday in what the state's governor called an "extreme action" over the weekend needed to fight the spread of the coronavirus.
- Ko'Olina Resort — including the Four Seasons Resort Oahu, Aulani, A Disney Resort & Spa and the
Ko Olina Golf Club
— will close to the public on Tuesday because of the coronavirus, which will put more than 2,500 employees out of work for an unspecified amount of time. Full story
here
- Maui mayor issues stay-at-home order, lays out which businesses are 'essential' Full story here
PACIFIC ISLANDS
** Total of 111 cases confirmed in the Pacific - 3 in Fiji, 18 in French Polynesia, 26 in Guam, 56 in Hawai'i, 7 in New Caledonia & 1 in Papua New Guinea **
COOK ISLANDS - The Rarotongan managing director Tata Crocombe has announced to 200-plus staff that their three resorts will close (The Rarotongan, Sanctuary & Aitutaki Lagoon Resort & Spa), and most jobs will go. Full story here
FIJI - There are now 3 confirmed cases of COVID19 in Fiji. One imported and 2 direct contacts of the first case. All other tests so far for suspected cases are negative.
Nationwide, gatherings of 20 or more people are not allowed. Gyms, fitness centres, swimming pools and nightclubs will remain closed everywhere in Fiji. Recreational contact sporting engagements are also banned.
Tthe two-week school holiday period has been moved up to begin this Monday, the 23rd of March. We may very well extend the school holiday depending on how this situation develops
FRENCH POLYNESIA - Three more people in French Polynesia have been diagnosed with Covid-19, bringing the total number of cases to 18. In a statement, the government says nine cases are related to international travel. It says one of those infected is in hospital, down from two reported two days ago. The first case was diagnosed ten days ago when a local politician returning from Paris tested positive.
GUAM - The number of people confirmed with Covid-19 on Guam has surged by 12 overnight. The governor, Lou Leon Guerrero, said the total on the island was now 26. Full story here
NEW CALEDONIA - New Caledonia has recorded a further two Covid-19 cases, bringing its total to seven.
People in New Caledonia have been ordered to stay at home from midnight tonight for at least 15 days as the Covid-19 outbreak keeps spreading. One case concerns a local pharmacist in her 60s who has not travelled recently, which means the virus is now considered to be in circulation in the community. Since the announcement, a fifth Covid-19 has been confirmed. The new regulations ban public and private meetings and entail the closure of non-essential businesses. Full story here
PALAU - Despite no confirmed cases of COVID-19, people in Palau are taking matters into their own hands with self quarantine, school closures, restaurants instituting take out options only and the capital city of Palau ordering curfew on minors.
PAPUA NEW GUINEA - Papua New Guinea's Prime Minister James Marape has declared a national state of emergency and warned the public to prepare for a two-week national lockdown starting tomorrow. Full story here
SAMOA - Samoa's police commissioner has warned of prosecution for people breaching State of Emergency orders put in place due to the covid-19 pandemic.
- Police Commissioner, Fuiaviali'ili Ego Keil, has confirmed a mass prison break at the Tanumalala Prison. He has also urged members of the public to stay alert. The Emergency Room at the Tupua Tamasese Meaole Hospital has been kept busy as off duty doctors and nurses have been called to return to work to deal with the developing mass Prison break Tanumalala.
- The Mapuifagalele Home of the Aged has cut the number of visitors the elderly residents can see as it begins steps to prepare for the threat posed by the coronavirus. Full story here
SOLOMON ISLANDS - The Solomon Islands government yesterday closed the country's border to non-citizens as a preventative measure against the Covid-19 coronavirus pandemic. The country is yet to register a case of Covid-19. Samples from three suspected cases sent to Australia last week all came back negative for the coronavirus.
TONGA - The Tongan government has put through a diversion order, diverting a number of flights who were scheduled to land this week. All flights cancelled to Tonga. The Border is now closed to all international flights. Read the full diversion order here
VANUATU - Vanuatu's southern-most island Aneityum is under lockdown after a tourist who visited was tested as positive for covid-19. A passenger reportedly infected while onboard the cruise ship, Voyager of the Seas, visited the island. Full story here
Share