Coco News
DISNEY PRINCESSES ..... ISLAND STYLE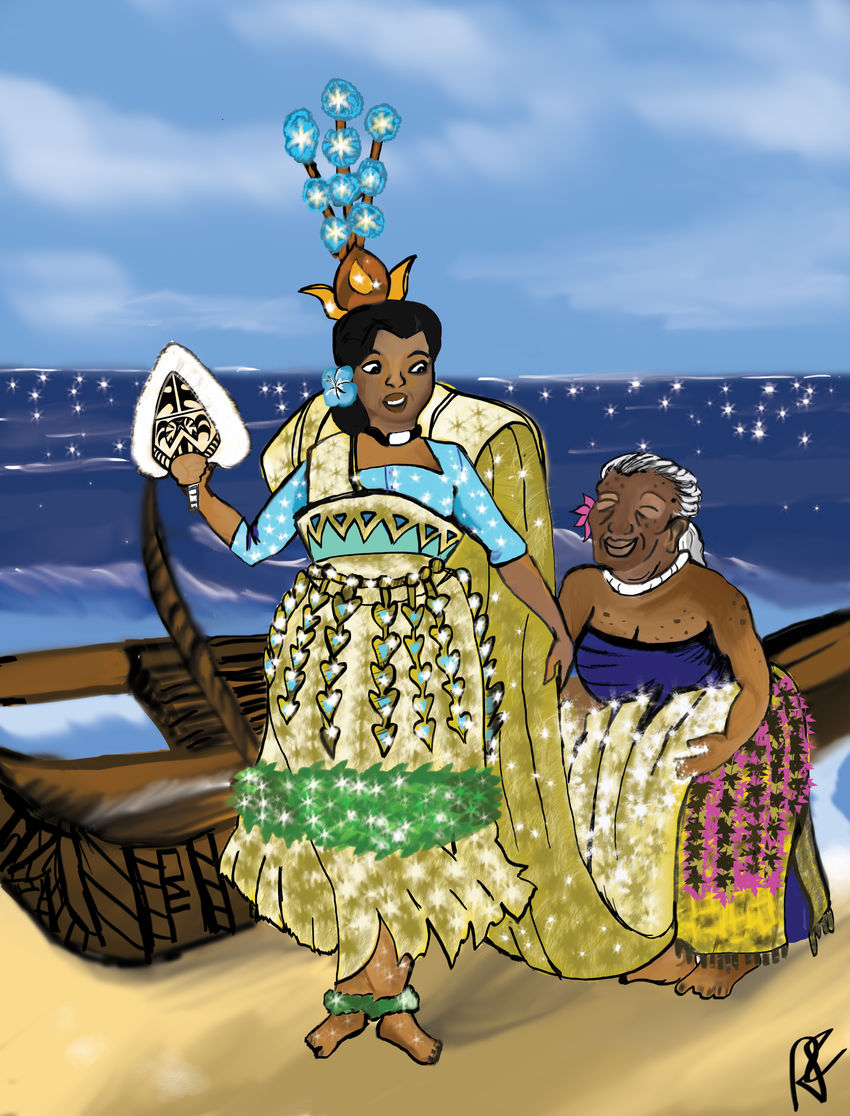 Inspired by Disney's 'MOANA' a student from the University of Central Florida has re-imagined Pacific style Princesses!
Raquel Fernandez was born and raised in Miami, Florida, USA and is currently studying at the University of Central Florida working towards a bachelor's degree in Experimental Animation after she completed her Bachelor of Arts in History from Florida International University.
She always had a passion for animation & her fascination with history and culture began at a young age as well. At 13 years old, she was introduced to Polynesian culture through films such as Lilo & Stitch and Whale Rider. She enjoyed learning about the different communities and traditions of the many Pacific islands and through tales like the interpretation on the legendary hero, Maui, became fascinated with the way the culture and history of these Islands intertwine with each other.
As her excitement for the upcoming Disney film
MOANA
grew she started envisioning what her favorite Disney princess would look like if their stories were set in the Pacific Islands. On a college student budget her research trip took place in the library and through countless online articles written by native Polynesians. She watched documentaries like Robert J. Flaherty's "Moana", video spotlights on the Coconet and wanted to learn more about these individual cultures and the unique languages, music, and traditions that separate them from each other. She has made a conscious effort to avoid common stereotypes that people may associate with the Pacific and each Princess has been carefully drawn so that every detail could accurately reflect the Island they represent.
Raquel tells the stories behind her re-imagined Pacific style Disney princesses below.
THE LITTLE MERMAID IN SAMOA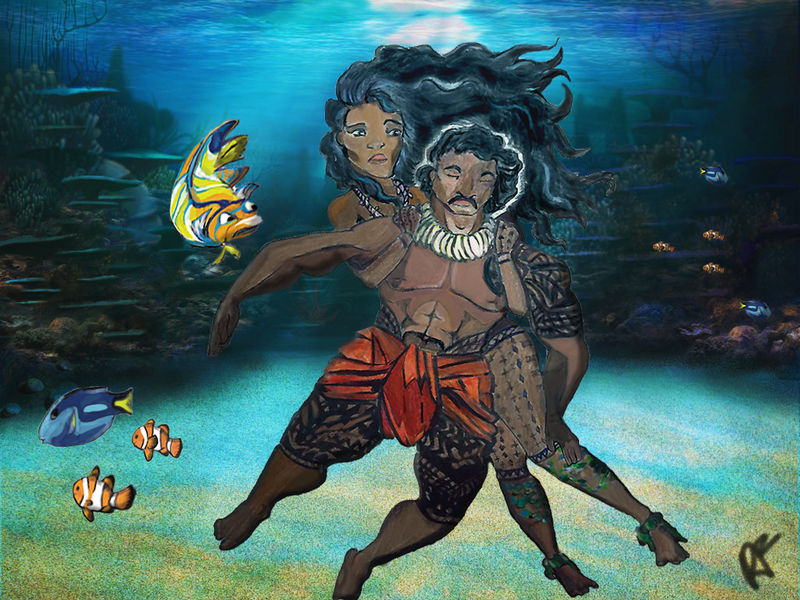 As the first drawing in the series, there was a huge difference between the mermaids in the Atlantic compared to the mermaids of the Pacific Ocean. In this version, Ariel already has legs based on Polynesian legends where mermaids can only visit the land at night to sleep but spend the rest of their lives under the sea.
In this scene, the Prince has been capsized with his men when his boat crashed against the rocks off the coast of his kingdom. A beautiful mermaid rescues the Prince and brings him to the shore to save him. The Flounder whose design is based off common Pacific reef fish, accompanies her while familiar schools of Blue Tang and Clown fish swim nearby.This version of Ariel has a Samoan Malu tattoo on her thighs and hands that identify her royal status and gender in her underwater kingdom of Pacifica. In contrast to her tattoo, the Prince who is the Son of a Samoan Chief has a Pe'a tattoo as a sign of his mana and status. As a Samoan male, he wears a lavalava cloth and a choker made out of boar tusks as a symbol of his cultural identity and provides comfortable wear when sailing on his giant outrigger canoe.
I chose Samoa as the first in my Pacific Princess series to celebrate Polynesian beauty through the art of tatau. I admire the complex design and its cultural significance to the Samoan People and other Pacific communities.
A BRAVE IN FIJI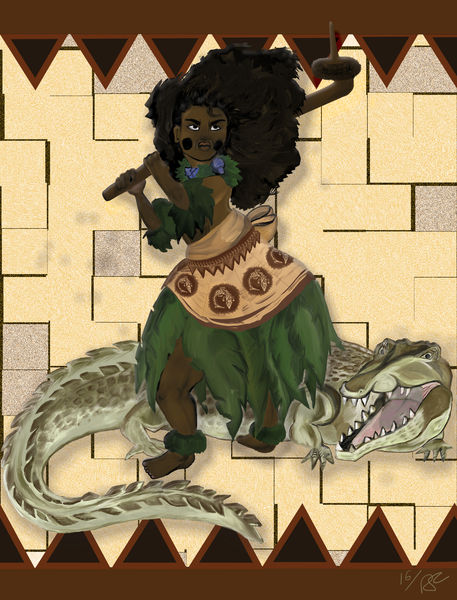 Despite her movie "Brave" being under the Pixar logo, Scottish Princess Merida is also part of the Disney Princess brand as of today.
One of my favorite moments in the movie was when Princess Merida rescued her mother who turned into a giant bear, from a mob of angry Scottish warriors before the curse could be lifted. If Princess Merida was Fijian living in the Pacific Islands, her mother would have to turn into an animal that would strike fear in the heart of Polynesian warriors occupying the islands at that time. Although they are not common there, I found two accounts that Saltwater Crocodiles were spotted on the shores of Fiji by locals and foreigners. I could see Princess Merida's mother turning into a crocodile would have caused a great disturbance in the ancient Fijian community back then because it would have been so rare!
In keeping with the movie's military culture, I changed Merida's weapon of choice from a bow to a Fijian war club known as a totokia. It has a narrow beak at one end of the club that was designed to puncture the enemy's skull fatally. It's a very popular weapon of choice carried by Fijian chiefs and made it easy to travel through thick bush in time of war just like a Scottish Highlander's sword in the movie. The theme for this princess displays the prowess and valor in Pacific Island warfare.
SNOW WHITE AND THE MENEHUNE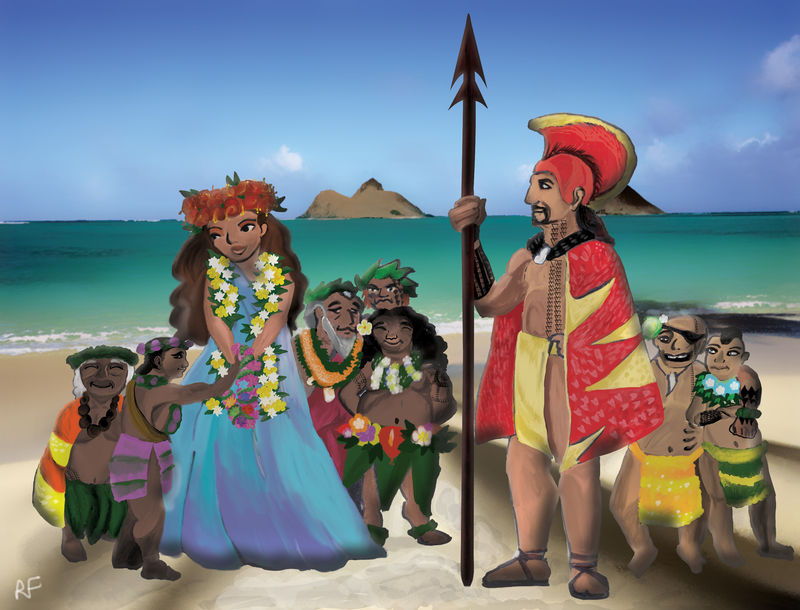 Set in Ancient Hawaii, Snow White is a Hawaiian princess named Haukea (Snow). Her evil stepmother who is a local landlady and widow of Snow's deceased father sends her Koa warrior to kill Haukea so she can marry the King's son because she believes she's the fairest in the land. However, the Koa warrior could not bring himself to kill Haukea so he lets her escape into the jungle and fools the evil stepmother with a pig's heart as a disguised.
Eventually, Haukea finds shelter with Hawaii's own version of the seven dwarves who are known as the Menehune. They adore the kind-hearted maid and build her a house to live next to them. Just like their Disney counterparts, the Menehune are small in stature but make up for it in strength and craftsmanship. The seven dwaves are also renamed in Hawaiian to fit the setting. Starting from the left the oldest dwarf "Doc" Kahuna, "Dopey" Lolo, "Sleepy" Hiamoe, "Grumpy" Keahi, "Happy" Hau' Oli, "Sneezy" which is changed to Naughty or Mischievous is known as "Kolohe" and last but not least "Bashful" or "Shy" Hila Hila.
This scene shows Haukea with her prince married by Kahuna after he awakens the princess from her coma-induced sleep. The evil stepmother found & tricked Haukea into thinking she wanted to reconcile with her by offering kava to drink but it had been drugged to force her into a coma. The Menehune came home to find their beloved princess in a coma and prayed for a miracle to wake her up which she did when the King's son awakened her with true love's kiss. Ancient and modern Hawaiian rulers like King Kamehameha and Queen Liliuokalani inspired the Prince and Haukea's designs.
CINDERELLA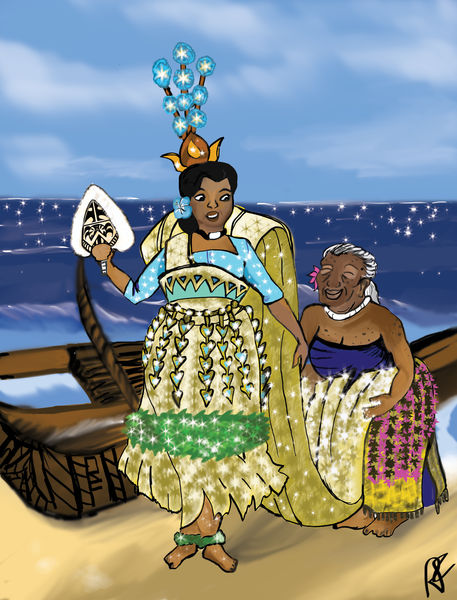 In my interpretation of Cinderella, rather than focusing on her glass slippers, I made the focal point of her an ensemble a traditional Tongan Ta'ovala.
Based on the Tongon legend of sailors, the story of my Cinderella begins with her being washed ashore on her way to meet the prince. Her clothes tattered, she comes across her fairy godmother who tells her to use a ship's sail to clothe herself. From there on, she goes to find her Prince who is honoured by her humility and sacrifice.
This story reflects the tale of the sailors who sacrificed their means of travel and survival by dressing themselves in their sails just to honor their King.

BEAUTY & THE BEAST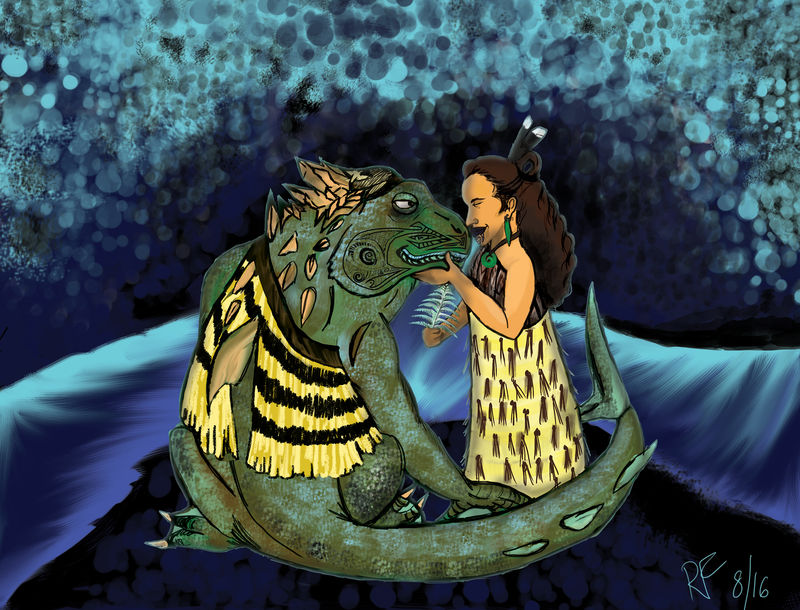 Beauty and the Beast is set in pre-colonial Aotearoa. I drew Beauty in a traditional kakahu cloak complete with Huia feathers, a pounamu earring and Koru necklace, she also has her own chin moko kauae in the shape of a Koru as her family's symbol. Since the rose is an important element in the movie and story, I replace it with a silver fern because I read that it is a symbol of New Zealand with deep historical importance in Maori society and beliefs.
For the Beast, he is my artistic interpretation of the supernatural river guardian, the Taniwha. He has a shark's tail while the rest has the body of a tuatara with webbed feet for swimming in his watery domain. I added a piupiu and a Ta Moko to his face to indicate that he was once an important son of a great chief until he broke Tapu when he polluted a sacred cave and was turned into a Taniwha. He is forced to live his days in caves and pools of water until someone would fall in love with him, before the last of the fern's leaves have wilted away so the curse would be lifted.
In this drawing, the Beast brings Beauty to the "Cave of Stars" as a gift like the library in the movie. The Cave of Stars is based on the glowworms in the Waitomo caves of New Zealand. The Beast gives Beauty a second gift, the enchanted silver fern as a token of peace and gratitude to her kindness. Touched by his humility and gentleness, Beauty presses her nose against the Beast's in the form of a Hongi, reminiscing Tane Mahuta's creation of his first love and first human being Hineahuone, the "woman formed of earth"
MULAN
This latest princess is based on an honorary 'Disney princess' and Chinese legendary heroine Mulan. I imagine her story would fit with the Birdman cult on the island Rapa Nui also known as Easter Island by the Spaniards who conquered the island on that day. Lack of resources such as water, food, and wood made living on the island very hard. It is said that the Rapa Nuians were lead by a leader who was treated like a god-king as they called him or her, the Birdman. In order to become the "Tangata Manu", an individual is required to retreive a single egg of a Sooty Tern from an Island off the coast. Sounds easy except you have to climb down from the islands steep cliffs, swim through shark infested waters, climb the sharp rocks of the smaller island to take one egg and bring it back to the main island as proof. The first contestant to bring back an egg with out it breaking becomes the Birdman and leads the Rapa Nuians for a year until the next competition. This leader must be strong physically and mentally to survive the competition as a precursor for ruling the unforgiving terrain.
In this version, "Mulan" of Easter Island is the first woman to be hailed as "The Birdman" after she competes in the dangerous competition.
My re-imagined Disney version would be this: Mulan is the daughter of the current Birdman who has won all 10 years of the competition and a public favorite but is not able to compete again for the 11th time due to his age and illness similar to Fa Zhou from the movie. I combined the Emperor and Mulan's father as one character for the sake of fitting the story's setting. I bet there were young men that the old man disapproved of but he had no son to take his place in the competition. "Mulan" sets out to join the competitors despite public disapproval of a woman competing. Her father fears for her saftey but she is a strong-willed tomboy who refuses to let any man destroy what her father has built.
One of my favorite moments from the movie is when the Emperor and the Chinese citizens bowed to Mulan who saved her people from the invaison of the Hun army. On the left, her father (who is an aging old man that resembles the Emperor) finally gives up his crown to "Mulan" of Easter Island as the new Birdman after winning 10 competitions in the past 10 years. If you look closely in her hands, she is carrying the Sooty Tern egg as proof of her egilibility and bravery to withstand harsh conditions in the competition.
Pacific Princess artist Raquel Fernandez pictured below

Check out her portfolio on her personal site here
OR follow her on Facebook, Twitter, Deviant Art & Instagram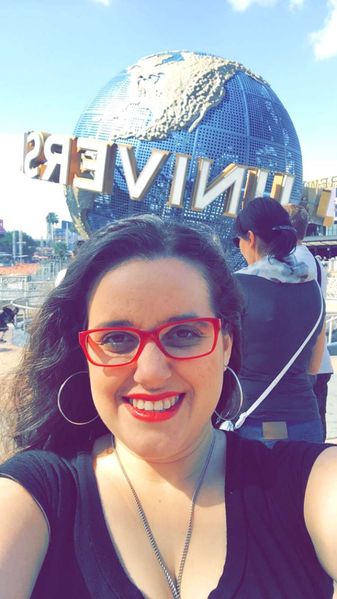 She has five Pacific-inspired princesses completed with several more to come and hopes to continue this series up until the premiere of the animated film MOANA and possibly even after.
Thank you for sharing your stories and beautiful artwork with us Raquel.
Suggested Links:
Creative Native - Monty Collins
Share