Coco News
OUTSTANDING PASIFIKA ARTISTS CELEBRATED AT THE CREATIVE NEW ZEALAND ARTS PASIFIKA AWARDS 2019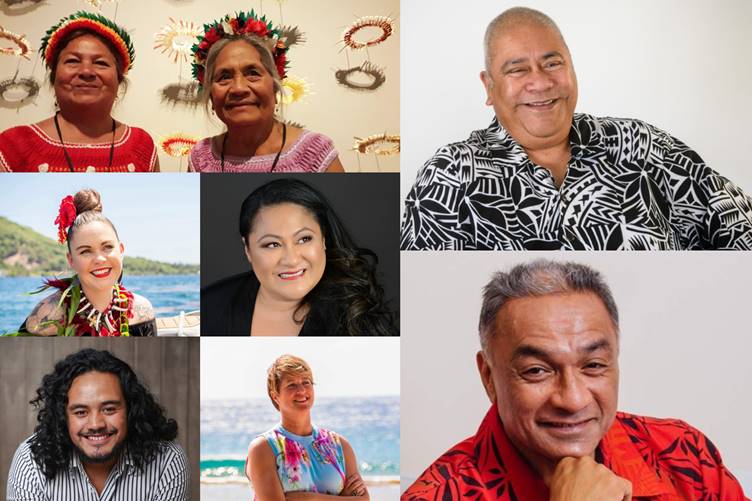 Congratulations to the seven Pasifika artists honoured tonight for their innovation and excellence in Pacific Arts and their contribution to the rich diversity of Aotearoa's multi-cultural nation.
The seven award recipients this year represent a range of artforms and are cultural and artistic experts in their fields – from traditional Kiribati master weavers to a contemporary tatau artist, who is the first female to receive traditional tutelage in the art of tatau.
Leading influencer and advocate for the disability arts community, Fonoti Pati Umaga QSM, is the first ever Pacific Toa Artist Award recipient. This inaugural award is a new category added to the awards under Creative New Zealand's Pacific Arts.
.
The awards were presented tonight at the Banquet Hall in Parliament to the following recipients:
PATI UMAGA QSM
- Pacific Toa Artist Award recognises the contribution of a Pasifika artist with the lived experience of disability to the standing, and standard, of Pacific arts nationally or globally.
Pati is an experienced advisor, programme leader, and change facilitator who has worked within the public sector, NGO, community, and special interest organisations. He has made significant contributions to the music industry, Pacific community and disability sector throughout his extensive career as a music artist and songwriter.
ETEUATI ETE
Senior Pacific Artist Award recognising the contribution of a senior established Pacific artist in maintaining or developing their artform in New Zealand.
He has made a significant contribution to the arts in New Zealand, especially in the area of Pacific arts and in Samoan 'faleaitu' and comedy. He is the creator, manager, promoter and performer of the Laughing Samoans comedy duo (currently in hiatus) and he has given back significantly to the Pacific community & NZ, including fundraising for charity, educational programs and more recently, advocating against domestic violence.
LOUISA HUMPHRY & KAETAETA WATSON
Pacific Heritage Artist Award - recognises an artist or cultural group who has made a major contribution to maintaining, reviving or promoting a Pacific heritage artform in New Zealand.
Louisa and Kaetaeta are master artists who have exhibited nationally and globally and are cultural leaders for Pasifika women and the small Kiribati community in Aotearoa, advocating for the maintenance and transmission of i-Kiribati raranga and te bibiri.
"I have to say that before the Awards, my proudest moments have been engaging with our young people and creating an interest in our creative practices as contemporary artists working collectively to promote, maintain and preserve our I-Kiribati our heritage and culture in Aotearoa NZ. The Award that we have received is such an honor and recognition of the work we do that at the moment we are seeing that award as one of those proud moments. As Kiribati people in Aotearoa, we need to connect and remain strong in our culture and art so we remain proud of our roots. This is vital to connect and respect the many vibrant cultures here in Aotearoa NZ." - Louisa Humphry
ANAPELA POLATAIVAO
Contemporary Pacific Artist Award - recognises an artist who has demonstrated innovation in their artform.
Anapela is a creator extraordinaire and an innovator in theatre. She creates work in a contemporary world for contemporary audiences that speak of the Pacific experience. Two of her most outstanding recent works include Wild Dogs Under My Skirt (Director and Actor), touring nationally to critical acclaim with an upcoming season in New York and Alofagia: Le Opera a multisensory cross-art form experience telling traditional legends of Samoa through a new operatic form of storytelling.
GLENDA TUAINE
Special Recognition Award - Recognises the recipient's special contribution to the standing, and standard, of Pacific Arts in New Zealand and/or internationally. This award recognises an individual whose work, influence and commitment have raised the standards, expectations and reputation of Pacific Arts and artists.
Her work spans music, film, mentorship, artist development, visual arts and advocating and showcasing Pasifika creatives. She is a writer, director and musician, and also develops projects that help support and nurture future artists. Her work also encompasses running and managing festivals.
"It's not one singular moment. The proudest moments are when I see a production coming together, or when I collaborate with other creatives and we all build a work collectively, when I see kids in our workshops have that moment when they realize they sound good or they understood a line or acted a character how they wanted too, and they are absolutely buzzed, I am proud right now that my hubby and I can work on the projects we love in Rarotonga and in and around our Pacific and internationally bringing a new wave of creatives along with us. Every moment should be a proud one it really is up to us" - Glenda Tuaine on her proudest moment in her journey so far.
TYLA VAEAU
Emerging Pacific Artist Award - recognises an emerging artist showing promise and potential in their chosen artform.
Tyla began tattooing in 2009 and has experience at arts and tattoo festivals nationally and globally. She specialises in contemporary Pasifika designs that have their roots in traditional kaupapa and patterns. She has dedicated much of her practice to researching the cultural, historical and spiritual significance of tatau and motifs. An artform very close to her heart, Tyla is in the process of learning the traditional Samoan method of tatau under the tutelage of the Su'a Sulu'ape Alaiva'a Petelo of Samoa.
"This award is really up there with one of my proudest moments, I'm really proud every time I get the opportunity to represent my heritage and wahine Pasifika in international contexts - I really hope that my practice opens the space for more of our women to come through." - Tyla Vaeau on her proudest moment in her journey so far
SAMSON SETU

Iosefa Enari Memorial Award - recognises the contribution of the late Samoan opera singer Iosefa Enari to the arts, in particular his pioneering role in Pacific opera. This award supports the career development of an individual Pacific singer, musician or composer across all classical genres and career stages.
Samson is currently a Freemason's New Zealand Opera artist and was a Dame Malvina Major Artist last year. He received the annual Dame Sister Mary Leo scholarship at the 2019 NZ Opera School. In conjunction with this award, he was also awarded the initial Guy and Sue Haddleton Scholarship award which includes $5,000 a year for the next five years to assist Samson on his pursuit of an opera career, a costly pathway. Samson left NZ last week to take up a full-scholarship to the Royal College of Music in London.
"The most rewarding moment for me has been when I've got to share the stage with my fellow Polynesian brothers and sisters. Particularly in good competitions. Most recently I competed in a competition in Sydney, Australia which is an annual competition and it's one of their big singing competitions. I got to share the stage with my brother Manase Latu. We compete against each other but to have another Polynesian brother there is such a good feeling & it's rewarding because it's so good to see our other Pasifika kids doing well. There's been a couple of instances where there's been one or more Polynesian brothers and sisters on a finale stage which is amazing and although it's a competition we can't help but to support one another and just really get behind the other person. So thats definitely the most rewarding thing for me." - Samson Setu on the most rewarding moments in his career.
Share