Coco News
Pacific media can be leading the digital content revolution.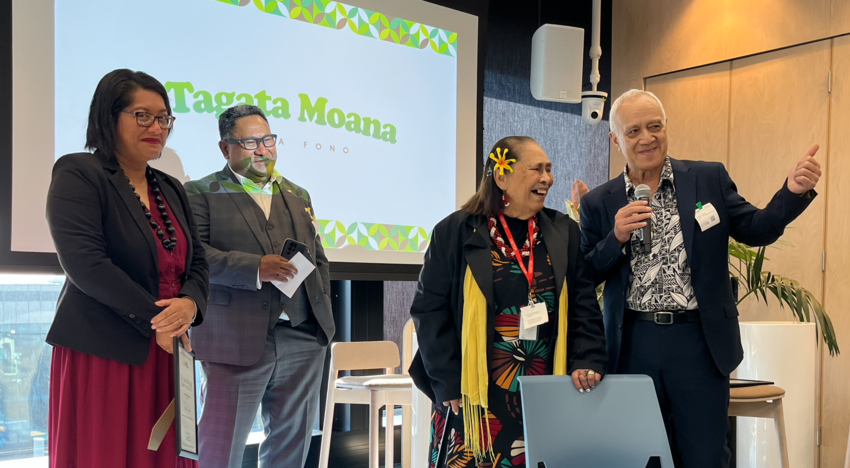 Auckland came alive today with some active talanoa from all our Pacific media sectors, with the first cross sector Pacific media fono in 10 years.
Recognising the stalwarts of the past and looking to the digital opportunities of the future framed much of the talanoa, which brought together Pacific Media Network, RNZ Pacific, Tikilounge Productions, Sunpix, amidst a range of broadcasters from across the sectors.
How do we build on the PIJF journalism fund and how we build capacity and sustainability for all the young Pasifika media people coming through were key issues, alongside exploring the finding pathways for content that are now available via NZ on Air.
Much was made of the importance of story sovereignty and being able to serve our big diverse Pasifika audiences in a variety of ways.
Veteran Tagata Pasifika producer John Utanga says "we make content for us, and we put the faces, voices and issues of Pacific people on screens made by Pacific people for Pacific people."
Minister of Broadcasting Willie Jackson made the point that it's also important to have these voices on platforms that white NZ access as well.
"Mainstream NZ also need to hear Pasifika voices, we need to hear them on National Radio and in the changing world we have to keep adapting to the new ways of getting information out. Sometimes it does suit mainstream to just see ourselves talking to ourselves."
The Minister spoke to importance of having Pacific people on the various broadcasting boards to help to push Pasifika interests through.
CoconetTV producer Lisa Taouma spoke of the inportance of training for all the talented young Pasifika creatives who need director training as well the bourgeoning young Pasifika journalists, in order to service the growing pathways that our now open to us.
"We need to be leaders in the digital sector - most Pacific people are under the age of 23 and we are the digital creative natives that are making some of the most exciting content online across multi platforms"
Film maker, writer and Pacific Islands Screen Artists board member Stallone Vaiaoga-Ioasa was part of the 'New voices, new media, new business models' panel and shared his journey in making films outside of the NZOA funding model and self funding his own films.
"I didn't have a track record of making films so no matter how good my script was it just wasn't getting approved for funding so I decided to fund it myself and used what I should have used for a house (laughs) to make 'Three Wise Cousins'." he said
He went on to share how after the film was made, he couldn't get anyone to screen it in a theatre until he had a meeting with the Hoyts Sylvia Park GM and was asked "who is your target audience?". Stallone replied "my Pacific people". The GM said to him because you know who your target audience is, I'm going to let you have one screening. That screening sold out in 2 hours … and the rest is history - it went on to make nearly 1 million in revenue and screened all over the world.
He also encouraged content creators who were still going for funding to have resilience and confidence but also to know that they can look outside the box if they weren't able to get the funding through NZOA.
"Understand the eco-system and get the private sector to invest in Pacific stories and realise that a Pacific lens brings in money too. A great example of this is Tina from Turners"

Public Interest Journalism funded by NZ on Air
Share