Coco News
Pasifika Books to Note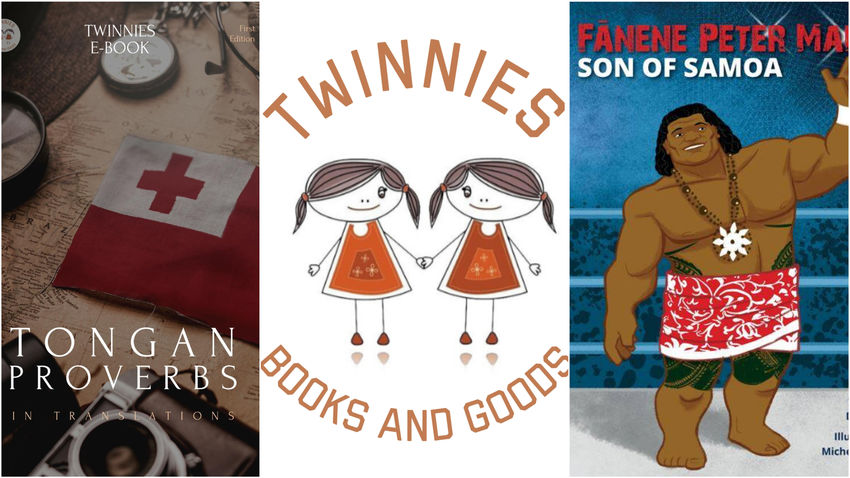 Our Pasifika Writers and Illustrators continue to flourish with a notable range of books, from romance novels & academic publications to educational children's stories!
Check out these authors and their books, as well as and where to buy them!
THE INVENTOR, THE DOCTOR, THE DETECTIVE & THE BAKER - Written by Reina Va'ai & illustrated by Kate Key
Women are underrepresented in science, technology, engineering and mathematics industries all around the world. A young inventor is hoping to change this. Can you guess what her first invention will be? Find out now! Reina has now added another 3 books to her series - The titles are: The Inventor, The Doctor, The Detective and The Baker. Each book focuses on a Pacific child and what they want to be when they grow up.
Reina Va'ai is a proud Samoan and grew up in South Auckland. She is currently working as a Criminal Defence Lawyer in South Auckland and also as a reporter for Tagata Pasifika on TV1 in New Zealand. She is passionate about empowering young women and serving the Pacific Community. You can follow her blogs on Truths She Wrote.
Reina says of writing the series - "I want Pasifika kids to read about characters that are like them. I want kids to begin planning towards their future careers (never too early). I want kids to feel inspired and empowered to make a difference in their communities."
Her books will also be distributed to schools around South Auckland, Samoa and Tonga.
Orders can be made through Reina's 'Truths she Wrote' Website here: https://truthsshewrote.co.nz/collections/all
.
Free Love - by Sia Figiel

Set in 1980's Samoa, 'Free Love' revolves around the first love experiences of a seventeen-year-old girl.
"An intimate and intoxicating tale of love and decolonisation. A star-crossed couple is caught between the bittersweet breaking of social taboo and rebelliously reclaiming the tapu of ancient beliefs, sex, stories and small gods. Sia Figiel will keep you up all night with her sensuous storytelling of sexual awakening and the spilling of secrets. Passionate, poetic and personal, it is set within a larger story; the spark of a Pacific indigenous renaissance, a region reclaiming itself in changing times.
Dr. Karlo Mila
Sia Figiel is an award winning Samoan author, often referred to as 'Samoa's first female novelist'. Her very first book 'where we once belonged' (1996) awarded her the Best First Book Award in the Commonwelath Writers Prize (South East Asia/South Pacific region) in 1997. Alongside her novels, Figiel also has two volumes of prose poetry under her belt. She grew up in Samoa and attended formal school in both Samoa and New Zealand. She later completed her Bachelor of Arts in the United States.
Note: Contains sexual innuendo and explicit language.
'Free Love' can be purchased at the SSAB Auckland Sei Oriana Gift Shop
.
Bi-lingual Language Books & E-Books - Twinnies
The Twinnies Brand is named after the authors twin grandchildren Sela and Melenaite Moala. The twins were very much into listening to her telling them stories. They would give her a subject matter that they wanted to hear a story about and she would quickly make up a story.
Last Christmas, the author decided to take it a step further and wrote a physical book for them for their Christmas present. She wrote the story, had it illustrated, self published and printed. She wrote the book in Tongan and in English. She posted the book and then had other Tongan parents writing to ask if they could buy the book. She then printed more and this was the beginning of 'Twinnies'.
She started with the Tongan language and shortly after had requests from Fijians, Samoan and even Maori families asking if they could extend their bilingual resources to these languages and so they did. They collaborated with local nationalities in each of these countries to do the translations for the Twinnies Books.
Some of the books are in E-Book format but the most popular are physical copies. Twinnies author says "We have had excellent involvement from the much older generation sitting down and reading the books. The younger audience are buying the books and then they send us photos of their grandparents or parents sitting and reading the books themselves!"
Twinnies also released an adult Tongan Proverbs book translated in lea faka Tonga. The books were sold out within 2 days and were really popular with the older generation of Tongans as they also enjoyed reading the proverbs to their children.
"There was a demand to extend our kids bilingual resources to the Fijian community here in Sydney and subsequently Twinnies did so. As such, it became natural progression whenever Twinnies produced a book to include either Fijian or a Samoan translation of that book." - Twinnies author
Check out Twinnies full range of books, merchandise, clothing and videos here
Follow them on Facebook here and on Instagram here
.
The Desert Warrior - by M.B. Dallocchio
The Desert Warrior is an extraordinary memoir of trauma recovery and resilience, while providing a fascinating look at one soldier's return from the early, grisly years of the Iraq war.

After losing her money, possessions, and fiancé, a soldier returns to the U.S. from war feeling disconnected from family, friends, and everyday American life. When she encounters rejection from her compatriots and the VA as a female combat veteran, she decides to embark on a global odyssey to find her own true meaning of "home."
.
MB Dallochio is a Chamorro Artist & Social Worker. She served as a medic, mental health sergeant, and retention NCO in the US Army for eight years.
As a native Chamorro (Northern Mariana Islands), a woman, and a combat veteran, her travels and cultural interactions – and sometimes misunderstandings in dealing with those who don't know what to make of her – have aided her in producing quite the diverse portfolio.
Check out more about the author, her books and where to purchase them on her TheDesertWarrior website here.
.
Secret World of Butterflies - by Courtney Sina Meredith
"How does the world look to them, do they ever sleep and how are some of them able to fly so high? This book will open your eyes to these magical creatures around us."
Created in collaboration with the Auckland Museum for a family exhibition of the same name, this vibrant children's book gives an insight into the magical and intriguing lives of butterflies! Aimed for children aged 3-7 years, the book is both playful and informative, covering a range of international butterflies.
Courtney Sina Meredith is an Auckland-based writer and performer of Samoan, Cook Island and Irish heritage. Meredith's writing discusses societal and political issues such as poverty, racism and sexism. Alongisde this children's book, she has pubilshed a book of short stories (Tail of the Taniwha) , a book of poetry (Brown Girls in Bright Red Lipstick) and a play (Urbanesia: Four Pasifika Plays).
'Secret World of Butterflies' can be purchased at Paper Plus stores and online, as well as the Auckland Museum Online Store (and physical gift shop).
.
Cook Island Heroes / Samoan Heroes / Tongan Heroes - Illustrated by Michel Mulipola
Written by David Riley and illustrated by Michel Mulipola, the Pasifika Heroes series is a collection of inspirational stories of both historical and contemporary achievers. From 'The Rock' to Judge Ida Mālosi to Savage and Salamāsina, you can learn all about the trials and tribulations of these legends.
Michel Mulipola is a South Auckland artist and wrestler! From Māngere, Mulipola is a published illustrator, and has recently completed his first comic book with WWE & BOOM! studios. Munipola now visits schools around South Auckland to inspire young kids to follow their dreams.
All three of Michel Mulipola's books can be purchased at the SSAB Auckland Sei Oriana Gift Shop
.
Island Time: New Zealand's Pacific Futures - by Damon Salesa
"Setting a course through the 'islands' of Pacific life in New Zealand – Ōtara, Tokoroa, Porirua, Ōamaru and beyond – he charts a country becoming 'even more Pacific by the hour'. What would it mean, this far-sighted book asks, for New Zealand to recognise its Pacific talent and finally act like a Pacific nation?" - Synopsis.
Island time is a sociological overview of Pacific Islanders in Aoteroa by historian Damon Salesa. Known for debunking myths and stereotypes of the Pacific experience in the land of milk and honey, 'Island Time' is one of the few academic works that peels back the layers of modern Pacific living.
Damon Salesa is a prizewinning Samoan New Zealand academic, who is currently the head of Pacific Studies at the University of Auckland. Raised in Auckland, Salesa was the first Rhodes Scholar of Pacific descent, and is a scholar of Pacific politics, history, technology, culture and society.
'Island Time' can be ordered from SSAB Auckland Sei Oriana Gift Shop or Mighty Ape.
.
Dawn Raid (My New Zealand Story) - by Pauline (Vaeluaga) Smith
Through diary entries, readers learn about the Dawn Raids of the 1970's and the tireless work of the Polynesian Panthers from main character Sofia (13 years old).
"Like many 13-year-old girls, Sofia's main worries are how to get some groovy go-go boots, and how not to die of embarrassment giving a speech at school! But when her older brother starts talking about protests and overstayers, and how Pacific Islanders are being bullied by the police, a shadow is cast over Sofia's sunny teenage days." - Synopsis.
'Dawn Raid' is the first published book by NZ Pasifika author Pauline (Vaeluaga) Smith. The book was published as part of Scholastic's 'My New Zealand Story' series. During her work as a lecturer at the Univeristy of Otago, College of Education, Smith saw her students had a lack of knowledge surrounding the Dawn Raids and the Polynesian Panthers. This spurred her on to write 'Dawn Raid', to inform young people in an accessible way.
'Dawn Raid' can be ordered online at The Women's Bookshop
.
STEVEN ADAMS MY LIFE, MY FIGHT - Biography by Madeleine Chapman
For the first time, NBA star Steven Adams shares the story behind his journey from humble beginnings in Rotorua to playing pro for Oklahoma City Thunder. New Zealand's highest paid sportsman ever, the seven foot wonder gives readers an intimate insight into his life.
Madeleine Chapman is a staff writer at The Spinoff. She is of Samoan, Tuvaluan, Chinese and American heritage. 'My Life, My Fight' is her first biography and first book. Having known Steven Adams for over a decade, she was the perfect pick to work on his biography. Find out more about Madeleine in her Humans of the Islands profile.
'Steven Adams My Life, My Fight' can be purcahsed from Mighty Ape or Penguin Books
.
Pa and the Dolphins - By Jillian Sobieska
A True Story of Pa, Rarotongan Hero and His Return Journey to Tahiti". Pa and the Dolphins is a wonderful children's book based on actual events. The story follows Cook Island legend Pa Teuruaa who was the first person to sucessfully swim from Rarotonga to Tahiti, to connect to his ancestors.
Written and illustrated by his wife Jillian Sobieska, Pa and the Dolphins is a beautiful tale of the journey that took place in 1985. The colourful depictions of the Islands are accompnaied by a sincere and poetic account of Pa's journey. The story comes to a peak when Pa's life is threatened by a shark during his 22km crossing, but is saved by the spirits of his ancestors who come in the form of dolphins.
Pa Teuruaa, born and raised in Rarotonga, is a living legend known for his eco-tourism and his deep spiritual connection to the island. As a competitive swimmer, lifeguard and former ironman, Pa took up the challenge in 1985 to be the first person to sucessfully swim from Moorea to Tahiti. He met his wife Jillian in Rarotonga, who was an artist, working part time in tourism.
'Pa and the Dolphins' can be purchased at Amazon.
.
POLYNESIAN PANTHERS - Edited by Dr Melani Anae, Leilani Tamu, Lautofa Luli
Synopsis - "Polynesian Panthers records the Pacific rights and social activist movement in New Zealand, told by those who were there. Forming in 1971, the Polynesian Panther Party sought to raise consciousness and took action in response to the racism and discrimination Pacific peoples faced in New Zealand in the 1970s and 1980s.
The Panthers organised prison visit programmes and sporting and debating teams for inmates; provided a halfway-house service for young men released from prison; ran homework centres; and offered 'people's loans', legal aid and food banks that catered for 600 families at their height. Drawing on interviews, memoirs, poetry, newspaper articles and critical analysis, Polynesian Panthers is a thought-provoking account of this period in New Zealand"
Dr Melani Anae joined the Panthers in 1971. Now a Lecturer in Pacific Studies at the University of Auckland, she is a mother and grandmother and continues to reside in Ponsoby.
Leilani Tamu, poet, politician, author and mother. She was born and bred in New Zealand with Samoan heritage.
Lautofa Luli was a founding member of the Polynesian Panthers. He now a works as a teacher.
'Polynesian Panthers' can be purchased here
.
Peace Bird - By the late Eleitino Paddy Walker - Illustrated by Nanette Lela'ulu
Tama and Tiana are greeted by the Peace Bird, who leads them to save a stranded dolphin on the beach. In this heartfelt story, the Peace Bird teaches the children that they can learn from everything that happens in life.
Born in Samoa and migrating to New Zealand at the age of 10, Eleitino (Paddy) Walker moved onto becoming one of the founding members of P.A.C.I.F.I.C.A - the Pacific Women's organisation, who were instrumental in the 60's during the migration and settlement of the Pacific people. Eleitino helped pave the way for Pacific issues on a local and national scale, helped establish the Pacific Island Youth Leadership Trust, as well as being a leader in community education. Eleitino passed away in 2015, at age 98, leaving behind a legacy of creating change and impacting lives.
Nanette Lela'ulu is a New Zealand-born visual artist of Samoan descent. She has a masters in Arts Therapy and has exhibited both in New Zealand and abroad. Lela'ulu works with Pasifika themes and subjects, and has been painting for well over two decades. She was awarded the Cook Islands Artists' Residency in 2006, and still lives in Rarotonga today.
'Peace Bird' can be purchased at Wheelers
.
Grace Brought Me Here - Written by Lima Hansen
"Grace Brought Me Here gives you a vulnerable and raw insight into Lima's compelling journey of grace. Lima retells her story with a great deal of transparency, authenticity, and courage, revealing some of her darkest and most profoundly heart wrenching moments of brokenness.
Lima bravely shares stories of God's relentless pursuit of her, and courageously shines a light on the circumstances behind our dysfunctional, repetitive behaviors. Her story demonstrates how to recognize the importance of insignificant moments in our history that can lead us beyond our shame and pain, discovering strength and purpose. Lima's story has the power to encourage us to look back over the unexplored details of our own lives, to find new levels of healing that have been hiding in plain sight. "
Lima has a quick, humorous wit, which keeps family home life with her husband and three children in a constant state of laughter and banter. Lima was born in Western Samoa, raised in South Auckland, New Zealand and now lives in Jakarta, Indonesia. Lima and her husband Craig played integral roles in pioneering a program to transform the lives of sexually exploited women, through rehabilitation and restoration back into the community. Lima has currently taken up a permanent spot in the corner booth of Starbucks and hopes to get a lifetime special of "Buy one, Get one Free."
"Grace Brought Me Here" can be ordered at Amazon.
.
Fanene Peter Maivia - Son of Samoa - Illustrated by Michel Mulipola
Fanene Peter Maivia – Son of Samoa is the remarkable story of the first Polynesian to become a star of professional wrestling. Fanene's life began in Samoa and he took Samoa to the world. He was a pioneer who inspired some of the greatest wrestlers the world has known, including his own grandson, Dwayne "The Rock" Johnson.
Written by David Riley and illustrated by Michel Mulipola. Michel Mulipola is a South Auckland artist and wrestler from Māngere. He is a published illustrator and has recently completed his first comic book with WWE & BOOM! studios. Munipola now visits schools around South Auckland to inspire young kids to follow their dreams.
'Son of Samoa' can be purchased at Reading Warrior
.
My first 100 Samoan Words - by Vaoese Kava
Book 1 of the "My First 100 Samoan Words" 4-book series, will see you reading about the everyday life of Amoleka and his Samoan family/cousins. Your child's first words are presented in simple terms to help teach them their initial Samoan words.
Book 2 of the "My First 100 Samoan Words" 4-book series, continues about Amoleka and his Samoan family/cousins, and their daily routines.
Depicted in bright and inviting colours of the Pacific, this should excite your little ones to easily learn Samoan. The words are used in basic phrases with English translations, aiming to assist in helping your child's transition in using simple sentences in Samoan. Kids will not only learn to speak Samoan, but practice fun and healthy family lifestyle habits.
.
Vaoese has just released a new children's book illustrated by Sofia Butusova called "O le a le Koronavairusi?" (what is coronavirus?)
The book tells the Story of Samoan School girl Nive who notices a lot of changes to her Aiga's daily routines when the Pandemic scares the world in 2020/2021
The books are now available on Amazon.com, amazon.co.au, Barnes & Noble and Booktopia, etc.
If you live in New Zealand or Australia you can purchase direct through the author via FB Messenger or instagram DMs.
.
TUI GANG - Images & Text by Tadramai Ltd
Tui's Gang is a captivating and vibrant Fijian children's brand. It creates engaging and creative products through the colourful illustrations by acclaimed artist Penelope Casey.
Tui's Gang aims to develop learning for children not only in Fiji but globally, by sharing the colours, words, sights and sounds from typically Fijian childhoods. We aim to be well recognised and at the forefront of the multicultural children's books and resources genre internationally.
Artist Penelope Casey was born in the Eastern Highlands of Papua New Guinea, Penelope was immersed in the vibrant colours & sounds of this culturally-rich country which had a significant impact on her art. She moved to the Fiji Islands in her early 20s and it was with her appreciation of Fiji and her love of life in the Pacific Islands that Penelope created Tui's Gang Childrens books to show the wonderful lifestyle and pace of island life. She uses illustrations to connect with your child and captivate them with thrilling and beautiful tales of life in Fiji.
Order Tui Gang books here
.
Mila's My Gagana Series & Teine Samoa - Dahlia Malaeulu
In 2019 Dahlia released Mila's My Gagana Series 1, which included 3 early Samoan language readers (Lagi spies, Mase's Room and Malia Shares) aimed at pre-school and junior primary school tamaiti. They promote and support the learning of gagana Samoa by providing accessible tusi faitau that engage our tamaiti, fanau and faiā`oga in a fun and interactive way.
"Our aim was to create a rich literacy resource that reflects our tamaiti, develops gagana confidence and encourages the use of gagana amongst the first teachers in the lives of our tamaiti. This is why they were purposely designed and written for everyone, Samoan and non-Samoan"
Their most recent book is Teine Samoa, a MG/YA fiction story originally written during the lockdown in May and released as an ebook for Samoan language week 2020. The story follows the journey of cultural identity and discovery of four junior high school students, their families, their teachers and, most importantly, anyone who has ever faced the challenges of being a teine Samoa.
Purchase Teine Samoa Paperback: https://www.lagi.co.nz/products/teine-samoa
Purchase Mila's My Gagana Series 1: https://www.lagi.co.nz/products/dahliabookset
Facebook: @MilasBooks
Instagram: @milasdm
Twitter: @DahliaMalaeulu
Share