Coco News
Sky News Commentators poke fun at Tuvalu Drowning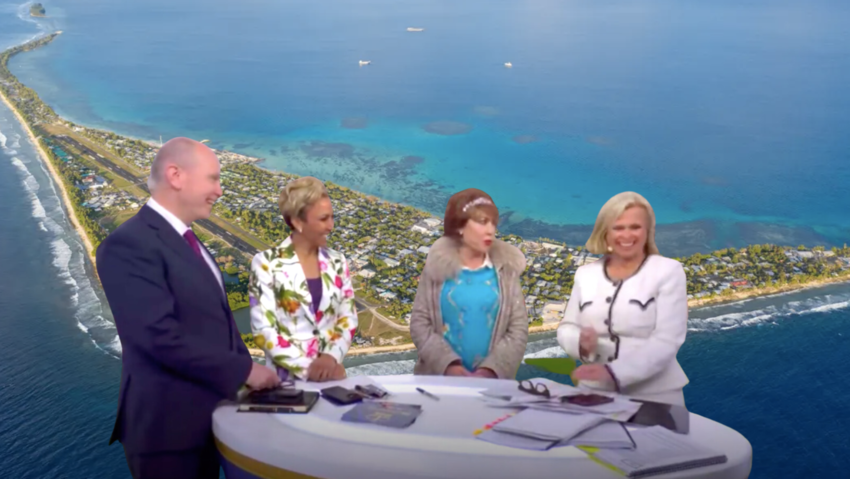 Sky News commentators covering King Charles' coronation are under fire after making fun of Tuvalu's climate reality during their coverage.
The Sky News discussion about countries becoming republics took a sour turn when presenter Anna Botting mentions Tuvalu. One of the three panelists Kathy Lette, interrupts Anna saying "Tuvalu. Yeah well, they're about to go underwater," she laughs. Botting replies "Well let's hope not."
Lette continues while acting out putting on a snorkel saying "So snorkels on." The whole panel then continues to laugh.
These comments were followed by growing backlash. The joke not only offending Tuvalu people but other Pacific Islanders who face the very serious impacts of the climate crisis.
Minister Simon Kofe of Tuvalu took to Twitter to express his disappointment. The Minister for Justice, Communication & Foreign Affairs said "How can anyone find humor in the potential loss of entire countries and cultures due to climate change? It's beyond comprehension and completely unacceptable".
More people expressed their shock and disappointment online. One Twitter user said "As Pacific Islanders, we're at the forefront of climate catastrophe, induced by UK industrialization amongst others. We're paying dearly for the crass, privileged COLONIALIST attitude underlined & in full display here. SHAME ON YOU!". Another comment continued to add "Sickening, I have been to Tuvalu, they are lovely people and it's their island and their home, stop this nonsense discussion!".
Many more comments from a diverse range of people poured out in dismay at the joke made and in support of Tuvalu.
Others used their platforms to highlight the beauty and leadership of the island nation of Tuvalu. Adding to the conversation saying "She is more than cheap headlines and a punchline to ignorant jokes. She is one of the worlds smallest countries home to people with the biggest hearts. She's birthed heroes who have carved out the path of which the climate movement follows today".
Sky News has yet to make a comment. Kathy Lette has not issued an official apology but replied in the comment thread to Simon Kofe's original tweet -
Share