Coco News
South Auckland high schools bond over love for maths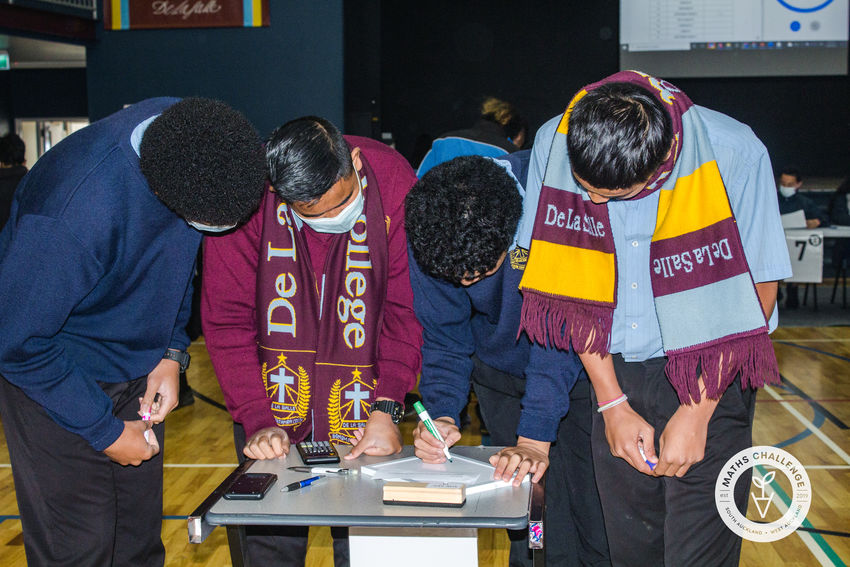 by Mariner Fagaiava-Muller
The South Auckland Maths Challenge or SAMC, celebrates budding mathematicians who don't have all the flashiest resources, but all the smarts.
On a wintry Wednesday morning, you'll find the De La Salle College gymnasium hissing with hyena laughs and fa'aumu.
Inside are Year 9 and 10 students from 12 schools across South Auckland - it's the fifth time they've met this year, to face off against each other in mathematics.
Each school is represented by three or four students, stationed at desks where they'll receive an equation.
Once they've made a calculation, a runner from the team will run a lap around all the others and get their answer marked.
The first school to answer ten equations correctly is crowned the winner.
There's a strong sense of comradery in these competitions. Winning is the least important part.
"Here everyone cheers for you even if you don't go to the same school," one student says.
"It makes me feel confident and like I can do anything."
"The running is tiring but the winning is worth it."
Lots of time is spent revising in the lead-up to these events, says Māngere College student Cleo Manu.
"If you want to do it you have to study a lot, more than what your teachers have taught you."
"SAMC teaches you to be independent about your learning and challenges you to do it your way."
In 2019, teachers Josephina Ah Sam and Katalina Ma created the South Auckland Maths Challenge.
They discovered a link among Māori and Pasifika with weak numeracy skills during secondary school, and later flailing in their tertiary studies.
SAMC social media manager Tristan Ah-Sui says "our founders have this vision of growing to a point where it can be implemented in any town or city."
"We've just added on Wesley College and we have other schools who are wanting to join."
"It would be a really good thing for the programme in my view, to expand and reach out to everybody who wants to have a go but doesn't have the access or resources to be the mathematicians they want to be."
According to a 2020 Unicef report, 64.6% of 15-year-olds in Aotearoa have only basic reading and maths proficiency.
Education Minister Chris Hipkins said the country's literacy and numeracy has dropped significantly over the last 20 years, before unveiling an overhaul to the way reading and maths is taught in schools.
The Literacy & Communication and Maths Strategy will develop a specialist maths workforce to assist students with extra learning needs, an idea welcomed by principals and teachers.
Ah-Sui says students attending the South Auckland Maths Challenge are able to practice maths with people that look and talk like them.
"It's like a first XV game, everybody supports everybody," he says.
Māngere College Year 9 student Sione Alofaki says he's felt "comfortable to be smart and intelligent".
"Here you meet new people, have fun and build your brain," Sione says.
Getting together with friends to decipher some long division isn't everybody's idea of fun, but it is for the ecstatic lot who turned up to De La Salle on Wednesday.
Tangaroa College won first place in the Year 9 pool, while the hosts took it out against the Year 10s.
Papatoetoe High School came away with two placings and Ah-Sui says they've performed extremely well throughout.
Any last ounces of brain power will be exhausted in the last South Auckland Maths Challenge event, at Ōtāhuhu College on 17th August.
-
Public Interest Journalism funded through NZ On Air
Share