Coco News
The latest Covid-19 stories in the Pacific - 21 Feb 22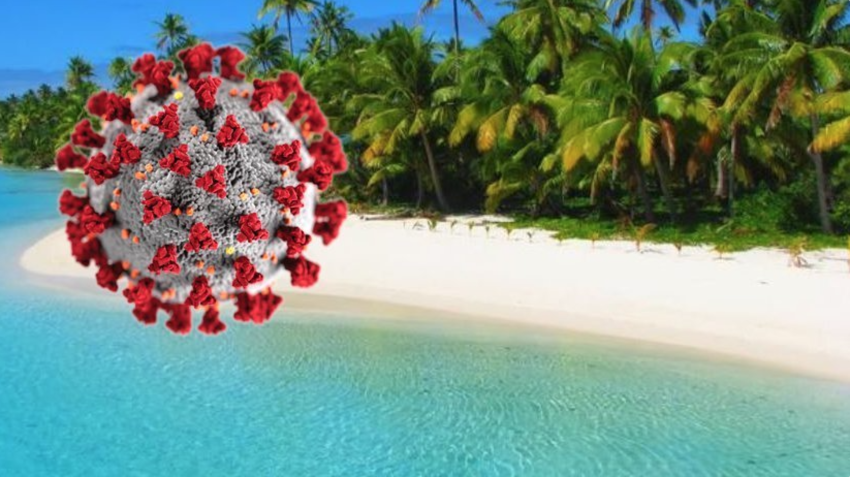 A quick round-up of the latest Covid news in the Pacific region from the last couple of days.
-
Cook Islands 4th positive case confirmed
via Covid19 Cook Islands response
The Cook Islands is reporting a fourth person who has tested positive for Covid-19.
The case is a New Zealand-based Cook Islander who arrived in Rarotonga for a family funeral on February 15 on-board an Air NZ flight. Health Ministry Te Marae Ora (TMO) confirmed the case tested positive on Thursday from a sibling who had tested positive in New Zealand.
The positive case and 3 of the adults are fully vaccinated, with the young contact with their first vaccine dose. An additional 16 close contacts have been identified, connected through the family funeral the case attended on Wednesday.
Due to the new positive case, the Cook Islands government has announced an extension to their suspension of passenger travel to the rest of the Pa Enua (other islands) to midnight of February 23.
-
The Cook Islands government is confident it's well-prepared to ensure it won't have to deal with a full-blown Covid-19 outbreak in the country.
The Cook Islands reported its first positive infection last Sunday (13th Feb). Secretary of Health Bob Williams said it's early days to predict how they're going to fare compared to neighbouring Pacific nations who are battling widespread community transmissions.
"We believe that we prepared our communities well and of course with the systems and processes that we've developed, and our framework, which we have now put into action, hopefully the public health measures that we've introduced will reduce the spread."
Bob Williams said authorities have done everything within their control to be ready.
Fiji: 1 more death, 33 new cases
via Fiji Ministry of Health & Medical Services
1 more person has died from Covid-19 in Fiji, taking the death toll to 824. The 68 year old male had a significant predisposing medical condition which contributed to the severity of his illness. He was fully vaccinated.
There were 57 new cases of Covid-19 in the community on Friday the 18th.
There has been a total of 63,554 cases since March 2020 with 93% of Fiji's adult population fully vaccinated.
An analysis by the Health Ministry says unvaccinated adults in Fiji have been dying at a rate 17.8 times higher than fully vaccinated adults during the third wave of COVID-19. There have been no Covid-19 deaths in individuals who received a booster dose.
Read more here
French Polynesia Covid cases continue to rise
French Polynesia has recorded 2456 new cases of Covid 19.
This brings the number of active cases in the French Territory to 6307.
No new deaths have been recorded, however, 18 people are in hospital and four are in ICU.
Kiribati govt extends nationwide lockdown
The Kiribati Government has extended its nationwide lockdown by another two weeks from today, due to widespread community transmission of Covid-19.
There have been 2,757 positive infections across the atoll islands and nine deaths reported by the authorities.
The Health Ministry says 20 new Covid-19 cases were recorded on Thursday.
They say two new elderly patients have been admitted to isolation centers, bringing the total number of people who require medical treatment to four.
Community cases have now been recorded on South Tarawa, Betio, Buota, Butaritari, North Tarawa, Abaiang, and Abemama.
Red Cross in Solomon Islands ramps up vaccinations
The Red Cross in Solomon Islands said ramping up vaccinations is critical as Covid -19 cases overload the country's fragile health system.
Free of Covid-19 in the community one month ago, the Solomon's is now reporting 5,000 plus infections and more than 50 deaths.
The Red Cross said last week authorities reported one in every two people had Covid-19 symptoms, and testing was overwhelmed, indicating many more people are sick with the virus.
The Secretary General of the Solomons Red Cross Society Clement Manuri said the organisations is sending more teams to raise awareness on how deadly the virus is, encouraging people to protect themselves.
He said in Solomon Islands, just 11% of the eligible population have received two doses of the vaccine.
Tonga records 24 new Covid-19 cases but restrictions to ease
On Friday, Tonga recorded 24 new Covid cases bringing the number of active cases to 196.
The prime minister confirmed that of the 25 positive cases recorded in MIQ on Thursday a total of 23 have recovered, while two are still active cases.
The cases reported at the Hu'atolitoli Prison are being monitored closely.
-
This morning Tonga's prime minister Hu'akavameiliku Siaosi Sovaleni, has annouced that Covid-19 lockdown restrictions in the Kingdom will ease for seven days from Monday.
All government offices will open and the rules will also be relaxed for shops and takeaway food services. But the 6pm to 6am curfew lockdown remains.
Funerals and weddings are allowed and will still have the same number of people able to attend the events, with 10 inside and 20 outside.
Those needing to have their physical exercise can also do so with mask on and social distancing. Schools will remain closed for next week with radio school programs continuing.
The government will use next week as a transitional week to consider various measures before the Ministry of Education decides on the possible resumption of school classes.
Cabinet made the decision to ease restrictions following recommendations from the Ministry of Health.
Vanuatu's govt confirms four Covid-19 cases
Vanuatu's prime minister Bob Loughman has confirmed four people tested positive for Covid-19 at the border. Bob Loughman said the new cases were all on repatriations flights, three on a flight from New Caledonia and one on a flight from Australia.
Mr Loughman said samples of the cases will be sent overseas to determine the Covid-19 variant. He said there is no evidence of community transmission.
The Ministry of Health will test 10 other passengers who came on the Brisbane and Noumea flights to determine their Covid-19 status.
Following the detection of the four border cases, the prime minister declared that repatriation flights will be suspended until contact tracing of the recent cases are done.
COVID FREE PACIFIC COUNTRIES
As the world enters the third year of the pandemic, there are still some Pacific Island countries which remain entirely COVID-free: The Federated States of Micronesia, Nauru, Niue, Pitcairn Islands, Tokelau and Tuvalu. However, as the recent cases elsewhere in the Pacific and several near misses have shown, it is only a matter of time until they too will come up against the virus.
These countries and areas are now reinforcing preparedness measures based on lessons identified from the pandemic response in neighbouring countries in the Pacific and the broader region.
Share