Coco News
The latest Covid-19 stories in the Pacific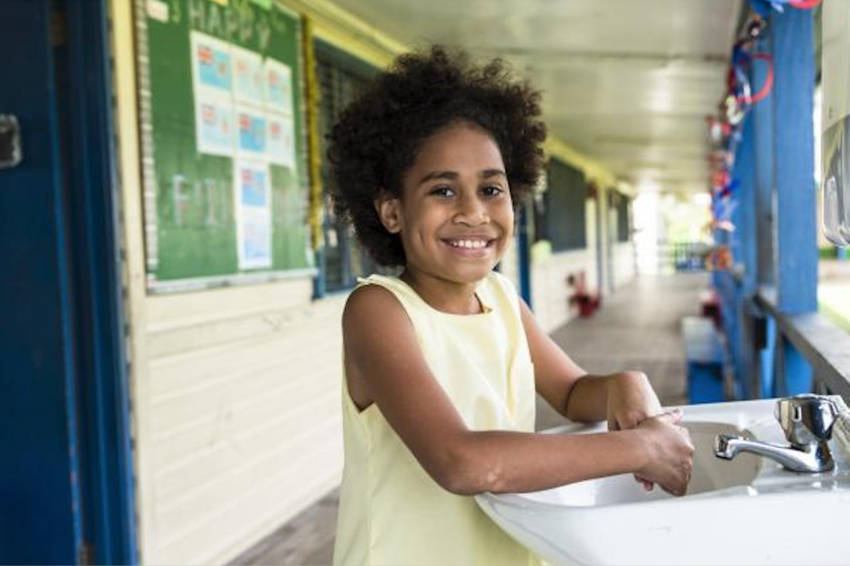 A quick round-up of the latest Covid news in the Pacific region from the last couple of days. We will provide an update again at the end of the week.
Cover image photo credit: Unicef
-
American Samoa - two more cases from Hawaiian airlines flight
American Samoa has two new positive Covid-19 cases in MIQ after a third round of Covid tests.
Close to 200 travellers, who've spent 14 days in MIQ since arriving in the territory January 27 on a Hawaiian airlines flight, have not been released.
They have been told that they will undergo a fourth test on a Sunday and all those who test negative will be allowed to go home on Monday.
The two new positives are passengers, bringing the total number of positives from the January 27 Hawaiian Airlines flight to 43 - 35 passengers and eight Health Department quarantine staff.
Health Director Motusa Tuileama Nua said the overriding objective is to protect the territory's nearly 50,000 residents and stop a community transmission.
Some of the passengers on the January 27 flight have been complaining online for the last week about their extended MIQ time.
-
Cook Islands - first case of Covid-19 detected
The Cook Islands has detected its first case of Covid-19. Prime Minister Mark Brown said this case was not connected to the visitor who tested positive for Omicron after leaving Rarotonga and arriving back in New Zealand last Monday.
He said this person - who is currently isolated and under observation at their private holiday accommodation - arrived in Rarotonga last Thursday. They were a close contact of a family member in Auckland who tested positive on Sunday in New Zealand.
Brown said as a precaution this person got tested, and was asymptomatic, but she returned a positive result in just a few hours later. The woman is travelling with two others, and they will all remain in isolation until they no longer test positive for Covid-19.
Brown said it was helpful that the person was staying in private holiday accommodation, not a resort or motel.
The woman was double vaccinated and had returned a negative PCR test prior to boarding their flight from New Zealand.
In his nationwide address Brown had pertinent advice for Cook Islanders: "Our extremely high vaccination rate is another factor in our favour, as it slows the spread of transmission and reduces the health impacts in those who do contract this virus.
"I can also tell you that from the moment Te Marae Ora confirmed this person as testing positive for Covid-19, our contact tracing team swung into action to trace their movements since arriving in Rarotonga and to start identifying any potential close contacts."
Brown said locations of interest would be available on the Covid-19 website and the TMO Facebook page.
"As each new piece of information is gathered and confirmed, we will also be keeping you all as up-to-date as possible as any new places of interest and potential close contacts are identified.
"Those people deemed to be close contacts of this case are currently being contacted by TMO and will be advised to get tested."
-
French Polynesia - Covid-19 cases continue to rise
The incidence of Covid-19 in French Polynesia has again more than doubled within a week, with the latest figures showing 2,800 new cases in two days.
The health authorities say there are 5,557 active cases. 12 people are in hospital with serious Covid-19 problems, including 3 in intensive care.
A further 37 people, who tested positive for the virus, are in hospital for other ailments.
Vaccinations have continued and almost 79 percent of those 12 years and older have been fully vaccinated, while inoculations have been started for children five years and older.
The French vaccine pass is now madatory and is needed to enter venues, restricting the options of those who decline vaccinations.
PCR tests for travellers to French Polynesia are no longer required, but antigen tests are still needed before a flight and on arrival.
-
Kiribati - 230 new Covid-19 cases
Three people have now died from Covid-19 in the last seven days in Kiribati, as the country recorded over 230 cases over the weekend.
The number of elderly i-Kiribati people admitted to hospitals for medical care also continues to increase.
The health ministry confirms there has been a total of 2,548 positive infections across the atoll islands.
Authorities say one person is currently in a coma at the Betio hospital, while two others are admitted at the Tungaru Central Hospital.
They also confirm 314 people have recovered from the virus.
The government extended the lockdown period by another week on Friday.
-
Samoa - Now at Alert Level 1 & no indication of community transmission
The Samoan government has decided to downgrade its Covid-19 alert level to one, which started at 6pm yesterday. Prime Minister Fiame Naomi Mata'afa made the announcement yesterday afternoon.
Samoa went into a nationwide lockdown last month after passengers who arrived in Samoa on a repatriation flight from Brisbane tested positive for Covid-19.
Fiame said the number of people that had been affected remains at 31, some have fully recovered and returned negative tests with subsequent release while others are close to making full recovery.
She said because of this Cabinet decided to drop from alert level two to one, and ease State of Emergency orders.
The prime minister said there is still no indication of any community transmission.
-
Today in the Samoa governments press release, a repatriation flight from NZ that was scheduled to arrive last month but was postponed due to the nationwide lockdown following the flight from Brisbane, arrived on Saturday the 12th. All 272 passengers were swabbed upon arrival, and all returned negative results yesterday morning. All passengers have settled in quarantine sites for 21 days.
To ensure minimal threat of the spread of COVID 19 beyond the borders, the 134 highest risk frontline workers were also quarantined, straight after processing the flight, a new policy measure now in place. The staff in quarantine for 72 hours, provided all goes well; include those from the Ministry of Health, staff of the Samoa Immigration, Customs, and Quarantine, Samoa Airport Authority, Samoa Airways, and drivers.
The 5 positive cases from the flight of 19th January who were quarantined at Faleolo hospital, and 2 positive cases in the Isolation ward at Motootua Hospital all returned negative tests on Saturday, 12th February, 2022 after their third negative consecutive test results. As per process, MOH have released them from isolation. All remaining positive cases are being closely monitored in isolation and continue to remain well and asymptomatic.
-
Solomon Islands - Govts Covid-19 measures include reopening casinos
The Solomon Islands opposition leader Matthew Wale is horrified the governments allowing casinos to reopen while churches stay closed.
On Saturday the government announced that churches, bars and night-clubs in the Honiara Emergency zone will stay shut, except for casinos.
This comes as Covid-19 rips through Solomon Islands, especially in the capital.
As of late last week there were more than 4,000 cases in the country and at least 50 deaths.
Mr Wale claims the exemption for the casinos is purely political to support businesses with links to the government.
He asks how casinos can be any different from churches in terms of helping spread covid.
-
Tonga - Over 100 Covid-19 cases
There are now a total of 108 confirmed cases of Covid-19 in Tonga. Prime Minister Hu'akavameiliku announced 44 new infections yesterday.
He said the new cases were identified in the villages of Veitongo, Utulau, Houma and in the Nuku'alofa suburbs of Tofoa and Ma'ufanga.
Share