Entertainment
POLYS IN HOLLYWOOD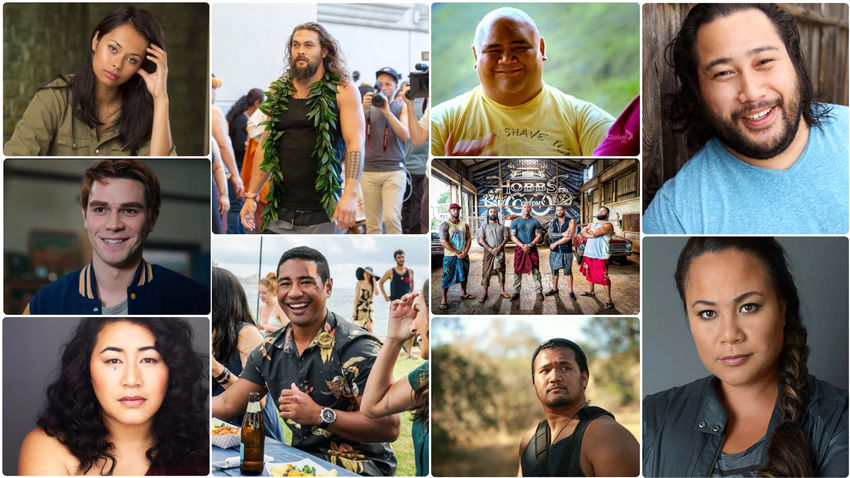 Polynesians are making their mark on Hollywood this year with at least 2 major blockbusters starring Polynesians in main roles.
'Aquaman' which is still out in theatres, stars Jason Momoa - the 1st Polynesian to play a Superhero character ever and Dwayne 'the Rock' Johnson - credited for bringing the 'Fast & Furious' franchise back to life now stars in his own spinoff 'Hobbs & Shaw' which is set for release later this year.
.
We take a look at other projects you can catch them in this year AND other Polynesians you can look out for in Hollywood movies or TV series that are either out now or being released this year.
Have we missed anyone? Let us know!
.
DWAYNE 'THE ROCK' JOHNSON
SAMOAN
Fast & Furious Presents: Hobbs & Shaw
The Rock reprises his role of Luke Hobbs in this 'Fast & Furious' spin off. "Hobbs & Shaw" blasts open a new door in the Fast universe as it hurtles action across the globe, from Los Angeles to London and from the toxic wasteland of Chernobyl to the lush beauty of Samoa.
OTHER POLY ACTORS IN THE FILM INCLUDE - Josh Mauga, Cliff Curtis, Leati Joseph Anoa'i aka Roman Reigns, John Tui, Ping Moli Jr, Kelemete Misipeka & Hio Pelesasa plus other Poly Stuntmen like Tanoa'i Reed.
And introducing young Samoan ELIANA SU'A who plays Dwayne's daughter in the movie. You can also catch her in another movie coming out this year called 'Simmer'
'Fast & Furious presents: Hobbs & Shaw' is set for release in August 2019
.
Jungle Cruise
Based on Disneyland's theme park ride where a small riverboat takes a group of travelers through a jungle filled with dangerous animals and reptiles, but with a supernatural element.
Poly stuntmen Tanoa'i Reed & Sala Baker lend a hand in this one too.
Set for release in October 2019
.
Ballers (HBO Series)
The Rock stars in this series as a retired football superstar trying to reinvent himself as a financial manager for current players in sun-soaked Miami. Trailer for Season 4 out now below and Season 5 is due for release mid 2019.
Jumanji 3 is also expected to be released late 2019
.
JASON MOMOA
HAWAIIAN
Aquaman
It's blown past the billion-dollar global box office mark making it DC's Highest Grossing film EVER!
Also stars Aotearoa's own Temuera Morrison who plays Jasons father. As Jason has said himself, Temuera is one of his favourite actors and he gave him a role in Frontier Season 3 where he plays Te Rangi.
Lego Movie 2
Jason voices his Aquaman character for the Lego Movie 2 which came out earlier this year.
Frontier (Netflix Series)
Jason stars as ferocious outlaw Declan Harp who takes his fight against the Hudson's Bay Company across the Atlantic this season. Temuera Morrison also joins him in Season 3. Catch up on the full Series on Netflix.
COMING UP -
He's wrapped filming on Apple's upcoming future-based drama series SEE and he's also been cast as as Duncan Idaho in the upcoming Denis Villeneuve film DUNE
COOPER ANDREWS
SAMOAN
Shazam!
Another DC Universe movie, Cooper plays Victor Vasquez - foster father to Billy Batson aka Shazam.
You may recognise Cooper from Den of Thieves which came out last year and also starred Hawaiian UFC star Max Holloway. There's a few other Polys in this 'Den of Thieves Date Night Scene. and it could be the first time the Tongan language is heard in a major Hollywood movie too ;)
The Walking Dead (AMC Series)
Cooper plays Jerry a survivor and resident of the Kingdom in a recurring role since 2016. Season 9 is out now. Check him out in this featurette.
.
KJ APA
SAMOAN
The Hate U Give
'The Hate U Give' had a very limited release here in NZ last month at the Rialto cinemas about 4 months after it first came out in the US . KJ plays the main character Starr's boyfriend Chris.
Riverdale (CW Series)
KJ plays the main character Archie in CWs 'Riverdale' based on the Archie comics and it's just been renewed for a 4th season.
.
FRANKIE ADAMS
SAMOAN
The Expanse
Frankie stars as Bobbie Draper, a member of the Martian Marine Corps, one of the toughest and best members of her squad. Season 4 is due out some time this year and you can also catch Frankie in a cameo role in Nikki Siulepas 'Same but Different'
.
BEULAH KOALE & TAYLOR WILY
SAMOAN
Hawaii 5-0 (CBS Series)
Beulah joined the main cast of Hawaii 5-0 in 2017 and plays Junior Reigns. Taylor Wily (Teila Tuli) has had a long time recurring role in the series first appearing in 2010. He plays the role of Kamekona Tupuola.
Other Poly guest stars this season - Eric Scanlan as Natano Reigns & Moronai Kanekoa as Marcus Nash
.
SISA GREY
SAMOAN
SMILF (Showtime series)
Sisa plays a recurring role as Samoan nanny Ida. She's joined on the series by newcomer Patricia Fa'asua who has just graduated from Yale School of Drama and has hit the ground running with a role in SMILF as Sisa's characters sister! In one scene they get to have a phone conversation in Samoan which could be the first time the Samoan language has been used on mainstream American TV.
Sisa also co-stars in an episode of the mini-series 'I am the Night' starring Chris Pine which is out now and you'll be able to see her in a recurring role on the DC Legends of Tomorrow series this year.
.
KALIKO KAUAHI
HAWAI'IAN
Superstore (NBC Series)
Kaliko is known for her role as Sandra on NBC's Superstore - a hilarious workplace comedy about a unique family of employees at a supersized megastore. You can also catch her on Disney's 'Ravens Home' where she plays Principal Kwan.
.
RENA OWEN
MAORI
SIREN (Freeform TV Series)
Beth Heke lives ;) Rena stars as Helen Hawkins in this fantasy thriller based in a small coastal town known for its mermaid legends. The folklore comes to life, with the arrival of mysterious ocean creatures and a series of vicious attacks. The show is shot on location in Vancouver but you can catch it on demand here in NZ.
.
KELEMETE MISIPEKA
SAMOAN
Ray Donovan / Hobbs & Shaw / Mr Robot
We've got him listed with the Poly boys who are in Hobbs & Shaw which is coming out this year but he also recently had a guest role in Ray Donovan for a couple of episodes which you can check out in the video below. He plays drug dealer Fetu Autufuga and speaks Samoan in it.
He's just wrapped filming on Mr Robot with Rami Malek & Christian Slater in New York.
.
LEHI FALEPAPALANGI*
TONGAN
Future Man (Hulu Series)
Lehi Falepapalangi is a Tongan living in La'ie, Hawaii. He has recently returned from LA, wrapping up on season 2 of the Hulu series Future Man (featuring Josh Hutcherson) as the reoccurring character Chisel Pitboss a post-apocalyptic jail warden of his village. Lehi has also Guest-Starred in Hawaii Five-0 this season as an armed boar-hunter who took the main characters hostage and you'll also see him in the feature film "The Islands," directed by Tim Chey playing the Koa warrior Kapu which is due for release in March.
.
CODY MAFATU EASTERBROOK*
SAMOAN
Universal Kids (NBC)
Cody is on NBC's Universal Kids which is currently airing 40 episodes and is filmed in Toronto. He's an actor, entertainer, reporter, television host, educator and world traveler with an infectious zeal for life. He's explored over 35 countries including giving service for two years in South America and was recently noted as one of the top 5 travelers in the world.
Check out one of his travel videos to the Marshall Islands below and the rest of his channel here.
.
OTHER POLYS TO WATCH OUT FOR
TUI ASAU stars as Oliver in the Shakespeare remake & romantic comedy 'As you like it' due for release in March this year. You may have seen him guest starring in Criminal Minds Season 14 episode 9 which aired at the beginning of December.
PATRICIA FA'ASUA has landed a recurring role in the Netflix series 'Unbelievable' starring Toni Collette.
BING MILO & TIA KAIULANI KANAEHOLO are together in an Episode of S.W.A.T Season 2 out now playing Matani & Ramona Matani.
TAIKA WAITITI who cracked Hollywoods mainstream both directing & acting in Thor Ragnorak stars as Adolf Hitler in his latest movie 'Jojo Rabbit' alongside Scarlett Johansson.
RUSSELL SATELE* who has just booked Magnum PI Season 1 Episode 13 which is out this year.
.
.
Thank you to Sisa Grey and Darcie Pulawa who helped us out with our Polys in the US and Hawai'i!
* These actors are represented by Darcie Pulawa's management company 'Divergent Talent' who are the only talent management firm in Hawai'i specializing in representing Polynesians throughout the Pacific. Darcie's entire company is female driven and they are all Polynesian.
Share
---
Comments