Entertainment
TOKYO HULA - DOC EDGE FESTIVAL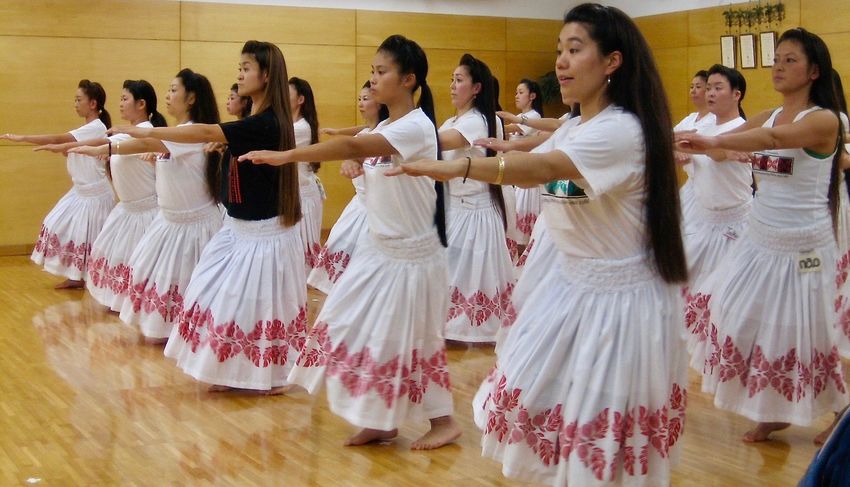 Tokyo Hula is one of 3 Pacific documentaries screening at Doc Edge Festival 2020 which is currently screening fully online for the first time ever. TOKYO HULA is the final film in a trilogy of award-winning documentaries directed and produced by Lisette Marie Kaualena Flanary about a modern renaissance of hula traditions (Nā Kamalei: The Men of Hula (2007) and American Aloha: Hula Beyond Hawaiʻi (2003)).
We speak to Director Lisette Flanary about the film below. Tokyo Hula is available to watch on the Doc Edge Festival site on Friday 19th of June and Tuesday 30th of June. Buy your tickets and more information here.
.
What is the film about and why did you want to make it?
TOKYO HULA explores the explosive popularity of the hula dance in Japan from both Native Hawaiian and Japanese perspectives. Today it is estimated there are nearly 2 million people dancing hula in Japan – a figure greater than the entire population of Hawaiʻi. With more people dancing hula in Japan than in Hawaiʻi where the native art was born, this phenomenal growth has created a multi-million dollar industry based on culture as commodity. But what motivates Japanese students and teachers to dance hula and how is it translated into a foreign culture? How do Native Hawaiians participate in this cross-cultural exchange?
Why do the Japanese love the hula dance so much? This simple question—which has perplexed many master hula teachers and practitioners alike—was the inspiration driving my first trip to Japan to explore the hula craze in 2009. Ten years later, the number of people dancing hula in Japan continues to grow — and the popularity of the hula continues to blossom around the globe.
As an independent filmmaker committed to sharing stories that highlight a Pacific perspective, I have been dedicated to creating feature length documentaries about the hula dance and Hawaiian culture since 1998. For Hawaiians, the hula is not just a dance, but a way of life. And while many people may only know the stereotypes from old Hollywood movies and tourist kitsch, I have always been interested in trying to dispel the deep rooted misconceptions about the hula and Hawaiian culture often seen in mainstream media.
What is your background and how connected are you to hula culture in Hawaiʻi?
As a hula dancer, I can honestly say that the hula influences everything in my life. Through my hula lineage, I have been taught that the hula is the art of Hawaiian dance that expresses all that we hear, see, smell, taste, touch and feel. My film work continues to explore the hula as an evolving tradition in the modern world and the relationship between music, language and culture that ultimately expresses the heart of hula for
me: storytelling.
Here is more information on my hula studies and background:
A hula dancer whose mother is from Hawaiʻi, Lisette spent many childhood summers with her family on the island of Oʻahu. Born and raised on the continent, it wasn't until 1998 that she began taking regular hula classes through the Hawaiʻi Cultural Foundation in New York City. Under instructor Michelle Nālei Akina and Janu Cassidy, she began to study hula 'auana (modern hula) in the lineage of Kumu Hula Maiki Aiu Lake, often called "The Mother of the Hawaiian Renaissance".
In 2003, Lisette was asked to join the Papa ʻŪniki Lehua class to continue her formal training in hula kahiko (traditional hula) under master hula teacher, Patrick Makuakāne in San Francisco, California. She spent three years of intensive study with the students of his hālau, Nā Lei Hulu I Ka Wēkiu. On September 3, 2006, she graduated as an ʻōlapa, or skilled dancer. During this same time, her hula teachers in New York moved back to Hawaiʻi and the Hawaiʻi Cultural Foundation announced its closure. Under the blessing and guidance of her kumu, Patrick Makuakāne, Lisette formed a hui, or a group, called Nā Lehua Melemele and continued to teach classes that perpetuate the art of the hula in New York City from 2007-2011.
In 2011, Lisette moved to Honolulu, Hawaiʻi to teach filmmaking at the University of Hawaiʻi. In 2016, she was invited to join the Papa ʻŪniki Maile class to continue her formal training under Kumu Hula Patrick Makuakāne. Traveling back and forth between Honolulu and San Francisco for several years, Lisette graduated as a hoʻopaʻa, or skilled chanter, on August 4, 2019. Currently, she continues to dance in weekly hula classes with Kumu Hula Pōhai Souza and Hālau Hula Kamamolikolehua in Honolulu, Hawaiʻi.
What is your reaction to the film being accepted in Doc Edge?
To be honest, this has been a strange and challenging time for everyone given the global pandemic, and I think for filmmakers it's created a lot of uncertainty in how we are approaching not just how to make films right now, but how to share them with audiences. No one can even imagine being in a movie theater right now! For me, I spent nearly ten years working on the documentary film, TOKYO HULA, and was extremely excited to finally be able to share the film with audiences at film festivals around the world. I actually was not able to attend the world premiere of the film at the Yamagata International Documentary Film Festival in October 2019 due to Typhoon Hagibis hitting Japan and had to skype in for my Q&A because all flights had been cancelled. I did get to premiere the film at the Hawaiʻi International Film Festival in the Made in Hawaiʻi Competition in November of 2019 – and while it was an amazing experience to share the film in Oʻahu, Maui, Kauaʻi and the Big Island as a part of that festival, I had no idea that it might be the last time I was able to screen the film for a long time.
I had no idea that sharing the film in Tahiti at FIFO or the Festival of International Documentary Films from Oceania in February of 2020 would be the last time I got to share the documentary with live audiences for a while during the festival life of the film. Once we all were given stay at home orders and the world began experiencing lockdowns, all film festivals that the film had been accepted into were postponed – or in some cases cancelled. It was really heartbreaking but I am still hopeful that there will be opportunities and ways to share the film with people. This is one of the reasons why I'm so thrilled to have been accepted in New Zealand's Academy Award qualifying international documentary film festival, DOC EDGE. While I had hoped to attend in person this summer, I think it's fantastic that the festival organizers were keen on pivoting to moving the festival online for audiences in New Zealand from June 12-July 5, 2020. While I'm still hoping that the other festivals who have programmed Tokyo Hula will be able to have the in person festivals that are so terrific for filmmakers and audiences alike, this is the next best thing and a great opportunity to have the film seen.
What are some of the issues in the film you wanted to highlight?
Many Hawaiian master hula teachers, or kumu hula, have found it difficult to sustain their hula schools in Hawaiʻi. The same is true for many musical artists, cultural experts, and performers who must often work day jobs to pursue their passions and supplement their income on an island home many would consider paradise – but where the cost of living only continues to rise. Many have discovered that there are more opportunities across the Pacific Ocean in Japan where a hula boom continues to grow – and pay the bills.
In TOKYO HULA, an examination of tourism, economics, and a love for all things Hawaiian fueling this cultural phenomenon is revealed by focusing on the personal stories of Japanese sensei who have started their own schools and Hawaiian kumu hula who are now living and teaching in Japan. Guided by curiosity and infused with humor, the documentary follows teachers and students both in and outside of hula classes and competitions to better understand their daily lives, struggles, and challenges in practicing a cultural art form in a foreign host country.
By juxtaposing the two main subjects – Japanese sensei Seiko Okamoto who is from Japan but trained by the late revered Hawaiian Kumu Hula Aloha Dalire and Hawaiian Kumu Hula Lōpaka Igarta-DeVera who was entrusted by Kumu Hula Sonny Ching to move to Japan to open a branch of their school, the film illuminates how the hula has become both big business as well as an evolving global tradition that continues to flourish in Japan.
What was the most surprising thing you learned about hula in Japan while working on this film?
Certainly, I think the number of people dancing hula in Japan surprised me. When I first started filming in Tokyo, there were estimates of 400,000-500,000 people dancing hula in Japan. Today, there are between 1-2 million people dancing hula in Japan and the numbers and interest only seems to continue to grow. As a filmmaker, one of the most interesting things that I shot was a woman who teaches workshops on how to do exercises to work on perfecting a great smile for dancing hula. I had never really thought about what goes into a smile before in such detail but it was fascinating to find that one of the cultural challenges for Japanese hula students is working on a natural smile that is not necessarily something that is very common place in everyday life in Japan.
What are some of the exciting and/or challenging things you see in the world of indigenous filmmaking?
Iʻm a professor at the Academy for Creative Media at the University of Hawaiʻi and am really excited about the emerging voices coming out of our film program especially when it comes to indigenous filmmaking. There are so many stories yet to be told and I feel that things have really changed in the last ten years even in terms of visibility and recognition of the vast array of storytelling styles and approaches. Having seen young filmmakers at the beginning of their careers find their sense of identity – and more importantly – community has been amazing. These film festivals around the globe that hightlight films from the Pacific have been places of connection for our young filmmakers and a platform to highlight storytelling on the screen from Hawaiʻi on a global stage.
To find out more about Doc Edge screenings for Tokyo Hula, see: https://festival.docedge.nz/film/tokyo-hula/
Share