Entertainment
VIRTUOSO STRINGS ORCHESTRA - PORIRUA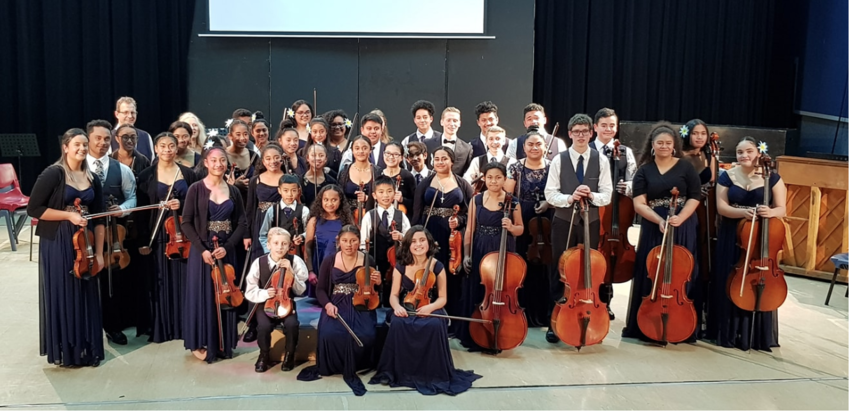 Tomorrow night, the Virtuoso Strings Orchestra from Porirua will join forces with Grammy award winning bass-baritone Jonathan Lemalu in a first time collaboration in Wellington.
This one night only concert 'Some Enchanted Evening', will feature Lemalu performing some of the most well-loved bass arias by Bach and Mozart, as well as classics by Copland, Gershwin and others, old favourites like Jerome Kern's 'Ol' man river', and of course Rodger & Hammerstein's 'Some Enchanted Evening'.
The Virtuoso Strings Orchestra was formed in 2013 by Elizabeth Sneyd and Craig Utting who were in awe of the natural talent in the community especially among the Maori and Pasifika students. Today the popular youth orchestra is based in Cannons Creek, Porirua, and is run by the non-for-profit Virtuoso Strings Charitable Trust.
What started as a low-key effort to provide free instruments, lessons and transport to a small group of students has quickly transformed into the flourishing music scheme it is today.
Earlier this year, the senior members of the orchestra played the opening act for the internationally acclaimed Sol3 Mio trio, as well as successfully completing an eight-day tour of the South Island. In September they played for the Black Grace contemporary dance company.
Tomorrow nights concert is a very exciting opportunity for all of the Virtuoso Strings Senior Orchestra members as they have spent many hours learning their music and rehearsing as an orchestra. Get to know some of the youth involved in the project below ...
JAMES AKERISE PESE
15yrs from Rongotai College
Instrument: Cello
"I like different types of music and wanted to try something new instead of listening to Pop. I like playing 'Mission Impossible' with the orchestra because it's up beat and fast. One of the highlights for me was the trips - they've been a good experience going around NZ and the different places for events, including busking. Also, the atmosphere because I like socializing.
TOLOA FARAIMO
15yrs from Aotea College
Instrument: Violin
"At one assembly in school we got asked who wanted to play the violin cos this lady called Liz was coming around and one of the requirements was that you had to join orchestra. I like playing Vivaldi, 'The First Summer', 'Presto the Third Movement' because it's fast, lots of energy especially with a lot of people. My highlights every year is the trips, just being with everyone and performing together and building strong relationships."
DENIS TUPUOLA
12yrs from Brandon Intermediate
Instrument: Violin
"It looked like an amazing opportunity to be part of the Virtuoso Strings Orchestra. I felt that it opened many doors and gave many opportunities such as travelling around towns of New Zealand, performing with famous singers and others which I think are amazing. I wanted to be part of something that'll make me and my family happy.
My favourite piece to play is 'Eine Kleine Nachtmusik' by Mozart. I like the way this piece goes. I love the rhythm and the joy it brings to the orchestra as well as the audience or whoever is watching us play.
I have heaps of highlights being in this orchestra but my most recent one would have to be our South Island Tour this year. We completed a 7 day tour around the West Coast and other parts of the South Island. I enjoyed the Queenstown gondola's which gave beautiful views of Queenstown."
Check out a preview from one of their performances earlier in the year - Bach "Air"
Share
---
Comments