Events
BLACK GRACE - THE GUERRILLA COLLECTION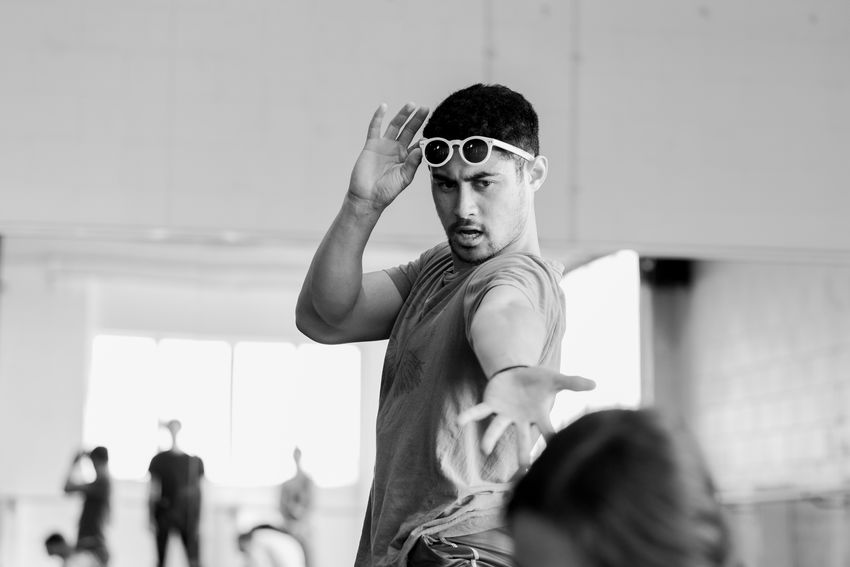 The Guerrilla Collection are taking over the waterfront!
Black Grace have come together with some of Auckland's most treasured Maori & Pasifika artists, to bring you "The Guerrilla Collection"
The brainchild of Arts Laureate Neil Ieremia, partnered with artists Anapela Polataivao, Victor Rodger, Courtney Sina-Meredith, Justin Haiu, Paul Fagamalo, Sean Macdonald and youngun Leki Jackson-Bourke, the 3 Day Festival is set to start this coming Friday, 2nd November at the ASB Waterfront Theatre.
Guerrilla Collection explores the daunting idea of "What will Auckland look like in 30 years, what will it look like, smell like, feel like, taste like"
For Curator Neil Ieremia, it was important for Pasifika People to be involved in this conversation.
"We are the largest Pacific City in the world ... It's so important that we have a voice and a seat at the table, so give us one! And if you don't give us one, we'll take one" he said.
Through 30 minute movement pieces, each artist, paired with the ridiculously talented Black Grace Dancers, will get to showcase what they think/hope our city will look like in 30 years.
Dancer Keana Ngata says "The Guerrilla Collection is so much bigger than just a festival, it's about provoking others to think about it and learn! We're looking at the future of our city, and we're doing it through a Pacific lens. We're taking control of our future, I see enhanced culture and ethnicity in it"
This unique group of artists have come from different strands of the arts from contemporary dancers, to poets, to playwrights. Each bringing their own flavour to the mix. Each touching on different aspects that are subject to change, from Spirituality, to Gender inequalities, to housing!
Black Grace Artist, Sean Macdonald says "This is our way of contributing to the fabric of Auckland….We have a responsibility / choice to affect change in our city, and we should. It's about how to present art and make it accessible to our Pacific People"
"Auckland used to have a beating heart, the city used to be the beating heart. It had a 'HOME' vibe, I hope we can get that back. I hope in 30 years we get the flow back, especially with the public transport. Now from 30 years ago, the stigma around Male dancers has been removed. 'Now nobody is asking me 'ok but what are you REALLY going to do?' the profile has changed"
Sean went on to say "To other young pasifika artists "Yes you have a voice, and if you want to say something SAY IT. I hope in 30 years we don't have to say 'Pacific Artist' I hope we'll just be able to say 'I'm an Artist, who's Polynesian"
With the Festival being completely free, with Free busses travelling back and forth from Manukau & Henderson, there's no excuse to miss out on this awesome Festival!
So whether you're looking for a way to wind down after your week, or looking to network, or even just after a way to keep the kids busy for a day, with interactive workshops, exhibitions and food stalls - there's something for everyone!
"I'd like the audience to leave feeling joyful! that's important to me, especially the kids!" added Neil Ieremia.
Check out the full programme below:
So pack your family into your car, or catch one of the free busses and come and see the Moana's favourite artists packed into one theatre!
See below for free bus schedule:
Free Bus services to and from The Guerrilla Collection at the ASB Waterfront Theatre on Saturday 3rd November!
Saturday 3rd November
10:45am Pick up Manukau and Henderson
2pm Return to Manukau and Henderson
2:45pm Pick up Manukau and Henderson
5pm Return to Manukau and Henderson
5:45pm Pick up Manukau and Henderson
9pm Return to Manukau and Henderson
Henderson Pick Up/Drop Off Point - Trust Arena Bus Stop, on Universal Drive
Manukau Pick Up/Drop Off Point - Main Mall Entrance Bus Stop, on Leyton Way
Spaces are limited, first in first served. Bus services are run by Brougham Buses.
For inquiries please email James@blackgrace.co.nz.
Share
---
Comments