Events
BROWN & BEAUTIFUL - Sisters United NZ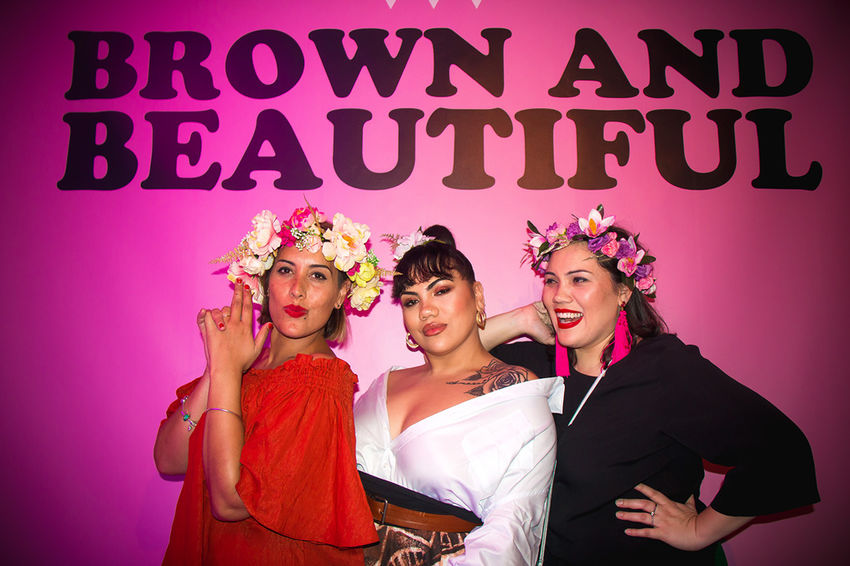 The Goebel sisters (Kendal, Narelle & Parris) & their organisation Sisters United NZ officially launched their 'Brown and Beautiful' campaign on Friday night and was attended by beautiful, brown sistas from all walks of life and from all over Auckland city to support a great cause.
Seafarers on Tyler Street was transformed for the 'Brown and Beautiful' launch thanks to the skills of Omgness - you can follow her on Instagram here & support our brown sistas business!
Everything on the night including the food on the grazing table, drinks and decorations, lighting, the photo booth, Fijian cake maker Bertrand Jangs 'Sweet & Me' 'Brown and Beautiful' cakes and more were all donated and sponsored by different businesses and vendors for the launch.
Part way through the night, the 3 Goebel sisters Kendal, Parris and Narelle along with their team Sau and Punipuao talked through the 'Young Queens' programme and introduced a few of the 120 girls who are a part of it.
The 'Young Queen's' program is a peer-mentoring program for young South Auckland women based at The Palace Dance Studio and was set up as a project under Sisters United NZ. The program uses spoken word, dance and art to explore ideas through expression, helping young women discover their talents, build their confidence and find their voice.
Kendal spoke about how they'd seen Pacific and Maori women struggle in community issues, so they wanted to create something that would really push those boundaries to build their self confidence, self esteem and identity.
"The girls have been with us as part of the 'Young Queens' programme for a year and a half and when they came into the programme they were really shy and would hardly speak but now they're so confident. We're really passionate about helping Pacific and Maori young women fulfil their dreams and fulfil their potential to really chase their dreams" said Kendal
Parris then talked about the 'Brown and Beautiful' campaign and why they started it.
"It's well needed!" Parris said
" 'Brown and Beautiful' for us, as brown girls growing up we never saw Polynesian and Maori girls in magazines or on the cover of Vogue, I know I didn't and we'd always see (Vogue covers) on billboards driving around the city. So we thought 'what better way to inspire our young girls than by putting them on billboards, putting them on commercials, on TVs?' - so this is us doing that and even just the whole experience of getting their photos taken, I knew was going to be quite empowering for them. Getting them in front of the camera for the first time, a lot of our girls don't get to experience that and they felt so beautiful! That was really special as well."
Parris said they wanted to use their voice and say, "hey we're here, we're brown and we're beautiful!"
She said "We want to show the world - especially now in social media, the beauty campaigns are getting more diverse but they're still not including us Polynesians and Maori.
So this is us including us and inspiring ourselves because I feel like the best way to do it is in our own backyards. We're happy to have you here so you can see how beautiful these young girls are and they also hope that their photos will inspire other brown girls to feel the same beauty that they've felt in these photos.
It's a movement, it's a campaign but we want it to last forever so please spread the word."
'Young Queen' Blaze then shared her Spoken Word piece
"You see us, you hear us, so why do you only acknowledge us when there's negativity in the air,
Don't you know we're brown and beautiful?
Each of us a slice of the Pacific Islands, but don't try and take all the slices at once
You might find yourself becoming overwhelmed,
The laughs, the foods, the song and dance
It might be too much to handle, cos it already is for most people,
I'm assuming thats why you don't see us that much in the media
Why don't you see us gracing mainstream billboards?
Why don't you see us on Vogue?
Why do we still have to publicly shame people because they think that they're superior ... but they're not
So I say it's time to take all the slices, make a cake and present it to the world
Show them the beauty of Brown people
So I call to all my teines, my kotiros, my ta'ahines and everyone else
Embrace who you are - cos you're Brown and Beautiful!
Narelle also introduced Sau Tuitama and Punipuao Lavea who do the groundwork every day in the South Auckland high schools and share the message of the 'Young Queens' programme.
Sau who runs the 'Aunty Sau' campaign - you can find her on the Sisters United NZ Facebook page sharing her 'Words of Wisdom' and 'Self Love' messages - said "It's actually my privilege to do this work and it's my dream job to go in to schools and say to young girls 'Guess what? You're worth it, you're one of a kind, you're unique, there's no-one in this world exactly like you so don't try and copy anyone else. Stand out and be yourself' it's an honour for me to be able to do that. Someone did it for me and I'm doing it for them"
Punipuao said she was grateful to have the opportunity to be mentored by the Goebel Sisters and Sau, and being young herself she'd been able to grow and see that she's worth something and worth the opportunities, worth the love from everyone and is happy to be able to work with the beautiful young ladies in 'Young Queens'.
"I feel blessed to be able to encourage them to be who they are, stand for what they believe in and to embrace their culture." said Punipuao.
At the launch there was a donation box and all proceeds from the 'Brown and Beautiful', 'Young Queens' and 'Sisters United' tees went to the 'Young Queens' programme as well but if you would like to give towards the cause - click on the link here
Check out more pics from the 'Brown and Beautiful' night below - a night celebrating growth and self love and the positive movement that the Sisters United team have created with this campaign encouraging young girls to embrace their diversity!
Share