Events
Cook Islands first ever Pride Day to be held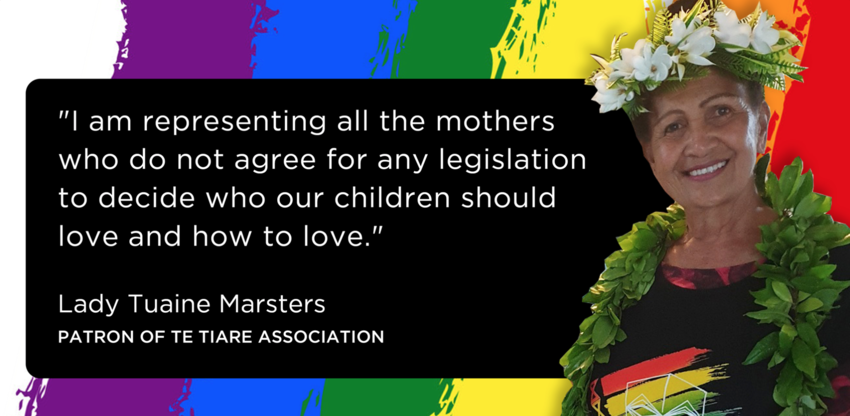 The Cook Islands will hold its first ever Pride Day to raise visibility of the country's LGBT+ community and celebrate the value of diversity and community inclusion.
Pride Day is organised by Te Tiare Association, the body that represents the Cook Islands' LGBT+ community. Te Tiare is leading the Pride Cook Islands campaign to end the ongoing criminalisation of same sex relationships. Under current Cook Islands law same-sex activity is illegal. In November last year the Select Committee reviewing the law stated it wanted to retain the criminal ban. The matter is now expected to go before Parliament in June.
Pride Cook Islands spokesperson Karla Eggelton said Pride Day will help build public understanding and acceptance for the Rainbow community as a watershed moment in the nation's human rights history draws closer. The Friday 27 March event is open to all she says. "Pride Day creates a rainbow-filled space for LGBT+ people to proudly come together with friends, family and supporters to enjoy a fabulous range of activities," said Pride Cook Islands spokesperson Karla Eggelton.
The focus of Pride Day will be a free to all ages event held under the Domes at the National Auditorium in Rarotonga.
"We'll have fun games, a sausage sizzle going, face painting, food stalls, music and dance performances. People will be able to connect with support and information from community groups and hear from leading figures in the Pride movement, including Te Tiare's patron Lady Tuaine Marsters and president Valery Wichman," said Karla Eggelton.
"Earlier in the day we'll literally kick things off with a special 'Shine Bright Like a Rainbow' Cardio Combat class at the Domes, where everyone's invited to dress in rainbow colours," said Eggleton. The class begins at 12noon and its $5 entry fee will be donated to Te Tiare Association.
Pasifika & Cook Islands LGBT+ community members share why they think Cook Islands pride day is important -
Teokotai Paitai -
"Pride Cook Islands was borne out of the necessity to advocate and promote basic human rights for ALL Cook Islanders. It's painful to bear the vitriol and hatred that is aimed towards us under the guise of religion. The hypocrisy is blatant. With all the contribution to Cook Islands society that we bring, why is it that we are allowed to be persecuted in such a way? Any law that serves to diminish our right to live our lives without fear, should be seen as not in the interest of our people. Pride Cook Islands for me is the change we as a Cook Islands people need. It is about embracing all of our people, all of the time. Kia rangatira e kia akamaroiroi e te anau anuanua"
Phylesha Acton-Brown -
"On the 02nd of March 2020, the UN expert Ahmed Shaheed, UN Special Rapporteur on freedom of religion or belief, urges States to repeal gender-based discrimination laws, including those enacted with reference to religious considerations that criminalize adultery; criminalize persons on the basis of their actual or perceived sexual orientation or gender identity. Congratulations to the Te Tiare Association, their members, supporters, families and allies for their hard work in addressing punitive laws and advocating for repeal from Cook Island legislation! PRIDE is a time to celebrate our identity and love for life with our loved ones and families, we encourage our leaders to hold firm and rooted in the importance of relationships and that every member of society is family regardless and that no one should be left behind or excluded."
Adrian Mcbirney -
"We see transgender individuals all around us in the Cook Islands, and yet the country is unwilling to accept that they have a place in society, instead relegating them to the catacombs of their minds - bringing them out only when they're in need of entertainment. It's a bit of a farce when we "invite" the "lala's" out on stage in front of the whole country to dance like girls (which they do better than most), but not let them participate in our cultural performances because it's not the "norm". There needs to be open conversations about this - they are not pariah's. I think a day where that community can be proud of who they are, and have open discussions with those that oppose is what's needed. This is not a day of convincing others to accept, but rather a day for the LGBT individuals to discover a community of people like themselves"
"Pride Day makes a positive public statement about visibility, inclusion and the value of diversity. We hope showing who we are will help break down barriers," said Eggelton.
"Our country's having an important conversation right now about decriminalising same sex relationships. Let's not lose sight that ongoing discrimination impacts real people. We're your family members, your friends, your workmates, neighbours and customers. We're a part of everyday life and we're proud of who we are. That's why Pride Day is an event out in the open and open to all - so join us on the 27th!"
Pride Day Friday 27 March
12noon: 'Shine bright like a Rainbow' Cardio Combat at the Domes
4-7pm: Friendship, fun and food at the Domes, National Auditorium
.
Kuki Airani Ngatokoa Gifford and her partner Jeanette Delamere who are based in Morrinsville, NZ talked to us about their love as part of our Weaving Rainbows documentary series.
"It stands for what I have accepted as I am and where I'm heading" says Ngatokoa
Photo credit for all images - Te Tiare Association and Pride Cook Islands
Share