Events
Fresh Impressions on the Third ILGA OCEANIA regional conference in Samoa.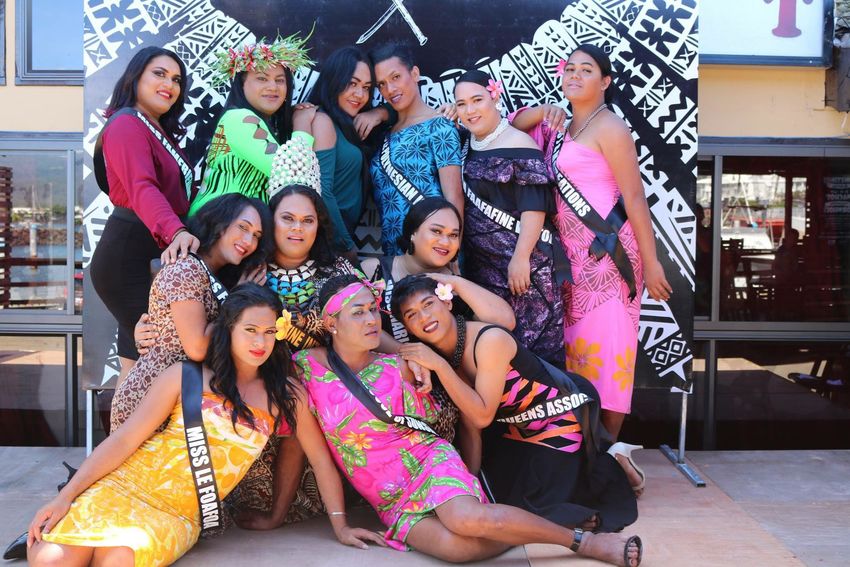 What to expect at a LGBTQI conference in Samoa?
How about having the opening ceremony and key note speaker from Deputy Prime minister Fiame Naomi Mataafa, four days of laying fa'afafine issues on the table and a kick ass Fa'afafine pageant that is one of the most popular events in Samoa? Yes! Everything that our Queer warriors before us worked so hard for, and a safe space for all LGBTQI in the Pacific.

"Having the conference here in Samoa will allow us to speak about the issues for LGBTI community in the region" says Tuisina Ymania Brown-Gabriel, the Executive director of the Pacific Human Rights Initiative and Global Ambassador of the Samoan Fa'afafine Association.
One of the many main problems she wants to highlight are how pastors use religion against the Fa'afafine community.
"Prosecute all other people that are sinners in the Bible. For example, the Bible specially talks abut no working on Sunday by our tourism industry will fail if they shut down on Sunday. So for us its like why are you pointing fingers at us by saying Soon and Comoro and all that and yet there are other people who are also sinners and yet they are not being held accountable for" says Tuisina.
She also said the conference will speak about Laws, climate change, LGBTQI parenting and the elderly.
Another young activist attending is the well known Jaiyah Saelua the first transgender in FIFA (Federation International Football Association) who says:
"As a U.S. territory, what I realized straight away from the conference is that I want American Samoa to be more represented in Pacific Conversation in regard to intersectional Pacific issues- climate injustice, sexual orientation and gender identity/expression issues & rights, systemic injustices, policy discrimination and criminalization of already marginalized groups, etc. Im grateful for the opprutnity to be a scholarship recipient, because I can absorb information and give my own concerns and the concerns that are shared by my home association (Society of Fa'afafine in American Samoa)"
Current Miss Samoa Alexandra Iakopo Isaako said "I felt honored to be invited and to witness the collectiveness of the LBGTQI community through the ILGA conference. It was a first time for me and it was an eye opener because I feel that most of our people don't get to see this side of things. I believe is important for our community to be open minded to the fact that fa'afafine/fa'afatama are no different from us, we're all humans with the same right in terns of acknowledging each other for who we are. Fa'afafine and fa'afatama are amazing and unique human beings who posses creativity and many talents which benefit our community."
These are few impressions from attendees of the ILGA Conference :
"It was beautiful and empowering as a queer Pasifika woman to hear and get to know the warriors of our movement. The immense love shown in all our multiplicities and contexts really proved to me the great power an expanse of our drodrolagim (rainbow) oceans." Talei Luscia

"First day "Our Islands Our Rights One Ocean" We value the importance of ur spirits connecting to strength the work we do in our respective countries and to use this opportunity to pause breathe and reflect." - Joey Joleen Mataele
"My time in Samoa so far has been short but coming from a settler colony like what is now known as Australia, though we have a very small pasfika community and I am very well acquainted with the queer scene on radical and Wangal Lands (Sydney)… I don't think I could have ever really knew what an intergenerational and cross island conference like ILGA would look like or that it would have exited. I really wish I had my queer pasfika fam from home could be present because all of us need to see ourselves reflected/loved and appreciated for our difference and to share our respective experiences."
The last night of conference was premiere of Joey Mataele Tonga 'Leitis in Waiting' documentary about the situation of Tongan fakaleitis and the many challenges they face living in Tonga today.
The documentary had a huge impact on the local audience:
"Faced with humiliation, cruelty and their dreams openly with us. Struggling for human rights and the right to love and be loved, I was overwhelmed with how brave the leitis are despite their challenges"
"The Leitis movie was insightful and inspiring. All the hard work that Joleen does is incredible. The most unforgettable part was when her daughter, a young Leiti who had been given an ultimatum-to stop being who she is or leave the family home-came out in the gold dress for the miss galaxy pageant. She looked so beautiful"
"It was extremely powerful to be able to experience through this film, the untold stories of our sisters, the Leiti's in Tonga. There is so much power in narratives like Jolene's." - Briana Fruean
.
By: Maluseu Doris Tulifau
PC: MJ Simo & Mele Mauala
Share
---
Comments