Events
HEILALA PACIFIC GOLD LAGER LAUNCH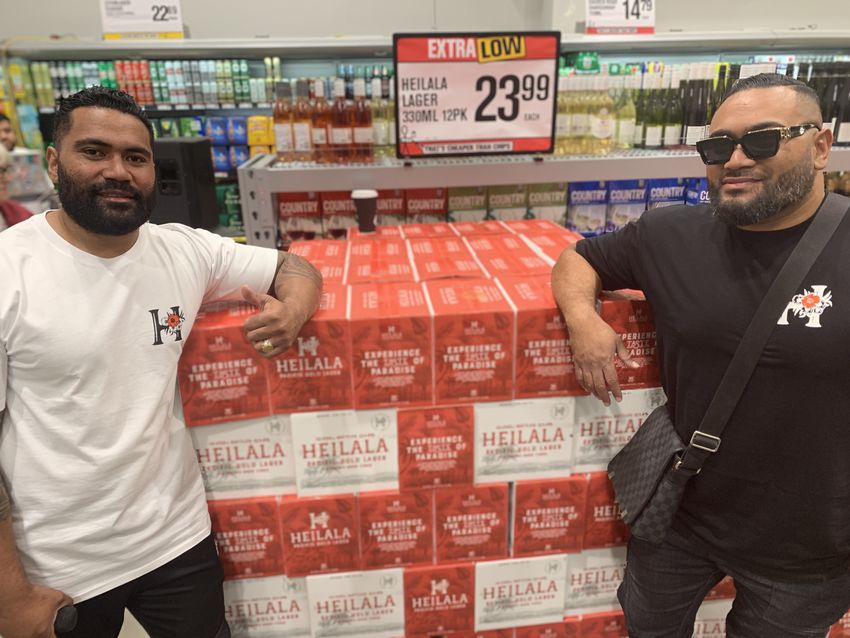 New Zealand's first Tongan owned lager being sold in New Zealand - 'Heilala Pacific Gold Lager' was launched at Manukau Pak n Save this morning with 21 pallets on sale to the public which had nearly sold out by lunch time.
The lager is being sold exclusively at Pak n Save in Manukau on a trial basis to test the demand but seeing as it had already sold out by the end of the day we're thinking it's going to be a popular choice of lager for the upcoming summer.
Pak n Save shoppers were treated to a live performance by Three Houses Down frontman Charlie Pome'e, DJ Rocky Ponting was on the 1s & 2s and Mai FM were giving a lucky shopper the chance to win a double pass to One Love Festival in Tauranga.
Heilala Pacific Gold Lager was the brain child of Sini Tagiloa and he's been working on developing the brew and getting it out to the market for the last 3 years. 6 months after he first had the idea he approached brothers Rob & Charlie Pome'e to see if they'd be keen to partner with him and from there formed a business partnership with them.
"What Vailima and Taula is to Samoa and what Fiji Gold is to Fiji, we want Heilala Pacific Gold Lager to be that for Tonga" says Sini.
Charlie said that when Sini first approached him with his idea he thought it was a 'no brainer'
"I also think the cool thing about it is it's 'Heilala', it's Pacific and it's supporting our own so I just thought lets give it a go!" he said
Approaching the festive season the boys also wanted to make sure that with the launch of their lager people were given the message to drink responsibly, don't drink and drive, don't horse it and as Sione said "Remember the Times, make sure you're able to remember the time you had - don't drink too much"
Check the Heilala Facebook page for more details and for updates on when it might be available in other outlets and you can also follow them on Instagram here.
Hear from the guys themselves and Charlie Pome'e gives the Pak n Save staff & customers a live performance
Share
---
Comments