Events
Pasifika Entertaiment Advancement Komiti's first in-person talanoa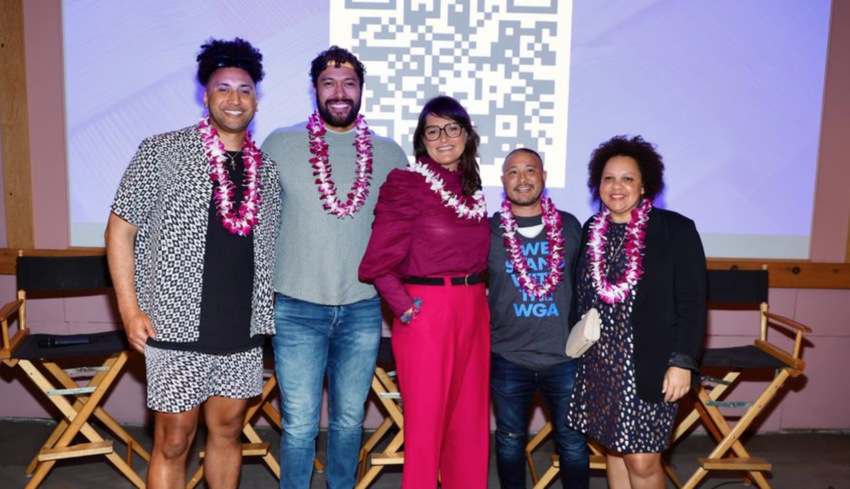 By Honestine Pa'ala-Fraser
The Pasifika Entertainment Advancement Komiti (PEAK) held their very first in-person talanoa in downtown Los Angeles on May 4. The talanoa, which was sponsored by Amazon Studios, featured panelists across the entertainment industry: actor Uli Latukefu, writer and PEAK co-founder Dana Ledoux Miller, filmmaker Kerry Warkia, and writer Freddie Gutierrez, moderated by PEAK co-founder Kristian Fanene Schmidt as they reflected on the future of Pasifika storytelling in Hollywood.
PEAK is a nonprofit organization based in Los Angeles, California whose mission is to uplift and support the Pasifika community within the entertainment industry and 'expand Pasifika entertainment so that our creatives can thrive, evolve, and drive innovative storytelling that honors the richness and diversity across Melanesia, Micronesia, and Polynesia.'
"All Pasifika cultures come from oral tradition. Before we had a written language it was storytelling, and it was dance," PEAK board member Averie Joy Maikalima O Makua Huffine shared with the CoconetTV.
"And the version of keeping that alive today is putting it on television and film. And that's how we're going to preserve these things. And we've already fought really hard to preserve, like language and dance and culture. And I think we can move it to the next level and have it towed by us in the same way we would amongst each other on a larger scale."
Fanene Schmidt kicked off the talanoa with the question, What does Pasifika storytelling mean to you?
"It feels like the imagination, our imagination as specific people, is limited at the moment," Latukefu, who plays a college-aged version of The Rock in "Young Rock" shared. "I just think the world is less flavorful without us because we're here. And it's not like you should put us in everything, but it's just boring without us.
We offer so much for not just our own community, but for everybody. And I just think that it's a shame that when we're not allowed into rooms and we're not allowed into conversations or we're just kind of, like, boxed."
Warkia, who made the film "Vai," shared similar sentiments: "We want the whole spectrum. We want to be able to tell all kinds of stories, all kinds of ways, all sorts of genres. We want to be able to walk into all sorts of rooms, partner with whoever we want to partner with and tell our stories. And, yes, we want those stories to have integrity, and we want them to be authentic to us.
Yes, there is care that we have to take when we tell those stories," she said. "That's a responsibility I think nobody takes lightly in our community, but I think it's about us not feeling like we have been locked out of storytelling, not feeling like we have ridiculous standards that are set by people who don't even come from our communities."
When asked what the US Pasifika community can take away from Aotearoa Pasifika storytelling, Ledeoux Miller, who is the showrunner for Netflix's limited series "Thai Cave Rescue," shared: "I know it's a complicated system there, but the fact that they have had funding from their government has been helpful in proliferating voices there, which we unfortunately, don't," Ledeoux Miller shared with Coconet TV.
"I think their storytelling runs the gamut of the human experience for them. You can watch a movie and get into the depth of pain and the history of colonialism and in trauma, and then you can also see a comedy [...] I think it's so important to remember that we are more than our pain in our trauma, and that we have stories to tell that are experimental."
While Pasifika storytelling still has long ways to go in the US, the panelists are hopeful for a brighter future within the industry.
"I'm really, I'm so encouraged and I'm excited," Gutierrez, who writes for "That Girl Lay Lay" on Nickelodeon shared. "Up until, three years ago, nobody even cared that I was a Pacific Islander. And no one wanted to hear what Pacific Islanders wanted to say or hear what we had to say. And, and now, you know, because of people like Taika [Waititi], Dwayne [Johnson] and Jason Momoa, and others, they're showing the world that we have great stories to tell, that we can tell great stories, and it seems like the world is really taken to it. And so I'm really excited for that."
"Everything happens in stages, and I think everything takes such a long time," Ledoux Miller shared. "The last 10-15 years, there have been people pounding the pavement, doing the work making the way for these new voices that are coming up, especially out of Hawai'i.
I feel like there's so many people that are about to break in a way that's going to open things up for us. And every job, every story that's told about Pasifika people is a step towards more opportunity. So I celebrate all of it, and I'm ready for our moment."
-
Public Interest Journalism funded by NZ on Air
Share