Events
TAKURUA - Food and Feasts of the Cook Islands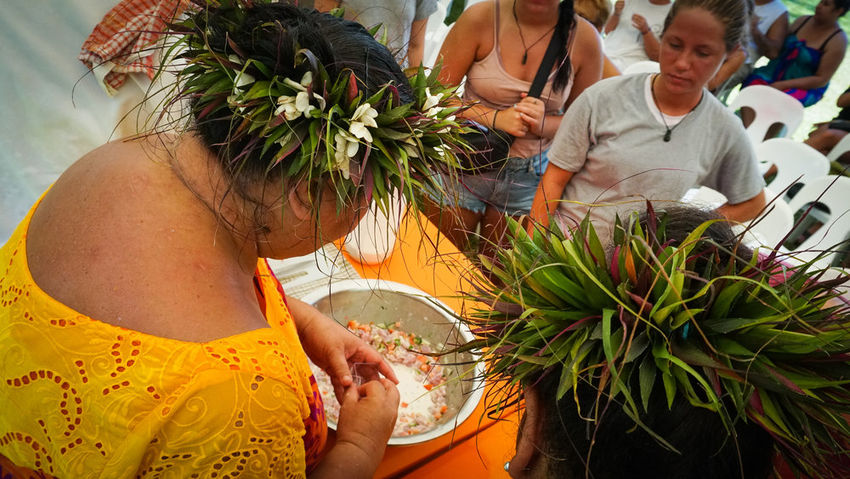 " We want to raise the awareness of our food as up there with the best in the world" - Rangi Mitaera- Johnson
"It's more than just having food in restaurants it's about a way of life and value of our planting, our farming, our fishing as part of the story of our food"
Wild goat from Atiu, pearl oyster meat from Manihiki, the Utu king of bananas and the prized purple swamp taro, just some of the extraordinary ingredients on the plate at a recent Takurua - the ancient way of feasting in the Cook Islands!


Chefs from around the Pacific gathered in Rarotonga to create the best of Cook Islands cuisine on an epic scale, with traditional foods sourced from all over the Cook Islands.

"We want to develop a culture of healthy food and healthy exercise lifestyles around food" says Metua Vai'imene from Cook Islands tourism.
The purpose of the spectacular event was to showcase the importance of returning to our indigenous diets, and eating from the earth rather then processed imported food.

"It's a tribute to the wisdom of our ancestors, and highlights our responsibility to take care of our resources..and what the land and sea can give us"
Pacific chefs Tausani Simei Barton and Rangi Mitaera-Johnson were spearheading the team of chefs who came up with the extraordinary feast, and a five part menu of the best of ancient Polynesia.
As well as the sumptuous 5 course meal, the story of this local food was told in stage performances by local Tereora College students who presented narrative dance pieces in between each course.
Prof Jon Jonassen spoke of the significance of some of the local foods and the connection to the people, the land and the gods they were associated with. The Kai Tapu was this sacred food.
Different ways of serving this ancient feast also had significance, and the ways in which it was prepared.

From the meat flattened out and broiled over coral, to cooking food in hot ashes and food wrapped in banana leaves, the methods of cooking our ancient Polynesian food was elaborate and made the most of the flavours of nature with the leaves of ti, wild hibiscus, bananas and coconut.
Prof Johansen reiterated how ancient Polynesians understood importance of the environment, the seasons and conservation methods around food sources from the land and the sea.
The Takurua showcase was a culmination of a week long local food focus on the Island, including workshops on valuing traditional diets, plantation visits and the prepping and sourcing of all the ingredients for this spectacular ancient feast.
"Pacific food is about our relationships it's about the ways we show love"
Share
---
Comments