Events
VUNILAGI VOU OPENS IN OTAHUHU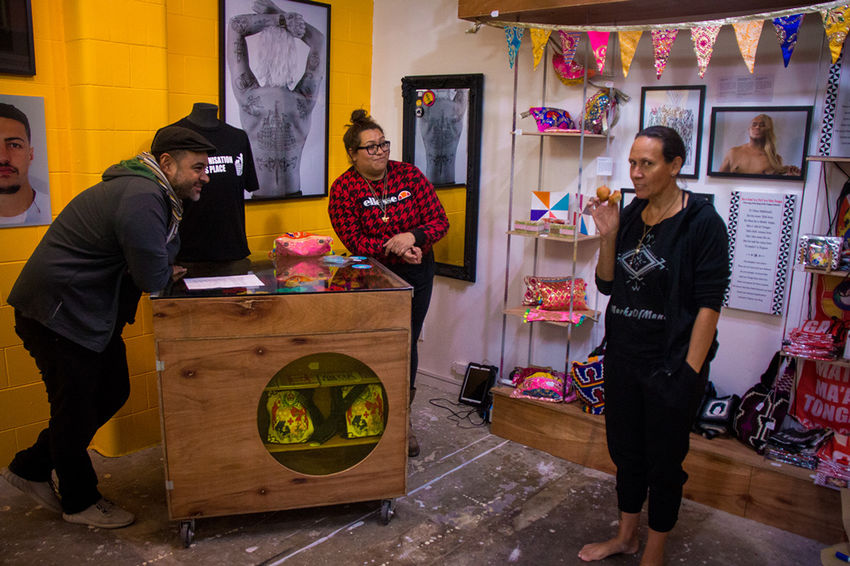 South Auckland's newest art gallery, community & consultancy space Vunilagi Vou opened in Otahuhu a week and a half ago with a large group exhibition WWJD:2 featuring predominantly local, South Auckland based artists. We talked to Director & Artist-Curator Ema Tavola about the exhibition as well as her hopes & dreams for the gallery.
.
I'm a Fijian-New Zealander with maternal heritage connecting me to England and Ireland, and paternally to the island of Dravuni, Kadavu in Fiji, and Suva, where I was born. I was brought up in England and Belgium, and finished secondary school in Wellington. I bounced around between Fiji and New Zealand until I started tertiary studies and settled in South Auckland; I've been here for almost 18 years now.
For the past 15 years I've worked as a curator, arts project manager, advisor and advocate for Pacific art and South Auckland. I started my career formally as Pacific Arts Coordinator for what was then Manukau City Council, and in that capacity was able to establish Fresh Gallery Ōtara, an exhibitions gallery in the Ōtara Town Centre. That's where I cut my teeth; I produced 66 exhibitions there and left in 2012. Since then I've worked in a freelance capacity, had my daughter, and as of last week, I now run my own gallery and consultancy space here in Ōtāhuhu, South Auckland!
What were the pathways that led you to what you're doing now?
Working as a public servant in the arts was my grounding as a curator. Curating is a practice of service, to artists and audiences. Fresh Gallery Ōtara was an amazing space where our Pacific arts community thrived and evolved, and we took our South Auckland audiences with us on the journey; it was a profoundly important part of my story.
Life and its ups and downs; losing pregnancies due to stress, falling in and out of love, yearning for the Pacific, for family, but realising that South Auckland has become a new chapter in this idea of what 'home' is. All of it has informed and challenged me, broken me but allowed me to rebuild and refocus. I wouldn't be where I am without living through it all.
Another important pathway is being a mother to my daughter, Lanuola. She changed the game.
Why do we need a Pacific art space - what drove you to create this gallery?
We need a gallery where Pacific artists and their work can be rendered in Pacific space, to unpack the value of the work in Pacific time and space, through a Pacific lens. The art world in New Zealand, and its institutions, are inextricably connected to colonial thinking and power dynamics; as much work as they do in the pursuit of 'diversity' and social inclusion, it is not enough. The values of the Aotearoa dominant culture art world are not mutually transferrable or applicable to Pacific art or Pacific audiences, so we need our own spaces to simply have visibility, and give our work and our communities space to be present, make commentary, and enable our people to share in the creative economy we are part of as Pacific artists.
Who are some of the artists that are in the opening exhibition - what was the curatorial theme for this?
Vunilagi Vou's inaugural exhibition is a group show called WWJD:2, it's a continuation of my last exhibition produced at Fresh Gallery Ōtara in 2012, which pays homage to the legendary Cook Islands curator, Jim Vivieaere, who was a mentor for me and an iconic figure in contemporary Pacific art history. This exhibition features 15 works by 13 Pacific and Māori artists, many of whom I've been working with for years and years. The exhibition aims to demonstrate Vunilagi Vou's curatorial kaupapa; it includes artists with both heritage and contemporary fine art practices, local artists as well as artists from outside of the Auckland region, and senior and very experienced exhibiting artists alongside artists at the very emergent stages of their careers.
The exhibition is a purposeful mix of disciplines, thematic concerns and art world positions, because our Pacific art world is not homogenous and doesn't subscribe to a single hierarchy or measure of excellence.
What's exciting in the Pacific creative spaces at the moment?
I've always been more interested Pacific creative practices which sit outside of mainstream institutions, such as galleries and art schools. I love seeing the latest trends in banner painting, t- shirt and adornment, developments in heritage artforms using new materials in innovative ways. I'm interested in the performance art of social media profile building, in the settings, rhetoric and commentary that surround Pacific social media personalities, like Boom Bullet.
Other than that, I'm always excited to see what FAFSWAG art collective are producing; they are the most exciting, dynamic and courageous group of creatives.
What are your hopes and dreams for this gallery and the community you want to create around it?
The community around the events and exhibitions I've been producing for the past 15 years has remained well connected through social media and turn up, every time; that's why everything I do honours the community that surrounds contemporary Pacific art. Our own audiences uplift our work and offer us vital and critical perspectives that we can't find in the mainstream art world.
Do our audiences buy our work? As much as they can! I suppose Vunilagi Vou, like Fresh Gallery Ōtara, is like the half way point – where both Pacific audiences, and the wider arts community, can meet to discuss and support contemporary Pacific art and ideas. My intention for Vunilagi Vou is to be a safe space, particularly in regards to our Rainbow communities, but also a safe space for identity politics to be thrashed out, unpacked and affirmed.
My hopes as a business enterprise is to find the balance where consultancy work, community building and a dynamic exhibition programme can be sustainable and thrive despite being located... in the hood, lol ☺
How has all the global art making that you've seen influenced how you see pacific art and it's place in the world?
The trips I've made in the last year to Morocco, London, Berlin, Melbourne and Kinshasa in Central Africa, have had a profound impact on my determination to open my own space. Contemporary Pacific artists are making vitally important work, that articulates our place in the world and our evolving worldviews. There is no way this abundant creative world of contemporary Pacific expression should be filtered through Aotearoa's dominant culture institutions who impose values that determine its worthiness. We have to take our work to the world, and we can by enabling exhibition opportunities, writing about and discussing our artists, investing in their practices, using our social networks to amplify their work.
I've been particularly influenced after my opportunities to travel and work on the African continent, producing an exhibition in Morocco for the 4th International Biennial of Casablanca, and speaking at a symposium in Kinshasa in the Democratic Republic of Congo, and the opportunity to transit through Ethiopia. Africa is the cradle of humanity, and it changes your outlook. I definitely look to Africa's art worlds as a framework that the Pacific sits with very comfortably, more so than those of the Euro-American worlds.
What does Vunilagi Vou have coming up that people can look out for?
We're producing a new exhibition every month, so our openings are from 6-8pm on the first Tuesday of every month – everyone is welcome! Producing a dynamic and quick turnover exhibition programme is about giving as many artists as possible the opportunity to show and sell work; our Pacific art communities are producing vast quantities of new and dynamic artwork, and I know its sustainable, because it has been done before at Fresh Gallery Ōtara.
Currently, Vunilagi Vou is working in partnership with Auckland Council's Pacific Arts programme to deliver the Southside Talanoa Series which is three beasty dialogue events in August, September and October around South Auckland. They will foreground courageous conversations about the issues that affect our lives as Pacific people, and the wider contexts of Pacific visual culture. I have an awesome team for this event series, and I can't wait to see it come together.
Our retail area at Vunilagi Vou is dedicated to predominantly women creative producers, a lot who make accessibly priced products as a side hustle to wider creative practices. I love that we're able to create income for Pacific artists in this way. Our range is always changing, from adornment and apparel to accessories and homeware, there's something for all budgets, so if you're interested in supporting women creative entrepreneurs, keep an eye on our social media feeds for new products coming through.
But generally, if you're in the Ōtāhuhu hood and need some inspiration, Vunilagi Vou is open five days a week to offer just that! Come and say hello!
Share