Events
WANTOK Exhibition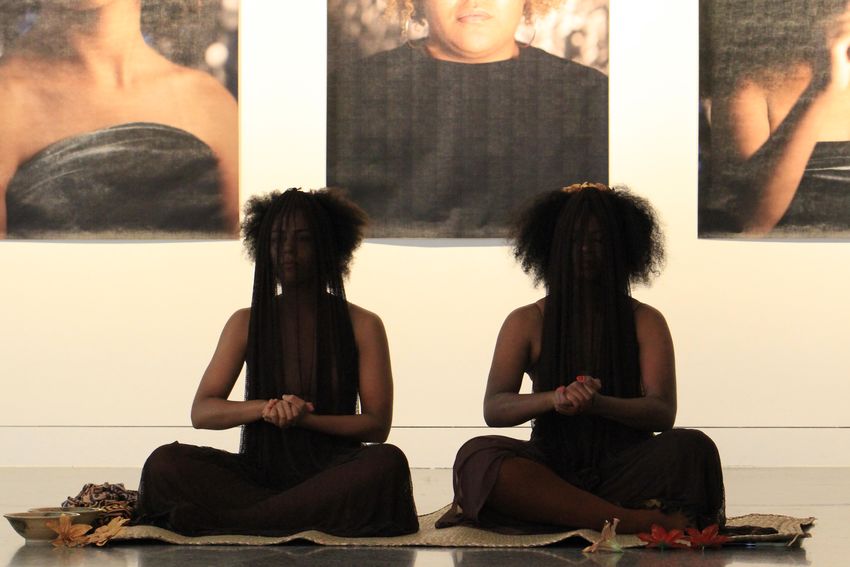 WANTOK -'One Talk' is a gathering of Melanesian artists, who explore the spiritual and symbolic nature of hair
"We are taking ownership over ourselves, our bodies, our stories, and telling them ourselves." – Reina Sutton.
Curated by Luisa Tora, the show acts as a voice to empower and amplify the artists' stories. "This conversation about hair is one we've all had at some point, with family, with friends, with complete strangers. I think people with curly hair stand on the front line in the battle against othering and attempts to control brown bodies." – Luisa Tora.
Nine Melanesian female artists based in Australia and Aotearoa, contributed the high impact works, commenting on the power and the colonisation of Pacifica women's hair in different ways.
'Black Birds' members Emele Ugavule and Ayeesha Ash opened the morning with a performance in the gallery space. "It was important for us to be a voice for those who've lived outside of Fiji because that's our lived experience and it's a valid one, just as valid as those who do live back in Fiji. And not to say that one is better, but they are just different and they both deserve to hold space." – Emele Ugavule
Artist Jasmine Togo-Brisby presented three images in light boxes, the subjects including herself, her daughter and her mother. The generational series using ship imagery spoke to the history of South Sea Islanders in Australia, and more specificially, the history of black birding in her family.
"Our people were enslaved on the sugar plantations and in wealthy aristocratic homes…My great great grandmother highly influenced the light box series. She was abducted from the islands when she was eight years old, collecting shells on the beach. She was sent to Sydney and sold to a wealthy family where they raised her and groomed her to be their servent." – Jasmine Togo-Brisby.
Arists also showing include Dulcie Stewart, Luisa Tora, Salote Tawale, Torika Bolatagici with Ayeesha Ash and Emele Ugavule, and Tufala Meri (Reina and Molana Sutton).
WANTOK is a rich weaving of self-love, remembrance, recognition and empowerment; with hair at the centre. WANTOK will be showing at the Mangere Arts Centre - Ngā Tohu o Uenuku until May 26th.
"We've created a beautiful, cohesive show that I believe will stand the test of time. If anything I would love for more of our youth to see the show and for Pacific writers to shine some light on it." - Luisa Tora.
If you want to to know more about the history of womens hair in the Pacific, watch our CocoDoco Adorn
For more "Dont touch my hair" stories, click here
Share
---
Comments